Ahh, holiday chocolate… my absolute favorite, although truth be told, that comes more from a love of the holiday season than it does for the extra chocolate choices each December. Especially since holiday chocolate availability tends to fluctuate wildly from year to year, at least here in the Phoenix area. As a big fan of most things sweet and holiday (do
not
let me loose at a Trader Joes in December), a year when holiday chocolate offers great variety always makes those festive days just a wee bit more festive.
Mainstays Prevail, But With a Chocolonely Surprise
2017 will not quite be remembered as one of those years, which seems especially strange considering I left extra time for local stores to start selling their holiday editions this year before even beginning this article. Here in Arizona, the big three are Whole Foods, Sprouts, and Natural Grocers. I typically start looking a day or two after Thanksgiving, and this year I stayed true to form… yet other than holiday mainstays Theo and Endangered Species, I had little luck finding anything to report.
Late in the game, however, I did discover that REI now sells chocolate bars (didn't see that one coming), and the even bigger surprise here – REI sells Tony's Chocolonely, who now offer a holiday bar as well.
So let's take a look at the holiday chocolate bars of 2017, bars you should, with a little perseverance, be able to stuff into those Christmas stockings if you're looking for healthier, tastier alternatives to the usual American "chocolate" fare (read: a little bit of cheap, overly-processed cacao doused with tons of sugar).
At a high level, your choices include four holiday bars from Theo Chocolate (still the holiday chocolate king), three bars from Endangered Species Chocolate, three more from Chuao Chocolatier, and one from Tony's Chocolonely. We also spotted Little Secrets Dark Chocolate Candies (an actually edible M&M-like candy) pretty much everywhere as well. In fact, Little Secrets was the only item we found at every single store, but I digress… let's dig into the chocolate!
Theo's Peppermint Stick Bar, 70% Dark Chocolate
For an On the Chocolate Regular bar you can often pick up on sale for only two dollars, Theo's Peppermint Stick bar surprisingly packs a pepperminty chocolate wallop – in a very good way. At 70% dark, Peppermint Stick will be the least accessible in Theo's four bar lineup to any chocolate newcomers, but that doesn't mean it's out of the running either.
In fact, with its strong peppermint notes, introducing this bar to a quality dark chocolate novice at Christmas time, when peppermint already dominates the landscape, may smooth the dark chocolate landing a bit more than normal.
Think about it… if you've been eating candy canes for two days, especially the real ones with a fair amount of peppermint oil and less sugar, how strongly can a Theo Peppermint Stick bar dominate the palate? So in the very least, consider sharing a bite of your own as a sample.
If high quality, bean-to-bar dark chocolate is your norm (obviously Theo doesn't quite compete there), then this bar and the Nutcracker Brittle will likely serve as the only palatable holiday bar choices for you this season. For two dollars per bar, enjoy!!!
Ingredients: Cocoa Beans*+, Cane Sugar*+, Brittle (Cane Sugar*+, Non-GMO Corn Syrup*, Water, Cocoa Butter*+, Salt, Baking Soda), Cocoa Butter*+, Ground Vanilla Bean*+, Peppermint Essential Oil*+.
*ORGANIC +FAIR TRADE
Theo's Nutcracker Brittle Bar, 65% Dark Chocolate
Nutcracker Brittle, it's the one Theo holiday offering that begs the question, "What exactly is in this bar?!" The answer? Hazelnuts! Yes, if you're not particularly fond of hazelnut's flavor, then steer clear of Nutcracker Brittle. For everyone else, I consider this bar Theo's most improved holiday selection over the past several years, assuming I am indeed correct that they updated the recipe from its original incarnation.
Previously, I completely skipped the Nutcracker Brittle bar at the holidays, as it fell far short of Theo's other bars as an enjoyable experience. To put it less subtly, I hated it. So whether Theo changed its recipe or my chocolate connoisseur taste buds simply evolved over time, Nutcracker Brittle only served as a coal replacement stocking stuffer for me.
Now, however, despite a bit of an aftertaste I still can't quite trace, I very much enjoy Nutcracker Brittle. Hazelnuts clock in as the third ingredient, followed by organic cocoa butter and then Theo's holiday staple, the brittle, whose two core ingredients are organic cane sugar and organic corn syrup (hey, nobody said holiday bars were the healthiest).
The final two ingredients of Nutcracker Brittle deliver the greatest impact on the tasting experience in my opinion, however, as Theo admirably manages to balance the additions of Pink Himalayan Salt and organic ground vanilla bean.
For loved ones on your list who appreciate hazelnut and salty chocolate, Theo's Nutcracker Brittle tops all of your 2017 holiday chocolate choices.
Ingredients: Cocoa Beans*+, Cane Sugar*+, Hazelnuts*, Cocoa Butter*+, Brittle (Cane Sugar*+, Non-GMO Corn Syrup*, Water, Cocoa Butter*+, Salt, Baking Soda), Pink Himalayan Salt, Ground Vanilla Bean*+.
CONTAINS TREE NUTS (HAZELNUTS). *ORGANIC +FAIR TRADE
Theo's Cranberry Orange Bar, 55% Dark Chocolate
The sweetest bar in Theo's holiday chocolate bar arsenal, Cranberry Orange will be your go-to bar for any fruit-focused chocolate lovers you want to give a little chocolate fix. The orange flavor absolutely dominates this bar, but even though chocolate-fruit combinations don't often make their way into my chocolate bar sanctuary (although Elements Truffles Raspberry with Beet Infusion bar most certainly does), I still truly enjoy Theo's Cranberry Orange.
As long as you don't hate orange flavor, as Theo flavors this bar with organic orange oil, I'd definitely give Cranberry Orange a chance. Plus, at 55% dark chocolate, you can easily gift a bar without worrying about any chocolate overwhelm. As for orange overwhelm, well… just make sure you know your audience when handing out a Cranberry Orange bar.
Ingredients: Cocoa Beans*+, Cane Sugar*+, Cocoa Butter*+, Freeze-Dried Cranberries*, Orange Oil*, Ground Vanilla Bean*+.
*ORGANIC +FAIR TRADE
 Theo's Gingerbread Spice, 45% Milk Chocolate
By far Theo's most accessible bar, I may petition Theo to change the Gingerbread Spice bar's name to the Eric Gains Ten Pounds in December bar. Before I discuss anything else related to Gingerbread Spice, understand right now – if you love ginger, and particularly gingerbread, do not open a Theo Gingerbread Spice bar when hungry!!! Easily in my top three for "oh my god I did not just eat that entire thing in one sitting" bars, consider this bar the safest for giving to almost anyone on your list.
Obviously, at 45% milk chocolate, Gingerbread Spice brings a completely different flavor profile to the holiday chocolate dance. In addition to its lighter cacao content and the organic milk powder, Theo also infuses all organic ginger, cinnamon, nutmeg, clove and cardamom, in that order, making this bar a true holiday celebration.
Thankfully this year, when tasting bars to pen the article here, I already knew well enough to save the Gingerbread Spice for last. I'm proud to say I ate less than two squares when writing this, so I can safely declare that no stomachs were harmed in the creation of this On the Chocolate Regular.
Bottom line, if you're hoping to slowly encourage a friend, family member or co-worker to the path of Chocolate Connoisseur, Theo's Gingerbread Spice bar will serve you well. Just don't expect a seamless transition from here to a 75% dark bar.
After all, as fellow Chocolate Connoisseur writer Rene Zimbelman frequently loves to say, "it's all part of the process."
Ingredients: Cane Sugar*+, Cocoa Beans*+, Cocoa Butter*+, Milk Powder*, Ginger*, Cinnamon*, Nutmeg*, Clove*, Cardamom*, Ground Vanilla Bean*+.
CONTAINS MILK. *ORGANIC +FAIR TRADE
Endangered Species Chocolate (ESC) Dark Chocolate with Caramel & Spiced Apple, 60% Cocoa
The newcomer to ESC's holiday chocolate lineup, Dark Chocolate with Caramel & Spiced Apple registers as ESC's first holiday bar with filling. I intrentionally placed this bar right after Theo's Gingerbread Spice bar because the two of them together may assault your waistline like no other if you're a holiday chocolate lover!
We love ESC because they do so much for animals and the planet (they donate 10% of net profits each year to protect and preserve wildlife), while making decent chocolate that's certainly a cut above the cheap stuff, and at a fair price. You're not likely to chocolate binge, however, with any Endandgered Species varieties. Their filled bars, however, will trick you, especially with deceptively irrelevant cocoa percentages. Normally, a bar sitting at 60% plus will curb any overeating on my part, but be warned – verything changes when you take that 60% cacao percentage and fill it with caramel!!!
ESC does a few things very right with this bar. First, they go the extra mile and create organic caramel, which tells you something because ESC rarely uses organic ingredients. Non-GMO and fair trade, yes, but organic "is not their bag, baby." Since the caramel makes this bar the irresistible temptation it is, they were wise to amp up the quality for this key ingredient.
It's exactly as sweet as Theo's Gingerbread Spice bar, and its natural flavors (with apple of course in the mix somewhere) plus cinnamon line this bar right up next to Theo's from a flavor profile standpoint, even with the caramel addition. It does, however, still leave a bit of that frequent ESC aftertaste, which although certainly not problematic or a deal breaker, makes Theo's Gingerbread Spice the clear #1 choice in this category.
That said, outside of someone with a serious aversion to holiday spice, you won't likely go wrong with gifting the Dark Chocolate with Caramel & Spiced Apple.
Ingredients: bittersweet chocolate (chocolate liquor, sugar, cocoa butter, soy lecithin, vanilla), organic caramel (organic tapioca syrup, organic cane sugar, organic nonfat milk, organic heavy cream, organic butter [cream, salt], salt, sodium citrate, carrageenan, organic vanilla extract 2-fold, organic soy lecithin, vitamin e [mixed tocopherols] added to preserve freshness), natural flavor, cinnamon.
Raises Awareness for polar bears
http://amzn.to/2Bud63v
Endangered Species Chocolate Dark Chocolate with Peppermint Crunch, 72% Cocoa
At first glance, you might think ESC intended for its Dark Chocolate with Peppermint Crunch bar to compete with Theo's Peppermint Stick bar, but that's not quite the case here. Why? Two words: cacao nibs. ESC's bar, one of the higher quality bars in its entire lineup, and with fewer ingredients than most of its offerings, crafts its "crunch" with cacao nibs, not brittle.
That conscious cacao nib decision results in a very solid On the Chocolate Regular bar for the price. Obviously, peppermint needs to be your thing, or this bar will immediately repel your taste buds, but if you do love all things peppermint, expect to thoroughly enjoy ESC's Dark Chocolate with Peppermint Crunch. I must confess, I actually enjoy this bar more than Theo's Peppermint Stick, although from a gift-giving standpoint, all points about Theo's bar basically apply here as well.
Ingredients: Bittersweet chocolate (chocolate liquor, cane sugar, cocoa butter, soy lecithin, vanilla). Cacao nibs, peppermint oil.
Raises Awareness for emperor penguins
http://amzn.to/2BuT9JR
Endangered Species Chocolate Dark Chocolate w/Cranberries, Orange & Cinnamon, 60% Cocoa
In contrast to its Peppermint Crunch bar, I'd say ESC clearly intended to go head-to-head with Theo's Cranberry Orange bar here. Although I do certainly enjoy ESC's own take on the cranberry-orange combination, Theo's 55% dark bar clearly wins out here, despite a solid outing from ESC's Dark Chocolate w/Cranberries, Orange and Cinnamon bar.
I think Theo's bar scores higher here because, when you're creating a fruit-infused bar where the fruit clearly dominates the flavor profile, with all else equal, quality wins out. Theo's organic cranberries (one of the worst fruits to eat in non-organic varieties by the way) likely help slightly, but its use of clearly high quality organic orange oil delivers an outstanding orange-infused bar – and again, this comes from a chocolate lover who's not a big fan of neither fruit-infused chocolate, nor orange!
Still, ESC's Dark Chocolate w/Cranberries, Orange and Cinnamon bar tastes fine, and can certainly work as a chocolate stocking stuffer with little hesitation.
Ingredients: bittersweet chocolate (chocolate liquor, cane sugar, cocoa butter, soy lecithin, vanilla). Infused cranberries (cranberries, sugar, sunflower oil, cellulose), orange oil, cinnamon.
Raises Awareness for the Horned Ram
http://www.chocolatebar.com/?portfolio=dark-chocolate-with-cranberries-orange-cinnamon
Uncharted Holiday Territory Ahead…
We now approach uncharted territory, and I unfortunately cannot be your guiding light for these last few holiday options, as I did not get the chance to try any of these final choices.
The Chuao bars we're about to address weren't easy to come by (see REI note above), but Little Secrets, however, definitely wins out for the regular part of our On the Chocolate Regular holiday edition here. You can probably snag these lil fellas almost anywhere, and I found them at Sprouts, Whole foods, and Natural Grocers.
Located in Boulder, CO, Little Secrets certainly wins in the fun department, particularly with their marketing (love the sweatpants after 7pm line). Here's how they promote the candy on their website –
Little Secrets All Natural Fair Trade Gourmet Chocolate Candy – Peppermint Dark Chocolate
Of course, ingredients mean everything, so take a look at the details below before you decide whether or not Little Secrets is worth a try. Note, although they don't indicate non-GMO on the packaging, the FAQ on the Little Secrets website clearly states the following –
"None of our products contain GMOs and we're in the process of getting Non-GMO Project verified. We're big into sourcing responsibly."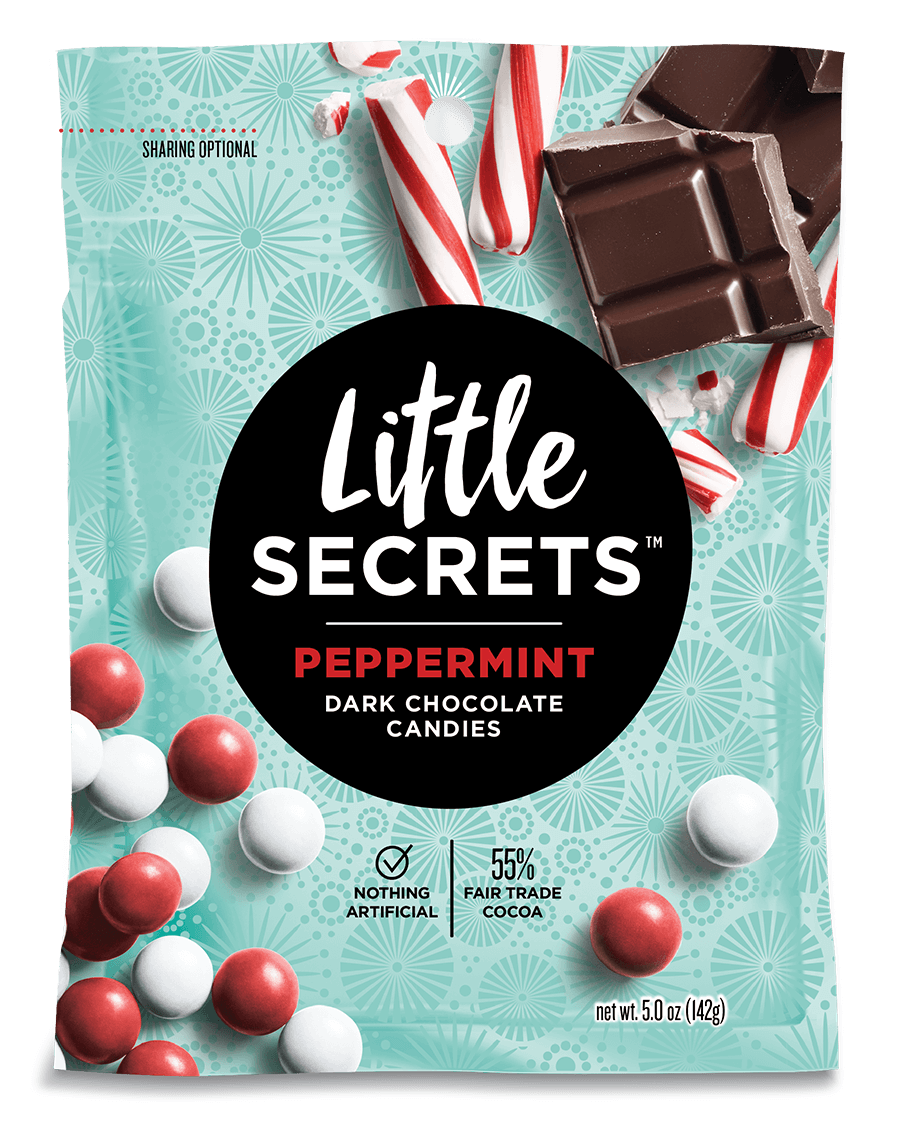 Ingredients:
Dark Chocolate (Fair Trade Certified™ Unsweetened Chocolate, Fair Trade Certified™ Sugar, Fair Trade Certified™ Cocoa Butter, Soy Lecithin [An Emulsifier], Fair Trade Certified™ Natural Vanilla Extract), Sugar, Dried Cane Syrup, Gum Arabic, Coloring (Includes Beet Juice, Beta Carotene, Titanium Dioxide), Peppermint Oil, Natural Flavors, Carnauba Wax.
In the unlikely event you're unable to find these locally, you can also order here in a pinch: http://amzn.to/2yKE15A
Tony's Chocolonely Mulled Wine 32% Milk Chocolate Bar
Part bar, part ornament, all chocolatey goodness – that's the best way to describe Tony's Milk Chocolate Mulled Wine holiday chocolate bar. I'm determined to try one of these before Christmas, but I unfortunately had no idea I could pick one up at REI until shortly before publishing time here.
Still, it's hard to imagine not enjoying this bar. Tony's may not be the top of the chocolate world, nor are they normally an entrant in our On the Chocolate Regular segments, because they've never been easy to come by in the States, but with REI now carrying the bars across America, however, Tony's Chocolonely may finally get its chance to prove itself in both areas.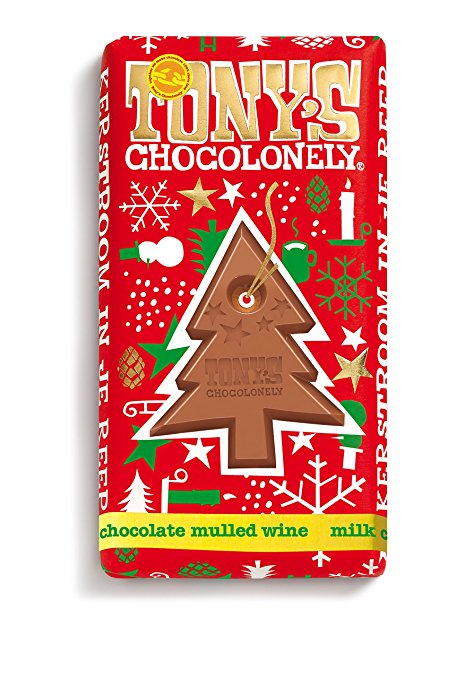 I'll update the article here with my own take on this holiday selection if I'm able to pick one up before it's too late. In the meantime, with orange, red wine, cloves, and cinnamon, we'd expect this bar to shine. If you do pick one up, please feel free to share your thoughts with us at the bottom of this page in the comments. We'd love to hear from you.
Ingredients: sugar, dry whole milk, cocoa butter, cocoa mass, dried orange, red wine powder (maltodextrin, red wine concentrate, sulfites), cloves, cinnamon, soy lecithin. Cocoa solids 32% min. Alcohol content: < 0,015 vol %. Sugar, cocoa butter, cocoa mass, cloves, cinnamon: traded in compliance w/Fairtrade Standards, 73%.
Chuao Chocolatier – With Reservations
I'm adding the following three holiday bars from Chuao Chocolatier, with reservations, and here's why. First of all, although Chuao talks a good game on their website about quality and ethical sourcing, the ingredients themselves don't quite live up to the hype. Translation – I'm not so sure Chuao walks the walk.
Indeed, only the for the love of peppermint bar indicates non-gmo ingredients across the board, while one of the bars, hope, joy & gingerbread, isn't designated as fair trade. Of course we fully recognize that many bean-to-bar makers take the direct trade route instead, plus those high quality chocolate makers tend to use very few, albeit exceptional, ingredients. Chuao doesn't appear to fit the bill in either of those categories, so they're a bit suspect.
Secondly, Chuao's bars retail for $6/bar (currently available on the Chuao website for $5.10), despite weighing in at only 2.8 ounces (slightly less than both ESC and Theo). When you factor in the aforementioned ingredient disparity, we then enter red flag territory.
That said, if faced with few choices, such as picking up a bag of Snickers versus a Chuao bar, we'd of course lean Chuao's way. Not exactly a ringing endorsement, no, but in year with few On the Chocolate Regular holiday chocolate choices, Chuao cracks the very bottom of our list here. Let's see what varieites they offer…
Chuao Chocolatier snuggle up s'mores bar
60% dark chocolate with vegan peppermint marshmallows and honey graham crackers… it certainly sounds like a festive, wintery treat…
Chuao Chocolatier for the love of peppermint bar
For the love of peppermint (Chuao went with cutesy, all lowercase spelling for these bars, so no, that's not a multi-word typo on my part) easily holds the most promise out of Chuao Chocolatier's three holiday options. 60% dark chocolate, crushed peppermint, and peppermint oil. I must admit, this bar does pique my interest…
Chuao Chocolatier hope, joy & gingerbread bar
Easily the sweetest of all our holiday chocolate bars, Chuao's hope, joy & gingerbread delivers 41% milk chocolate coupled with actual gingerbread, organic honey (a rare organic sighting for Chuao), cinnamon, nutmeg, ginger and clove. It also delivers forty grams of sugar per bar, particularly alarming since remember, Chuao creates smaller bars than the competition.
We're certainly not recommending this bar, but again, if it's a bag full of Reese's Peanut Butter Cups or a Chuao hope, joy & gingerbread bar, which do you choose?
That's the end of 2017's holiday chocolate spotlight, but don't let the small variety get you down! Theo's bars alone are enough to carry an On the Chocolate Regular holiday, and with quality offers from Endangered Species Chocolate and Tony's Chocolonely also in the mix, you certainly have some good quality options here in December.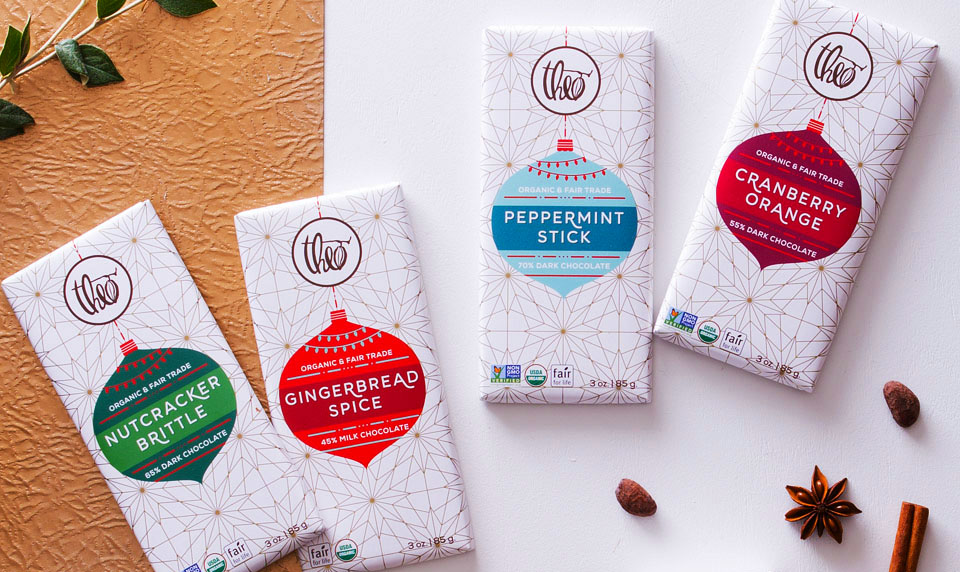 If you try any of these bars, let us know what you think! Also, if you find a bar (and/or a company) not listed here that you feel belongs in this column, send us a comment below and let us know that as well!
Most importantly, enjoy a wonderful holiday, and we'll be back again with more On the Chocolate Regular in 2018…
DECEMBER 2017 ISSUE PREVIEW