K'ul Chocolate Six Bar Collection
IMPORTANT NOTE: Please email us at support@chocolateconnoisseurmag.com if you're interested in international shipping.
A Cool Six Pack from K'ul Chocolate
If K'ul Chocolate looks familiar to you, but you just can't quite place exactly why, then perhaps the word BIJA rings a bell…
This month we're re-introducing chocolate makers Paul Newman and Ari Lee-Newman from the chocolate Mecca known as Washington state, and their recently re-branded BIJA to K'ul, chocolate company.
Yes, it's a new name, but it's the same inspirational mission as Paul and Ari delivered when they were BIJA. We'll be releasing a new In Focus feature story on K'ul next week, so you can read all about the outstanding work of this chocolate couple. But first, you can taste the K'ul difference immediately with our latest chocolate offer — the K'ul Six Bar Collection.
K'ul always uses the least amount of ingredients when crafting their chocolate bars. Part of their mission is to provide the cleanest bars available, with minimalist ingredients. They also never use any emulsifiers like soy because, as Paul likes to say, "Chocolate should be simple and delicious!"
On top of that, K'ul sources only 100% organic, non-GMO ingredients in all of their bars. We always vet our chocolate makers before letting them into the Chocolate Shop here, and K'ul passes every single test with flying colors.
You can read all about Paul and Ari's origins via our latest article right here: In Focus – K'ul Chocolate.
And click below to try these six absolutely delicious, top quality chocolate bars at a great price!
Offer ends March 10th, or while supplies last.

K'ul Chocolate Six Bar Collection – $40

K'ul Chocolate's Six Bar Collection features the following chocolate bars:
Wild Ginger & Cayenne
Toasted Coconut
Himalayan Sea Salt
Peppermint Crunch
Pure Dark Chocolate
Burnt Maple Crunch

K'UL CHOCOLATE Six BAR COLLECTION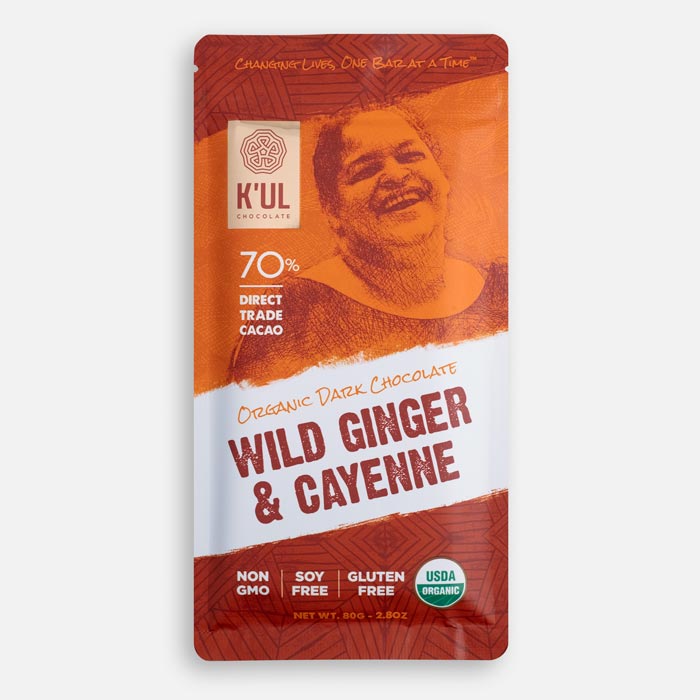 Wild Ginger & Cayenne
70% Cacao
Rich, smooth 70% cacao chocolate envelopes a bright, assertive, exciting blend of ginger and cayenne. Ginger plays through from start to finish, while the cayenne adds a zing to the finale. A bean-to-bar chocolate created to excite and delight.
Made with 100% organic ingredients, K'ul uses direct-trade cacao from their women's cooperatives. The Wild Ginger and Cayenne bar is made with only 5 essential ingredients to make it taste delicious and fresh.
Ingredients: Organic Cacao Beans, Organic Cane Sugar, Organic Cocoa Butter, Organic Wild Ginger, Organic Cayenne Pepper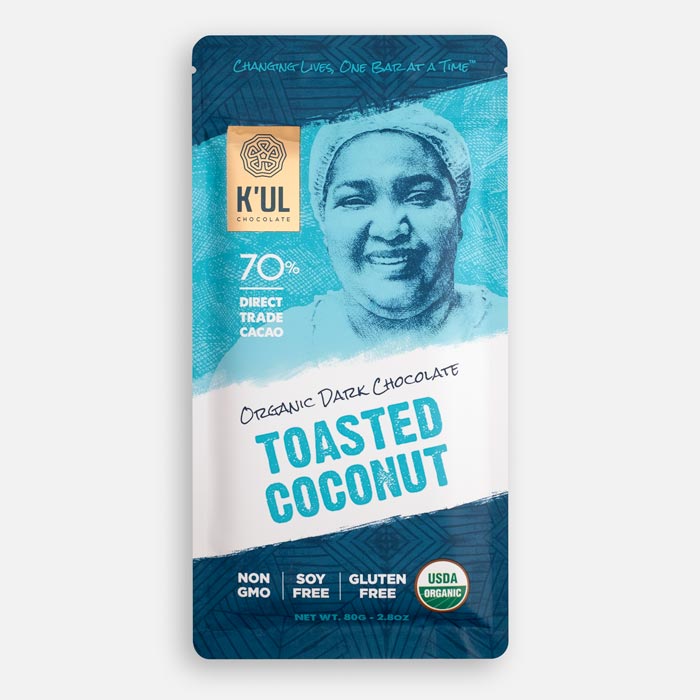 Toasted Coconut
70% Cacao
This rich, complex 70% bean-to-bar chocolate is delicately laced with roasted, finely- textured organic coconut for a twist on the beloved classic. Notes of coconut introduce themselves right away but increase as you enjoy, mellowing the sweetness of the chocolate.
For this pairing, K'ul uses their 70% dark chocolate from Peru. Coconut and chocolate… there are few combinations more heavenly together!
Ingredients: Organic Cacao Beans, Organic Cane Sugar, Organic Cocoa Butter, Organic Toasted Coconut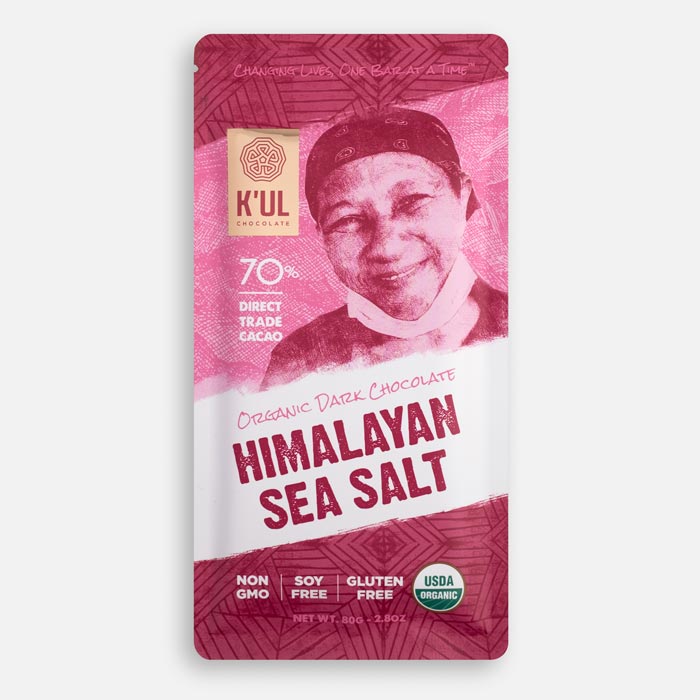 Himalayan Sea Salt
70% Cacao
Bite into this velvety, rich 70% cacao chocolate bar and savor the smooth yet complex flavors of hand-harvested cacao, perfectly balanced with the subtle salt crystals that temper the sweet notes of currant and raisins.
Imagine the richest 70% dark chocolate paired with ancient pink Himalayan crystal salt for a truly remarkable flavor pairing. K'ul  uses direct-trade cacao from their partners to make every bar as clean as possible.
Ingredients: Organic Cacao Beans, Organic Cocoa Butter, Organic Himalayan Sea Salt, Organic Cane Sugar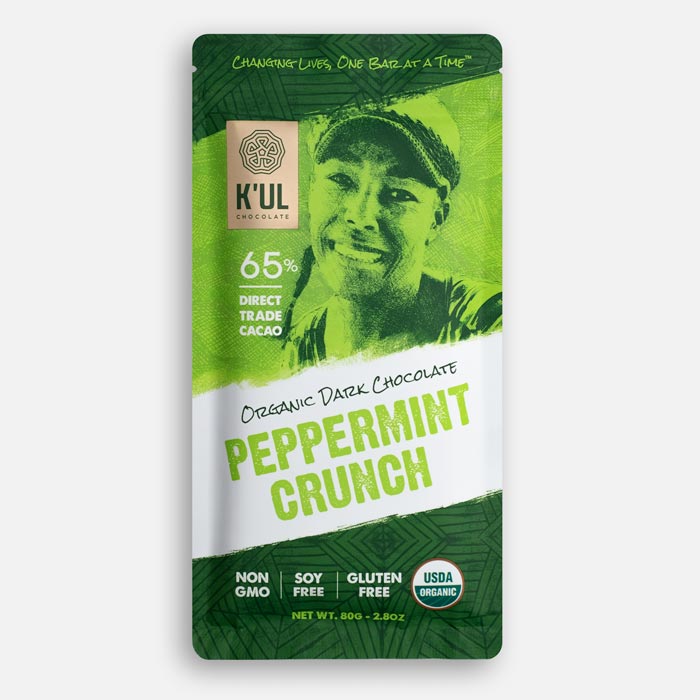 Peppermint Crunch
65% Cacao
Think of the classic mint and chocolate peppermint patty, but with much, much better ingredients!
For this pairing, K'ul uses their 65% dark chocolate made from single-origin Dominican Republic cacao. They infuse it with pure peppermint oil and add handmade gluten-free, cookie crunch pieces, providing a crunch reminiscent of those sandwich-style cookies we all know and love.
Ingredients: Organic Cacao Beans, Organic Cane Sugar, Organic Cocoa Butter, Organic Gluten-free Cookie Crunch, Organic Seely Mint Oil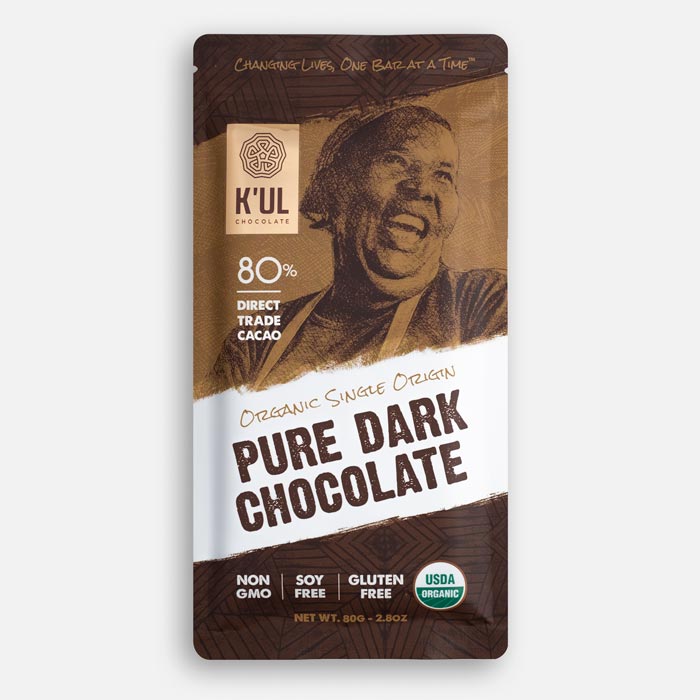 Pure Dark Chocolate
80% Cacao
This smooth, creamy 80% dark chocolate brings a unique richness and depth unlike anything you've experienced. Dark cherry notes in the beginning give way to blackberry on the finish.
K'ul conches their direct-trade Dominican Criollo cacao from their women's cooperative up to 50 hours, releasing subtle floral notes while removing the traces of bitterness often characteristic of dark chocolate.
Ingredients: Organic Cacao Beans, Organic Cane Sugar, Organic Cocoa Butter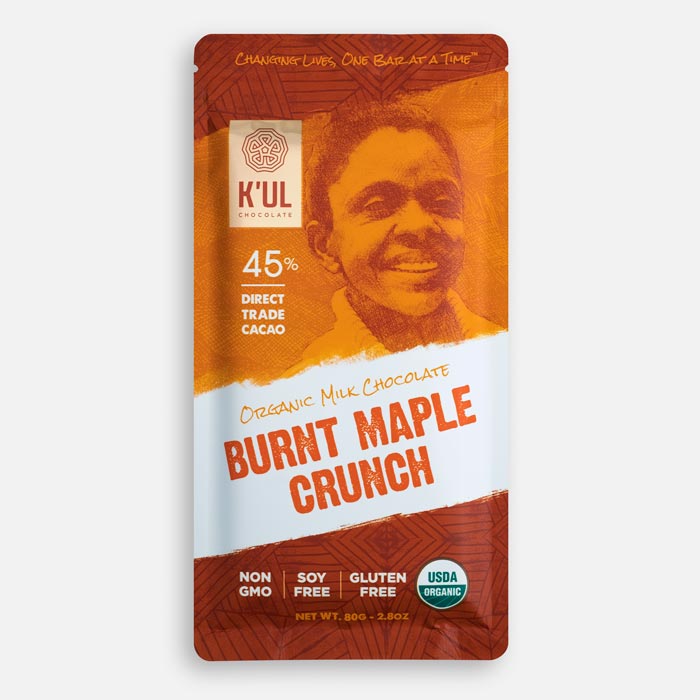 Burnt Maple Crunch
45% Cacao
Savor velvety milk chocolate coupled with a sweet, smoky maple crunch. K'ul takes select maple syrup, heated slowly to the precise temperature, then cools it down to build the sugar crystals for the delicious crunch.
Their Burnt Maple Crunch uses fair trade sugar from Paraguay, direct trade cacao from Peru, organic milk from California, and Maple Syrup from Canada, all hand-made into this delicious one-of-a-kind crunch.
Ingredients: Organic Cane Sugar, Organic Cocoa Butter, Organic Milk Powder, Organic Cacao Beans, Organic Maple Crunch
Chocolate Connoisseur Premier
Save 25% on K'ul Chocolate
Welcome to our most exclusive, rewarding chocolate experience yet:
Ten different chocolate offers
25% discount
Automatically shipped to you throughout the year
FREE Chocolate Connoisseur Ultimate Membership (a $21.97 value)