"WE MAKE STONE GROUND CHOCOLATE THAT IS SERIOUSLY GOOD AND FAIR FOR ALL"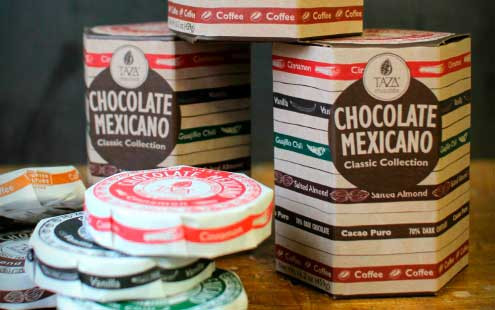 by Eric Battersby
That's the heading on the About page of Taza's website, and it's more of a mission statement than it is an About Us. Today we'll briefly introduce you to Alex Whitmore, the man behind that mission. If you're still looking for your true calling, or if perhaps you've found it but feel you took a long, winding road to get there, then Alex will make you feel at least a little bit better (and then a lot better after you've tasted Taza chocolate).
Between college and his founding of Taza, Alex spent time as the captain of a private yacht, a restaurant server and cook, a parachute packer for skydivers, a boat builder for America's Cup boats, a bike courier, and a finally a fleet manager for Zipcar. Don't bother looking for the common thread between those gigs that most certainly led Alex to chocolate. You won't find one.
Travel to Oaxaca, Mexico, however, and you might be onto something. In 2005, Alex traveled purposefully to Oaxaca, in search of "something exciting related to food." The journey changed his life dramatically –
"What I saw there blew me away: simple rotary stone mills that were distilling cacao beans into this rustic chocolate. That was the moment I knew. I bought a couple of those mills and shipped them to myself, then later studied under molineros in Mexico. The beginning of it all was 2005, and in 2006 we started manufacturing in earnest."
Those stone mills are called molinos, and the molineros Alex refers to are the "millers" (molinero literally translates to miller) who expertly make chocolate courtesy of those mills. As Alex puts it –
"The hand-carved stones that turn inside these mills preserve the bright, fruity flavors of the beans, and create a chocolate that's bold, rustic, and satisfyingly gritty — unlike any other chocolate you've tasted."
Alex learned the proper molinos technique by building relationships, and earning the trust, of the molineros, all in an effort to bring this unique style of chocolate to the United States.
Now at Taza he makes "perfectly unrefined, stone ground chocolate from bean to bar." Taza's techniques focus on minimal processing, "to let the bold flavors of our organic, Direct Trade Certified cacao shout loud and proud." It's a familiar refrain for today's bean-to-bar makers, but count Taza as one of the first.
"We said no to predatory middlemen and abusive labor practices. We created the chocolate industry's first third-party certified Direct Trade cacao sourcing program, to ensure quality and transparency for all. We have real, face-to-face relationships with growers who respect the environment and fair labor practices. They provide us with the best organic cacao, and we pay them prices significantly higher than Fair Trade."
— Alex Whitmore, Taza Chocolate
For the rest of our article on TAZA, click here to visit the Chocolate Connoisseur Magazine Shop and either subscribe or just pick up the January 2017 issue.
JANUARY 2017 ISSUE PREVIEW