Xocolatl Autumn Trio Ultra
IMPORTANT NOTE: Please email us at support@chocolateconnoisseurmag.com if you're interested in international shipping.
Introducing Xocolatl, a small batch Atlanta chocolate maker with a big heart
The wife/husband chocolate team behind Xocolatl, Elaine Read and Matt Weyandt, make their first appearance here at Chocolate Connoisseur with this super-tempting "Welcome to Fall" chocolate offer — the Autumn Trio Utra.
Ready for some cooler weather? Xocolatl's stunning chocolate bar trio highlights a seasonal shift with flavors of coffee, sea salt, and coconut milk, with a playful nod to Halloween.
This Chocolate Connoisseur Exclusive bundle also includes a bag of Xocolatl's Organic Cacao Nibs, from Peruvian cacao, making it the perfect restart of our chocolate season here, after the long hot summer!
If you're new to this outstanding small batch ATL chocolate maker, Matt and Elaine share a very fun story of how Xocolatl came to be right here. But most importantly, you'll want to know their mission:
Produce chocolate that delights & satisfies
Discover & share the true value and awesomeness of chocolate
Positively impact livelihoods, health, and sustainability through focused growth
Xocolatl bases their sourcing model three principles: Quality, Sustainability and Ethics —
"We know people expect delicious chocolate, but we center ourselves around delivering delicious chocolate that our customers will also feel great about eating.

This type of direct trade model goes even further than the positive improvements created by the fair trade certification system. By working directly with these individuals and organizations and visiting their farms whenever we can, we seek to develop long-term trading relationships built on mutual trust, reliability, fairness and respect.

We hope that when you bite into our chocolate, you enjoy the deliciousness of our high quality ingredients and the knowledge that your spending supports sustainable farming and forest management & the families who practice it."
As for the name Xocolatl (pronounced "chock-oh-LAH-tul"), it comes from the original word for chocolate from the Nahuatl language spoken by Aztecs and Mayans, who prepared xocolatl as a sugarless drink made of ground cacao, spices, water and cornmeal. "Xocol" means bitter and "atl" means water.
As an Atlanta, GA based company, Matt and Elaine knew that was a perfect fit — honoring the ancient cultures who first invented chocolate, connecting modern chocolate lovers with its long history in the Americas, and of course, they just couldn't pass up the ATL in the name!
Offer ends October 20th or while supplies last.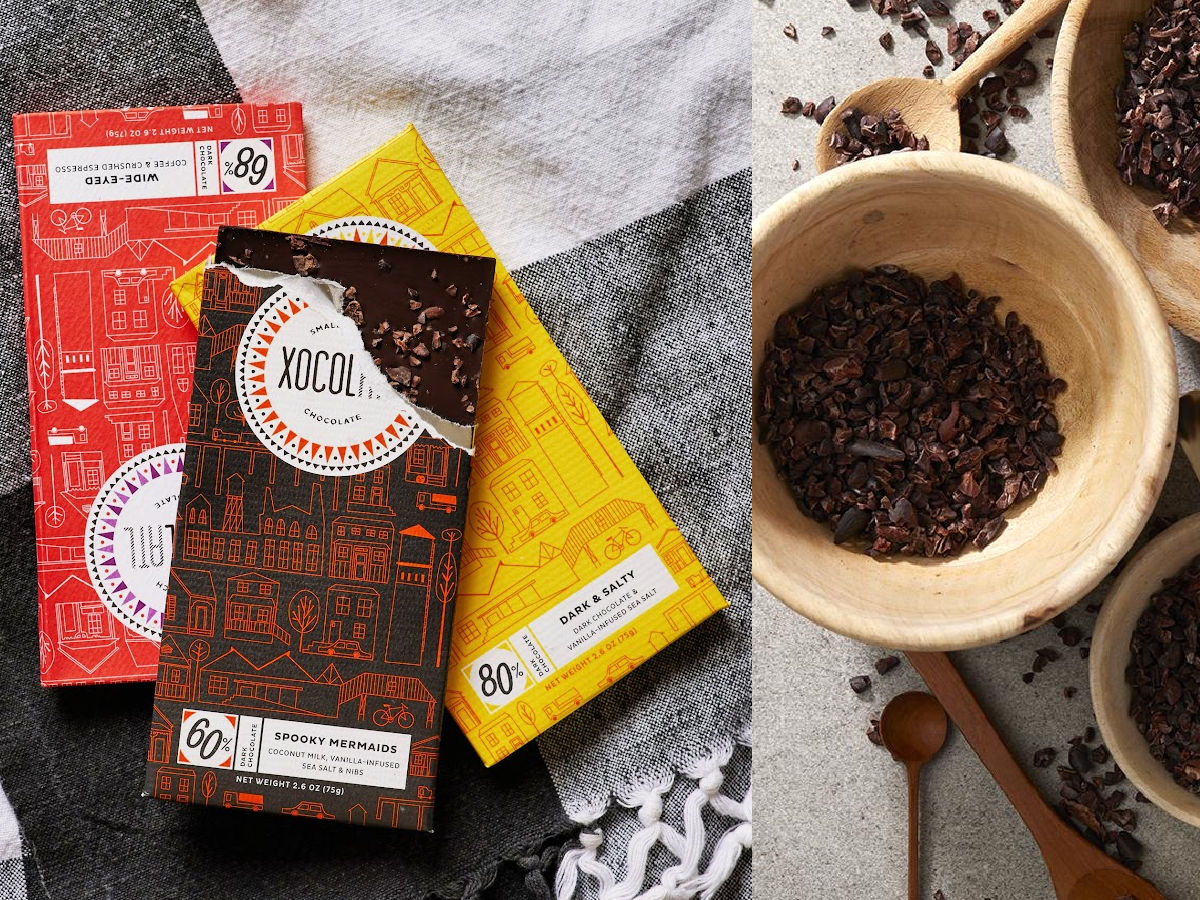 Xocolatl Autumn Trio Ultra – $40

The Xocolatl Autumn Trio Ultra features the following:
Wide-Eyed 68% Dark Chocolate Bar
Spooky Mermaids 60% Dark Chocolate Bar
Dark & Salty 80% Dark Chocolate Bar
Organic Cacao Nibs

IMPORTANT NOTE: Please email us at support@chocolateconnoisseurmag.com if you're interested in international shipping.
Xocolatl Autumn Trio Ultra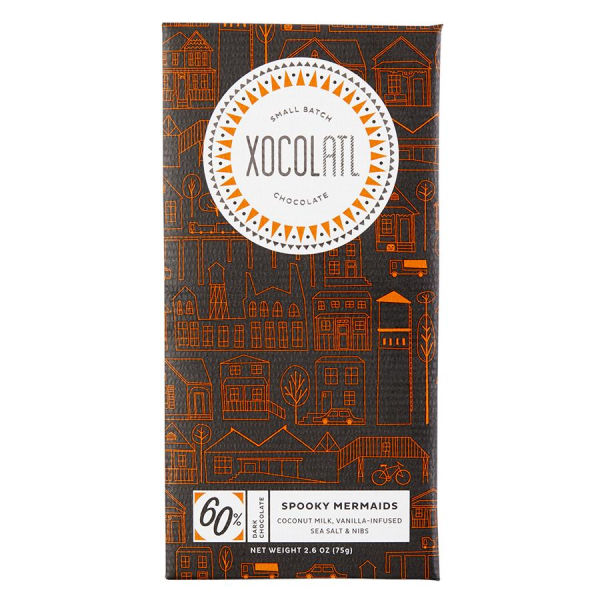 Spooky Mermaids 60% Dark Bar
This delectable 60% dark coconut milk bar combines coconut milk chocolate, sea salt and roasted nibs. It's actually Xocolatl's fan-favorite bar, Kissed Mermaids, dressed in costume for Halloween. Yes, now it officially feels like Autumn!
Ingredients: Organic cacao beans, cane sugar, organic coconut milk powder.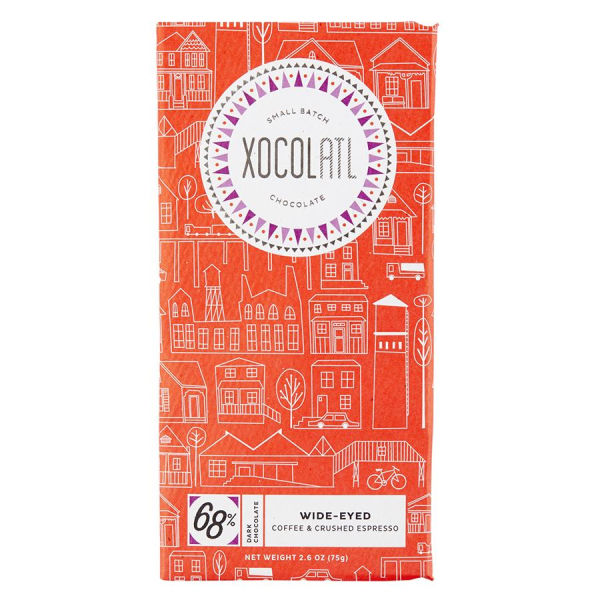 Wide-Eyed 68% Dark Bar
This bar 68% dark chocolate + organic & fair-trade coffee & espresso roasted by our friends Cafe Campesino
Xocolatl adds the coffee & espresso during the last 12 hours of  grinding to keep the flavor chocolate-forward, with a warming coffee finish.
Ingredients: Organic cacao beans, cane sugar, coffee beans, espresso.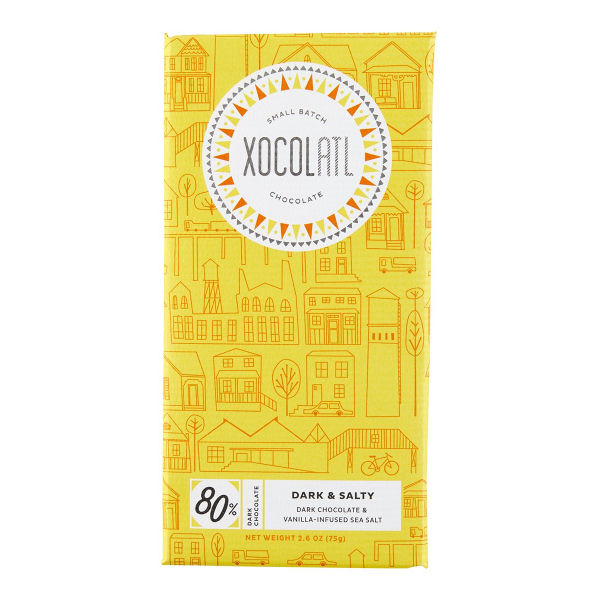 Dark & Salty 80% Dark Bar
Enjoy 80% Ugandan dark chocolate combined with sea salt, one of Xocolatl's bolder, darker bars.
It's also deliciously topped with sea salt to remind you of perfect, crusty brownie edges!
Ingredients: Organic cacao beans, cane sugar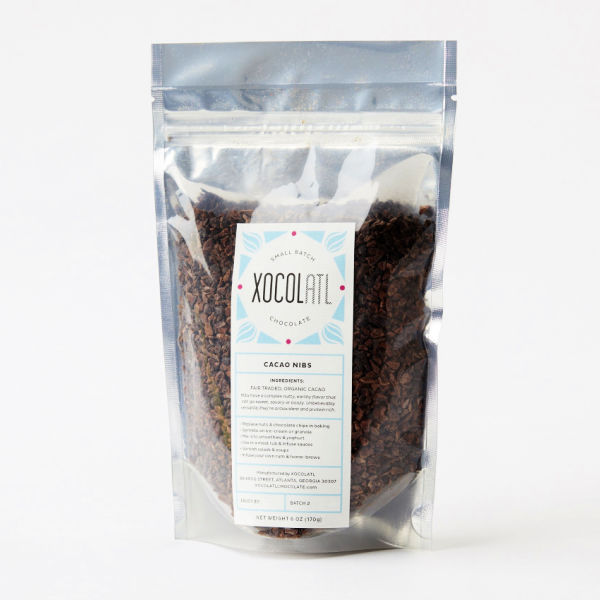 Organic Cacao Nibs
Cacao nibs have a complex nutty, earthy flavor that can go sweet, savory or boozy. Unbelievably versatile, they're also antioxidant and protein rich.
When we say unbelievably versatile, we're not exaggerating. You can use them to replace nuts & chocolate chips in baking… sprinkle on ice cream or granola… mix into smoothies & yogurt… infuse in sauces… garnish salads & soups… and even  infuse your own rum & home brews!
Xocolatl's nibs are the same ones they use in three of their award-winning bars, and as you can see below, they're only one simple, high quality ingredient.
Ingredients: Organic Peruvian Cacao
Chocolate Connoisseur Premier
Save 25% on Xocolatl Chocolate
Welcome to our most exclusive, rewarding chocolate experience yet:
Ten different chocolate offers
25% discount
Automatically shipped to you throughout the year
FREE Chocolate Connoisseur Ultimate Membership (a $21.97 value)