Chocolate Connoisseur's In Focus series kicks off its 2018 here in February with Cacoco, a small company in Nevada City, California that crafts some of the world's highest quality drinking cacao. Co-founded in 2014 by Liam Blackmon and Tony Portugal, Cacoco promises to transform the chocolate experience, taking your own personal cacao love story to new heights… to a level even bordering on mystical. Liam and Tony believe in the therapeutic properties of chocolate, and chances are, once you try their drinking cacao for yourself, you'll definitively concur.
Powered by a clear, focused mission, Cacoco delivers on multiple fronts, from an end-to-end high quality product, to ethical sourcing practices, to a penultimate, beyond earth-friendly philosophy that reaches what I'd consider an "earth guardian" level, the company puts forth the extra effort in every single area they find relevant to the mission.
To put it simply, you won't feel guilty at any point in your Cacoco chocolate adventure.
A Powerful Why
We'll dive into all those details in a moment, but first, let's shine a light on the big "why". Tony and Liam started Cacoco because they perceived a chocolate industry nearly screaming for innovation, and chocolate consumers in desperate need for a deeper cacao connection. For this interview, we talked specifically with Liam, and as he openly discusses –
"The mainstream marketplace is dominated by processed confections and treats that are a far cry from their source, and as with many foods today, the average chocolate bar is devoid of its origin and its story. Who made this? Where did this come from?

By keeping supply chains obscured, and consumers constantly bedazzled, commodity traders and established candy makers have been able to peddle chocolate that is, for all intents and purposes, still a part of a colonial system.

Our goal with CACOCO is to bring back the essence of a more pure form of cacao, as well as establishing an ethical, ecologically sound supply chain – something not found in the current system."
They also started CACOCO to revive and reintroduce "the molten chocolate vitality elixir" to as many people as possible. Cacoco proudly touts their product as "the most ancient and healthful version of cacao blended with herbs, spices, and a water base – the essence of our product line and brand."
Such focused passion must certainly originate from some powerful experiences, and Liam openly, happily shares two of his most impactful.
Chocolate Connoisseur Premier
Welcome to our most exclusive, rewarding, chocolate experience yet.
Ten different chocolate offers shipped to you throughout the year, plus a free Annual Subscription to Chocolate Connoisseur Magazine. A Chocolate Connoisseur Premier Membership is like no other…
"My first experience of bitter cacao was on the island of Maui in Hawaii 10 years ago. I was living in on a permaculture farm, in a tropical, sustainable agroforestry system, with dozens of different fruit trees, an annual garden, and waterfall pooling at the bottom of the property.
The fruit of the cacao tasted remarkable, and though the beans were yet to be fermented, from that moment forward I felt connected to the botanical roots of cacao."
The Chocolate Shaman
Liam's later travels, including to a jungle in Ecuador, further cemented his feeling of "connecting with the source." His most profound experience, however, actually took place in Nevada City, with a Guatemala-California connection that truly sealed the deal, a key inspiration for what would eventually become Cacoco. He attended a "cacao ceremony", a completely different chocolate experience.
"The first time I sat in a cacao ceremony was in Nevada City, CA with a cacao shaman based out of Lake Atitlan, Guatemala. Participants gathered in a circle at a local yoga studio as the cacao shaman presented a special selection of alkaloid rich, 100% bittersweet chocolate which he mixed with hot water and a little bit of cayenne.

Individuals approached the center of the circle one at a time and the cacao shaman dished out little cups which we could add a little bit of honey to if needed. The cacao shaman told us that the cacao would meet us where we were at as individuals, and to not think to much or expect to much but rather be present with whatever was happening in the moment. Easy enough, right?

I drank several cups of the bitter cacao and sat quietly, paying attention to any arising sensations as anyone trained in basic meditation would do. After a few minutes I felt a lot of joy, followed by a lot of sadness that caused me to break down into tears – something that felt rather embarrassing around so many people, but was nevertheless necessary. It was a very cathartic experience, one that many others in the group shared with me that day.

I experienced a different side of cacao than I had previously known at the ceremony, and again leveled up my understanding of what cacao is really capable of – the ability for the alkaloids (active, medicinal compounds) in the chocolate to facilitate an experience of emotional release and integration.

It makes sense now when I read about Mesoamerican indigenous rituals involving cacao, such as transitional rites of passage like a birth, naming, wedding, or death ceremony; or a healing for a particular purpose administered by a curandera. Though the idea that cacao may be used in this way is foreign to people today, I believe if people consume high quality cacao and take the time to sit with it, they will have an experience outside of their normal state of being."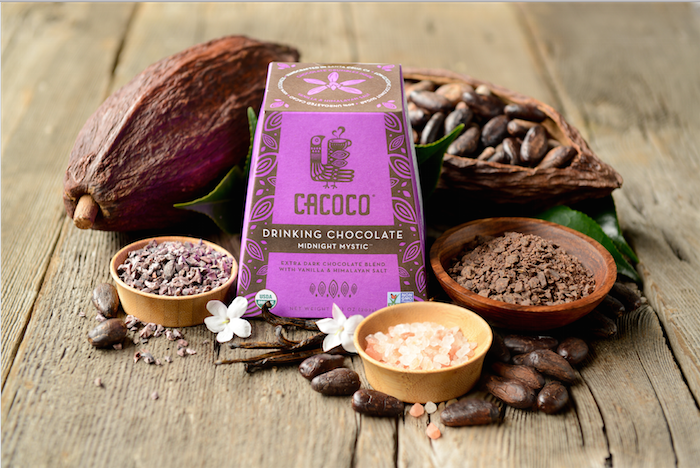 Midnight Mystic, included in this issue's CACOCO chocolate offer
Nevada City Roots
Intense? Yes. Life-changing? Check. Cacoco for all? You know it, as that key experience paved the way for the drinking elixirs Liam and Tony produce today. They officially started the business back in 2014 in the aforementioned Nevada City, an eclectic international California mountain town frequented by travelers from tropical regions where cacao grows in abundance – which according to Liam helped people living there embrace the Cacoco product concept quickly.
The Nevada City area also touts plenty of organic farmers and ecologically-conscious, health-focused people, so as Liam states, "It didn't take a lot of convincing for people to integrate it into their lives, and understand what it was we were trying to create."
Prior to launching, Liam spent five years crafting cacao elixirs at a farm to table superfood cafe in Nevada City proper. The invaluable experience fostered more growth and understanding in the non-traditional chocolate space, an important contrast to the typical confections or baking areas where many people kickstart their chocolate careers.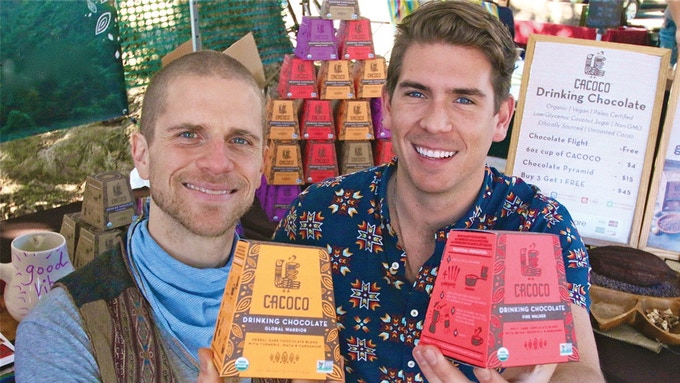 Liam and Tony bolstered the company launch through grassroots bootstrap efforts, taking time to build their business slowly and organically, with some assistance from family and friends along the way. As Liam notes, "a little support from famous musicians, Olympic athletes, and all sorts of other people with big hearts who believed in our mission" helped immensely as well.
Another notable boost came courtesy of an art, elixir, and tea bar in Nevada City called Elixart. Cacoco started a weekly, Friday event at Elixart where they serve cacao elixirs, both as an alternative to alcohol, and as a fun, relaxing way to connect with others. The event's grown to such a hit that it still exists today, now running every single Friday for the past five years. Impressive.
Beyond the Hype
Ask Liam directly, and he'll eagerly tell you that the most unique element of his chocolate is the story that supports the experience. All the stories and experiences would ring superficial, however, if Cacoco only talked the talk. Instead, as I hinted earlier, Tony and Liam deliver quality from start to finish, crafting a chocolate elixir that not only elevates your senses, it also inspires your soul.
Cacoco sources their beans from the UOPROCAE Cooperative, in the Esmeraldas region of Ecuador. If that region sounds particulrly familiar, David Menkes and LetterPress Chocolate give it much love, and you may have noticed the words "Costa Esmeraldas" on the LetterPress Chocolate Ecuador Bar wrapper in one of our 2017 chocolate offers. If you wondered about the quality of cacao from this region, wonder no more. Cacoco will not disappoint.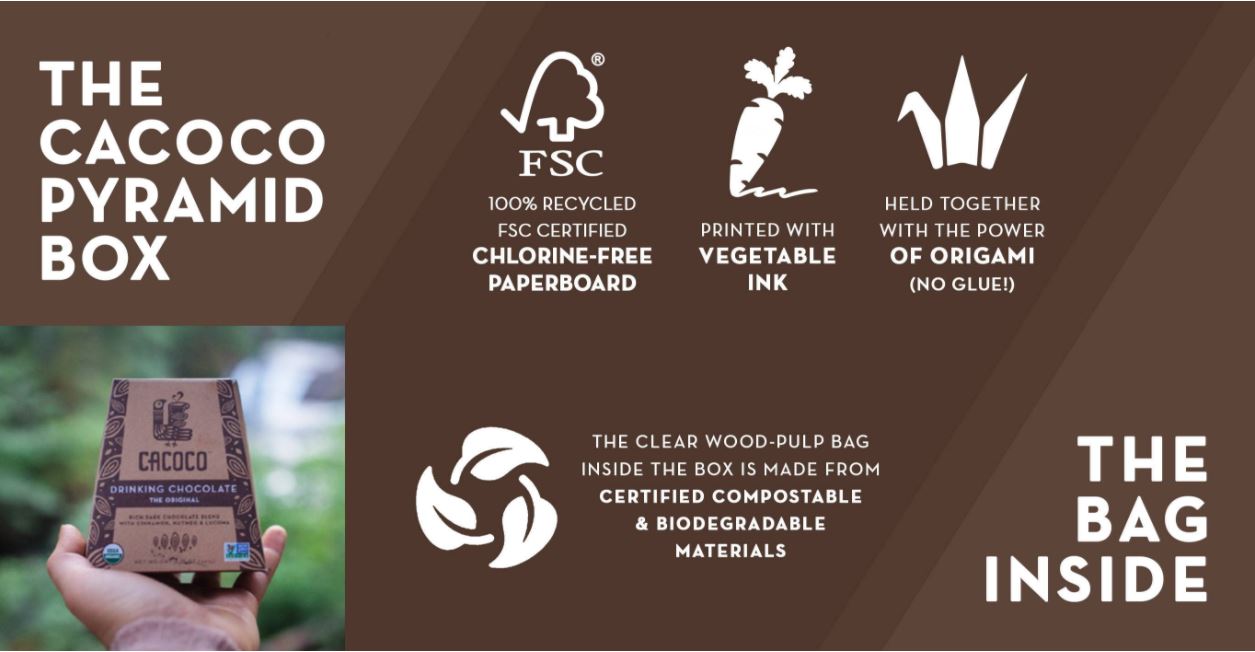 All of Cacoco's elixirs are Fair Trade certified, organic, non-gmo, vegan, paleo-friendly, and sweetened only with coconut sugar, regarded as a low-glycemic sugar, thus safer for diabetics. Perhaps most impressively, Cacoco pays twice the Fair Trade price for its cacao beans. Obviously, Liam and Tony love happy, healthy consumers, but they also love a happy, healthy and stable supply chain as well, and paying twice the Fair Trade rate leaves no room for doubt.
An originality shines through in Cacoco's wonderful elixirs too. As Liam says –
"All of our flavors are original in some sense. Probably the most unique blend we make is the Global Warrior blend, which is like an herbal chocolate chai, or one could also say an alchemical turmeric elixir.

Utilizing turmeric, black pepper, the healthy fats in the cacao, and the hot chocolate preparation method, Global Warrior allows consumers to experience the full benefits of the anti-inflammatory curcumin found in turmeric, which needs black pepper, healthy fats, and heat to be fully bio-available.

When people add it to their morning drink routine good things begin to happen!"
I'm making it a point to add the Global Warrior blend to my own morning in the near future, so look for a note on that in an Editor's Corner column very soon. Athough Warrior Blend sounds perfect for yours truly, Liam says Cacoco's best seller is actually Midnight Mystic, an 80% dark blend with vanilla, himalayan salt, and coconut sugar.
"We believe it's a best seller because people love dark chocolate, appreciate the coconut sugar sweetener, and feel the mood-elevating nature of the high quality cacao we use. It has a rich, fudgy, creamy texture and often blows people's minds when they first try it! Very fun to watch!"
Don't Sleep on Technique
A significant part of that mind blowing stems from Cacoco's unique preparation, which tends to surprise people. Instead of mixing the product with milk as is done with confections and conventional hot cocoa, Liam and Tony recommend blending Cacoco's powders with water, as done for thousands of years in traditional chocolate elixirs. As Liam encourages, "This we believe provides the most feel- good, uplifting experience, and truly allows people to taste our Ecuadorian heirloom cacao."
It makes perfect sense of course, particularly once you graduate far beyond those childhood days of Swiss Miss and a milk! The chasm between cheap chocolate and the straight from the source creations of Cacoco stands wider than the Grand Canyon, and we expect you'll taste that in every single sip. Just make certain you follow Cacoco's wisdom when blending your elixirs at home.
The Long Journey from "Chocolate Cookie" to Molten Chocolate Elixir
At the start of our interview, Liam revealed that his first two words as a child were chocolate cookie. Even though the inspiration behind his chocolate career didn't strike until much later in life – it's not as if he proclaimed at age seven he would one day make chocolate – one must wonder, were Liam's very first words telling?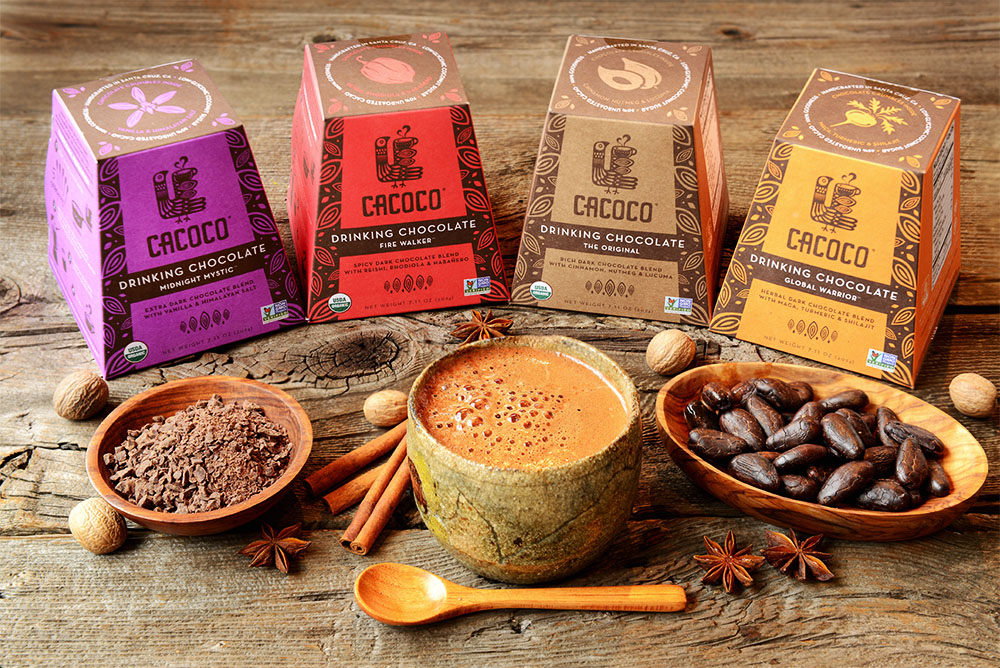 How many people do you know (I'm guessing most of us can count that on zero fingers) whose first spoken words hold any relevance whatsoever to their our adult lives, let alone speaking a word as specific, and unique for a child to speak, as chocolate.
Between the surprising early words, and a childhood spent in Nashville, Tennessee, where active, snowy winters led to many cups of hot chocolate, you might sense at least a wee bit of Cacoco foretelling in Liam's childhood. Regardless of any early origins, today his chocolate philosophy clearly stands out –
"Revive the molten chocolate elixir!

Source the Earth's purest ingredients from regenerative food systems.

Provide customers healthy, safe and delicious products with uncompromised quality, service and integrity, and create and implement the most sustainable methods and systems for our organization."
That's an easy philosophy and mission for Liam and Tony to stand behind, and for customers to embrace. As Liam tells it –
"The best part of Cacoco is the opportunity to do something essentially very simple that has deep impact on the world around us. By swimming upstream against the predominate business culture of wealth extraction, social exploitation, and cheap commodity trade, we can engage in and create the world we want to see, where people and planet collaborate synergistically. Also, people love chocolate, so when you bring the happy healthy chocolate to a party everyone is super excited!"
In addition to inviting Liam to attend your next party (yes, that's tongue in cheek, please don't call Liam and ask for his attendance at Timmy's birthday), you can also catch Cacoco at a variety of different events each year, including the Natural Products Expo, the Chocolate Salon Series, and VegFest, as well as different craft fairs and music festivals.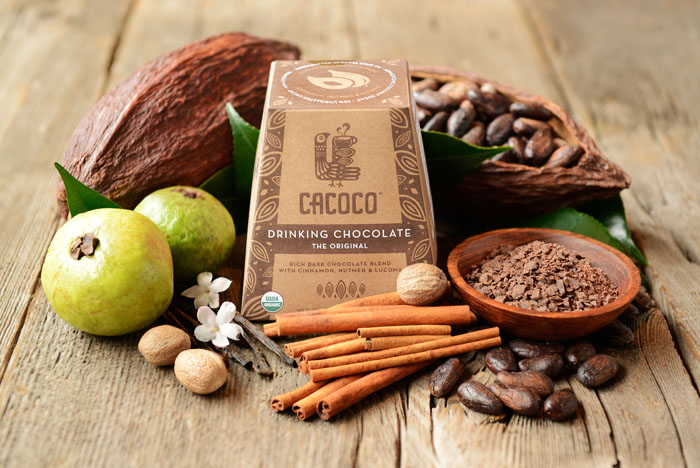 As for what's next, Cacoco recently launched at Whole Foods stores in the Northern California region, and according to Liam, "we have a lot of people to educate in the coming months!" They're also working towards introducing the CACOCO drinking chocolate experience to people in natural and organic grocery stores across the west coast, with Whole Foods the biggest project.
From late February through late March you can order CACOCO right here with the February 2018 Issue's Chocolate Offer — The CACOCO Collection, which includes three of the four drinking chocolate blends.
Of course you can also order directly from CACOCO online as well, so if you don't live on the West Coast, you can still score some of the great molten chocolate elixir anytime. And when you do, drop us a line and let us know what you think!