Cao Chocolates: Bienvenidos a Miami
This month's In Focus takes us to Miami, Florida, a city bursting with art, fashion, music, food, and, most importantly for our purposes here, delicious chocolate — thanks in part to Ricardo Trillos and Anelith Ortega, co-owners of Cao Chocolates.
Ricardo and Anelith didn't grow up in Miami, however. They moved from Caracas, Venezuela, to the States in 2004 to pursue the American dream. Recently, Ricardo, the founder and head chocolate maker of the business, took time from his busy chocolate-making schedule to share with us how Cao Chocolates got its start… and how he and his wife's love for chocolate evolved into a full-time passion.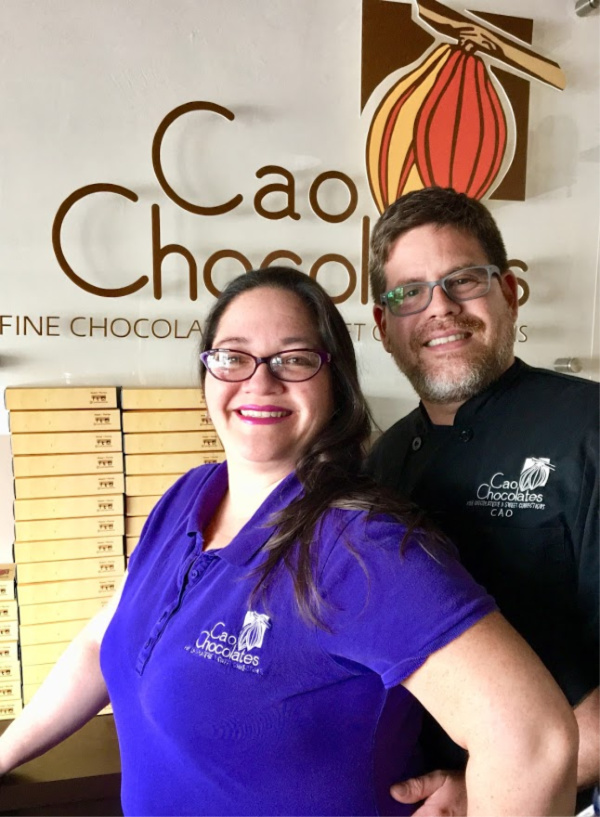 "Everything began when we moved to the United States.

In Venezuela, you could find great chocolate on every corner, kiosk or news stand. Of course, this chocolate was made with high quality local cacao, so once we made the move, the cacao in Venezuela was very easy to compare and miss."
Ricardo and Anelith couldn't find enough Venezuelan brands in Miami to satisfy their taste buds, so Ricardo asked his family to bring chocolate bars every time they visited.
"One day my aunt showed up with a 5 lb. block of chocolate. I guess I asked too many times for bars, so she figured this bar would last, and my wife and I didn't realize it then, but that bar became the starting point to our chocolate business and what I consider the sweet life."
Shortly after the 5 lb. bar arrived, Ricardo, happily ate the big chunks of chocolate, while his wife complained he should do something better with it.
Confection Correction
"By that time the cupcake trend was huge, and, personally, it's something I never eat or make since we are familiar with European pastries in Venezuela. Thanks to the immigrants there, we know more about eclairs, fruit tarts, mousses and other decadent desserts."
This exposure to finer desserts meant Ricardo refused to bake cupcakes or anything trendy, but he agreed to find a better and tastier use for the chocolate… interesting mission for him, seeing that when he was a child, he and his family and friends would drive by the chocolate factory in Caracas, Venezuela, and buy bagged up broken pieces of chocolate, which weren't good enough for packaging.
Even then he thought perhaps he could have found a better use for those chunks of chocolate, rather than the factory just selling them cheaper. And now, as a grown up, he has the perfect chance to indulge his curiosities and experiment with all kinds of creative chocolately combinations.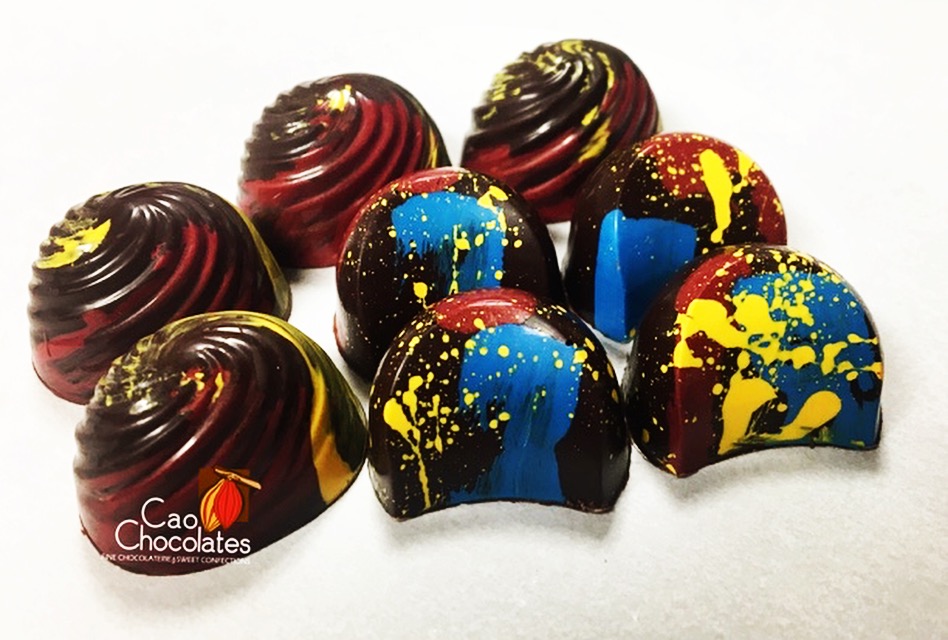 Spirited and Lively Cao Chocolates Bon Bons 
Serendipitous Chocolate
"I don't know if it was a coincidence, which I'm not so sure I believe in, but the movie Chocolat with Johnny Depp and Juliette Binoche was playing on TV over and over again (we had watched the movie many years before at the movie theater). And late one night while it was playing, the reaction of one of the characters, the mayor, while he was eating a forbidden piece of chocolate, made an impression on me, and I thought it would be cool to create that reaction in people."
By this time, Ricardo worked at a software developing company, where he would take chocolates to the team for them to sample (they didn't know they were his guinea pigs), and this helped him immensely with market research. But in February 2009, a bigger competitor acquired the company he worked for, merging departments, laying off employees, and… you guessed it… laying off Ricardo too.
"It was a terrible year in the economy. Due to the recession, not many companies were hiring, and I was looking for a job. Unexpectedly, a couple of calls from people inquiring about chocolates for a baby shower and a wedding made me think about keeping on with chocolate-making while finding a job."
Ricardo had hidden his chocolate-making hobby so that only a few close friends and co-workers even knew he was a chocolate maker. Once he finally decided to share the news, he was amazed how many people doubted he could do it.
"My wife, of course, was the only crazy person who believed in me, and together we started an online business platform and found a commercial kitchen, and that was the beginning of Cao Chocolates."
It would've been nice if other people offered more support, but perhaps the company never would have succeeded if Ricardo didn't use other people's skepticism as fuel.
"The doubt and lack of encouragement from everybody when I shared the idea was the final push I needed to understand I could use my accounting degree, professional HR experience and chocolate skills to prove them wrong. I can be stubborn, and here we are almost 10 years and many apologies later, experiencing steady business growth."
Becoming a Chocolate Connoisseur
In Ricardo's self-taught early days, it was incredibly frustrating to temper chocolate in Florida, thanks to the crazy humidity and high temperatures in the kitchens where he worked.
So shortly after they started the business, he continued to expand his knowledge, earning a diploma as chocolatier and chocolate maker from Ecole Chocolat and also from Chicago Chocolate Academy. He visited The French Pastry School and PreGel institute, among others, for professional training as well, and trained with chefs like Ewald Notter, Antonio Bachour (which then he assisted as Sous pastry chef), and more.
The added experience certainly helped Ricardo create a high-quality product.
"We believe in flavor and quality. We do not compromise our bars with a lot of ingredients. Simplicity is key. It's important for people to understand food is simple, and when we add too many ingredients, flavors can change."
Ethical sourcing is what matters most to Ricardo. Currently, Cao Chocolates sources cacao from Venezuela, Brazil, Nicaragua, Honduras, Dominican Republic, Tanzania, Costa Rica, and sometimes a few limited batches from Peru, Ecuador, or Mexico. He establishes close relationships with farmers and the traders who represent, support, and help farmers grow crops. Many of Cao Chocolates' beans are directly sourced, and Ricardo and his team spend a good amount of time with farmers working to improve their quality of life by offering a fair price for cacao beans.
"I believe speaking Spanish helps a lot with building mutual trust between us and the farmers. As of right now, my favorite farmers are in the Dominican Republic. I absolutely love going there to enjoy the food, and ice-cold, Presidente beer with the farmers while they cook and set a party for no reason… that's super cool, and I am always up for dancing and partying with them.
Sounds like a fun party to me!
Ricardo loves when his customers understand how farmers live, especially if they "can fit into the farmers' shoes", as he puts it, so people care about how their food is sourced.
"Most bean-to-bar makers like myself strive to sell experiences, not just chocolate. And one way we give our clients a unique experience is by transporting them, with the use of videos or photos, into the lives of the farmers, so they can see what life is like on the farms."
Diamond in the Rough
All chocolate makers are unique, but what's particularly special about Cao Chocolates is their affiliation with one of the very few cacao farms in the U.S.
Bruce and Joyce Chesney own the Patch of Heaven Sanctuary located in Miami, and despite being told cacao trees couldn't grow in that climate, horticulturists Fred Hubbard and Roberto Del Cid began growing cacao trees nonetheless!
"Cacao trees are usually found in Central and South America, as well as Africa, approximately 20 degrees north or south of the equator, and Miami is at 27.

We can proudly say we are the ONLY chocolate business in the US mainland making chocolate with American Cacao."
According to an article in the Miami New Times, by 2013, the trees planted three years earlier began to show signs of small pods. The horticulturists grew more, and, two additional years and one hundred trees later, they finally had enough fruit to make chocolate. That's when they contacted Ricardo, asking if he'd be interested in taking care of the pods after they were harvested.
Also, the article tells us that since 2015, Trillos has made a handful of chocolate batches using the Patch's cacao — though he hasn't released any to the public. He couldn't put his finger on why exactly, he just wasn't totally happy with the final product. So he's been perfecting his formula, and he thinks this will finally be the year for the U.S. batch of cacao to launch.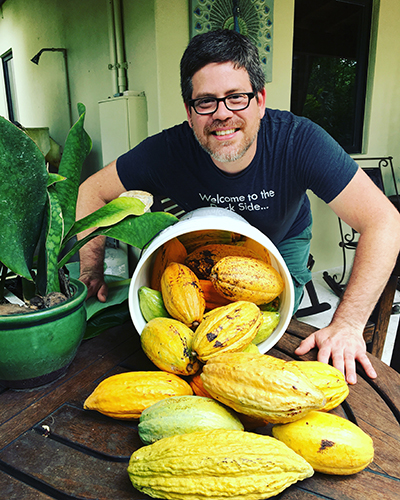 Ricardo harvests U.S. cacao
Perfecting the taste isn't the only reason batches haven't been released to the public. Challenges such as frequent rainfall, winter freezes, and hurricanes can complicate matters; in fact, 2017's Hurricane Irma destroyed all of the cacao fruit at the Patch.
"Trees are recovering right now after Hurricane Irma, and for that reason, the crop of the season was very short. The publication Edible South Florida wrote a very interesting article about the job we are doing in Patch of Heaven Sanctuary. Take a look here to read about it."
Quality in the Making
Ricardo works long and hard making sure the end product tastes good, which also means he only uses quality ingredients in the process. Indeed, he only crafts his bars with organic cocoa butter and organic cane sugar, and their cacao beans are non-GMO and mostly organic too. A wide variety of vegan and gluten-free products are available, and although their bonbons and truffles contain dairy, they do offer vegan and gluten-free options there as well.
"We proudly don't add preservatives, oils, soy lecithin, or any other emulsifiers to our chocolate bars. We're also working on recipes with high cacao content and coconut sugar which contain a lower glycemic index and work for people who can't have much sugar. Honestly, we try to keep away from sweeteners and any other sugar replacement that can affect the taste of the chocolate."