On the Chocolate Regular: Theo and Equal Exchange Holiday Chocolates (Preview)
This month is actually a bit unusual for this column, which would be fine except that it's our first new issue, so you have no idea what the "usual" ON THE CHOCOLATE REGULAR looks like! Normally you'll see an in-depth look at one chocolate maker or chocolatier whose chocolate you can, more often than not, find locally. These are the folks who mass-produce enough chocolate to reach stores all over the US and often worldwide as well, while still providing a good quality product. We're only mixing things up right out the gate here because it's the December issue, so we're giving a nod to a couple holiday favorites instead of focusing more in-depth on one chocolate maker.
That said, let's start with old faithful here, Theo Chocolates, who once again deliver a 4-bar holiday chocolate lineup to a store near you.
This year Theo replaced their Coconut Mint bar (sadly one of our favorites) with a new Cranberry Orange bar, which we had yet to try before publishing this issue. Two of the other three bars, however, are regular December snacks here at Chocolate Connoisseur. We'll personally vouch for both the absolute deliciousness and addictive qualities of the Peppermint Stick and Gingerbread Spice bars, assuming those varieties align with your own tastes. If you hate peppermint or ginger, obviously there's nothing to see here.
For us, these bars tend to last only a very short time once opened. In fact, the Peppermint Stick bar reminded me of that old Tootsie Roll commercial, where the wise old owl discovers how many licks it takes to get to the center of a Tootsie Roll Pop. "THU-REE!!" Yes three, that's about how many times you can go back and nibble on the Peppermint Stick bar before it's gone!
Theo's ingredients, as usual, are stellar. Here's a look at the Peppermint Stick bar:
INGREDIENTS: Cocoa Beans*+, Cane Sugar*+, Brittle* (Cane Sugar*+, Non-GMO Corn Syrup*, Cocoa Butter*+, Water, Salt, Baking Soda), Cocoa Butter*+, Ground Vanilla Bean*+, Peppermint Essential Oil*.
*Organic +Fair Trade
The final Theo holiday bar, Nutcracker Brittle, failed to impress when we last sampled it, but it's been awhile, so we'll give it another try this holiday season to look for improvement. Regardless, you have four organic and fair trade chocolate bars to choose from, and you can likely snag a bar from a Whole Foods, Sprouts, Fruitful Yield, Natural Grocers, etc… probably at any healthy food store near you.
For more details on each bar, visit Theo's website:
https://www.theochocolate.com/chocolate-bars/holiday
EDITOR'S UPDATE
Here are a few post-publication updates on Theo's holiday chocolates…
First, it turns out that Theo's newest offering, the Cranberry Orange bar, may actually be the finest of the bunch.  Although I openly lamented the loss of their Coconut Mint bar, and I must admit, I've never been a huge fan of the cranberry-orange pairing in general, I absolutely love Theo's Cranberry Orange bar!!!!  Regardless of your affinity, or lack thereof, to cranberry-orange, I 100% recommend it.
Second, I also had a chance to try the Nutcracker Brittle bar again, for the first time in years.  It's much better than I remember, particularly if you enjoy hazelnut, which brings the "nut" and the "brittle" to this bar's title.  If hazelnut really floats your boat, I'd recommend Nutcracker Brittle.  If not, you may very well still enjoy this bar, but for my tastes, Peppermint Stick and Cranberry Orange easily finish 1st and 2nd in this 4-bar race.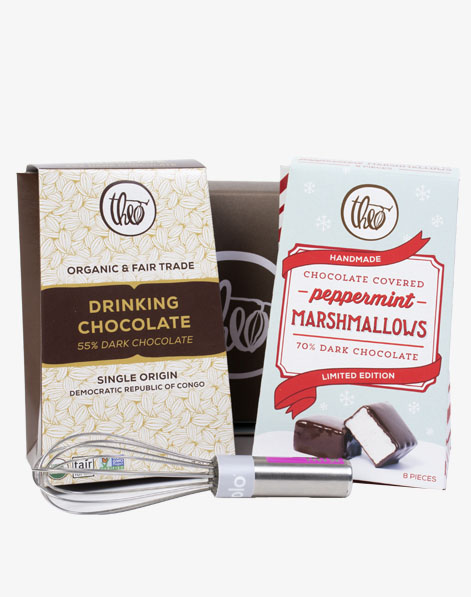 Third, this holiday season you can actually find Theo's Dark Chocolate Covered Peppermint Marshmallows at Whole Foods stores, so I felt compelled to throw them in the mix here.  We didn't get a chance to sample the marshmallows, but obviously if you're a marshmallow fan and a chocolate connoisseur, chances are you'll enjoy this holiday offering.
You can also pick up Theo's Dark Chocolate Covered Peppermint Marshmallows online as part of the Winter Warmer Gift Collection, pictured above.  Click here or on the pic to take a peek on Theo's site.
For the rest of this article, click below to snag a Chocolate Connoisseur Annual Subscription for just $42/year during our holiday sale!
33% OFF Annual Subscriptions + Instant 20% Rawclates Discount - 4 DAYS ONLY!!! Use Coupon Code 39RAW at Checkout!
DECEMBER 2016 ISSUE PREVIEW