In Focus: THE CHOCOLATE THERAPIST Preview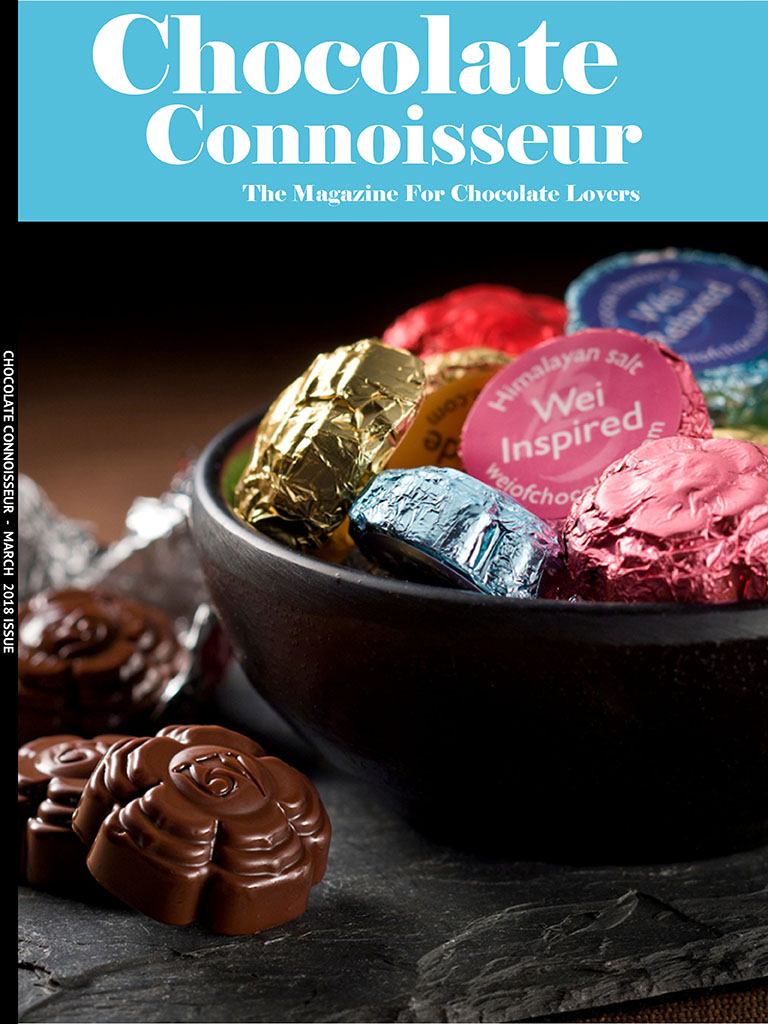 — March 2018 Issue Free Content —
"The First Wealth is Health."
– Ralph Waldo Emerson 
Surprise Therapy
Recently, I enjoyed a little getaway in Glenwood Springs, CO, and stayed at the well-known, historic Hotel Colorado. While there, I made my way to the hotel coffee shop and, half-awake, still managed to notice a display stand on the counter featuring several chocolate bars from a semi-local chocolate maker called The Chocolate Therapist.
A quick check of the label revealed high quality ingredients, and all of a sudden my coffee stop turned into a chocolate stop… a hungry chocolate stop no less (seriously, I wanted to try them all).
Showing restraint, however, I finally chose two, settling on the Spice of Life bar, which features dark chocolate, cinnamon, ginger and pepitas (pumpkin seeds without the hull, derived from certain varieties of pumpkin), plus the Traditional Decadence bar, the company's standard milk chocolate bar. Both bars were delicious, but the Spice of Life tasted superb. I'd never experienced anything quite like it…a tangy mix of ginger and pepitas…and as I paired the bar with my morning latte, I found myself in chocolate heaven.
I sat there enjoying a little cacao nirvana, again inspecting the attractive wrapper, and realized that name, Chocolate Therapist, really sounded familiar. Turns out I'd once discussed the chocolate maker with Eric, Chocolate Connoisseur's Editor-In-Chief, when brainstorming In Focus interviews about a year prior. Hmmm… time to do a little digging.
I discovered the fabulous Julie Nygard, who opened The Chocolate Therapist chocolate shop on Main Street in downtown Littleton, Colorado, less than an hour from where I live. I reached out to Julie and the next thing you know, I found myself in Littleton, paying an in-person visit to the Chocolate Therapist. So let's share all that Julie and her outstanding confections have to offer…
Swiss Miss
Stepping inside The Chocolate Therapist shop itself, I felt immediately welcomed by its cozy, European vibe, complete with locally roasted gourmet coffee and gluten-free baked goods. Soon, as friendly staff served the last customer and the bustling shop closed for the day, Julie and I sat down to chat chocolate.
After talking with Julie awhile, it clearly made sense why her quaint shop offered such a European feel… she intentionally modeled The Chocolate Therapist after chocolate shops in Switzerland, a country near and dear to her heart.
I've always loved Switzerland. And I think, in a different life, I was Swiss. All through school, including college, if there was a country I was required to write about, I chose Switzerland. The first time I took my kids to Europe, we went to Switzerland. And, as fate would have it, my boyfriend, the love of my life, is Swiss. Frequently, we visit his family and friends there, and it's a lot of fun.
During one particular trip to Switzerland, she and her boyfriend were planning to visit the Matterhorn, but cold and snowy weather obscured the mountaintop from view. Julie didn't let that stop them, however…she was determined to see the peak first-hand.
The ascending train took them up, up and into a snow-filled wonderland. Once they reached the top and disembarked from the train, all those clouds began to clear, offering a stunning view of the magnificent peak while they hiked back down the mountain. Optimism and determination most certainly paid off!
Passion Ignites
Julie's love for the outdoors is nothing new. Born in Seattle, she moved around Washington, Montana and Oregon with her family, before eventually coming to Colorado at age twenty, thanks to a love for sun and skiing. Always athletic and passionate about healthy living, Julie's unique journey into making chocolate first started when she became a nutritionist.
My inspiration to get in to the chocolate industry actually stemmed from a passion for nutrition. I was an athlete in my youth and became very fascinated by the way foods affect the body. I regularly ran studies on my body, read all the diet books and tried them, and I even earned my Nutrition Educator's certificate from Bauman College of Holistic and Culinary Arts, most of which happened while I wasn't in the chocolate business.
Julie spent 18 years in the sporting goods industry before, as she puts it, she "bailed" on corporate America. She then focused her attention on writing a book about nutrition, just as news on the health benefits of chocolate broke.
I decided to combine my life-long passion for nutrition with my love of chocolate, and wrote "The Chocolate Therapist: A User's Guide to the Extraordinary Health Benefits of Chocolate." I wrote the first version in 2005, which has since been updated. So, I was speaking about the health benefits of chocolate way back then.
Julie felt that a jump into the chocolate industry would be quite adventurous, to say the least. She didn't know anyone when she started thirteen years ago, so she just googled Chocolate Company Presidents.  She thought, "Might as well start at the top!" Right away she was connected with amazing people in the industry who helped her access research not yet available to the public.
I'm a very heart-driven person, and I truly believe when you operate from the heart, amazing things happen. There were so many serendipitous moments along the way that I could hardly believe it.
Julie spoke about chocolate's health benefits, taught chocolate and wine pairing classes, and even taught chocolate while traveling around the world on cruise ships, but always while using other company's brands.
All I knew about chocolate were the health benefits and the bean to bar process. I didn't know how to make it at all, but decided not to let that "minor" detail stand in my way. I was committed to figuring it out.
Sounds a lot like her aforementioned "Matterhorn determination," but on a larger scale…
Raising the Bar
Julie eventually decided to start her own brand, so she could make the chocolate she advocated in her presentations — all-natural, no dyes, no preservatives, and no artificial ingredients. She wanted a totally clean ingredient profile because that's how she eats, and that's what she recommended everyone eat to truly experience chocolate's health benefits.
So Julie hired a local company to make a small line of chocolate bars she could sell while out speaking, changing all the recipes, however, because much of the company's chocolate contained artificial ingredients. Bit by bit, she went through all the recipes, and now all of the recipes are original.
Shortly after she purchased the shop, the two chocolatiers she hired, a mother/daughter team, suddenly decided they lived too far away and quit unexpectedly. Fortunately the original chocolatier from whom she purchased the business asked if she could come back because she missed it, a stroke of good luck for Julie since she didn't know how to make chocolate. In fact, she says when she looks back, figuring out how to manage employees was one of the most challenging parts of owning a business.
Because I'm a very self-motivated entrepreneur, I thought everyone would be the same and know what to do.  Ha!  I couldn't believe the level of management that was required.  But that was 10 years ago and I've learned so much.  And to note, the team I have now is great.
But in those first months, only the original owner/chocolatier and Julie worked together through that first Christmas to keep the shop open.
It was so hard—I barely left the shop for 3 months. I cried myself to sleep every night, then I'd get up and do it again. Batches upon batches of chocolate were thrown out because recipes weren't quite right, which is all part of the chocolate-making process, I know…
But after that, I realized my main focus should be on recipes and marketing. What was IN the chocolate was far more important to me that making it, so I hired more people to make it and instead focused on building the business.
Today, I work with the chocolatiers to create new recipes, source ingredients, and taste test everything (oh, the work!), but I try to stay out of the actual making process. They laugh at me if I come into the kitchen because I'm quite messy—they're like, "Hey, don't you have some marketing to do?"
Experience Counts
With all of her marketing and entrepreneurial experience, I asked Julie if she might offer any valuable advice to other business owners in need. She more than willingly offered these tips:
– Stay open 7 days a week. It's inexpensive to hire someone to cover your day(s) off, and having your shop open will more than pay for it. Many shops in our area are closed or have short hours on Sundays, and that's one of our biggest days of the week.
– LOVE your customers…when you focus on them, they'll come to you. We don't use cheap ingredients because I don't ever want them to walk out of the shop and say, "Ew, I don't like that."
– Create something, whether it's a product or a sale or an offer or whatever, that you know will get them back in to your store. We give a lot of free samples because I know this will inspire them to come back.
– Keep your employees longer by working with their schedule. We have quite a few students. I make sure they're schedules coincide with our shop hours, and this reduces training overhead.
Delving Deeper
As far as sourcing the beans, she purchases a finished couverture from Guittard. Chocolate Therapist isn't bean-to-bar because Julie says they don't have a large enough space.
Guittard is one of the top companies sourcing beans from reliable sources. I visited their factory a few years ago, and I'm so proud we use their chocolate. It's amazing chocolate, and they practice Fair Trade policies, sustainability, are Rain-Forest alliance certified and buy many organic products. They sift all the beans they bring in from around the world, and then sell everything that doesn't meet their standard to the other big chocolate manufacturers.
Chocolate Therapist is gluten-free, soy-free and has dairy-free dark. There are also no dyes, preservatives or artificial ingredients in anything they make. They even took the corn syrup out of everything—they use tapioca syrup instead (for the caramels and toffee). And for all their assorted chocolates, they use organic flavoring oils and coconut oil, so they have far less sugar than other brands.
Introducing…
Chocolate Connoisseur Premier
Welcome to our most exclusive, rewarding chocolate experience yet:
Chocolate Connoisseur Premier
Ten different chocolate offers (a $400 value) shipped to you throughout the year, plus a free Annual Subscription to Chocolate Connoisseur…