Crisis in Chile:
Editor's Corner
"Injustice anywhere is a threat to justice everywhere."
–  Martin Luther King, Jr.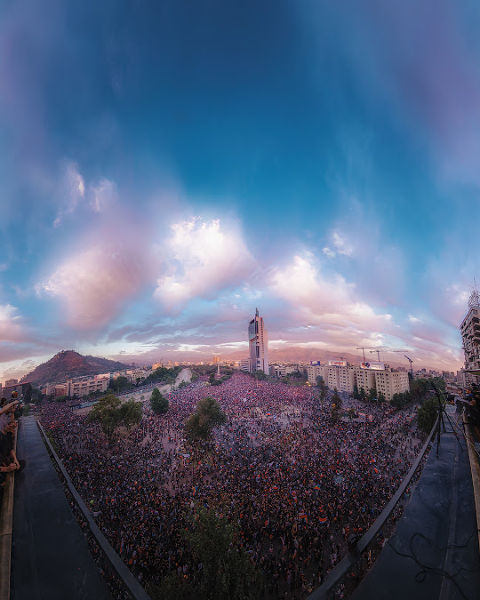 NOTE FROM THE EDITOR: We don't typically publish Editor's Corner articles as part of our issue previews — and by "we don't typically", I simply mean "we never have!"
This past issue, however, was a unique one here at the magazine, as our monthly chocolate offer (and in particular our Chocolate Connoisseur Premier members) felt an impact from the events in Chile.
With a unique perspective from our Associate Writer Fernanda Bravo included here, coupled with these compelling photos from Juan Cristobal Lara, we felt the events in Chile were too important to not share this issue's Editor's Corner with everyone. Please feel free to share as you see fit.
— Eric
Eric Battersby
Editor-in-Chief
Chocolate Connoisseur Magazine
Crisis in Chile, Crisis in Chocolate
NOTE: ALL PHOTOS BY Juan Cristobal Lara (Instagram @eljuancri) UNLESS OTHERWISE NOTED.
In a very rare and unusual Editor's Corner here, this issue's segment highlights the intense situation that affected millions of people in October, including every single Chocolate Connoisseur reader, whether they knew it at the time or not.
Here's the story…
An Unfortunate Surprise
After our In Focus feature on Natalia (Nati) Satto's Wabi Chocolate in the September '19 issue, associate writer Fernanda Bravo and I were working with Nati to set up our October-November chocolate offer here at Chocolate Connoisseur. Nati had been excited to work with us to help get the word out on her newest chocolate endeavor, and we were ecstatic to offer our second international chocolate offer of 2019 to all our wonderful readers.
With the basics essentially in place earlier in the month, as the deadline drew near for finalizing the offer I realized Fernanda had gone unusually silent for a handful of days, completely out of character for our international rock star writer. When I texted her to check in, Fernanda hit me with a bombshell… Chile, her home at present, was on fire.
In an American news cycle dominated by unusually insane (and that's saying something right there) American politics, the news of protests in Santiago, the Chilean capitol, barely registered as a blip in most news feeds. After Fernanda raised the alarm, I dug past well over twenty other international news headlines to finally find a report on the situation in Chile.
Sadly, the report offered little, especially when I had Fernanda in the thick of it letting me know events in greater detail than the news media cared to offer.
Regardless of any report's origin, the simple truth is that civil dischord ripped through Chile like a hot knife through butter. The combination of a longtime income inequality and government actions set to worsen that inequality finally pushed some citizens to a tipping point.
Here's an excerpt from a Time Magazine article (you can read the full article right here that sheds a little light on the chaos –
"Protesters almost uniformly say they are frustrated with the so-called neo-liberal model that has left Chile with region-topping prosperity along with a widely criticized private pension system, and two-tiered health and education systems that blend the public and private, with better results for the minority who can afford to pay.

 Many Chileans talk of waiting a year for an appointment with a specialist, or families receiving calls to finally set up appointments for loved ones who died months earlier. Hundreds of thousands are hobbled by educational loans that can follow them into their 40s and even 50s.

"Last Friday we had a peaceful protest and being peaceful they didn't listen to us," said Sebastián, a 25-year-old welder who declined to give his last name saying he feared authorities. "You have to get their attention somehow."

Adding to protesters' anger was a military crackdown on demonstrations and looting that has left 1,132 hurt, with dozens partially blinded by police or soldiers' gunshot pellets, according to the National Human Rights Institute and the Chilean College of Medicine. The death toll from the 10 days of violence stands at 20, although it is unclear how many were killed by police and how many by looters."