On the Chocolate Regular: Divine Chocolate
Divine Inspiration
If you'd like a good dose of chocolately holiday inspiration, look no further! Divine Chocolate is the perfect chocolate company to spotlight in December's On the Chocolate Regular article. Their story is special, along with the ways they continue to impact the world for the better through their business practices.
I'm not a stranger to Divine Chocolate's story. In the summer of 2017, I wrote three consecutive articles for Chocolate Connoisseur on the topic of female empowerment in the cacao industry, and Divine shot to the top as a key contributor. In fact, I'd say still to date, there isn't a chocolate company doing more to eradicate discrimination toward women in the cacao industry. If you haven't read the three-part series, look for the Chocolate University articles in the July, August and September 2017 issues.
And their chocolate is delicious, too; whether you're "elfing" or "selfing", there are plenty of Divine delectable stocking stuffer products to remember for next year, or perhaps as a present for this upcoming Valentine's Day, and we'll explore those goodies in a bit.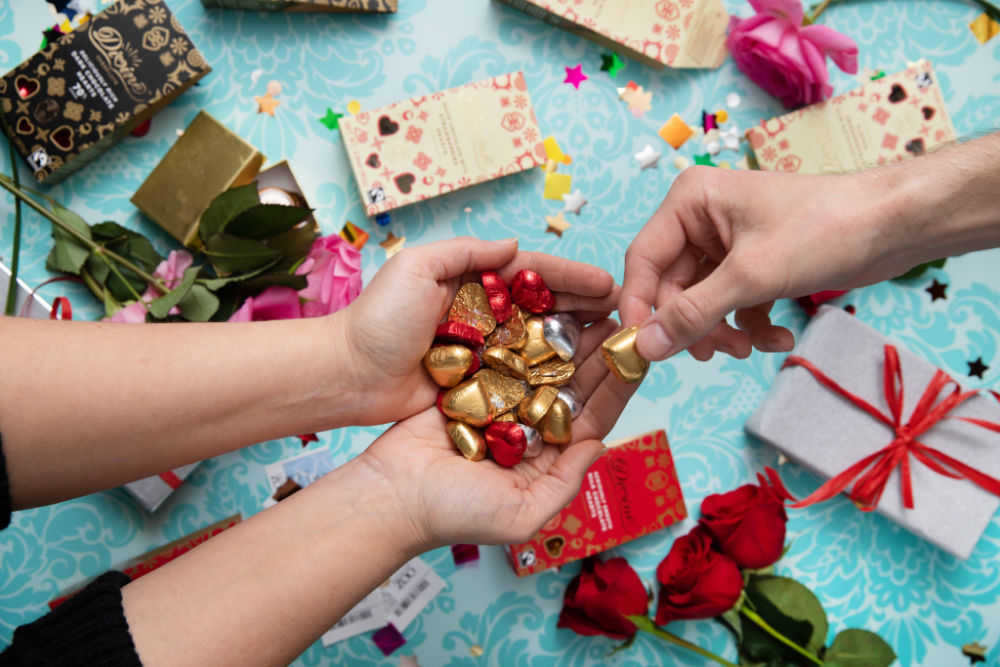 An Assortment of Divine Goodness
But first, if you're at all familiar with the larger artisan chocolate companies – and in particular, Divine Chocolate –  you know already a large part of what makes Divine special. It's their mission to grow a successful global farmer-owned chocolate company.
Here's a little history –
In autumn 1998, Divine Fairtrade milk chocolate, the first ever Fairtrade chocolate bar aimed at the mass market, launched in the UK confectionery market. This was considered a revolutionary idea at the time – farmers coming together to help run the cooperative. Then, on February 14th, 2007, Divine Chocolate launched in the United States, and, in 2015, Divine Chocolate merged its UK and USA businesses.
At the Top
CEO of Divine Chocolate, Sophi Tranchell, has been the first and only Managing Director of Divine Chocolate since she was appointed in 1999, a year after the company was first established. She continues to operate out of the UK office with frequent visits to the US office, and Divine's website also tells us she's led this innovative company from a team of four to the international £12.6m company it is today. 
Her belief in and dedication to the company's purpose and mission – to improve the livelihoods of cocoa farmers through a more sustainable and equitable trading relationship – has been fundamental to the company's success.
Divine's website sums it up nicely: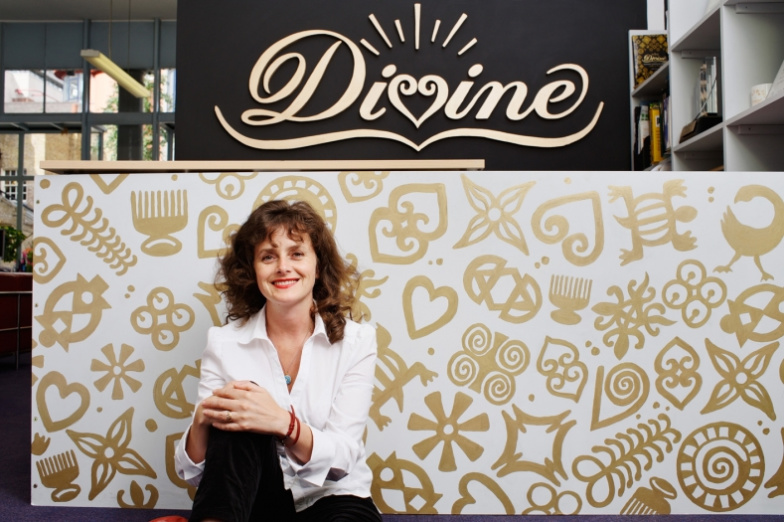 CEO of Divine Chocolate, Sophi Tranchel
Photo by Richard Nicholson
"The company's unique business model – which gives cocoa farmers the biggest share, and seats on the Board, in addition to the benefits from Fairtrade – has become a leading example of what is possible both in the Fairtrade movement and of a social enterprise reaching international scale in a highly competitive sector."
Named as a Schwab Social Entrepreneur of the Year in 2016 – the most prestigious international award for social innovation – Sophi Tranchell felt quite honored. She says —
"I am a passionate believer that, in order to secure a sustainable future for many of the foods we take for granted, we need to develop new ways of doing business that put smallholder farmers higher up the value chain…"
Her words align perfectly with Divine's mission: to bring people together to create dignified trading relations, thereby empowering producers and consumers.
In a 2015 interview with minutehack.com, when asked how Sophi became involved, she said the following:
"My personal interest and motivation has always been working for social justice. I had an active role in the anti-apartheid movement and have always supported Fairtrade, so it was a natural fit…"
And the main engine driving this company is the farmer-originated cooperative… you've probably heard of them if you're at all familiar with Divine Chocolate… they're known by the name Kuapa Kokoo.
Kuapa Kokoo
Kuapa Kokoo, which means "good cocoa growers", claims the title as the first Fairtrade-Certified smallholder farmers' organization in West Africa.
There are approximately 85,000 members who are primarily smallholder cocoa farmers organized into about 1,300 communities in fifty-seven primary Societies (Districts) in six cocoa growing regions.
The farmers own the largest share of Divine Chocolate, which means they receive 44% of profits, as well as a fair price for their cocoa. One-third of these members are women, and all of these members provide meaningful input into the decisions dictating Divine's production and sales.
The National Executive Council for the co-op consists of six women and seven men, with Madam Fatima Ali as acting President.
Fatima Ali
Kuapa Kokoo Farmers Union nominated Ms. Fatima Ali as Interim President of the Union after the passing of the elected President Madam Christiana Ohene-Agyare.
As Chair of the Kuapa Kokoo Farmers Trust, Fatima Ali was the next most senior elected person on the National Executive, so it made sense for her to step into the Interim role until elections take place this summer.
And from the sounds of it on Divine's website, she plans to run for the position officially in the next election. 
It's fitting the president is female, as there's been so much support for women's empowerment within the co-op. One example of this support for women manifested when they partnered with the Women in Informal Employment: Globalizing and Organizing (WEIGO) Organization for three years (back in 2012), to train 2,800 Kuapa women cacoa farmers in leadership and participation in the cooperative.
And Kuapa supplies cacao to other companies as well, including Cadbury and Starbucks. So, who knows, the next time you sample a product from the Cadbury Dairy Milk brand or gulp down a vanilla hot chocolate at Starbucks, you could surprisingly be contributing to the empowerment of these women and the Kuapa farmers overall.
Prince Charles Visits Kuapa Kokoo
This past November, Kuapa Kokoo's Ashanti Division, directed by one of the National Executive Council members, Janet Owusu, enjoyed a visit from Prince Charles.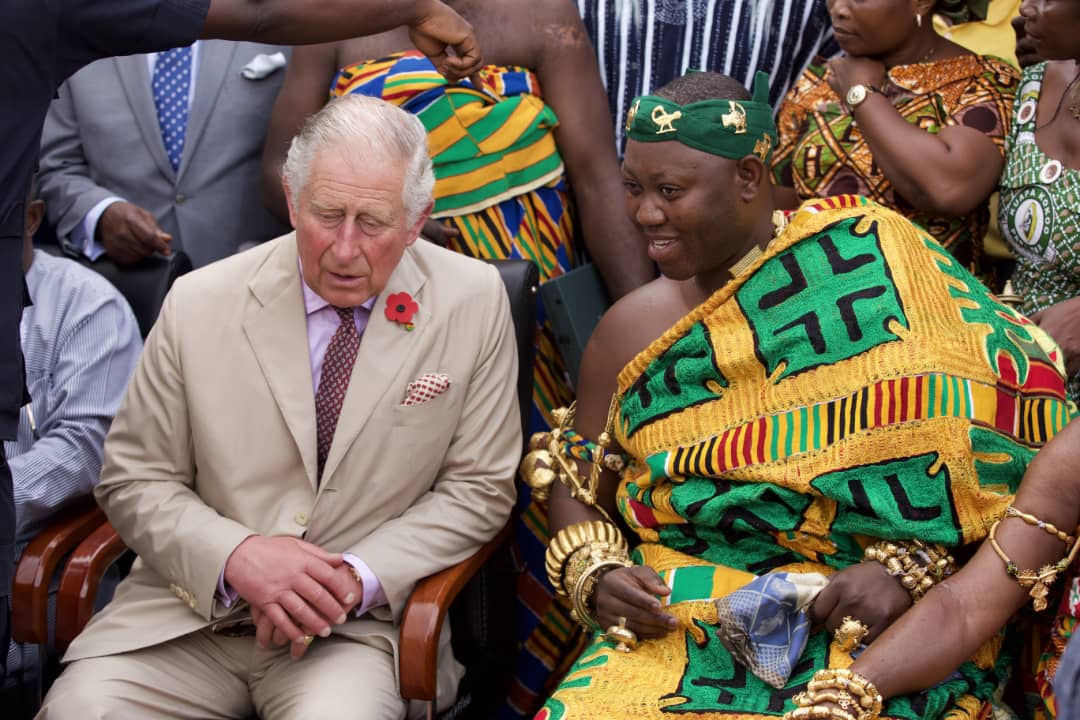 Ashanti Regional Rep Janet Owusu with Prince Charles 
The purpose of the four-day trip to Ghana was to strengthen bilateral relations between Ghana and the United Kingdom. Market Screener tells us Prince Charles wanted a chance to experience first-hand the acquisition of seeds to harvesting through sustainable cocoa farming practices.
Also, according to Market Screener, the host farmer, Agyen Brefo, a 42-year-old mixed cropper, enjoyed a rare opportunity as Prince Charkes selected his farm for the visit, due to the sustainable manner in which Agyen farms his land.
After taking his guests around the farm, the farmer urged the youth not to think of farming as only for poor, aged or uneducated people.
On average, Mr. Brefo said he harvests about 15,000 bags of cocoa during both the main and light crop seasons.
Agyen Brefo is one of 400,000 farmers nationwide who have benefited from various training programs on Good Agronomic Practices (GAPS) organized by Kuapa Kokoo.
Kuapa Kokoo's website also notes that Agyen took the monarch through the process of preparing cocoa from the farm to the shed, explain why Ghana's cocoa is considered premium quality product. Ghanaian cocoa farmers appealed to the Prince of Wales to use his first-hand experience on Ghana's cocoa farm to lobby for higher prices of the commodity on the international market.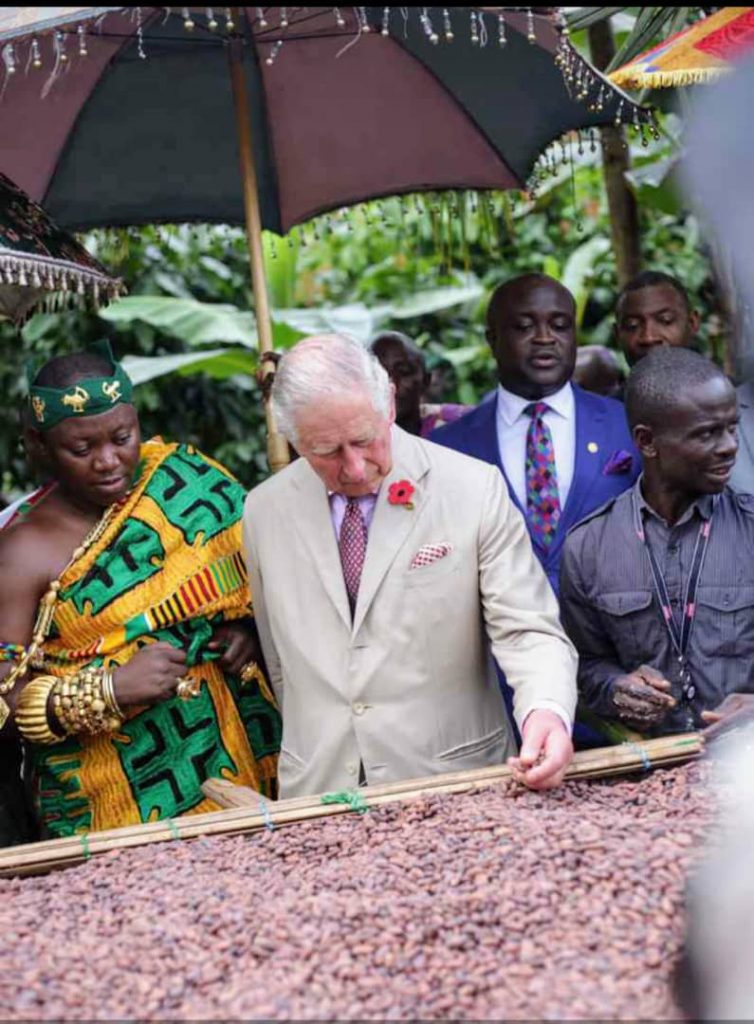 Prince Charles pays a visit to a cocoa farm at Kona in the Sekyere South District of the Ashanti Region.
Kuapa Kokoo notes that the Prince acknowledged harvesting cacao requires difficult, tedious effort. They also claim that Britain consumes an estimated 660,900 tons of chocolate per year (an average of 11kg per person), a figure that equates to about three bars a week. Given the popularity of this confection in Britian, hopefully Prince Charles will use his influence to help farmers continue to make more profit from their hard labor.
What Fairtrade Means
It's easy to spot the Fairtrade logo on all of Divine's packaging. As we've learned from smaller quality chocolate makers, however, Fairtrade is not the only way to procure sustainable, quality cacao… acquiring the Fairtrade seal tends to be expensive for smaller quality chocolate makers who are just as dedicated to creating quality chocolate through sustainable means.
However, since Fairtrade plays such a monumental role within Divine's business structure, it's relevant to briefly touch on what the Fairtrade logo guarantees…
There are production management procedures in place
Processes and information are available and accessible regarding environmental management
Specific labor conditions are in accordance with human rights laws, safety and labor laws, and anti-discrimination laws
The development of good business practices focuses on transparency, democracy and participation
And in the case of Kuapa Kokoo, there are Fairtrade premiums which serve as a bonus on top of the price farmers receive for their beans. Input from the 85,000+ members allows each to have a say in where they direct the money, so it can help wherever it's needed most in their communities.
Examples of projects implemented for Kuapa Kokoo from these Fairtrade premiums include schools in the farming villages, separate toilets for men and women, and bicycle programs to help the children get to and from school more quickly. All extremely good causes, and yes, it helps us feel like we're contributing every time we buy a Divine chocolate bar!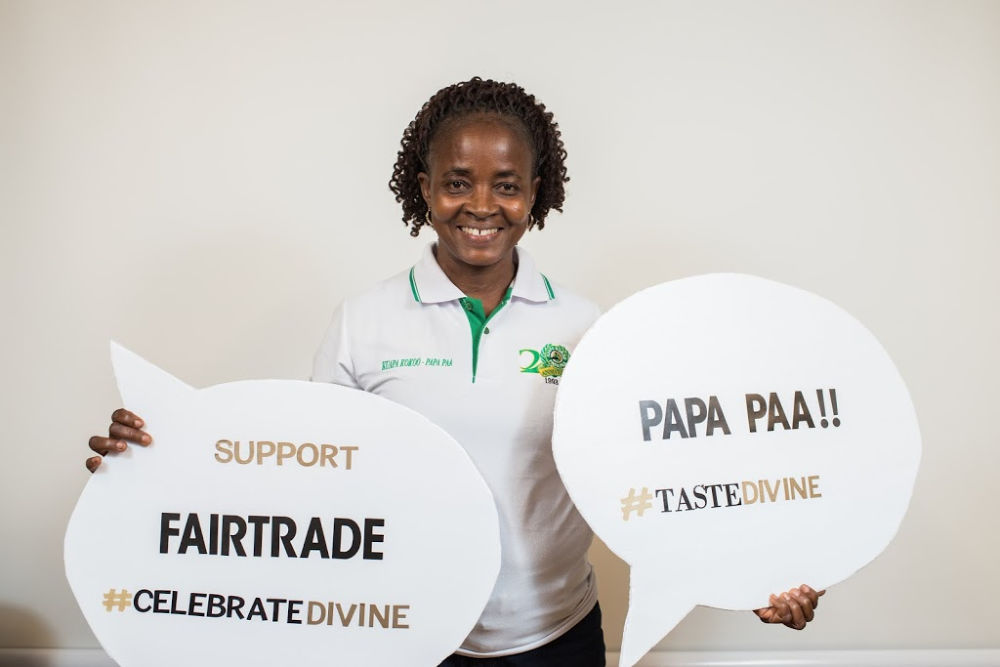 Mercy Zaah (Cocoa farmer)
More Than Just a Pretty Face
Along with the Fairtrade logo, you'll also find the Non-GMO Verified logo and the "Owned by Cocoa Farmers" seal. The overall  packaging design on each bar is appealing, but it's more than just a pretty design; the cocoa farmers in Ghana are proud of their Ghanaian roots and these symbols serve as an important part of their rich history and culture. Indeed, Divine tells us —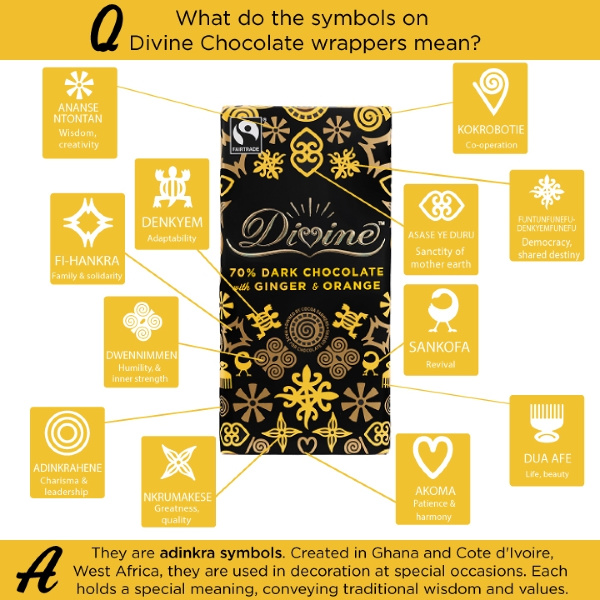 "The Akan people of West Africa originally created Adinkra symbols hundreds of years ago, which changed over time and were developed by the Asante people of Ghana.

These symbols were used as a way to communicate in a pre-literate society; they were the equivalent of words and significant texts that shared complex beliefs and meanings.

Some of the meanings come from traditional stories and sayings; others are more of a statement, like a badge, with the person wearing the symbol showing everyone something about their character, for example I am 'brave' or 'humble'.

Even today, the adinkra symbols are carved, woven and printed on traditional craft and fabrics in Ghana. They were originally used by village chiefs for important celebrations and events like weddings and funerals, but now they have become part of everyday items such as t-shirts and jewelry…and Fairtrade Divine chocolate bars!"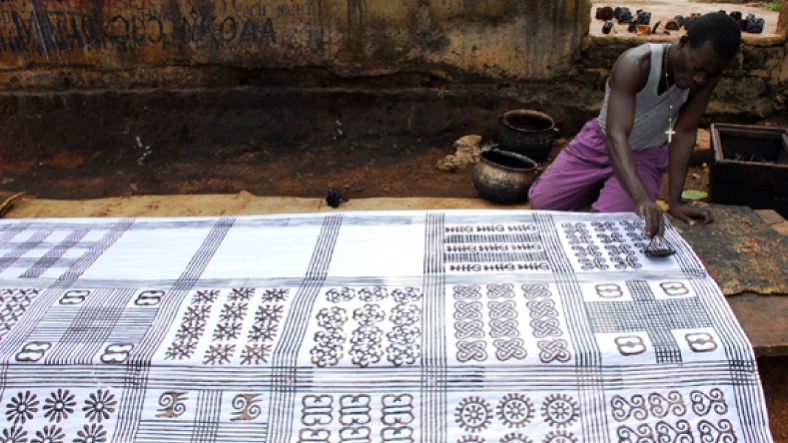 Printing Adinkra symbols on fabric in Ghana
It's The Inside That Counts
A company may have the prettiest packaging in the world, but it matters not if the product isn't up to snuff. Thankfully, this isn't the case with a Divine Chocolate bar. Inside their eye-catching packaging, you'll find a high quality chocolate bar, and the Adinkra symbols don't just grace the outside of the bars.
Open one up and you'll see the design imprinted on the bar itself, the perfect place to start as we venture into the many products Divine Chocolate offers us…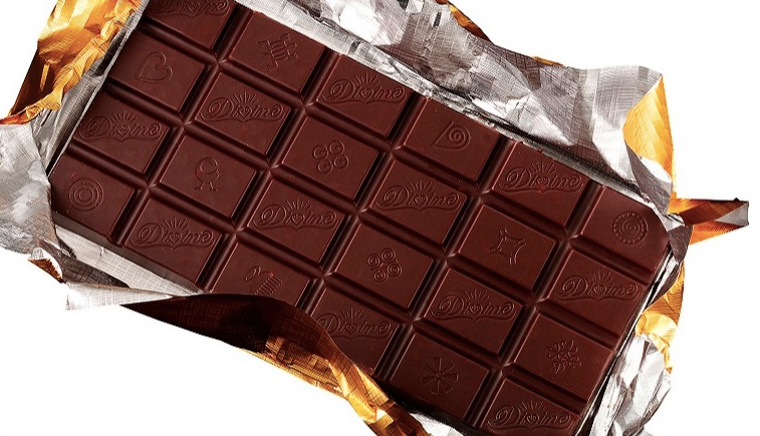 Adinkra symbols imprinted on the chocolate bars
First of all, it's important to note that for any product you'd like to buy on Divine's UK website, they offer a filter on products which include Fairtrade, Soya-free, Natural, Organic, Vegetarian, Vegan, No Palm oil, No Plastic, and No Artificials  — so you're sure to find something based upon your consumption criteria.
For the most part, the same products (but not quite all) are offered on both Divine's UK and US websites, but the product categories are divided up differently. For our purposes, we'll focus on products from several different categories, taken from either site.
The Bars
The bars come in dark, milk and white chocolate. I'm spotlighting the Smooth Dark with Raspberries bar because I tried it myself and really liked it – and the bar has a jelly-like raspberry filling, something I don't usually like… but it had a light consistency and the filling wasn't too sweet. The second bar looks delicious with it's White Chocolate and Strawberry combination, and the Toffee and Sea Salt bar is a best-seller.
In all three bars, the chocolate is sweetened with sugar from Kasinthula, a Fairtrade co-operative in Malawi and flavored with creamy vanilla from Fairtrade farmers in Madagascar. There are at least 15 more to choose from in their bar category, so check out Divine's website to see more.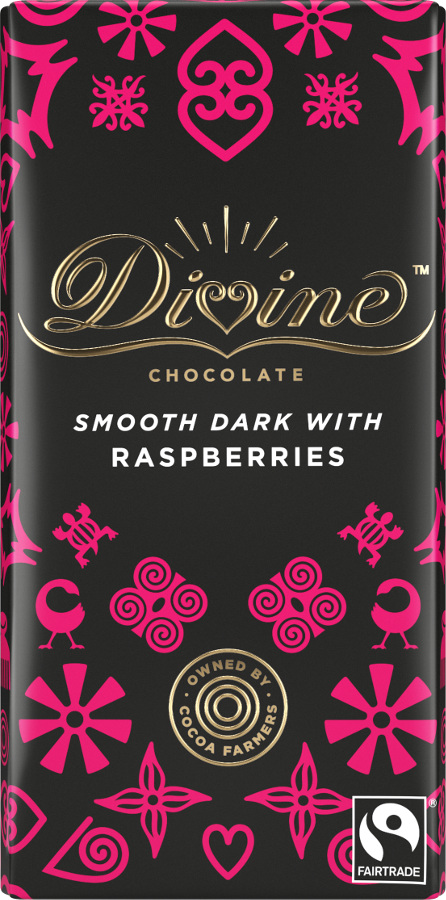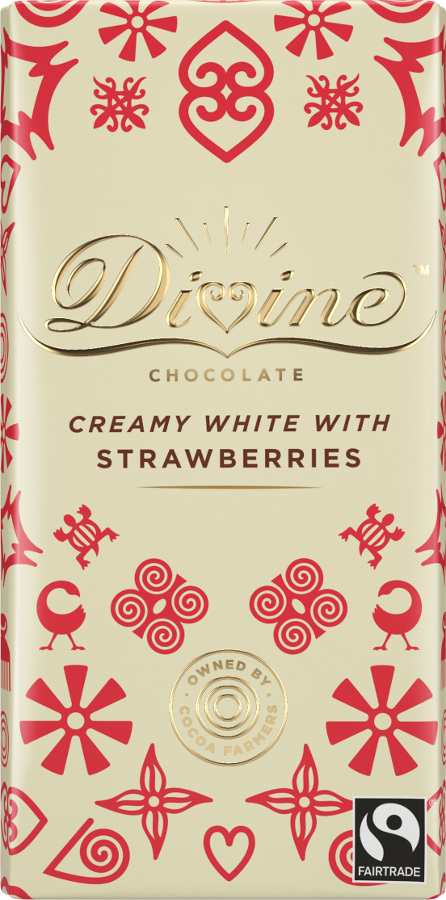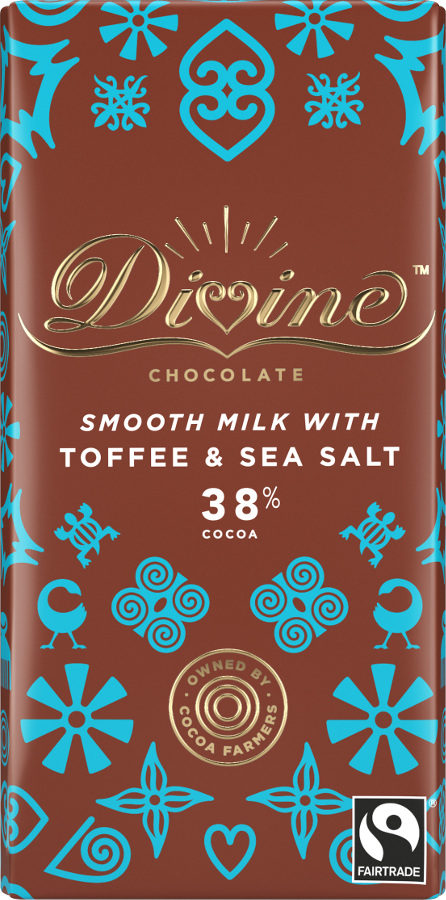 Organic
On Divine's UK website, their store has a new category devoted just to Organic. Made with cocoa farmed in São Tomé, once the world's biggest cocoa exporter, Divine's Organic collection is 100% organic and vegan.
Four of the bars consist of 85% cacao and one boasts 95% cacao content.
The flavors sound tempting, such as Tumeric & Ginger, Dark Chocolate and Lemon and Quinoa & Blueberry.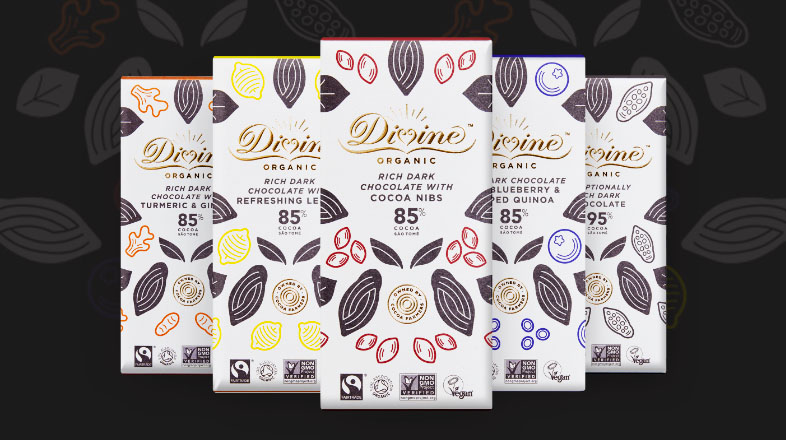 Christmas/Holiday
There's a plethora of product to choose from in their Christmas/Holiday section, including…
Smooth Dark Thins – Mint, Ginger and Caramel Flavors
Dark Chocolate & Sweet Chili Topped Bar
Jingle and Mingle Holiday Pack
Vegan Holiday Variety Pack
Divine Delights Gift Set
Pack of 3 Limited Edition Gingerbread Crisp Chocolate Small Bars
Dark Chocolate and Milk Chocolate Advent Calendar (great to keep in mind for next year!)
Joe and Steph's Milk Chocolate Salted Caramel Popcorn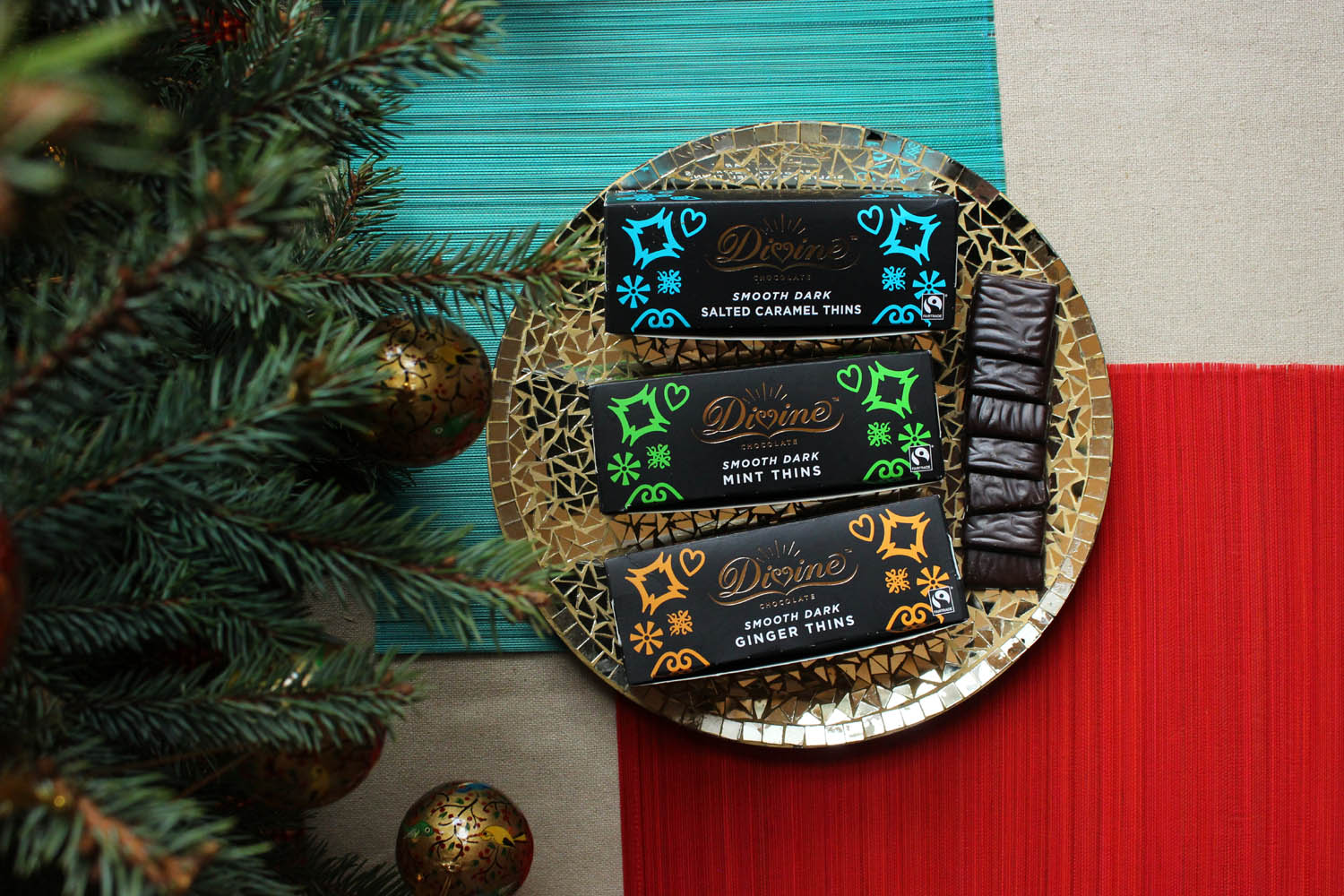 Valentine's Day/Wedding
The UK version offers three products in their Wedding Category which is worth checking out if you'd like to buy for Valentine's Day or another upcoming related event…
Dark Chocolate Hearts –  70% cocoa, solid dark chocolate hearts. Hand wrapped in red foil.
White Chocolate with Strawberries Hearts – 

 creamy solid white chocolate hearts with pieces of real dried strawberry. Hand wrapped in silver foil.

Milk Chocolate Hearts – 

Hand wrapped in gold foil.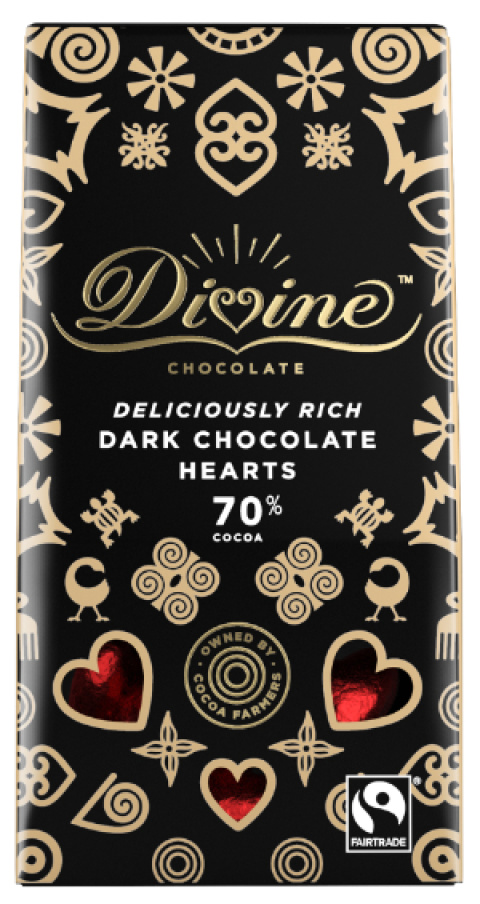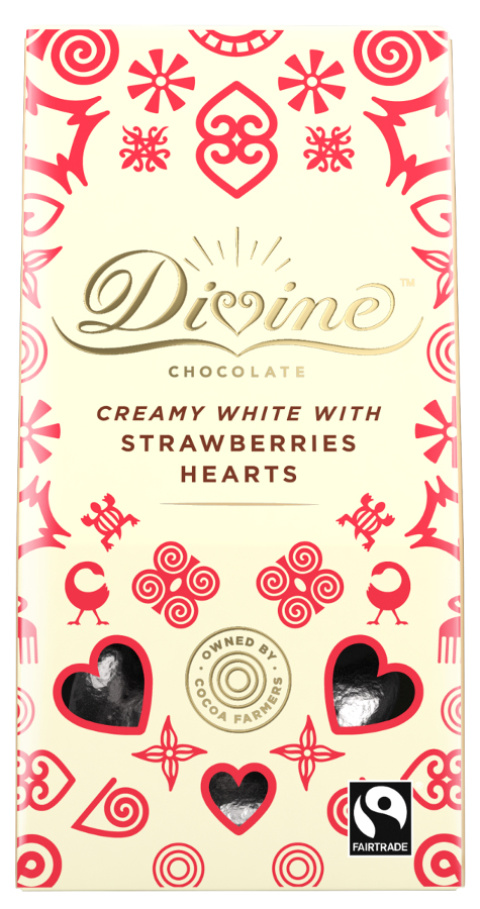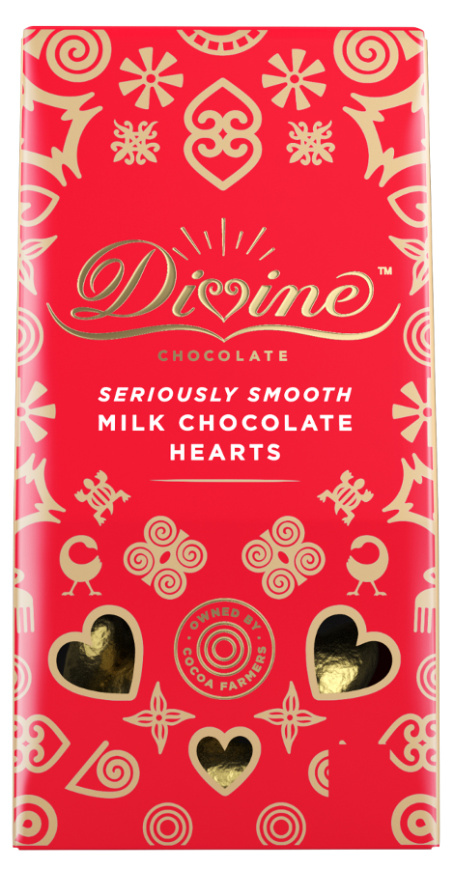 Other categories include Baking and Wholesale, so if that strikes your fancy, be sure and check those products out, too! Click here for where to buy Divine in the UK, and in the U.S., you can find Divine Chocolate sold at Natural Grocers, World Market, King Soopers, Sprouts, Amazon, and Ebay, as well as on Divine's website.
+ ALL PHOTOS BY DIVINE CHOCOLATE