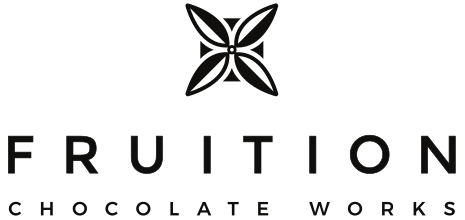 SPECIAL OFFER FOR CHOCOLATE CONNOISSEUR READERS
Use Code 10BUCKS at checkout for $10 off and free standard shipping on your order of $50 or more on U.S. orders only.
Click here

to auto-load the coupon and start shopping now



(valid through May 31st)
Support Fruition Chocolate Works!
For the second straight month, we're foregoing our usual chocolate offers because COVID-19 is so drastically affecting smaller chocolate makers.
Instead, our goal for the short-term here is to help some of our most beloved chocolate makers stay afloat during this difficult stretch.
This month, we shine the spotlight on Fruition Chocolate Works, and strongly encourage you to click on the link above or one of the buttons below to visit Fruition's store, where we hope you'll pick up a few bars to show your support and send a little love their way.
You can help immensely in our efforts to keep chocolate going strong simply by ordering a handful of bars at Fruiton today.
You can also click here to read our brand new In Focus feature on Frution Chocolate Works, where you'll learn exactly why we need chocolate companies them to stay afloat during the crisis.
On we fight!
— Chocolate Connoisseur Magazine