DoubleTree Chocolate Chip Cookies
"In the cookie of life, friends are the chocolate chips."
— Salman Rushdie
If you're looking for a silver lining in the stay-at-home situation so many of us currently face, how about a delicious, chocolatey one instead?! For the first time ever, a favorite on-the-road treat is now available for everyone to bake at home.
Introducing… the heretofore secret DoubleTree Chocolate Chip Cookie Recipe!
Per the company's official press release –
"For the first time ever, DoubleTree by Hilton is sharing the official bake-at-home recipe for the brand's beloved and delicious chocolate chip cookie, so at-home bakers can create the warm and comforting treat in their own kitchens.

The warm chocolate chip cookie welcome is synonymous with DoubleTree hotels worldwide, and travelers look forward to receiving one, fresh from the oven, upon their arrival.

DoubleTree cookies have a passionate fan following and a long history. More than 30 million are consumed every year, and the DoubleTree chocolate chip cookie even became the first food to be baked in orbit during experiments aboard the International Space Station."
Senior vice president Shawn McAteer added this as well –
"We know this is an anxious time for everyone. A warm chocolate chip cookie can't solve everything, but it can bring a moment of comfort and happiness. We hope families enjoy the fun of baking together during their time at home, and we look forward to welcoming all our guests with a warm DoubleTree cookie when travel resumes."
I don't know if it's simply nostalgia, or the recipe is really that good, but these cookies have stood the test of time for me, even with the less-than-ideal chocolate chips in play (yes, they do indeed use Nestle Tollhouse).
So color us excited to not only recreate these on our own, but to do so with even higher quality ingredients than DoubleTree uses – starting of course with some organic, ethically-sourced chocolate chips.
Here's the original recipe, with our specific ingredient preferences noted in [brackets] to help you easily "up the quality" when sourcing ingredients. We've included links where available.
NOTE: some links on this page may be affiliate/associate links, for which Chocolate Connoisseur Magazine earns revenue from qualifying purchases.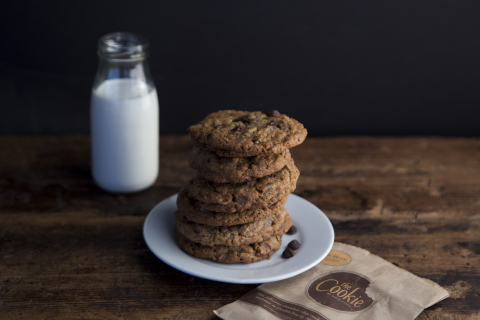 DOUBLETREE Chocolate CHIP COOKIES
INSTRUCTIONS
1. Cream butter, sugar and brown sugar in the bowl of a stand mixer on medium speed for about 2 minutes.
2. Add eggs, vanilla and lemon juice, blending with mixer on low speed for 30 seconds, then medium speed for about 2 minutes, or until light and fluffy, scraping down bowl.
3. With mixer on low speed, add flour, oats, baking soda, salt and cinnamon, blending for about 45 seconds. Don't overmix.
4. Remove bowl from mixer and stir in chocolate chips and walnuts.
5. Portion dough with a scoop (about 3 tablespoons) onto a baking sheet lined with parchment paper about 2 inches apart.
6. Preheat oven to 300°F. Bake for 20 to 23 minutes, or until edges are golden brown and center is still soft.
7. Remove from oven and cool on baking sheet for about 1 hour.
Cook's Note: You can freeze the unbaked cookies, and there's no need to thaw. Preheat oven to 300°F and place frozen cookies on parchment paper-lined baking sheet about 2 inches apart. Bake until edges are golden brown and center is still soft.