In Focus: Fruition Chocolate Works
It's only natural that, when most people think of New York, they think of New York City. How can you not? As my own personal favorite of all the places I've lived across the U.S., NYC undoubtedly offers one of the best city experiences on the planet.
There's more to the New York experience than meets the eye, however, as part of what even makes NYC so great is the ability to reach so many different areas branching out of the city. Indeed, the Hudson River, which runs between New Jersey and New York, down into the Atlantic, will also take you upstate through the gorgeous Hudson Valley and beyond.
New York means much, much more than just New York City.
Case in point, it also means Shokan, NY, right off the Ashokan Reservoir, home to one ridiculously good chocolate maker — Fruition Chocolate Works. Here, just southwest of Woodstock (where Fruiton also runs a chocolate boutique), is where you'll begin your chocolate adventure today, as we explore the evolution of Fruition Chocolate via yet another chocolate super couple — Bryan and Dahlia Graham.
No Sleeping in the Catskills
Bryan discovered the budding chef within at quite an early age. Growing up in a very rural area of the Catskill Mountains, he spent many summers on his grandmother's farm in Andes, NY, where grandmother and grandson picked perfectly ripe fresh berries and made fruit pies, tarts, jams, and jellies together. As Bryan reminisces, he learned all this "in the old world tradition only a grandmother can teach."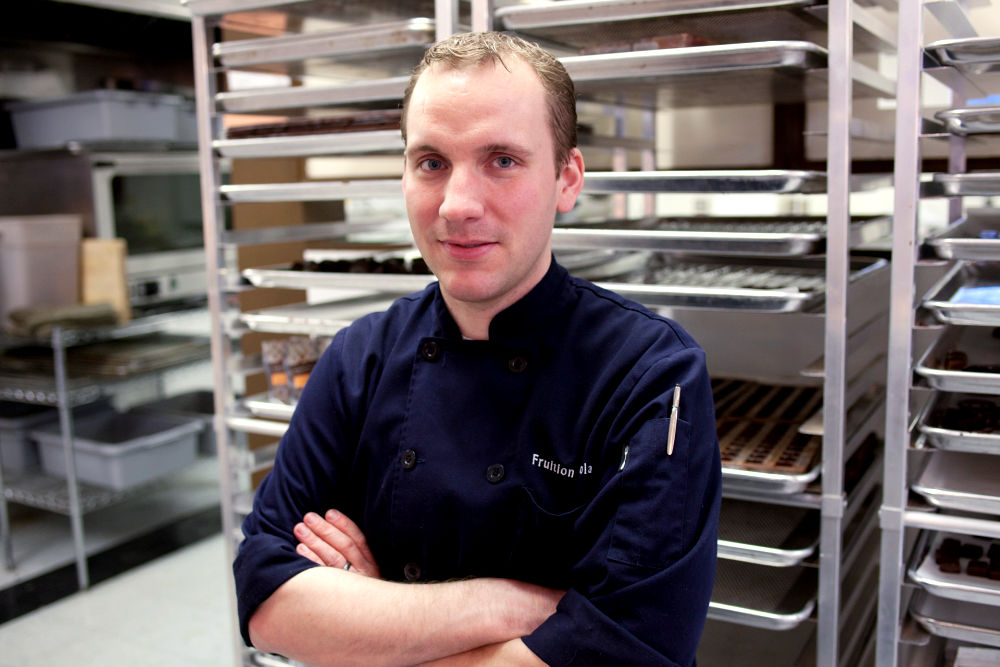 Bryan Graham at home in the Fruition Chocolate Works kitchen
He also loved baking at home with his mom, so much so that she even purchased an Easy Bake Oven for him. Like I always say, if you can make something taste good baking it with just a light bulb, imagine what you can do with a real oven.
It's no surprise that Bryan's interest in cooking only grew. At the age of sixteen, he started an in-depth study of food via a baking and pastry apprenticeship at the renowned Bear Café in Woodstock.
He didn't take long to impress. As Fruition notes on their website —
"Within the first week of working beside Executive Pastry Chef Heather Haviland, Bryan confirmed his love for pastry. After showing true commitment and dedication to the Bear Café, he was offered a permanent position as Assistant Pastry Chef at the Bear Café. At age 18, he was promoted to Pastry Chef."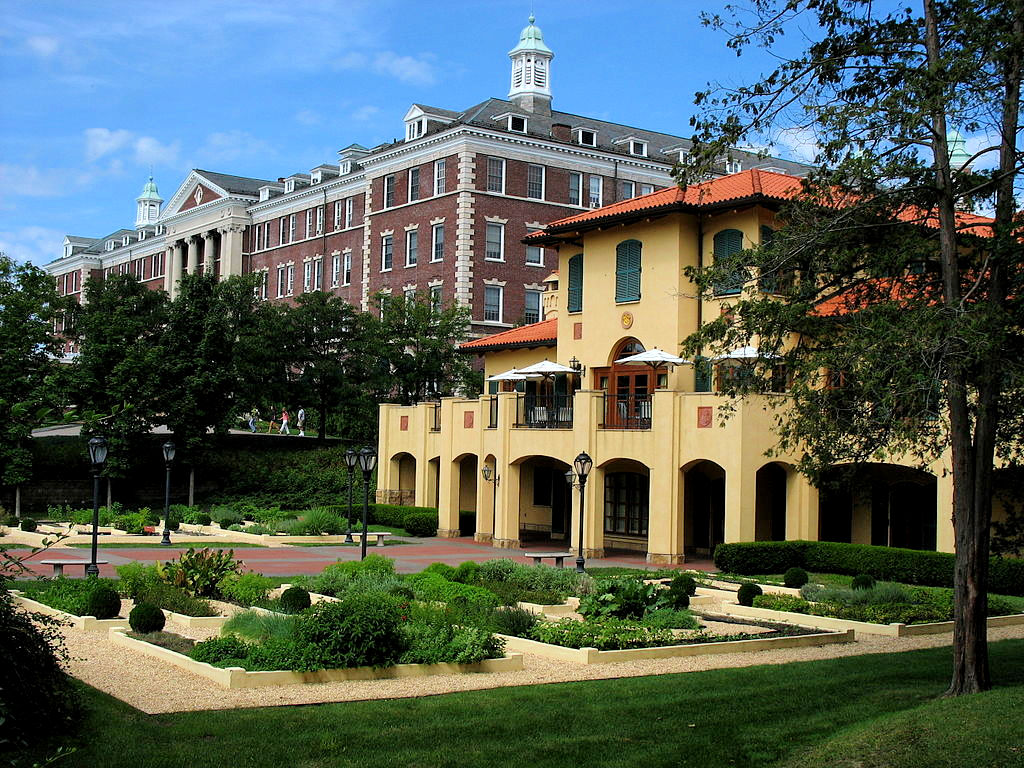 The Culinary Institute of America (CIA)
Have Fun Storming the Castle
Not far from where Bryan grew up sat a building right along the Hudson River that looked like a castle. Although it housed no kings or queens, the structure did reflect some semblance of royalty, serving as home to the Culinary Institute of America (CIA).
Bryan fondly remembers the day he discovered what took place inside that castle-like building in Hyde Park —
"As soon as I learned it was a school for chefs, I had my heart set on it."
Five years after his start at the Bear Café, Bryan finally decided to make his own trip to the castle, continuing his education at the Culinary Institute of America. Soon, he also accepted an externship at Jacques Torres Chocolates in NYC.
Although it's natural to think a little time with JT would send Bryan down the path to chocolate maker, that's not exactly how the story played out. The externship at Jacques Torres didn't quite light a fire within Bryan, although it did set off the initial embers.
"JT was what you would expect from a stereotypical French Chef. The place was very factory-like, and most of the chocolate wasn't bean-to-bar (although he did do some bean-to-bar at the time, which I found incredibly intriguing).

Just as I discovered a love of nature and utilizing natural ingredients in baking recipes as a child, I wanted to gain a deeper understanding of where chocolate came from and how to manufacture it from the raw ingredients."
CHOCOLATE CONNOISSEUR ULTIMATE
Your Ultimate Chocolate Passport is Here. Unlock EVERYTHING We've EVER Published, with a FREE Ultimate Guide, all for one shockingly low price...
Still, it wasn't until Bryan returned to the CIA in 2008 that he finally found a niche in making chocolate. He took Chef Peter Grewelings intensive course on Chocolates and Confections, and the embers quickly escalated from a smolder to an inferno.
He stayed late to ask questions… to learn new techniques. He grew fascinated with the process of actually making chocolate.
"I really loved working with it, learning about confectionery, but wanted to know how chocolate was made. After some pestering, chef Greweling, drawing on a professional class he'd taken years before, set up a makeshift ball mill using a small pan coater.

We used the stale, cardboard-tasting cocoa nibs from the CIA's storeroom. He explained to me how to make chocolate, walking me through every step, using very rudimentary equipment, hoping I'd be able to make something palatable.

The result was very crude. It tasted terrible… the texture was like greased sand."
Good luck finding the person who made incredible chocolate on his or her first try, even with top notch ingredients, let alone stale cocoa nibs.
Truth is, none of that really mattered, as the exercise alone cemented Bryan's future —
"It was objectively bad chocolate… but it was MY bad chocolate. I made chocolate and that's what really sent me down this path.

More than nine years in business, and twelve years of making chocolate, Peter remains one of few I trust to give me honest feedback."
For his next progression, Bryan says he would've gone for Alinea or The French Laundry in a heartbeat, but he'd already fallen in love with Dahlia, his future wife who taught at an inner city school in Brooklyn at the time… so life took him to New York City.
He was ordering cocoa beans from Chocolate Alchemy, roasting them in a toaster oven, and winnowing on the back porch of his apartment.
He even introduced a small chocolate making program at the CIA.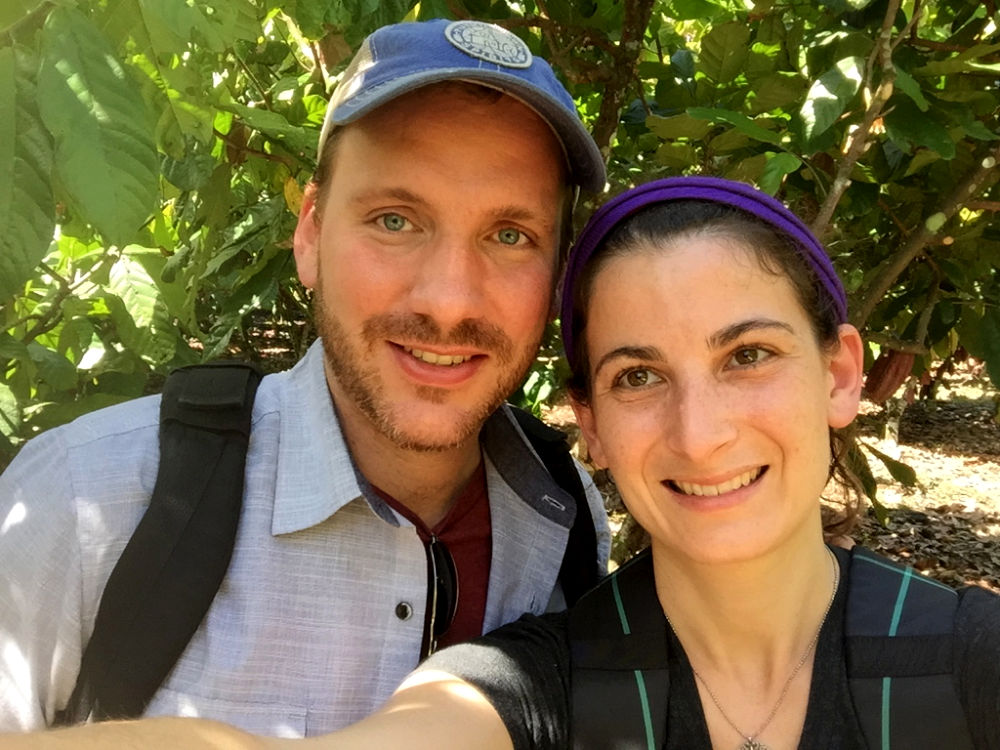 Bryan and Dahlia's Journey to Fruition
In 2009, Bryan and Dahlia married, and they decided to put their careers on hold momentarily to travel together.
In the summer of 2010, Dahlia left her teaching job and Bryan left the CIA.
"We packed up most everything we owned into storage and hit the road for 5 months. We drove in a zig zag fashion all across the northern U.S. and Canada, and then flew out to New Zealand via Samoa, and returned by driving back across the U.S. on a more southern route.

All along the way, we noted pros and cons of our favorite cities and brainstormed for what would become our chocolate business when we returned home to New York's Hudson Valley."
On the road trip, Brian threw out the name "Fruition" as a possibility for the business.
"Its meaning, the realization of a dream, seemed a perfect fit for the business that we wanted to build."
On that same trip, as the couple hiked along the Queen Charlotte Sound in New Zealand, Bryan started filling Dahlia in on the specifics of making chocolate, bean to bar.
She'd seen the process before on an earlier trip to Costa Rica, but all the time they spent outdoors offered a perfect opportunity to explain more in-depth concepts like winnowing. Bryan also talked up some ideas he had for building rudimentary equipment using commonly found tools, for when they eventually returned home from the trip.
The following year, in 2011, Fruition Chocolate Works began in earnest.
Within two years, Dessert Professional Magazine named Bryan one of the Top 10 Chocolatiers in North America. Impressive.
It Starts at the Source: Fruition and Farmers
Recognizing from the very beginning that great chocolate starts at the source, Fruition made it a point to build strong relationships with cacao farmers from the get go.
All of their sources offer both transparency and quality, and as Bryan mentions, Fruition is "particularly inspired by the work that Uncommon Cacao does as a leader in the craft chocolate industry in terms of supply train transparency and moving the needle toward better practices from the farmgate to the finished products."
Here's an inside look at a few of these great cacao producers…
Marañon, Peru
A decade ago, Bryan and Dahlia's friends, Dan Pearson and Brian Horsley, were traversing the Peruvian jungle hoping to source bananas for importing to the United States.
The two stumbled upon the Marañon Canyon, home to some of the rarest cacao beans on earth, a genetically pure version of Nacional cacao. How rare? Bryan notes —
"The USDA thought this variety in a pure form had been extinct for nearly 100 years. These beans are pure Nacional, and 40 percent white — a coveted color in the cacao world."
Dan and Brian formed Marañon Chocolate, working with Peruvian farmer Fortunato. Brian once again elaborates —
"Fortunato, with his family and the other farmers in the community, care for the trees and harvest the cacao pods.

They pre-select the best beans out of each pod, then transport them to the processing facility, where they conduct a second selection process, removing damaged, discolored, and unripe beans.
The beans are then placed in fermenting boxes made from local wood and hand-stirred for a number of days, then dried on raised tables in natural sunlight.

We started working with Marañon five years ago because we were fascinated with the story of the cacao. Now we've gotten to know the people involved in harvesting and fermenting these beans and are even more excited to be using them!"
Sambirano Valley, Madagascar
Another unique cacao source, well utilized in bars like the Madagascar Sambirano Dark 74% bar I'll detail later, comes from Bertil Akesson's estate in Madagascar.
These special beans boast a big flavor, "bright, acidic fruit like dried cherry and cranberries, guaranteed to surprise you."
The beans' intensity comes from the volcanic soil on Bertil Akesson's private plantation, called Bejofo Estate, a popular origin among craft chocolate makers.
"In the 1970s, Bertil's family moved to Madagascar from Sweden and purchased several spice plantations, one of which had quite a few untended cacao trees. Since then, that 2,300 hectare farm has become the mainstay of Bertil's operation.

The beans are fermented in wooden boxes for six days, then dried in the sun on raised beds and concrete patios.

Bertil's beans have become a hallmark of the bean-to-bar chocolate movement, with almost every maker creating their own version.

But we launched ours later than most. Every time we'd see Bertil, whom we've known since 2013, he'd nudge Bryan — "When are you going to make chocolate with my beans?"
Bryan would reply, "I want to do them justice!"
Five years after first meeting Bertil and sampling the Sambirano Valley cacao, Bryan finally felt satisfied with his results. In 2018, Fruition launched their single-origin Madagascar bar, enjoying "its nuanced fruitiness — a big contrast from many of the roastier, earthier beans" they tend to work with for other bars.
Pangoa, Peru
Fruition sources this cacao from CAC Pangoa, a cacao co-op in the Junín region of Peru with more than 700 members. Bryan elaborates —
"We originally worked with our friend Steve Bergin at Conservation Cacao to source organic cacao from roughly 60 farmers who each own small plots of land. They bring wet beans to the coop, which then ferments and dries them in one central location.

We now work with two Peruvians, Marco Fernandez-Concha and Aurelio Loret de Mola, whom we had the pleasure to meet at the Northwest Chocolate Festival, at Cacao Life Amazon Specialties.

The resulting high-quality beans represent a huge achievement for this area of Peru. In the 1980s terrorist groups targeted the Junín region, and in the 1990s the land was covered with coca farms.

Now, among the daily rigor of growing cacao, farmers are fighting a plant disease brought on by global warming."
The farmers actually started Pangoa themselves way back in 1977, which is great, because they truly have a vested interest in their community.
As Bryan notes, "Think democratic elections, a reforestation program, a housing initiative, and more."
Fruition also touts Director Esperanza Dionisio's leadership as the first female manager of the coop. Outstanding.
In addition to these origins, Fruition also sources its cacao from Alto Beni, Bolivia, Duarte Province, Oko Caribe, and Tumaco, Colombia, sourcing all of these in partnership with Uncommon Cacao.
The Award-Winning Chocolate
When I asked Bryan to share Fruition's chocolate philosophy, he said –
"Our philosophy is that chocolate should be fun. When we started out there was a big emphasis on two ingredient chocolate in the budding craft chocolate industry.

As a chef, I didn't want to be limited. Why not add a little cocoa butter or milk or salt, depending on what flavors you're trying to bring out and create?

We do have some two-ingredient dark in our line, but we try to provide a wide array that can appeal to a larger audience."
Judging from all the accolades, no one is complaining about or second-guessing those decisions.
In addition to sourcing top notch cacao, Fruition also focuses on high quality ingredients.
They only use organic and non-GMO cacao beans, although as is typical in the bean to bar chocolate world, some beans are certified, others aren't. As Bryan notes, it's just a logistical issue at the various farms.
FRESCO CHOCOLATE's DELUXE COLLECTION
From a healthy standpoint, most of Fruition's chocolate is gluten free, although they do make some confectionery items with wheat, such as their Olive Oil and Sourdough Truffles.
Bryan also elaborates on a few other health-conscious areas —
"As far as vegan goes, all of our dark chocolate bars are vegan by nature, as well as our Dark Chocolate Coated Toasted Almonds with Smoked Sea Salt.

Our One Hundred Percent dark chocolate appeals to diabetics, and also those on Keto diets or with other interest in sugar free items.

That said, there are plenty of people who simply go for it to have the true experience of the cocoa beans without anything else altering the flavor."
Indeed, Fruition delivers a near-perfect chocolate experience from our viewpoint, with our only complaint being that the milk ingredients they use in their bars are not organic.
Although that's certainly important, many of their bars are vegan, so the impact is still minimal. Also, Fruition did follow up with us on this —
"It's very challenging to find organic certified milk powder of the style we work with.  However, our milk powder has no preservatives or chemicals added. It also meets the
F.A.R.M. Dairy Standards
."
Best Sellers
Bryan says their best-selling box of confections is their Brown Butter Bourbon Caramels.
Fruition is located less than an hour from Tuthilltown Spirits, New York's first whiskey distillery since prohibition.
As you'll discover momentarily when I unveil my Fruition chocolate tasting, that's a great, great thing.
Bryan uses Tuthilltown's Hudson Whiskey Baby Bourbon in the caramels, "creating a rich, smooth experience when someone bites in."
The outer shell uses Fruition's signature Dominican Hispaniola 68% Dark Chocolate, crafted with OKO Caribe cacao sourced through Uncommon Cacao.
"It's one of our most universally enjoyed chocolates, and lends itself well to confectionery work, as it includes a bit of added cocoa butter and vanilla bean."
Brown Butter Milk Chocolate registers as Fruition's top-selling chocolate bar, and Bryan calls it "super smooth, buttery, and nostalgic — not too sweet for a milk chocolate, but appealing to kids and grown ups alike."
Tasting the Bars
When I spoke with Dahlia about setting up Fruition as our next pass-thru chocolate offer, she offered to send us a package of bars. The weather turned hot here in Phoenix on a dime, but Fruition is well versed in shipping chocolate during warmer seasons, and I'm happy to report that all eight bars arrived in immaculate condition, despite the 100+ temps already here on their day of arrival.
I decided to tackle this round of chocolate tasting in a random order. That's not something I normally do, but a little chocolate tasting adventure during this lockdown sounded amazing. I spread the pile of bars out across my desk and just randomly started selecting ones  without actually looking. Here's the result.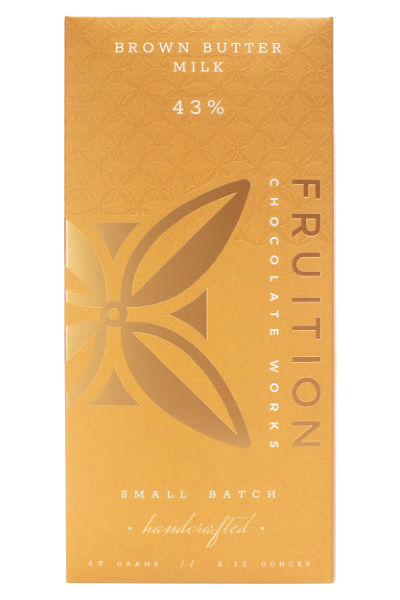 Brown Butter Milk 43%
Ironically, the first bar I picked up turned out to be their best seller – the Brown Butter Milk, one of their Good Food Awards winners.
Crafted with cacao sourced in the Dominican Republic, it's easy to taste why this bar works so well as a crossover, even for children to try. It's definitely sweet, and with dominant notes of caramel and sweet cream, I'd expect this luscious creation to appeal to almost anyone, except for those who might resist sweeter bars.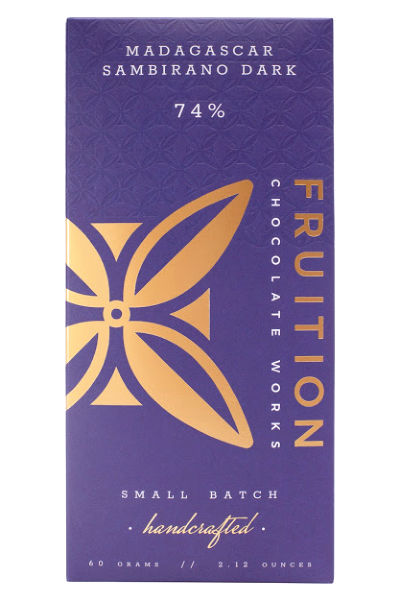 Madagascar Sambirano Dark 74%
Drastically shifting gears, this next bar showcases cacao from Akeeson's Estate in the Sambirano Valley of Madagascar. The bar's packaging describes "a fruit-forward dark chocolate" that "highlights notes of raspberry and citrus."
For my taste buds, the raspberry definitely shined. The only two ingredients are cacao beans and organic cane sugar, and I'm guessing the cane sugar is quite minimal. You can really taste this unique origin, which I don't ever remember tasting before, and its deep earthy notes – in a good way.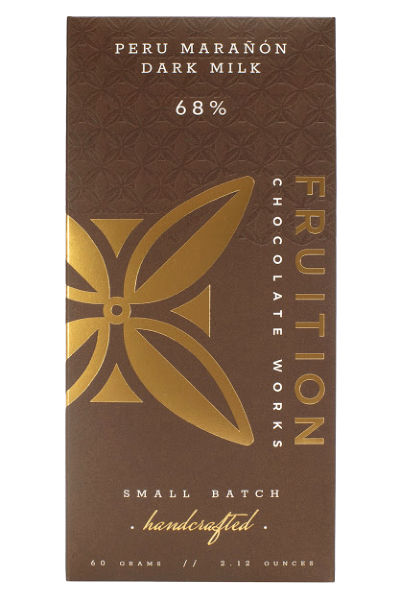 Peru Maranon Dark Milk 68%
Crafted with Marañon Canyon cacao beans, organic cane sugar, milk powder, and organic cocoa butter, this bar registers as my favorite so far. With smooth notes of nuts (the label indicates cashew) and bergamot, this bar won World Gold at the 2016 International Chocolate Awards.
Let a piece of this chocolate melt in your mouth, and you'll easily understand why.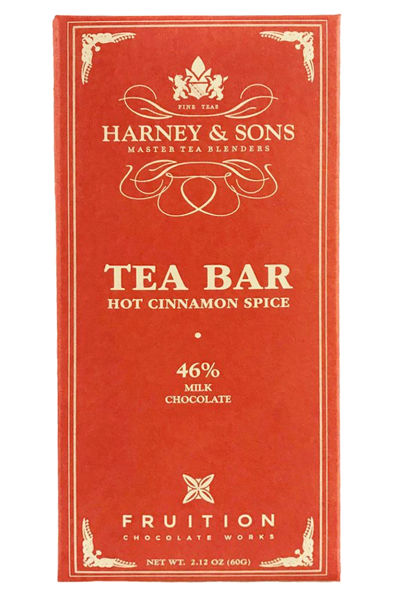 Hot Cinnamon Spice Tea Bar – 46% Milk Chocolate
Wow. First of all, before I rave about this bar, let me preface that I grew up a few blocks away from the Ferrara Pan Candy Company back in the day, so any smell or taste that brings me back to the magical scent of Atomic Fireball candy wafting through the air (think spicy cinnamon), tends to illicit a very positive reaction.
If I were planning out this tasting, I'd put this bar at the very end, so I'd be least inclined to eat the whole thing like a chocolate maniac.
If you love spicy cinnamon flavor, you will absolutely adore this bar. Created with cacao sourced from Chuno, Nicaragua, infused with Harney & Sons Hot Cinnamon Spice Tea, and with a little orange oil and cinnamon added for good measure, the Hot Cinnamon Spice Tea Bar tastes sublime.
It's a perfectly balanced bar in my opinion, and although I'm certainly bringing some deep-rooted childhood bias into the mix, it's difficult to imagine any spicy cinnamon lovers not thoroughly enjoying this chocolate.
I will mention that the orange peel and orange oil barely registered for me, so if you prefer stronger orange notes amidst the cinnamon, that's my only caveat. Personally, I love this bar exactly the way it is.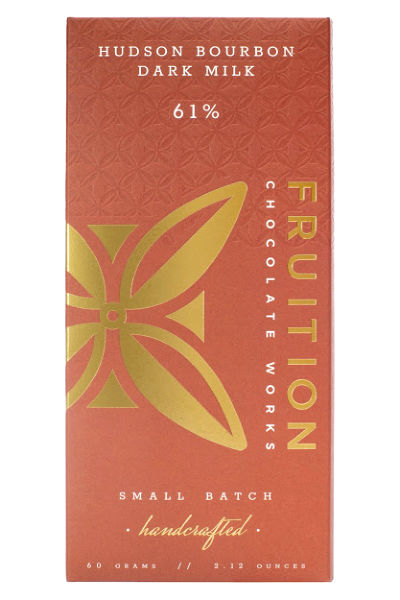 Hudson Bourbon Dark Milk 61%
"Roasted nibs, aged with Hudson Baby Bourbon and barrel staves, are crafted into a creamy dark milk chocolate with hints of oak."
This outstanding Bourbon bar, the third I've tasted recently, wins out as my favorite of the bunch, and it's not even close.
That's an incredible statement to make, considering how great the other bars were, but Fruition's Hudson Bourbon Dark Milk is yet another perfect chocolate bar, in my humble opinion.
The Dominican Republic cacao expertly complements the bourbon, while the organic cane sugar and whole milk powder push up a medium hint of light caramel, which just mixes incredibly smoothly with the bourbon flavor. Unbelievable, no surprise that it also won a Good Food Award.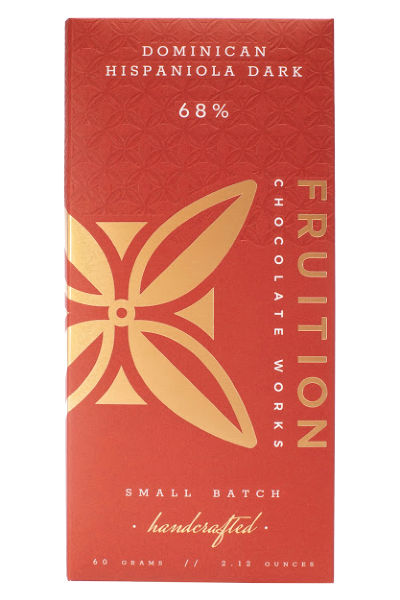 Dominican Hispaniola Dark 68%
Another bar crafted with a blend of different Dominican Republic origins, the Hispaniola Dark bar not only brings a new blend of cacao into the mix, it also delivers vanilla bean, creating a beautifully balanced bar, and potentially a new obsession.
For me, in addition to the bar's outstanding flavor, it tastes extremely similar to another chocolate (not like a copy, of course, but more like an echo, and in a very complimentary way). I just can't seem to place it. I tasted more of this bar than any of the others trying to recognize the parallel, but to no avail.
Whereas the Brown Butter Milk bar has the widest appeal, particularly for those brand new to higher quality chocolate, I'd suggest this bar offers the widest appeal across all levels of chocolate connoisseurs. Fruition's own description quite accurately calls it "bright" and "balanced."
Now if only if I can figure out what chocolate it tastes like…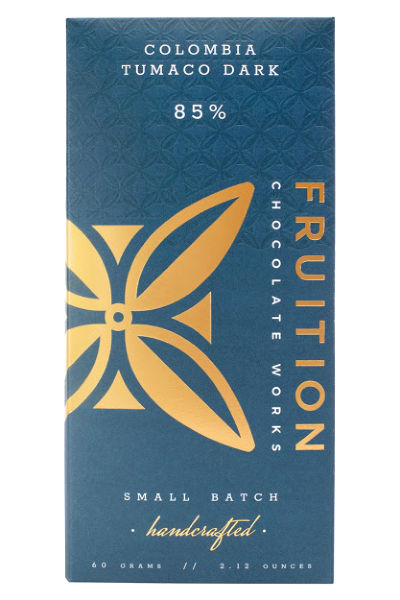 Colombia Tumaco Dark 85%
I somehow wound up with the two darkest bars here at the grand finale, which certainly isn't a bad thing.
This delectable concoction of simply Tumaco cacao beans and organic cane sugar offers an 85% dark chocolate that I would have pegged as closer to 70%. It's that smooth.
Fruition calls it "a bold dark chocolate with nostalgic notes of brownie, butterscotch and blackberry." I concur, but outside of a nice blackberry pop near the end, the notes are very, very subtle to me (which again, not a bad thing).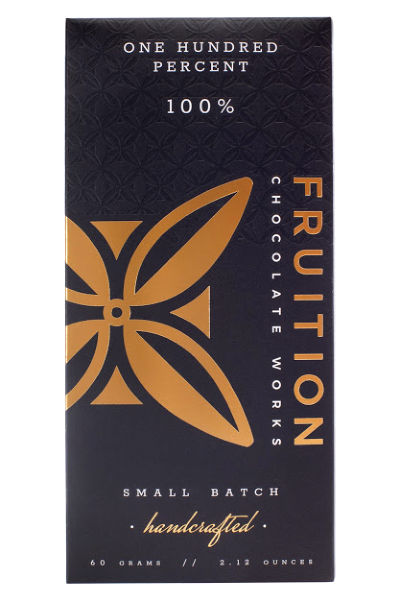 One Hundred Percent 100%
Saving the darkest for last, this blend of Dominican Republic and Peruvian cacao is the darkest chocolate bar I've ever tasted. I don't mean simply cacao percentage, as I've tasted several other 100% cacao bars over the years, but I do mean flavor-wise.
For some reason this very unique blend just doesn't quite suit my own palate. Then again, it's the eighth different bar I've tasted today, so there is that!
This is a deep, earthy bar. Featuring "bright red berry flavors and an intensely roasted cocoa base," it's definitely an experience. I couldn't pick up any of the red berry notes, but I'll venture a guess that if you love deep, dark, pure cacao from Peru and the Dominican Republic, you'll very much enjoy Fruition's 100%.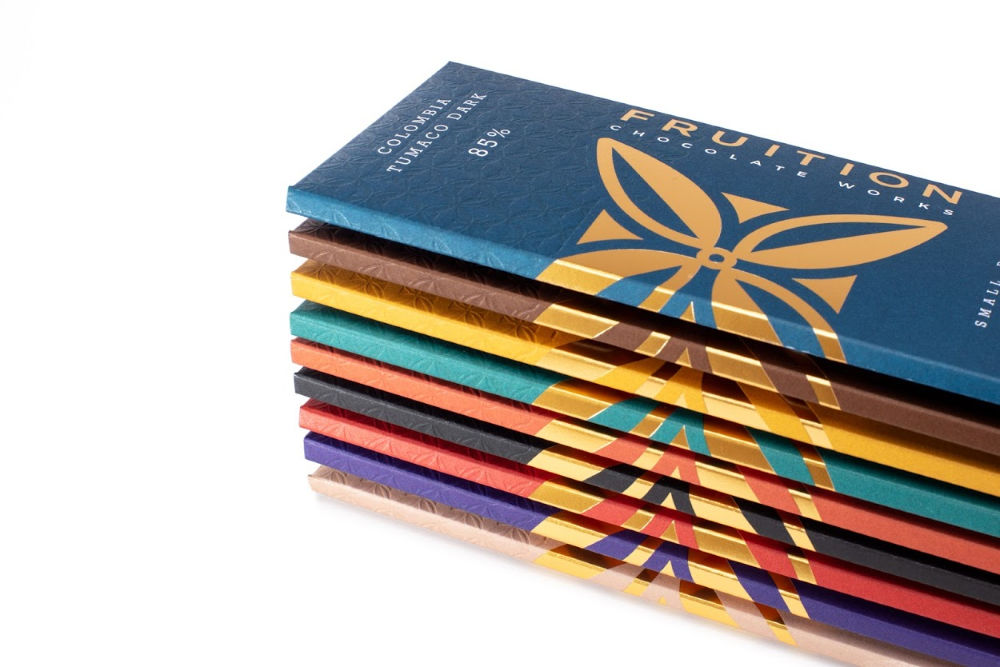 Looking Ahead
Fruition Chocolate Works has already won over 70 awards, including International Chocolate Awards, Good Food Awards, Academy of Chocolate Awards, and Northwest Chocolate Awards.
Indeed, as Bryan happily notes, "It's validating to have judges in different blind tastings qualify us among the best in the world."
He also mentions that their most memorable win was the first time they won at the Good Food Awards back in 2013 –
"We'd only been in business for two years, and it was an incredible feeling to have Alice Waters bestow us with a medal."
In 2016, they won best in show at The International Chocolate Awards for the milk chocolate category, another very memorable moment for Fruition –
"We won alongside Bonnat, a revered French chocolate company that is more than 100 years old."
Bryan, Dahlia, and everyone at Fruition can celebrate and take pride in the high level of quality they're clearly achieving, based not only on all the awards, but on all the customers who keep coming back for more as well.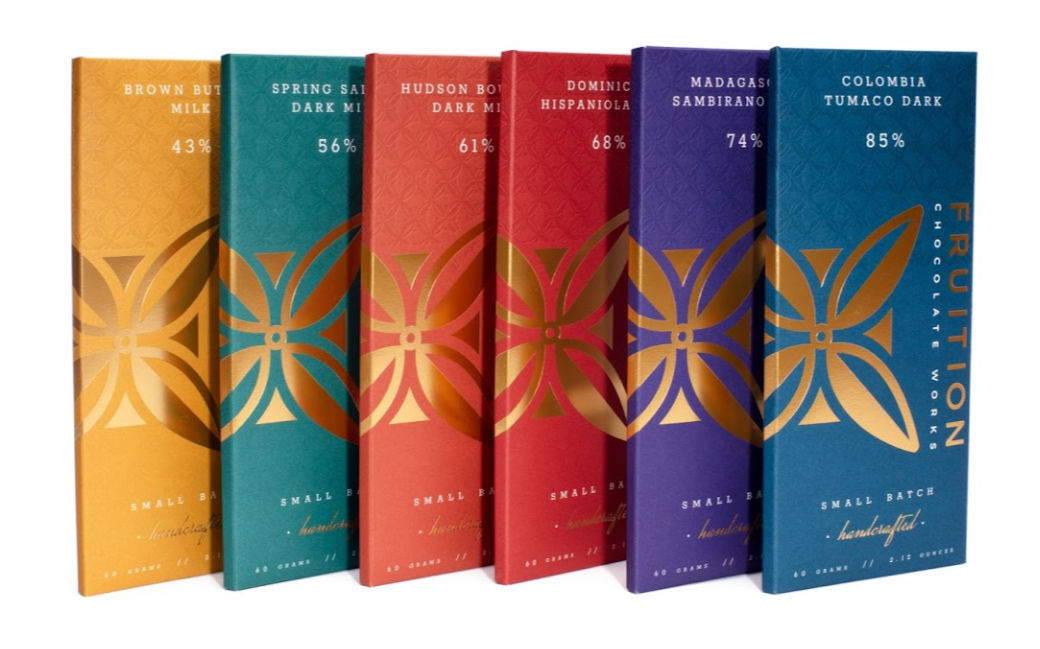 With so many great accomplishments already under their belts, what could Fruition possibly do for an encore, other than continuing to make incredible chocolate? Bryan and Dahlia offer a little insight into their current situation —
"Well, prior to Covid-19, we were slated to open an ice cream cafe later this spring. Unfortunately, those plans are on hold, and our new big plan is to stay in business and slowly rebuild our team.

We are focused on growing our online direct to consumer business and tailoring our wholesale operations toward independent and natural grocery stores and online subscription boxes and resellers."
And here at Chocolate Connoisseur, we'll be focused on helping Fruition connect with new customers, as we're proud to announce Fruition as our "pass-thru" chocolate offer this month.
Click here for all the details and to try Fruition Chocolate for yourself!
With at-home baking all the rage right now as well, you can also try your hand crafting Fruition's Olive Oil and Sourdough Truffles.
Although Dahlia wasn't able to send us the recipe directly unfortunately, you can find it in Megan Giller's outstanding book, Bean-to-Bar Chocolate: America's Craft Chocolate Revolution: The Origins, the Makers, and the Mind-Blowing Flavors.
Click here to view it on Amazon (paid link).
Big thanks to Dahlia and Bryan for helping to put this together on a shorter than normal time frame due to my illness in April.
Here at Chocolate Connoisseur we're so excited to have finally connected with Fruition, and let's all work together to help keep them and other smaller chocolate makers (and the farmers behind them) going strong, as we fight through the pandemic here in the short term.
 Click here to visit the Fruition Chocolate Works website.
And click the links below to connect with them on social media.
+ PHOTOS BY FRUITION CHOCOLATE WORKS
(unless otherwise noted)