The Healthy Bean:
Five Ways to Add Healthy Chocolate Into Your Diet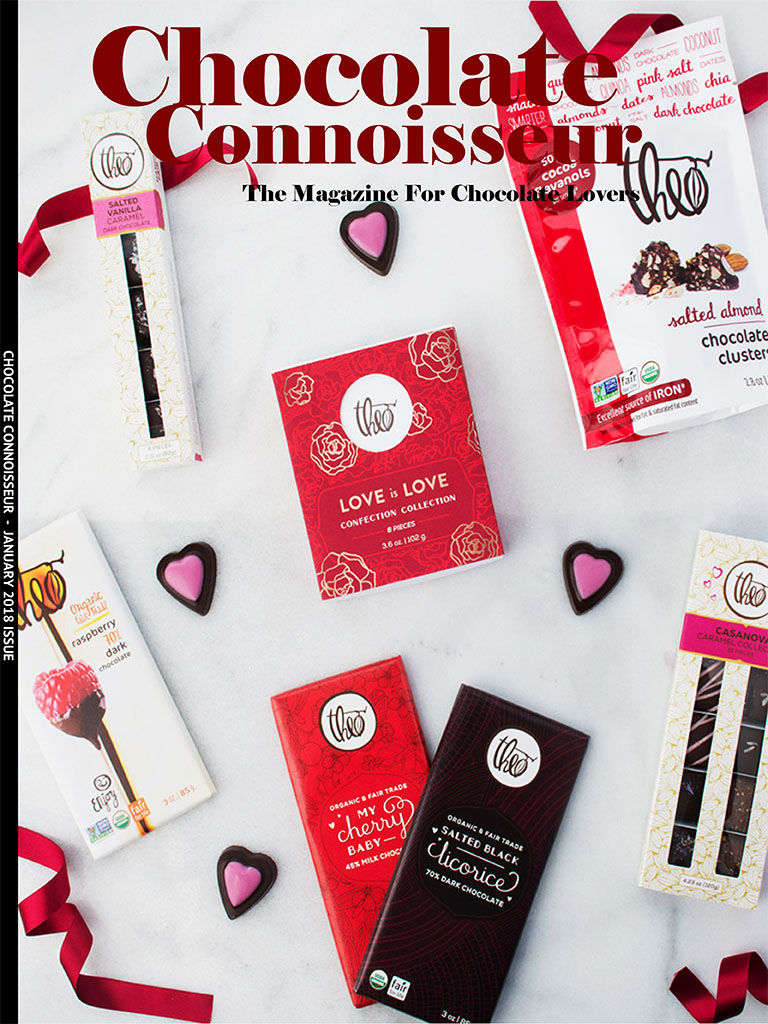 — January 2018 Issue's Free Content —
Five Ways to Add Healthy Chocolate Into Your Diet
Taking a more health-conscious approach to the way we eat tends to take center stage at the start of the new year, and that's a good thing, especially if we implement easy changes, built to last. Thankfully, as chocolate connoisseurs, our health arsenal includes healthy chocolate (cacao if you will), but are we really using cacao in our eating regimens to its fullest potential?
In this issue's Healthy Bean, we'll show you five different ways to add healthy chocolate into your diet, little ways that can add up to healthier, happier you, literally. Here we go!
1. Drinking Cacao
Let's cut right to the chase – drinking cacao, like we're featuring in next month's issue with the outstanding company Cacoco, will most likely deliver the most bang for your health's buck when it comes to adding chocolate to your weekly regimen. What differentiates true drinking cacao from your run-of-the-mill hot cocoa? Let's turn to the experts at Cacoco (https://drinkcacoco.com/) for that answer –
"For thousands of years, chocolate has been consumed in its whole drinkable form by Mesoamerican cultures like the Olmecs, Aztecs, and Mayans. The traditional preparation was to grind the cacao bean into a rich paste and blend it with water, herbs, and spices to create a rich nutritive beverage that offered strength and vitality for an active life.

In the last two hundred years, modern industry has refined the fat out of the bean, and created a "cocoa craze" that has required consumers to mix the processed powder back into milk, which then needs to be filled with sugar to make up for the bad taste. The resulting "hot cocoa" has fallen far from it origins as a healthful beverage."
In today's overly-processed, mass-produced world, taking chocolate back to its roots means putting forth a little extra effort, both as a chocolate company, and as a consumer. You won't walk down the street to a major supermarket chain and find Cacoco sitting on the shelf. Instead, you'll need to search out individual places locally or online (Chocolate Connoisseur Magazine's raison d'etre).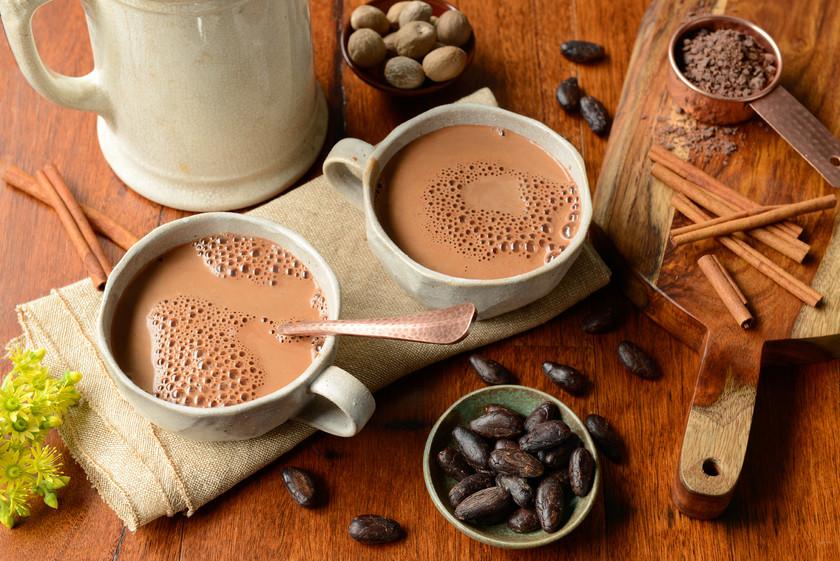 Extra effort delivers extra rewards, however, as incorporating drinking cacao into your daily routine packs a powerful health punch. Once again, we turn to the experts at Cacoco –
"The cacao bean is one of nature's most nutrient-dense foods: as a whole bean, it has a higher antioxidant value than nearly any other food. Cacao is also loaded with healthy fats, protein, minerals, and a full range of phytonutrients and chemicals that gives chocolate its beloved mood-boosting properties.

Chocolate is inherently uplifting and nourishing, and also acts as the perfect delivery system for beneficial herbs and spices. This is due to theobromine, a vasodilator that opens up blood flow to the heart and delivers medicine in the most perfect way possible."
Raw cacao also stands tall as the richest naturally-occurring source of magnesium, and contains the beneficial compounds of dopamine, seratonin, norepinephrine, anandamine, and phenylethylamine. It's also packed with its own unique blend of phyto-nutrients known as flavanols, which studies show help both blood vessel health and overall circulation.
Add it all up you you'll find Chocolate Connoisseur's number one recommendation for 2018, drinking cacao – hands down, but cups up!
2. Chocolate Additions
If necessity is the mother of all invention, then your need for chocolate at breakfast time should inspire some excellent and creative chocolate and first meal of the day combinations. And yes, the exact same applies to both lunch and dinner. Healthy chocolate holds no boundaries, provided you're not eating in excess.
Expect to see more such recipes from Chocolate Connoisseur in 2018, as we strive to bring you a double dose of health and chocolatey, but for now we're suggesting something different – experiment with chocolate additions in your own way. Make it fun!
Chocolate for breakfast? Yes please. My personal favorite, I love adding chocolate to oatmeal. For a super fast addition, I use a square or two of whichever bar I'm currently eating for a snack, just melt it into the oatmeal, and stir.
I also add a handful of cacao nibs in as well, which provides a little healthy crunch. Add chia seeds and small portions of one or two fruits (just keep the sugar down), and enjoy one amazing and surprisingly filling (protein-rich chia helps in that area immensely) start to your day.
Note: For a more elaborate, although still very quick, oatmeal with cacao powder, bananas and peanut butter, make sure you stop over at this issue's Chocolate Channel for a great recipe.
So healthy chocolate for lunch or as a snack with vegetables? Indeed, it's completely do-able, and one of the best ways to make it happen? Add chocolate to nut butters. I've used this trick for years when needing a little extra protein at snack time, simply dipping chocolate into organic, Valencia peanut butter (or almond butter), but truth be told, it's quite hit or miss. Not all chocolate combines well with any nut butters, and of course like chocolate, every nut butter offers a different flavor profile, so I strongly suggest starting your experiments small.
Regardless, keep one important thing in mind – if peanut butter is your thing and you're truly health-conscious, only eat peanut butter from Valencia peanuts, at least at home where you can easily control your peanut butter source. Valencia peanuts are far and away the healthiest peanut variety, as they lack the all-too-common aflatoxin found in other types. And, as a bonus, they just happen to taste great.
As for actual combinations, shout out to Ambitious Kitchen for their super-simple almond butter recipe that you can easily apply to other nut butters. Here's a link: https://www.ambitiouskitchen.com/2014/01/homemade-salted-dark-chocolate-almond-butter/
I do find it's a bit too sweet for my tastes, so I eliminate the honey and tend to skip the chocolate chips, but again, your goal here is to add chocolate to other parts of your daily culinary adventure, and enjoy it, so don't approach the experience rigidly! If time holds you back from experimentation, take a great nut butter you already enjoy and simply blend the chocolate into that butter. Yes, it lessens the recipe flexibility a bit, but if time is of the essence, don't think twice – just try it.
Introducing…
Chocolate Connoisseur Premier
Welcome to our most exclusive, rewarding chocolate experience yet:
Chocolate Connoisseur Premier
Ten different chocolate offers (a $400 value) shipped to you throughout the year, plus a free Annual Subscription to Chocolate Connoisseur Magazine.
3. Cacao Nibs
I mentioned cacao nibs above briefly as an oatmeal addition, but these little miracles can add a powerful nutrient-dense punch to more foods than you'd think. I love adding them to number four below as well, but truly, the sky's the limit for cacao nibs.
Granted, this food of the gods snaps bitter (remember, the word "chocolate" comes from the Aztec word xocolatl, which translates as "bitter water"), not sweet, but that simply opens it up to a completely different cross section of foods versus its sweeter derivations.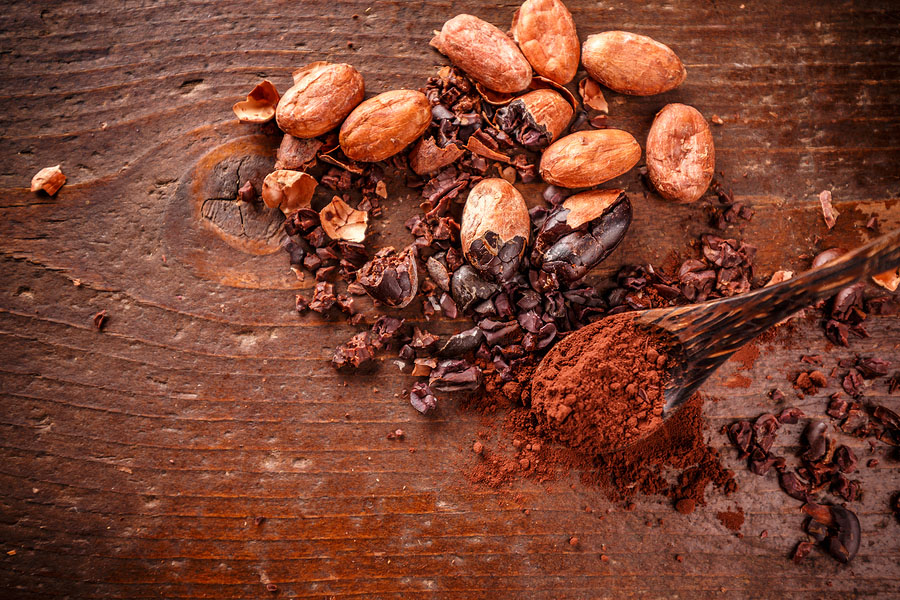 Of course, the bitter plays well with sweet, making it a great addition to ice cream. Case in point, see our June 2017 issue's Dark Chocolate Vegan Ice Cream Recipe from Elements Truffles, my favorite moment in the kitchen of 2017! I made two different versions of Alak Vasa's masterpiece, both absolutely divine (ice cream rules my world, however, so to each his or her own). Cacao nibs also work well in cookies, brownies cakes, and brittles too.
4. Smoothies
Smoothies, yes! I don't always drink smoothies, but when I do… I prefer to add chocolate. For my tastes and eating habits, outside of my daily chocolate snack, smoothies score top marks for healthy chocolate diet additions.
I confess, that's largely because I tend to be in a hurry, and throwing a bunch of ingredients into a Nutri Bullet appeals to me much more than it probably should! Still, nowadays many of us enjoy a smoothie on at least a semi-regularly basis, and chocolate seamlessly finds a home here.
Experimenting with smoothies is both fun and easy, but if you're looking for a superstar combination to get you started, I highly recommend this gem, the Cherry Choccolate Green Goddess Smoothie from nutritionist Cynthia Sass. I've modified the ingredients for the version that I personally make, but if you're looking for more recipes (and especially if you're looking to shed some pounds here in 2018), you can also pick up Cynthia's book, Slim Down Now: Shed Pounds and Inches with Real Food, Real Fast, right here: http://amzn.to/2qIM7wY
Cherry Chocolate Green Goddess Smoothie Recipe (Chocolate Connoisseur Version)
In a blender combine 1 cup organic baby spinach, 1 cup Earthbound Farms Frozen Organic Dark Sweet Cherries, 1/4 cup Orgain Organic Plant-Based Sweet Vanilla Bean Protein Powder, 1 ounce chopped dark chocolate squares (your preference, 70% dark recommended), 3/4 cup water, 1 tbsp fresh squeezed organic lime juice, 1/2 tsp fresh organic ginger, and a handful of ice. Blend to desired consistency.
Pro tip – I'll often add cacao nibs to smoothies as well, but sparingly, because although I personally don't enjoy super-sweet smoothies, drinking a bitter one appeals even less.
5. Just… Eat… Chocolate!
If you're a Chocolate Connoisseur Magazine subscriber, you're already well in the know for this simple concept. If not, well first, subscribe to Chocolate Connoisseur ASAP, but beyond that, understand that the term "chocolate" can still be overwhelmed with the noise of mainstream, "unhealthy" chocolate (think a Hershey bar, Kit Kat, etc.). These are candy bars, not chocolate bars, and no they don't apply here because they don't truly represent chocolate… they represent sugar, which makes a big difference when one of your current life goals includes healthy eating.
Getting your daily dose of healthy chocolate in moderation offers a health boost, not a health hindrance, but you certainly need to know the connoisseur difference. For example, let's compare Taza's Chocolate Mexicano Cacao Puro Disc with a Hershey's Bar.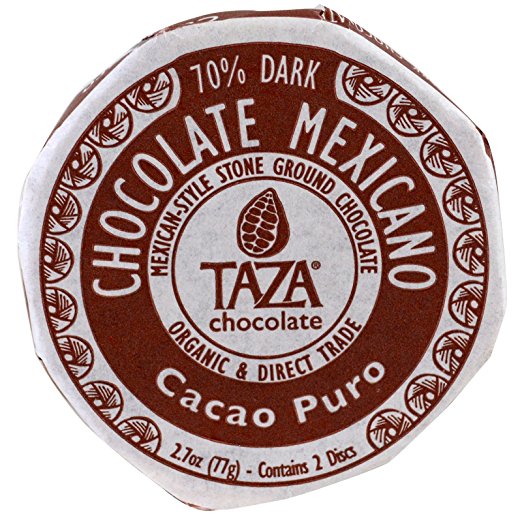 The Taza bar contains only these ingredients:
Organic cacao beans, organic cane sugar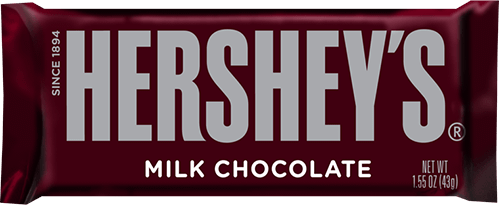 Hershey's Bar
In stark contrast, here's what's in a Hershey's Bar:
Milk Chocolate (Sugar, Milk, Chocolate, Cocoa Butter, Lactose, Milk Fat, Soy Lecithin, PGPR, Emulsifier, Vanillin, Artificial Flavor)
Obviously, those two chocolate offerings sit worlds apart, most egregiously in the aforementioned sugar category, where the Hershey Bar includes twenty-four grams per serving (yes, that's literally six teaspoons), but the Taza disc contains only ten grams per serving.
Game. Set. Match.
If you purchase the right chocolate, you can partake in a guilt-free snack every single day, with a positive effect on your health and well being instead of a negative one. That's a big part of the difference between calling yourself a chocolate lover and a chocolate connoisseur. Enjoy every bite! #chocolatetruth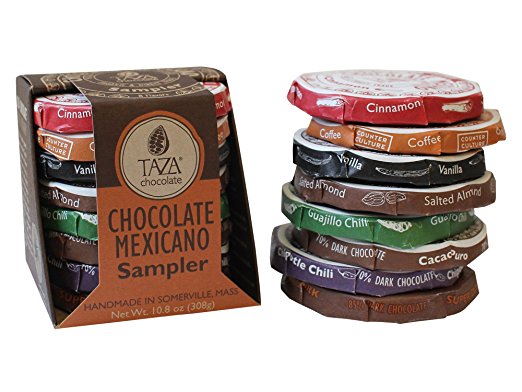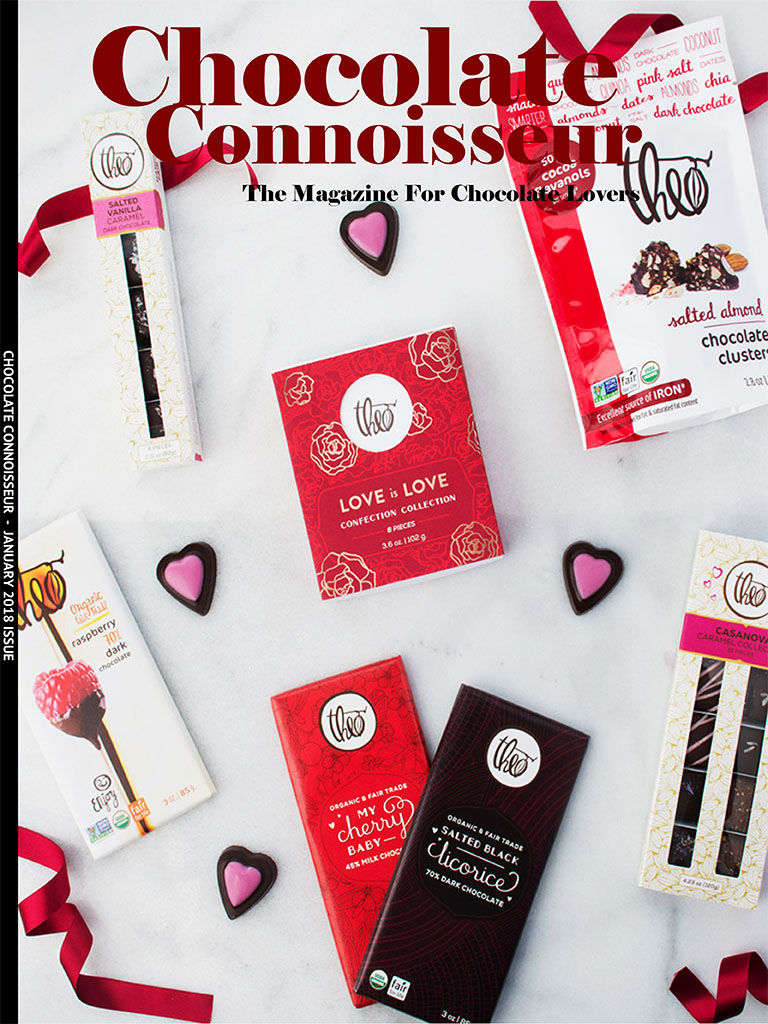 JANUARY 2018 ISSUE PREVIEW