by Rene' Zimbelman
All photos by Theo Chocolate unless otherwise noted
After a good five months away from our On the Chocolate Regular features, it's suddenly been all about Theo Chocolate over the past month here at Chocolate Connoisseur. In December, we featured four of Theo's delicious, mouth-watering holiday bars, and, as I write this, I'm purposely prolonging a wee bit of that holiday spirit while I munch on one of my final Theo Gingerbread Spice squares!
If you know anything about Theo, you know they create quite the variety of chocolate, with whimsical flavors (or in chocolatier speak, "inclusions"), and simply showcasing all of their products could warrant a full article. But it's the story behind the chocolate we'll explore first today, before spotlighting their delectable offerings.
Two people own and operate Theo, Joe Whinney and Debra Music, who were at one time married, but instead forged a new relationship together, not only as divorced co-parents but business partners to boot. Their ability to rise above oft-limited ideas of what a divorced relationship looks like, in order to create a company intent on making the world a better place, serves as an inspiration to say the least.
How Theo Began
According to a Seattle Weekly article, after their divorce, they both lived on the east coast, but when the opportunity arose for Joe to start Theo all the way across the country in Seattle, he called Debra first.
With a nine-year-old son part of the equation, Joe decided not to move unless Debra also packed up as well, so they could head west with the family dynamic intact.
Debra didn't take her decision lightly when she said yes to moving, especially as a forty-one-year-old single mom with a solid marketing job back east.
In Theo's cookbook, 
Theo Chocolate: Recipes & Sweet Secrets
, written in 2015 by Joe and Debra, the first chapter offers an inside scoop on their personal history. Debra shares in the cookbook that, even though they both love each other, in the end the two just weren't meant to be a married couple because, whereas she puts two feet planted firmly on the ground, Joe has more of a "fearless nature", more of the adventuresome type and full of risk-taking ventures. Debra adds —
"What we share and have been able to preserve through all our relationship trials, is the mutual belief that rooted in gratitude and grounded in perseverance, resolve and dedication, we can take the gifts given to us in this life and make the world a slightly better place than when we found it. This shared idealism is what has enabled us to raise our son together and preserve a sense of family for him as a divorced couple, and it's what's enabled us to embark on the life-changing adventure we call Theo Chocolate."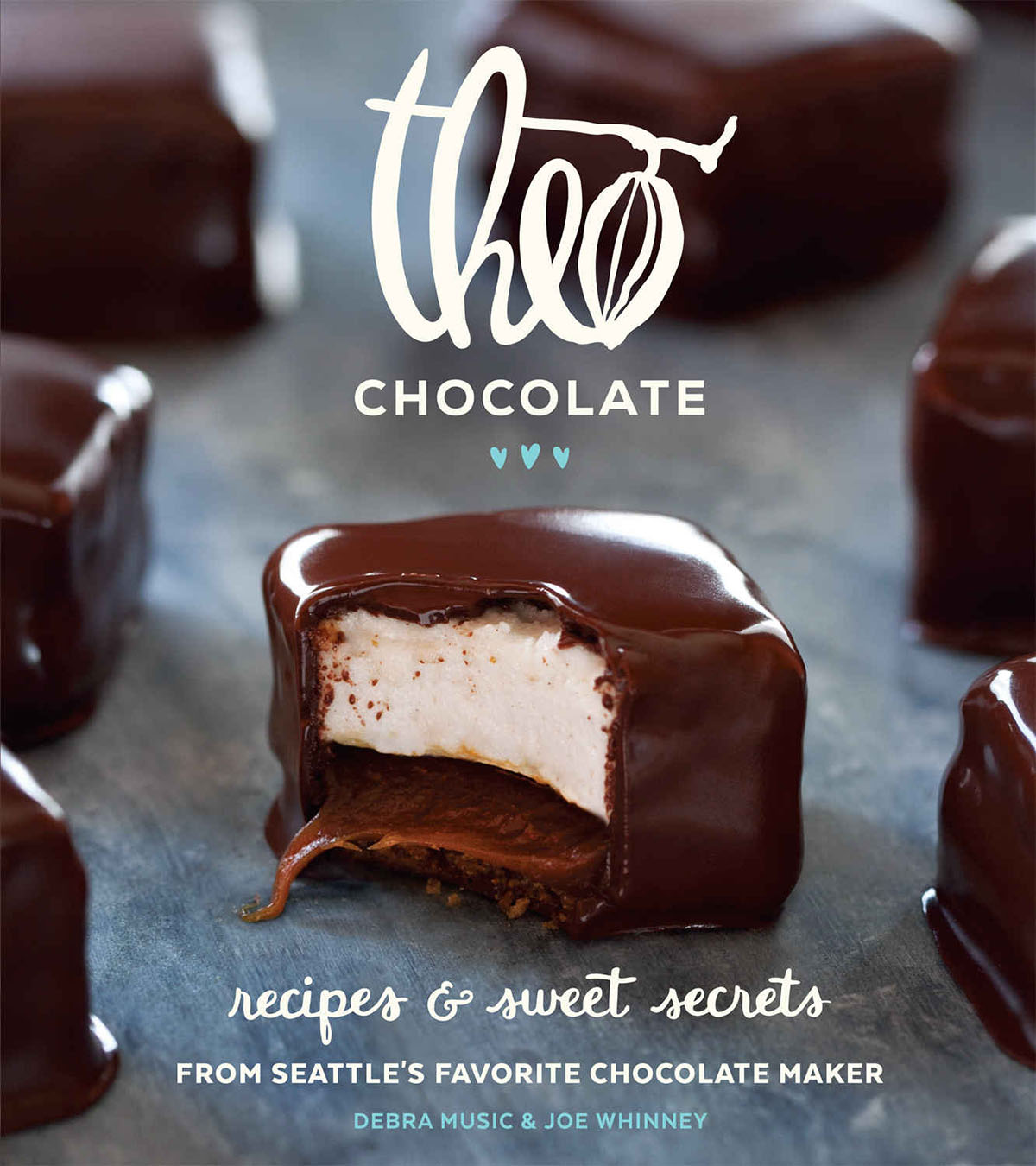 To read their full story, I highly encourage you to pick up a copy of Debra and Joe's cookbook — click the pic above to view the book on Amazon
In the cookbook, we also learn that, after the west coast move, they lived in the same house in Wallingford, WA, helping their son adjust to life in a new city without, as Debra puts it, "the added burden of two separate households." Joe worked on the business and she worked on the house, which needed a lot TLC. As time progressed, Joe asked Debra to join the business with him.
Theo's blog points out that with Debra's marketing background and Joe's history in sustainable agriculture, their combined skills were ideal for running Theo. Not long after the move to Washington, Debra met a new man, Brad, and they wed well over a decade ago now. As she recalled in the cookbook —
"Looking back, it feels a little like a good karma gift. Joe got to realize his dream, and I got happily-ever-after with a guy who was rock solid enough to fall in love with a woman who was starting a business with –– not to mention living with –– her ex-husband."
Also in the cookbook, Debra tells us she felt quite excited about building Theo. She's never been a woman to firewall her personal values away from her professional life.
"It was thrilling on a philosophical level," she said, "to be given the opportunity to create a brand that aspired to define the concept of 'sustainable business' in a changing world."
Joe's Journey 
So, what exactly did Debra mean by Joe's "fearless" nature?
Joe shares in the cookbook that, as a young man, exploring all the world had to offer motivated him, not making money. An interesting side note – as senior class president in high school, he thought it was a great idea to drop out just before graduation and start his adventures, much to his mother's chagrin!
"I made my way to New England in my old VW bug, and worked side jobs until I decided it was time for real adventure."
He also tells us in the cookbook that in his early twenties, he sailed around Belize and parts of Guatemala, and the more time he spent in southern Belize, the more he wanted to do something that would contribute to the country's preservation and culture. He decided to volunteer for a small conservation organization, the Tropical Conservation Foundation.
 "There I had a deep immersion in permaculture and in traditional Mayan ways of life, from hunting and farming to building dug-out canoes carved from giant trees. Learning to harvest cocoa was amazing."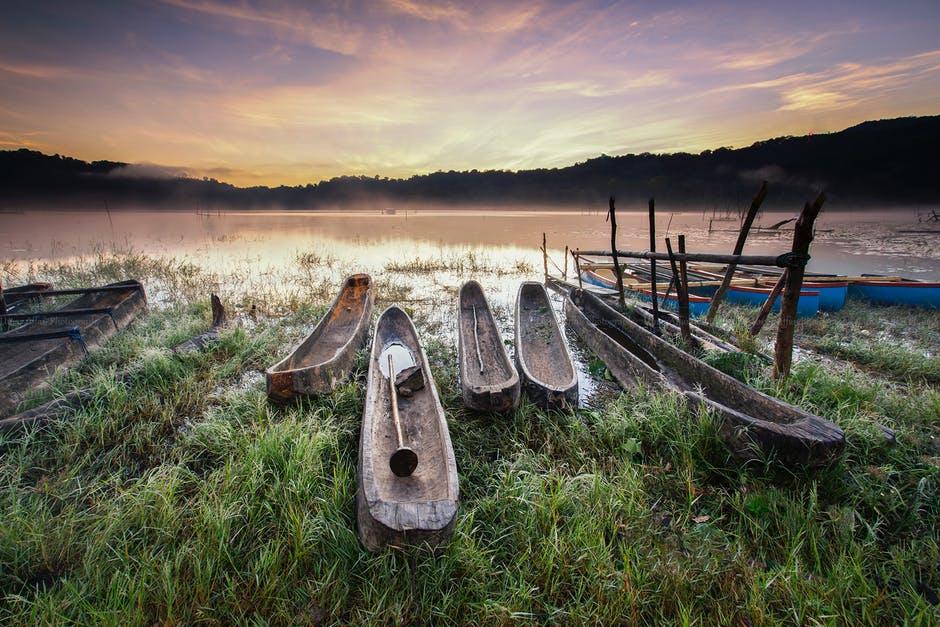 Joe learned much from Mayan Wisdom…
Photo: Creative Commons
The cookbook also relays that, before this experience, he'd never known where cocao came from or how it was grown. He didn't have insight into what the lives were like of the people who grew cacao either. It was a brand new experience. Joe also shares in the cookbook —
"There I was in this tropical forest with Dr. Seuss-like trees towering overhead and wild birds calling all around. The sunlight scattered over the moss, giant composting leaves, and countless creatures living off of and digesting the forest floor."
And according to a Seattle Times article, Joe then had a realization, "It became clear that something had to be done. Not only was the rain forest and the culture endangered there, I learned it was endangered all around the world."
According to that same article, Whinney helped create the U.S. market for organic chocolate in 1994, by sending cocoa beans from farms in Central America through a Brooklyn chocolate maker to customers, including Cascadian Farms and Newman's Own.
Eventually, he realized he needed his own factory to buy directly from cocoa farmers.
"There were so many margin slices taken out in the supply chain that I was losing money paying farmers what I thought was a good price," Joe explained in the article.
Theo on the Horizon
The answer to Joe's dilemma? Create Theo, the first organic, fair trade-certified cocoa producer in the United States, back in 2006! They took the company name from the Theobroma Cacao tree, and subtly yet noticeably, also tucked a cacao pod within the logo.
The cookbook tells us Joe and Debra's ideas for the Theo logo (sketched out on yellow loose-leaf paper with pencil) were brought to life by designer Zaara (KittenChops.com).
"I was really excited about building Theo," Debra said in the cookbook. "There's a profound irony in that while chocolate is one of our most beloved indulgences…the conventional cocoa industry has been responsible for devastating environmental degradation and human exploitation for many decades."
In creating Theo, Debra and Joe found their own way to address all the issues they felt weren't being handled correctly in the cocoa industry. Educating consumers helps right some of those wrongs, so they added factory tours as a cornerstone in the company's business plan. As Debra notes in the cookbook —
"It would have been a lot less expensive and much easier for us to be in an industrial park rather than in the beautiful, old historic building we occupy in Seattle's Fremont neighborhood, but in order to conduct tours, we needed to be in a walking district."
Phenomenal decision, as the tours continue to be a huge hit (click here for factory tour times, available on Theo's website).
"Ultimately. Debra added, "the goal of our tours is to unlock the mystery of chocolate making for consumers, and to help our visitors understand their consumer choices have an impact on other human beings and the planet we all share."
May the Source Be With You
That leads us to the next topic… sourcing. Seventy percent of Theo's cacao comes from the Democratic Republic of Congo, with the remaining thirty percent from Peru. You can bet Joe and Debra sleep on lighter pillows at night, knowing that Theo continually spearheads positive changes in both the Congo and Peru. Here's why…
Changes in Congo
First, according to Theo's website, their efforts have already helped approximately 4,686 farmers and 32,802 family members in the Congo.
Their website also tells us that, along with Esco Kivo (ESCO) and the Eastern Congo Inititative (ECI), Theo began purchasing cocoa from the Democratic Republic of Congo in 2010. The Congo may be rich in natural and human resources, but it's also been left desolate in many areas because of war, poverty and disease. Theo's blog reveals that we've lost over six million Congolese men, women and children to war-related deaths, and despite democratic elections and multiple peace agreements, the eastern region still suffers from conflict. It all takes a significant toll, diminishing the availability of reliable, income-generating employment, as well as both education and health care.
Theo, ECI and ESCO recognized an opportunity to help the region emerge from crisis by joining forces with local farmers to cultivate cacao.
ESCO — 
Theo's export partner, was the first buyer of smallholder cacao in the Eastern Congo. With ESCO, Theo supports cocoa farmers through provision of low-cost planting materials, farmer training, and of course, direct purchasing.
ESCO has facilitated over 4,500 farmers receiving their Organic and Fair Trade Fair for Life Certifications.
These farmers commit to rigorous sustainability standards and good agricultural practices, along with annual farm audits.
ECI —
Founded by Ben Affleck, ECI is an advocacy and grant-making initiative wholly focused on working with and for the people of eastern Congo. ECI envisions an eastern Congo vibrant with abundant opportunities for economic and social development.
Working together with Theo since 2010, ECI helps local organizations develop initiatives that benefit cocoa farmers. Click here to check out this month's Chocolate Channel for more on how ECI and Theo are making a difference.
Theo's blog reports that in their first contract for the Congo, back in 2010, they ordered just twenty tons, and it was a struggle to buy from farmers. At one point, cocoa farmers were sleeping in the safety of Uganda, then crossing the Uganda-Congo border to care for their cocoa farms during the day. Cocoa farming is the primary reason people returned to this area of the Congo during conflict.
Introducing…
Chocolate Connoisseur Premier
Welcome to our most exclusive, rewarding chocolate experience yet:
Chocolate Connoisseur Premier
Ten different chocolate offers (a $400 value) shipped to you throughout the year, plus a free Annual Subscription to Chocolate Connoisseur.
Now, Congolese cocoa represents 70% of Theo's total cocoa supply and, according to their website, can be found in every single chocolate product they make. People have confidence that ESCO and Theo will keep buying their cocoa in periods of unrest.
Other improvements, according to their website? Theo's presence increased market prices for farmers. In fact, prices where they source are $260 more per ton than other nearby cocoa regions.
The company also helped farmers realize enough stability to begin rebuilding their housing. Between 2012 and 2015, farmers pooled their income from cocoa to purchase metal roofing sheets and build a house with local thatch materials for a farmer.
After building the house, they moved on to the next member. This group enabled families to get re-established after many lost their houses during the war.
Just recently, farmers created a new association, and they're now using cocoa income to build houses together, with bricks instead of just thatch.
Also, new job opportunities now extend beyond farming. For example, Theo's website tells us one hundred forty-two full time employees at ESCO work in non-agricultural, middle class jobs. More and more families send their children to school because they can afford the fees, and health care continues to improve.
It all adds up and demonstrates cacao's potential for opportunity and prosperity in the Congo.
Possibilites in Peru
Theo's website tells us that, In Peru, Theo's efforts have already helped approximately 700 farmers and 4,200 family members.
Their site also states that, in some areas where they source, over 50% of the people live below the poverty line, and 80% of children are undernourished. Due to the food insecurity and lack of economic opportunities, families are often pushed off their farms and into urban environments where they hope to find work. Theo's business and additional investments give farm families an opportunity for profitable livelihoods, a chance to provide for their families without leaving the farms behind.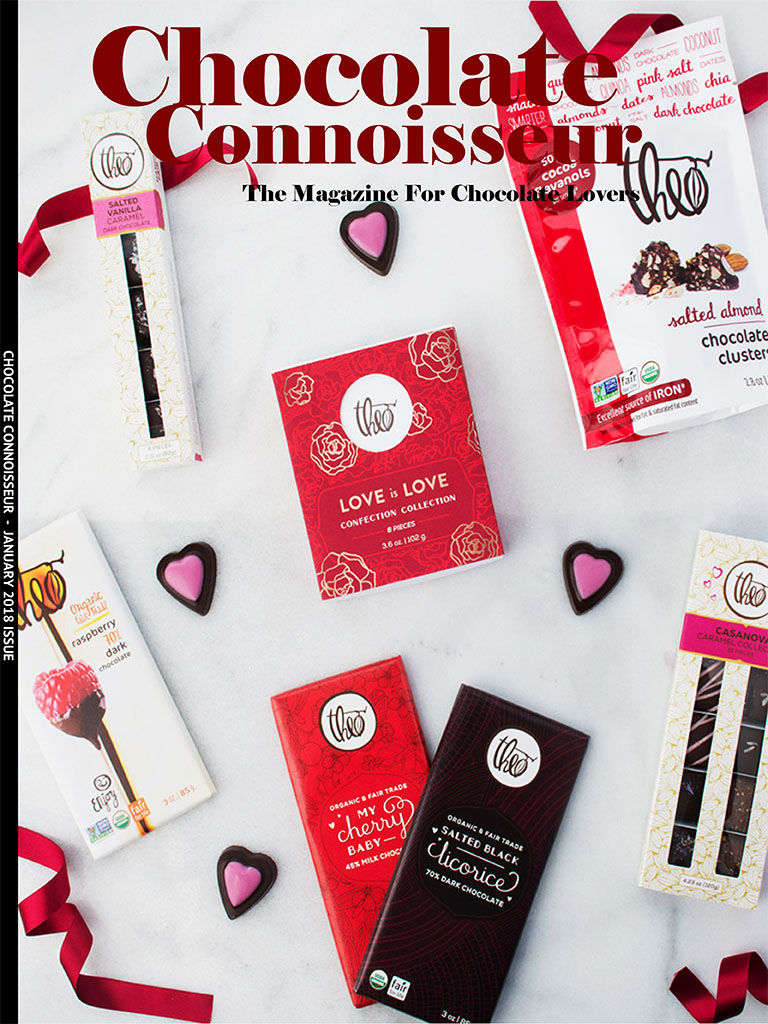 JANUARY 2018 ISSUE PREVIEW