Since we rebooted Chocolate Connoisseur Magazine two years ago, I've gradually increased my chocolate giving at the holidays, and this year makes the third straight holiday of amping up the chocolate. In doing so, my goal is actually threefold, and since two of these you'll likely mirror yourself, I figured I'd take the time to share.
My Three Goals of Chocolate Giving
First, my grandma used to give all of us grandkids (and there are a lot of them on that side of the family!) a big Hershey bar for Christmas. Not the little, dollar bill sized bar… no, we're talking the mini-chocolate brick that you could borderline knock out Santa with if you aimed just right. I didn't eat much chocolate or chocolate candy as a child (baked goods, yes, candy, not so much), but I loved devouring that giant chocolate bar every Christmas.
Now as a much healthier adult with Hershey long in my rearview, I decided to bring my back my dearly departed grandmother's tradition, albeit with a twist.
Which brings me to my second goal in chocolate giving – give a healthier, more sustainable and ethical chocolate to everyone on my holiday list. Hershey bars were of course never the greatest even back decades ago, but today, although the company is making a concerted effort to use better ingredients in some of its core products, it finds a much more competitive chocolate landscape than ever before – particularly from a health standpoint.
With so many more choices, it's relatively easy to give healthier chocolate options at the holidays, and that's a clear win-win, for both gift-giver and each lucky chocolate recipient.
That brings me to my final goal in this seasonal chocolate lovefest – to help shift the people I care about to not just a healthier chocolate, but a better chocolate… to start them, via baby steps, down the path to chocolate connoisseur. There is no better time of the year to accomplish this task than the end-of-the-year holiday season, when more chocolate options spring up, for at least a few weeks, making it much easier for us to gradually introduce loved ones to a very different chocolate experience.
Slow and steady of course wins the race here, however. Don't expect your uncle who eats three Twix bars a week to suddenly fall in love with a LetterPress Ucayali Bar. Although we always encourage picking up absolutely amazing bars like the Ucayali, we also recognize the hard truth that most people still don't know what chocolate really is, and that's an obstacle for both the taste buds and the mind.
Since holiday bars tend to be less hardcore than regular bars, often with a bit less cacao content while also focusing on more comfy, cozy, home-for-the-holidays flavor profiles, they present a softer landing into the world of better chocolate.
Unfortunately, one thing most certainly remains the same year-over-year – holiday chocolate availability still tends to fluctuate wildly from season to season. As I say every December, "A year when holiday chocolate offers great variety always makes those festive days just a wee bit more festive!"
I'm happy to say that 2018 stepped up its holiday chocolate game a bit from last year. Again, I'll be focusing largely on large distribution chocolate (after all, this is an On the Chocolate Regular article) available here in Arizona, which means via the big three healthier store options: Natural Grocers, Sprouts, and Whole Foods.
Without further ado, let's dive into the holiday chocolate bars (and more) of 2018, treats that you should, with a little diligence, find as perfect Christmas stocking stuffers or otherwise. We'll start with the newest entries…
TCHO Peppermint Mocha (45% Cacao)
TCHO released a holiday lineup that's popped up in multiple stores, and features not one but three unique bars. You'll likely spot this Peppermint Mocha bar, as you might expect, the most frequently. Indeed, I indulged in TCHO's Peppermint Mocha bar as the first holiday chocolate of the season, picking one up right after Thanksgiving.
Marketed as milk chocolate with espresso and peppermint, its 45% cacao content is actually a bit deceiving, as it tastes more like a 60-65% bar in my opinion. That's a very unusual scenario, as although the more cacao the better from a health standpoint of course, it's rare for a bar to taste darker than its percentage belies.
This bar's flavor profile didn't quite hit the mark for me. I hope to give it one more try before the season leaves us, however, and since holiday bars tend to be even more subjective than other chocolate (see my Egg Nog comments below), if Peppermint Mocha sounds like your favorite choice here, give it a go and let us know what you think.
You can pick these up almost anywhere at last check (less than two days ago), and although TCHO is sold out online, Amazon still offers a 12-bar pack right here.
TCHO Eggnog (Cacao % Unknown)
If you love egg nog, then I have great news, and likely bad news as well unfortunately. First, the great… yes, if drinking egg nog during the holidays registers as one of your favorite festive tastes , then you will absolutely adore this bar. By far my number one choice for holiday chocolate this year, the white chocolate, vanilla, nutmeg and rum (no alcohol) combination dances across the tongue. I thoroughly enjoy a great egg nog at Christmas, so for me, this bar had an easy path to the top.
That said, its cacao content apparently registers so low that TCHO doesn't even want to tell us what the actual percentage is – although in their defense, cacao still sits atop the bar's ingredients list. Expect more sweetness and clearly a white chocolate experience here, just TCHO indicates… definitely more of candy vibe than a chocolate vibe. I almost feel guilty declaring it my favorite for the 2018 holiday. Almost.
You won't find this bar on Amazon, and as I mentioned with Peppermint Mocha, TCHO already sold out as well. A local search is likely your only chance at an Egg Nog bar.
TCHO Rum Raisin (53% Cacao)
The only bar that's eluded me thus far (I almost picked one up at the same time I snagged the Peppermint Mocha, and now regret that I didn't), I found TCHO's Rum Raisin bar in fewer places than the other two bars.
53% dark milk chocolate with rum and raisins, I expect this bar to give the Egg Nog bar a run for 2018 holiday favorite, and I'll put a comment at the end of this article before the new year if I'm able to snag one before they're gone.
As an ice cream junkie, the bar's wrapper immediately won me over (rum raisin ice cream anyone?), and if rum raisin ice cream is your thing, you'll definitely want to give this bar a taste.
Although it's not available by itself, you can still pick up a 3-bar gift bundle right here, which includes a Peppermint Mocha bar and a Cinnamon Spice bar as well.
Alternatively, click here or the picture links to view the bar on TCHO's website.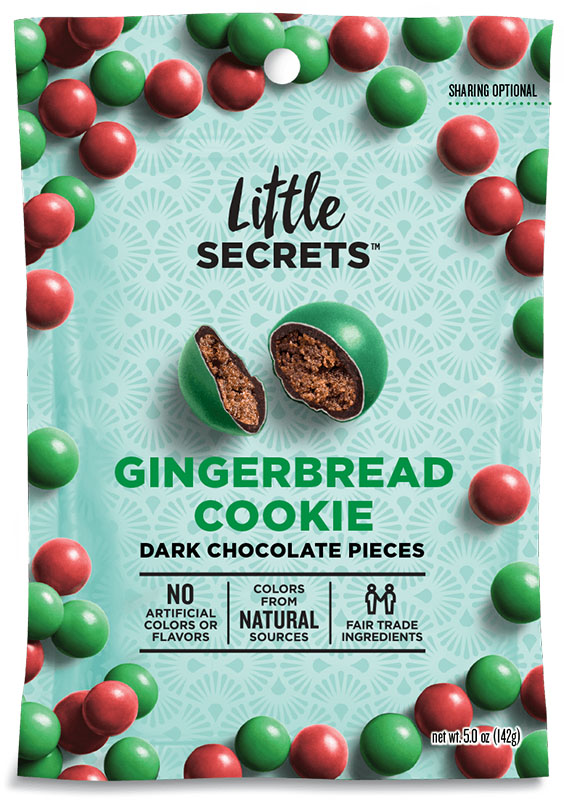 Little Secrets Gourmet Chocolate Candy – Gingerbread Cookie
Little Secrets steps in every year to offer a much better alternative to those holiday M&Ms you often see out at the Christmas sweets table. Fair trade, non-GMO, no artificial colors… Little Secrets does chocolate candy right.
Last year we noted the new Peppermint version, which returns for 2018, but we've now spotted their Gingerbread Cookie flavor locally as well (I believe at Natural Grocers). I've yet to taste it, but I absolutely love gingerbread (yes, it tops egg nog for me, not even close), so it's hard to imagine these Little Secrets holiday treats not delighting ye olde taste buds.
If gingerbread is your thing, and you enjoy a little chocolate candy indulgence once in a while, pick up a bag of these Little Secrets and let us know what you think. One thing to note, however – Little Secrets Gingerbread Cookie, unlike the Peppermint option, is not certified non-GMO at this point.
We couldn't find any online, but you should still be able to locate some locally, and you can click here to learn more on the Little Secrets website.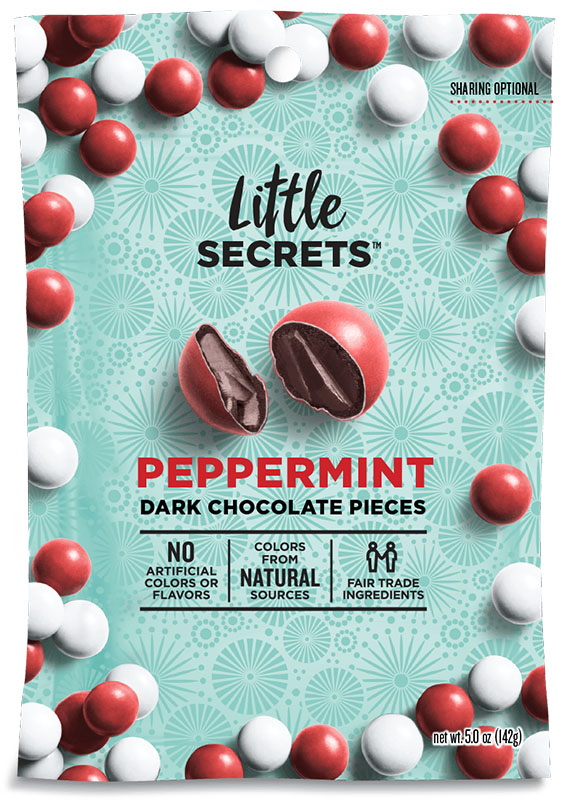 Little Secrets Gourmet Chocolate Candy – Peppermint Dark Chocolate
Straight outta Boulder (Colorado that is), which we didn't mention above, Little Secrets returns with the other option in their holiday lineup, Peppermint. Yes, as you'll notice over the coming pages, we're all incredibly surprised to see more peppermint!
Right in line with their new Gingerbread Cookie option, if you normally put out M&Ms at the holidays, you'll feel much better replacing those artificial little drops with this healthier alternative.
Peppermint will likely offer a more familiar flavor option than the gingerbread cookie, so if you're dealing with some finicky holiday guests, I'd start with the peppermint. Of course, your safest best is to just put out both, and no, you don't need to keep it a little secret.
You can pick these up on Amazon right here, or click here to learn more on the Little Secrets website.
Wild Ophelia Peppermint Mocha
Cold Brew Coffee Bites
Available only at Whole Foods, at least from what I've seen, to call Wild Ophelia's Peppermint Mocha Cold Brew Bites elusive would be an understatement.
I did spot the Pumpkin Spice version (still lurking from earlier in the Fall), but couldn't get my peppermint-loving hands on a bag of these.
What we do know that the bites are 36% cocoa butter white chocolate, and I expect these to offer a smoother alternative, albeit with more of a coffee kick, than TCHO's Peppermint Mocha bar.
They do sound positively delectable, but without a chance to try them, we can say no more.
If you somehow stumble upon a bag, let us know – were Vosges Haut Chocolat spinoff a holy grail find, or just your average holiday fare?
Your best bet for getting any help with these holiday chocolate coffee bites is likely just to reach out to Wild Ophelia via their Facebook page right here:
Wild Ophelia Holiday Cheer Crispy Hazelnut Bar (41% Milk Chocolate)
I've only seen this bar at Starbucks, not sure if you can locate one anywhere else. Wild Ophelia's marketing strategy with this bar appears to be "Put in every Starbucks and see how it sells!" You won't even find another picture of it online, which is crazy in this day and age.
The bar contains milk chocolate, hazelnuts, crushed crepes dentelles biscuits, and sea salt.
Let's get to the nitty gritty, however. More than any other bar on this year's holiday list here, this Crispy Hazelnut creation hits the On the Chocolate Regular spectrum way over on the "candy" side vs. the "chocolate" side. It's another easy one to give people who may only stubbornly shy away from their Snickers bars momentarily, but do enjoy hazelnut flavor.
Unfortunately, there's a reason for its allure to candy freaks – Holiday Cheer's first ingredient is cane sugar, not cacao or even cocoa butter.
The first high level ingredient is milk chocolate, but the milk chocolate's ingredients are cane sugar, chocolate liquor, whole milk powder, and then, finally, cocoa butter.
In addition, it's a fatten-you-up powerhouse, with 19 fat grams, yet still pushing 26 sugar grams, a whopping 32 carbs, and 300 calories.
The important ingredients are Fair Trade Certified, and the bar is non-GMO, but regardless, Wild Ophelia's Holiday Cheer bar brings up the rear for this year's holiday chocolate options.
It's the most overly sweet bar I've tasted in quite some time, making Tony's Chocolonely bar below taste less sweet in comparison, despite the Tony's bar registering only 32% cacao and a very similar structure ingredients-wise.
One special note — Wild Ophelia's Holiday Cheer bar is the only one with an external folded opening, which you can see pictured here. It allows you to not only address the bar as a gift (with a "To:" and a "From:"), but to also insert a gift card in a slot on the flap that opens.
If your chocolate gift is more of an afterthought, and you're gifting cash or a gift card, Wild Ophelia certainly has you covered with this bar.
At last check, Starbucks is offering them at 30% off through the holiday (or until they sell out I'm sure), and both Starbucks I visited still had ample stock.
'Tis ironic we began this article speaking of Hershey, yet here we are shining the spotlight on BarkThins, a snack brand recently acquired by Hershey themselves. These Limited Edition chocolate treats combine dark chocolate with gingerbread cookies, and like the other BarkThins offerings are Fair Trade and Non-GMO Project Verified to boot.
The other variety contains dark chocolate, peppermint candy, pretzels, and sea salt.
Just beware, BarkThins tend to encourage binging! We're not dealing with the same chocolate we normally cover here at Chocolate Connoisseur throughout the year. These are both a bit higher in carbs (with the Peppermint version likely the most "dangerous" if you will, courtesy of the pretzels), making it easier to trigger a carbohydrate snack fest, if you're prone to that sort of thing (yes, I'm looking in the mirror for this one).
With the power of Hershey behind this brand, you should find few obstacles in your way for picking up a bag of these. Seriously, you can find them at Office Max even.
They're not one of our choices for slowly transitioning people from low end chocolate to a connoisseur trek, but for the toughest nuts to crack on your shopping lists, BarkThins may actually succeed in doing so where other holiday chocolates fail – especially since it's darker than what you'll find with other easy-converting bars (Wild Ophelia, Tony's Chocolonely).
You can view each one online at BarkThins via these two links (BarkThins Gingerbread and BarkThins Peppermint Pretzel), and click here to pick up the Peppermint Pretzel variety right now via Amazon.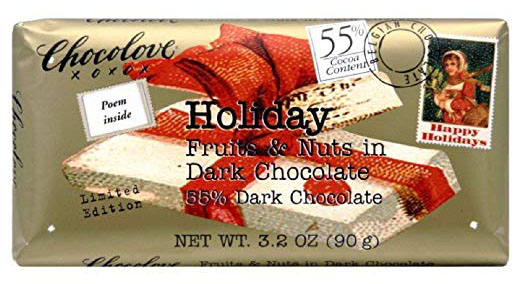 The older design for Chocolove's Holiday Fruits & Nuts Bar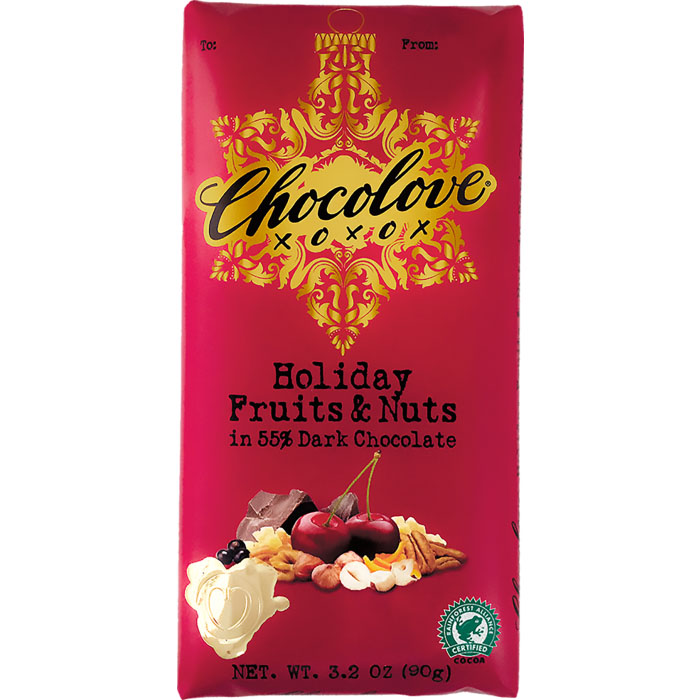 Chocolove's Holiday Fruits & Nuts Bar – 2018 design
Chocolove Holiday Fruits and Nuts Bar (55% Cacao)
I feel like I've seen this bar before… a bit of deja vu partially confirmed by an older image I uncovered online showing a Holiday Fruits & Nuts bar in different, less conspicuous packaging (pictured here). If Chocolove simply re-branded the same bar, that's fine, at least they made a solid choice in the rebrand. The new holiday packaging stands out more in-store, which certainly helps boost sales.
For the newer bars, Chocolove won me over more than I expected. I do occasionally enjoy their Dark Chocolate Ginger bar when I'm in the On the Chocolate Regular mood, but didn't expect a Holiday Fruit & Nuts bar to strike my fancy. With many of the holiday bars registering under 50% cacao content, Chocolove's 55% dark (not dark milk) presents a better transition to higher end chocolate for newbies than most of the other holiday bars on our list.
One important note – I've heard the GMO question asked of Chocolove on occasion, and although this particular bar is not Non-GMO Project Verified, it sounds like that verification is simply a technicality for this bar, and likely any other, that fails to display the Non-GMO insignia. Chocolove offers an extensive answer to this question via the FAQ on their website, which you can read right here if you're interested.
Also, we're tentatively covering Chocolove for our first On the Chocolate Regular article of 2019, likely in the February '19 issue, so stay tuned to learn even more.
Readily available this season at almost any store that sells Chocolove, we also found a rather comical Amazon listing for the Holiday Fruits & Nuts Bar, which you can view here. This listing showcases the other packaging I noted above, and the seller will gladly send you a 12-pack of bars for the low, low price of only $88!
Paying over $7 for a Chocolove bar amounts to 100% pure chocolate sacrilege (no offense to Chocolove, and I guarantee you there would be none taken, as they don't aim for the $7 bar market). Shelling out seven dollars for a bar means you're enjoying some very high quality chocolate, so please, choose wisely.
For comparison's sake, I gave a few of these as gifts this year and paid about $2 per bar. When I hear back from the family and friends I sent this to, I'm very curious to see how it stacks up versus the other bars I included. I'll be sure to come back here to the comments after the fact and let everyone know.
Click here to view the bar on Chocolove's website.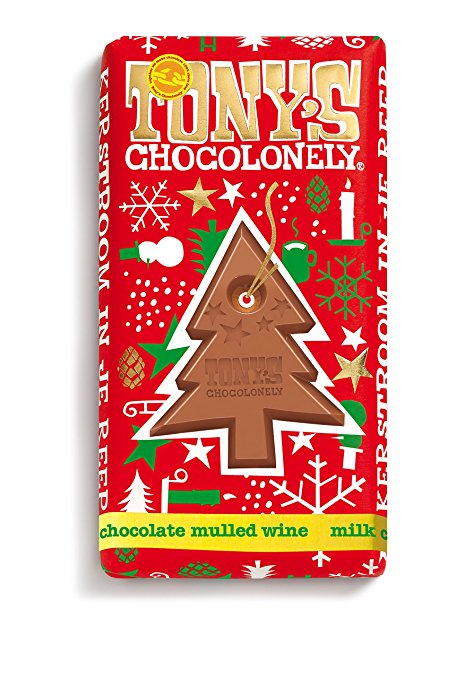 Tony's Chocolonely Mulled Wine 32% Milk Chocolate Bar
Last year, Tony's Chocolonely holiday bar sat atop my most coveted On the Chocolate Regular holiday list, but I never did track one down. What a difference a year makes. Now you can find Tony's products much more easily in the states, including an extensive lineup at most Natural Grocers.
From a taste standpoint, the ingredients speak the truth. This bar tastes exactly like you'd expect, with one exception – the dried orange exhibits less dominance than you'd think considering its high placement on the ingredients list. Yes, it is a very sweet-tasting bar, with sugar as the first ingredient, and it's certainly made sweeter thanks to Tony's unwavering commitment to slave/child labor-free chocolate.
For all the good Tony's does, however, understand, most of their bars swing much closer to candy than to chocolate. They tend to have a lower cacao content and a higher sugar content. I would essentially consider most of their bars to be some of the best candy chocolate you can buy, but don't look to Tony's for a refined, bean-to-bar experience.
That said, this is of course my favorite time of the year to jump into such territory, and if you do have a sweet tooth, the Mulled Wine bar will not disappoint. It's actually one of my favorite bars this year, and I'm curious to see how it's received via my gift giving this season as well. Similar to the Wild Ophelia Holiday Cheer bar, however, if you're looking to nudge friends and family down the path to chocolate connoisseur, don't expect to get very far with Tony's Chocolonely Mulled Wine! Still, it's a start…
Click here to pick one up on Amazon, or click here to visit on the Tony's Choclonely website.
Theo's Nutcracker Brittle Bar (65% Dark Chocolate)
eNDANGERED Species CHOCOLATE
ESC Dark Chocolate with Caramel & Spiced Apple (60% Cocoa)
Last but not least, Endangered Species Chocolate returns with its three-bar holiday lineup, including fresh new packaging as well.
Let's start things off with the Dark Chocolate with Caramel & Spiced Apple bar.
Last year I spotted these on sale for $0.99 at a Sprouts here in the Phoenix area just before Christmas Eve, and bought out the lot to use as stocking stuffers.
At 60% cacao yet loaded with a sweet filling, these bars will likely work well for almost anyone on your list.
Plus, in addition to the chocolate aspect, ESC will likely appeal to your gift recipients on another level as well, thanks to all the work they do for animals and the planet.
Remember, ESC donates 10% of net profits each year to protect and preserve wildlife.
As I noted last year, my favorite part of the Dark Chocolate with Caramel & Spiced Apple bar is actually the extra effort ESC puts in on the ingredients front.
Creating organic caramel for the filling, a bit of a one-off since ESC rarely uses organic ingredients, goes a long way for any health conscious chocolate gift givers. As I noted in 2017's holiday chocolate article –
"Non-GMO and fair trade, yes, but organic 'is not their bag, baby.' Since the caramel makes this bar the irresistible temptation it is, they were wise to amp up the quality for this key ingredient.

It's exactly as sweet as Theo's Gingerbread Spice bar, and its natural flavors (with apple of course in the mix somewhere) plus cinnamon line this bar right up next to Theo's from a flavor profile standpoint, even with the caramel addition. It does, however, still leave a bit of that frequent ESC aftertaste…

…outside of someone with a serious aversion to holiday spice, you won't likely go wrong with gifting the Dark Chocolate with Caramel & Spiced Apple."
Most places that carry Theo's bars tend to also carry Endangered Species, so finding the Dark Chocolate with Caramel & Spiced Apple bar shouldn't presnt too much of an obstacle.
This bar helps raise awareness for polar bears, click here to learn more.
ESC Dark Chocolate with Peppermint Crunch (72% Cocoa)
Although we most definitely love and appreciate ESC, we also recognize that it clearly fits in the On the Chocolate Regular category, securely in the middle between big chocolate and the great bean-to-bar auteurs we know and love.
That said, once again, ESC's Peppermint Crunch bar delivers one of the highest quality seasonal bars here in 2018.
The Peppermint Crunch bar logs fewer ingredients than most other Endangered Species options, and it brings the pepperminty crunch here via cacao nibs, not a brittle, making it the most appealing of all the holiday bars for any higher brow chocolate lovers.
Of course, you need to tailor this bar to peppermint lovers as well, but if you do, I think they'll actually prefer this bar over Theo's Peppermint Stick.
Kudos to ESC for continuing to create Peppermint Crunch for the holidays!
This bar raises awareness for emperor penguins, click here to learn more.
ESC Dark Chocolate w/Cranberries, Orange & Cinnamon (60% Cocoa)
Whereas ESC's Peppermint Crunch bar stands above Theo, once I again their Dark Chocolate w/Cranberries, Orange & Cinnamon falls a bit short of Theo's Cranberry Orange bar.
As I noted last season –
"I think Theo's bar scores higher here because, when you're creating a fruit-infused bar where the fruit clearly dominates the flavor profile, with all else equal, quality wins out.

Theo's organic cranberries (one of the worst fruits to eat in non-organic varieties by the way) likely help slightly, but its use of clearly high quality organic orange oil delivers an outstanding orange-infused bar – and again, this comes from a chocolate lover who's not a big fan of neither fruit-infused chocolate, nor orange!

Still, ESC's Dark Chocolate w/Cranberries, Orange and Cinnamon bar tastes fine, and can certainly work as a chocolate stocking stuffer with little hesitation."
More than any other bars on this list, I'd love to hear your opinion on these cranberry-orange offerings, so please chime in via the Comments below.
This bar raises awareness for the Horned Ram, click here to learn more.
That wraps up (yes, pun intended) our 2018 holiday chocolate coverage, and we're ecstatic that this season saw so many more options compared to the quite paltry selection of 2017. Please let us know what you think if you try any of the bars yourself, and of course we would absolutely love to hear how any of your chocolate gift-giving adventures go as well.
After all, if we're going to keep raising the quality of the chocolate we all consume across the globe, it starts with baby steps, and there is no better time to encourage those steps than right here at the holidays. Let us know how you fare.
In the meantime, all of us at Chocolate Connoisseur Magazine wish you a wonderful holiday season, filled with much love and chocolate, we'll return with more On the Chocolate Regular in early 2019.