On the Chocolate Regular: Lily's
Welcome to the Land of Lily
This month's On the Chocolate Regular features a chocolate company by the name of Lily's, nestled in the beautiful city of Boulder, Colorado.
Most artisan chocolate companies have one or two defining qualities that differentiate them from others… maybe a company's commitment to recycling, or to empowering women, or perhaps to rescuing endangered species… different chocolate missions that can give one company a distinctive edge.
For Lily's, every product is botanically-sweetened, with no refined or processed sugars. The company uses one main sweetener in their products, stevia, a zero-calorie botanical sweetener derived from the plant Stevia Rebaudiana. 
For some chocolate lovers, this is the best news they've ever heard… certainly for those with diabetes. The American Heart Association recommends eating only 25-35g of sugar a day, but the average American currently consumes more than double that amount, increasing risks for a variety of health issues (from general weight gain, to heart disease and certain cancers). As consumer awareness of the health issues related to sugar grows, so does the desire to reduce overall sugar intake. As a natural no-sugar added brand, Lily's Sweets works to help reduce overall sugar intake, suitable for keto and low-glycemic diets, helping to ensure that at-risk individuals don't need to completely give up sweets.
Yes, you are getting hungry…
Lily's Lioness
It's always interesting to learn chocolate company owners' reasons for starting up their artisan chocolate companies. Each story varies, but a passion for spreading health-related awareness to others often connects many of them together. This holds true for Lily's Sweets co-founder, Cynthia Tice, as well.
She says —
"When I founded Lily's Sweets, it was to answer my own need for delicious chocolate, my favorite food. I could eat daily, while also limiting my sugar intake."
Any chocolate lover can certainly relate to that!
She goes on to explain further —
"While I always believed Lily's would be successful, this expanding mainstream consumer awareness and desire for change created a groundswell for growth for Lily's Sweets beyond what I could have ever imagined. Like me, people were showing a desire for an amazingly-delicious chocolate they can indulge in daily without the added sugar."
I must admit, I wasn't sure what to expect when I finally sampled one of Lily's chocolate bars for myself. The bar I tried, Lily's 40% Chocolate and Milk with Salted Almond, tasted better than I expected. Really good, and impressive, considering stevia replaces the cane sugar or coconut sugar that we tend to find in most bars today. I don't usually write about the ingredients first off for an On the Chocolate Regular article, but since Lily's core marketing angle so tightly relates to one specific ingredient in their bars, it seems quite natural to start here.
First off, for those who don't know, Stevia Rebaudiana is a plant species in the genus Stevia of the sunflower family (Asteraceae), commonly known as candyleaf, sweetleaf, or sugarleaf. Wikipedia tells us Stevia Rebaudiana has been used for more than 1500 years by the Guaraní people of Brazil and Paraguay, who called it ka'a he'ê ("sweet herb"), to sweeten the local yerba mate tea, as medicine, and as a "sweet treat".
As for the other ingredients, think Unsweetened Chocolate, Cocoa Butter, Erythritol, Inulin, Dextrin, Organic Whole Milk Powder (rBST free), Milk Fat (rBST free), Sea Salt, Organic Soy Lecithin, and Vanilla.

Lily Chocolate Bars are Packed Full of Healthy ingredients
Erythritol is a sugar alcohol, naturally-occurring in some fruits and fermented foods, that's often used as an alternative to sugar. It contains virtually no calories and has a zero glycemic index. Erythritol also does not affect blood sugar or insulin levels, making it an excellent choice for diabetics. Lily's sources their erythritol from a supplier with strict non-GMO policies in place for both its production processes and its raw material suppliers.
One important point, although Lily's lists erythritol before stevia on their ingredients labels, stevia still serves as the primary sweetener. Even though the volume of erythritol used in Lily's is higher than the volume ofsStevia, erythritol is only 60% as sweet as sugar, while stevia stands 200-300 times sweeter than sugar. So stevia contributes to most of Lily's sweetness, while erythritol and its natural fibers contribute to rounding out Lily's flavor profile and mouth-feel.
Here are a few other fun facts about Lily's ingredients:
Inulin is a naturally occurring soluble plant fiber derived from chicory root.
Dextrin, also known as resistant starch, is a naturally occurring dietary fiber derived from non-GMO corn.
In fact, all of Lily's products are sourced from non-GMO and gluten-free ingredients.
Their cocoa, cocoa butter, and vanilla are harvested through Fair Trade practices, ensuring farmers and communities are fairly compensated.
The cocoa used isn't treated with alkali.
All dairy products in Lily's are rBGH-free.
Thinkin' Back
Fresh out of school, Cynthia Tice knew she needed a job, and that she had a passion for helping people to eat better. So in 1978, she opened and operated Center Foods in Philadelphia. Long before the rest of us were sipping green juice, Cynthia was a trailblazer, raising awareness of better-for-you foods.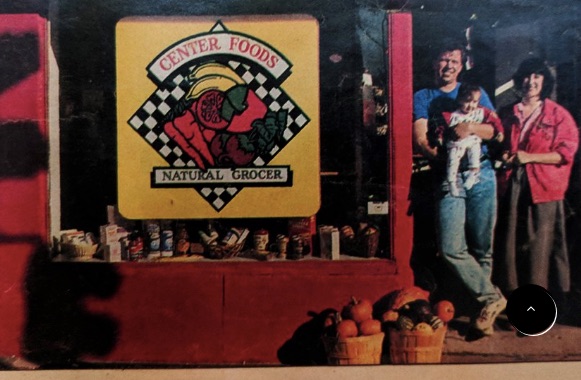 Center Foods in Philadelphia, back in the day, circa 1978…
She also acted as a consultant to retailers launching natural sets, and to brands launching new products. This experience, along with a milestone birthday in 2003, inspired her to begin creating the proprietary recipe for Lily's Sweets.
In 2010, she made her own no-sugar added chocolate and co-founded Lily's Sweets with its stevia-sweetened chocolate in 2011. The natural sweetener had been deemed as safe by the FDA only three years prior.
Quickly, the concept began to take off, and since launching nationally in Whole Foods Market stores in 2012, the brand has continued to grow.
The company said its business doubled in 2018, with its retail footprint expanding from 3,000 U.S. stores in 2017 to 10,000 stores, including health-focused stores and conventional retailers like Kroger and Publix.
"By 2017, I was aware that Lily's had outgrown our team of four people, and my experience consulting other brands afforded me an appreciation of just how special Lily's was. I wanted to give the brand the opportunity that it deserved, and I decided bringing on an investor and leadership that could grow a team would best set Lily's up to meet its full potential.

I purposefully selected VMG based on our shared values, as well as their history of creating meaningful relationships between founders and the new management team."
(Side note: VMG stands for Velocity Made Good, a company based out of San Francisco that helps entrepreneurs shape visionary ideas into iconic brands.)
According to Entrepreneur.com, the company received an undisclosed investment with VMG Partners and moved from a virtual workforce to an office in Boulder, Colorado, "the main hub of natural food in the U.S.," as they put it.
Lily's team has expanded to nearly 25 people and is now led by Jane Miller, former division president of Frito-Lay at PepsiCo from 1984 to 1997. Along with this mainstream marketing experience, the team also includes a variety of natural products industry veterans.
Entrepreneur.com quoted Miller –
"Most of my career in consumer-packaged goods has been focused on fixing things, and this opportunity provided just the opposite scenario. With 84 percent of consumers looking to reduce their sugar intake, according to Mintel, I saw joining the Lily's Sweets team as an opportunity to continue the growth of something special."
New Look
Part of Lily's current revamp includes repackaging their products this spring, and, I must admit this new packaging disappointed me at first glance. I really loved Lily's former packaging… it had a whimsical nature with the Liy's hummingbird and fantastical-looking trees.
Lilys tells us:
"The team realized that the old packaging, special in its whimsical nature and design, had helped attract Lily's Sweets devotees, but it would not best allow for expansion into new categories."

Lily's former packaging on the left, new packaging on the right
Lily's team believes the new design, which carries over the symbolic hummingbird from the original packaging, maintains the same Lily's Sweets spirit, but with a modernized look that will pop on the shelf, allowing for expansion into new categories, including the launch of new products that were shown at the Natural Products Expo West this past March in Anaheim, California. We'll get to more of those new products in a bit…
Where to Find Lily's
Lily's actually offers a very detailed product locator on their website, and they note four specific partners in the USA as well, in Amazon, Thrive Market, Vitacost, and Lucky Vitamin. In Canada, they add Well.ca, Natura Market, and Goodness Me as well.
We've purchased our bars at Sprouts and Natural Grocers, both in Colorado and Arizona.
As for that robust Store Locator, click here to view that on Lily's site. And for even more on Lily's, click here to visit their homepage, or connect with them on any of their three social media channels via the buttons below…
All photos by Lily's unless otherwise noted.
Click here for the Original Press Release
Article cited from Entrepreneur.com: https://www.entrepreneur.com/article/327820