In Focus: Projet Chocolat
Projet Chocolat – Refine Your Chocolate Senses
Catch just a glimpse of a Projet Chocolat Les Arômes du Chocolat, and you may easily mistake Sophia Rea's creation for something completely different. At first glance, you might guess an aromatherapy kit… or an essential oils sampler…
Truth be told, you wouldn't be that far off on either. After all, a Les Arômes du Chocolat kit ("chocolate aromas" in French) certainly focuses on aromas, essentially pairing scents, or "notes", with chocolate. As it says on Projet Chocolat's website –
"Bring out the chocolate and see what your nose and taste buds can detect!"
Chocolate Connoisseur Premier
Welcome to our most exclusive, rewarding, chocolate experience yet.
Ten different chocolate offers (a $400 value) shipped to you throughout the year, plus a free Annual Subscription to Chocolate Connoisseur Magazine. A Chocolate Connoisseur Premier Membership is like no other…
On your enjoyably winding path to chocolate connoisseur, Projet Chocolat offers a very unique, handy map of sorts to guide you on your way, if you're willing to let go of any pretense. As it playfully and oh-so-perfectly states on the inside of each kit's box lid –
"Lose your mind and come to your senses."
Before we encourage you to use those noses a with a little more frequency on your chocolate journey, let's take a step back, shift our sensory focus, and see how Sophia's Projet Chocolat vision came to be…
Humble Beginnings
On a pure sensory note, it's no surprise that Sophia actually grew up drinking chocolate more than eating it. Think of our beloved Taza discs… that raw, gritty texture… in Mexican drinking chocolate. What you might find suprising, however, is that outside of drinking chocolate, her childhood chocolate experiences left much to be desired.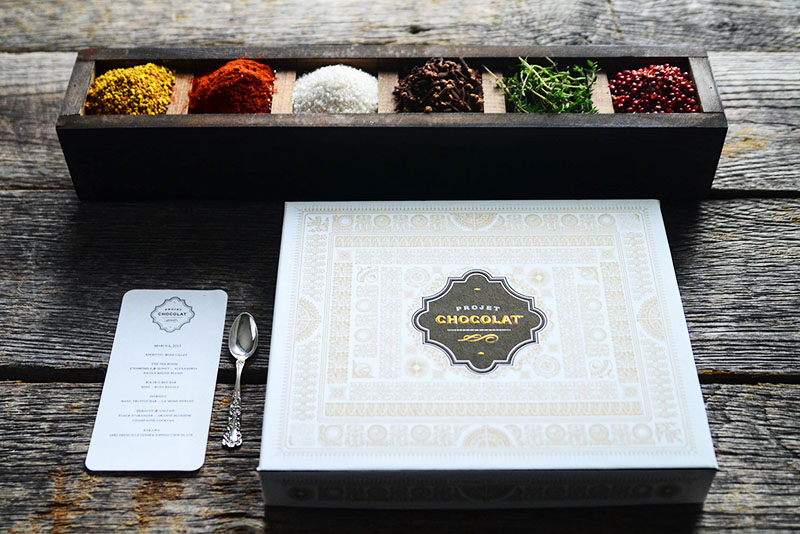 Indeed, her earliest meaningful chocolate memory didn't take place until her high school years in the early 1980's, when her stepmother took her to a chocolate convention in Los Angeles. Sophia vividly remembers one image – dipping French bread into French chocolate. More elegant and divine than the widely available See's candy everyone took for "fancy" chocolate back in the day. Ah, American chocolate in the 1980s…
Chocolate Abroad
College provided a much different experience, however, as Sophia attended the University of Massachusetts at Amherst, studying Germanic and Scandinavian languages. As part of those studies, she spent two semesters abroad – one in Salzburg, Austria and the other in Madrid, Spain.
While studying abroad, Sophia's experience with European chocolate deepened (well beyond French Bread dipped in French chocolate), and during her time in Madrid she enjoyed the drinking chocolate, reminiscent of her childhood…
"To this day I still find that drinking chocolate is comforting."
Slowly, chocolate started to ensnare Sophia in its spell. She ended up in a Latin American history class, and of course cacao came up, as her class studied the Aztecs and Mayans.
"I remember thinking that this was a very ancient food and had so much value. It was not treated the same as it has been treated in the modern age. There was reverence. There was ritual. My biggest thought was how could something so precious be treated so mindlessly?"
A Trek to Tennessee and a Little "Faith"
With the seeds to a chocolate future quietly planted, Sophia's college career ended, with no job in Germanic or Scandinavian language awaiting her back home. She went to work in her mother's restaurant in Santa Fe, New Mexico for awhile, but a trip to Nashville, Tennessee, visiting a friend who worked in the music industry, quickly changed that —
"I fell in love with the city. It reminded me of Southern California in the 1970s, a place to make dreams come true."
That love affair brought Sophia to Nashville to stay. While working as a waitress there, she also dabbled in cooking, a new path that eventually led to a part-time career as a private chef for people working behind the scenes in the music industry. Then, in her own words –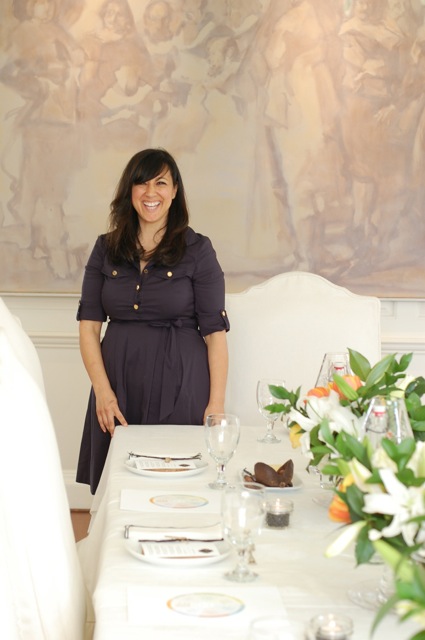 Sophia Rea – Projet Chocolat
"Next thing I knew I got a call from Faith Hill's assistant about a job as a personal chef!"
Sophia then cooked for Faith Hill and Tim McGraw for 4 ½ years – how fun is that!?
Despite the strong detour off her eventual path to Projet Chocolat, chocolate still found its way into her life. While working for Tim and Faith she made chocolate chip cookies every single week. They liked to have a baked good available for their children and also for anyone who might stop by. As Sophia puts it, "That is very southern and very gracious, which they both are."
All the baking gave her the opportunity to fine tune her chocolate chip cookie recipe – little things such as not over-packing the brown sugar, always aerating the flour before measuring, and baking the cookies at 330 degrees instead of 350. Subtle, yes, but chocolate stayed with her nonetheless. Plus, Sophia holds fond memories of her time cooking for Faith and Tim —
"They were incredibly kind to me. I even spent a summer cooking for their family in Frank Sinatra's home in Beverly Hills!"
NOTE: See this issue's recipe of the month for that honed chocolate chip cookie recipe, and BIG THANKS to Sophia for sharing!
The Origins of Cacao
After cooking for Faith & Tim, Sophia married and had a son. A short time later, she started catering and cooking for some clients very much into the wine industry – Wine Spectator even featured one client's wine cellar in the magazine.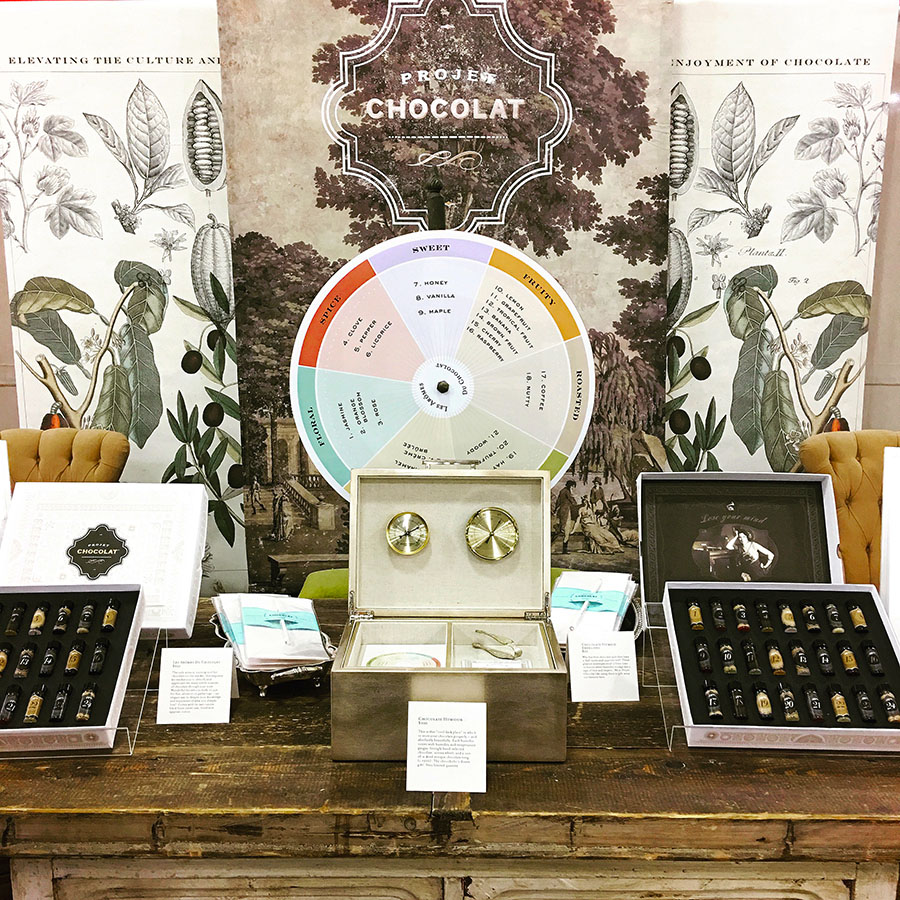 Projet Chocolat at the Northwest Chocolate Festival

Also, her chocolate aspirations began to rise anew, bolstered significantly with a trip to Guatemala, visiting her brother and sister.
"You can find chocolate everywhere there but not like the European chocolate. It was sold in discs like the drinking chocolate I grew up on, gritty…"
That time in Guatemala, actually seeing cacao for herself… seeing where chocolate comes from… it placed one of the final signposts on Sophia's long chocolate journey. It also brought a life-changing epiphany – the idea of pairing wine and chocolate back in the states, with chocolate tastings.
When she returned home, the stage was set –
"I wanted my tastings to be different so I focused on slowing down and taking the time to experience the nuances. Chocolate is about joy and not about being mindless and gluttonous. It was just a matter of making everything beautiful and getting everyone to be present. The tastings are like mini retreats."
Projet Huitieme Annee (Project 8th Grade)
Around that same time, Sophia walked into the office at her son's school, and Sonia, the outreach coordinator, asked her what specialty she focused on in food. When Sophia responded "chocolate", Sonia leaped from her desk and asked Sophia to mentor her son, Shaan, for his 8th Grade Project on the history of chocolate. The projects were unique in that every student needed to find a mentor for his/her project, and Sonia had struggled to find one for Shaan.
It may sound crazy, but that one request planted the final signpost on Sophia's long, winding chocolate road, or as she bluntly puts it –
"It was the most pivotal thing I have ever done in my career."
Shaan grew up practically sleeping on cookbooks so Sophia knew she had to help him make his project a great one. As they were working on it, the two stumbled upon a wine aroma kit and decided to make a small chocolate version to put in Shaan's booth. Thus began Les Arômes Du Chocolat, an olfactory aroma kit meant to help train the nose on detecting the various notes found in chocolate.
"In the end, I learned what an enormous impact volunteering can have on both people. Shaan is now at Tufts and he has a food walking tour in Boston. I think he wants to be a food writer, but he can be whatever he wants. He has the capacity to be an innovator and influencer in the food world. I'm very proud of him."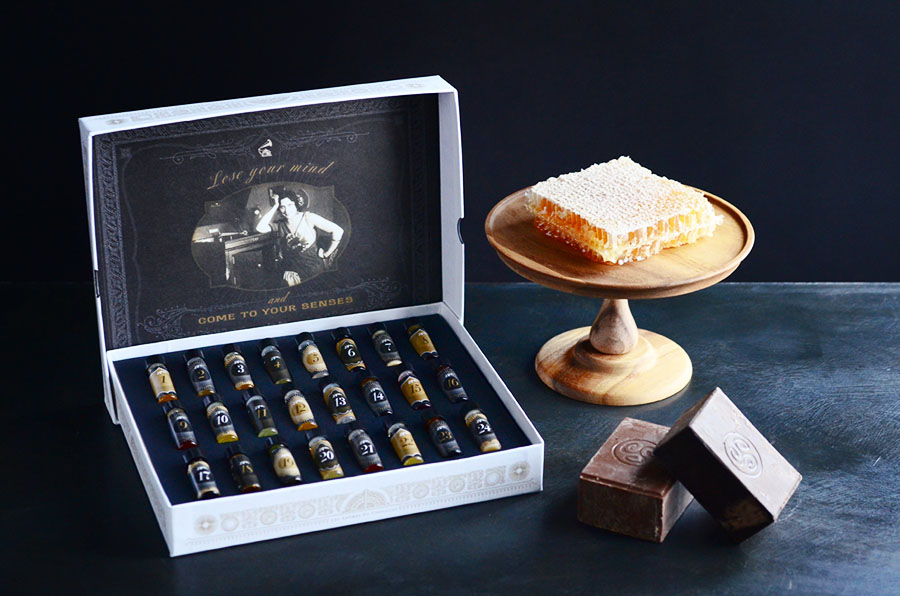 A Unique Product Line Rises from an Age-Old Philosophy
Sophia's husband then encouraged her to make a kit for the chocolate industry, and he suggested taking it further by creating a whole line of accessories for fine chocolate. After all, coffee, tea, wine, and cigars have beautiful ways to store, present, and display… why not chocolate too? As Sophia says –
"My philosophy is that art, culture and history give meaning and context. Our mission is the company's philosophy. Elevating the culture and enjoyment of chocolate."
Projet Chocolat presents a straightforward yet incredibly unique value proposition – they are the only company dedicated to making accoutrements to fine chocolate, and not the chocolate itself. The perfect niche helps, but Sophia and company take everything they create at Projet Chocolat to an almost astonishing level of detail, which makes a difference –
"There is a historical reference to everything we make at Projet Chocolat. Our Aroma Kit is a reference to the educational kits of the turn of the century that were used to show school children how chocolate was made."
That's no exaggeration or gimmick either. Sophia owns two antique educational kits – one from Hershey's and the other from the Walter Baker Company. The kits were used in the United States so that every school child at the turn of the century could tell you where chocolate came from… and how it was made.
Of course, the candy boom we were in the midst of in America played a big part in that unusual push for chocolate education. While the strange, mandatory nature of learning a product like that in school may not sit well with Sophia, she certainly appreciates the sentiment from an adult standpoint. With Projet Chocolat's aroma kit, she hopes to bring back that education, but to truly make it fun and enjoyable.
The details don't stop there either, as Sophia pays serious attention to the little things, putting exceptional detail into everything Projet Chocolat creates –
"Our Chocolate Envelopes are a nod to the glassine envelopes that were used in 1920s France to carry bonbons, and our Chocolate Stash Box is literally patterned after a 1940s antique chocolate box in my private collection."
Careful Sourcing
It should come as no surprise that the Les Arômes du Chocolat (chocolate aroma kit) checks in as Projet Chocolat's best seller. Sophia feels it's number one because they purposefully mirrored the cacao farmer and bean-to-bar maker by creating the kit entirely eco-friendly.
Of course, standing tall as the only chocolate aroma kit in existence doesn't hurt either! And if a competitor does eventually enter the market, Sophia isn't too worried –
"Even if someone tries to make a kit they would have to use a natural perfumer as we did and they'd have to skip using foam as all the other aroma kits do and then they would make less money."
According to Sophia, all other aroma kits use foam to keep the bottles in place, whereas Projet Chocolat uses paper. Paper is expensive and heavy, while foam is light and cheap. Sophia uses paper that's registered with the Forrest Stewardship Council as well. Not only does it cause zero pollution to make the paper, but a tree must also be planted for every one cut down. Impressive.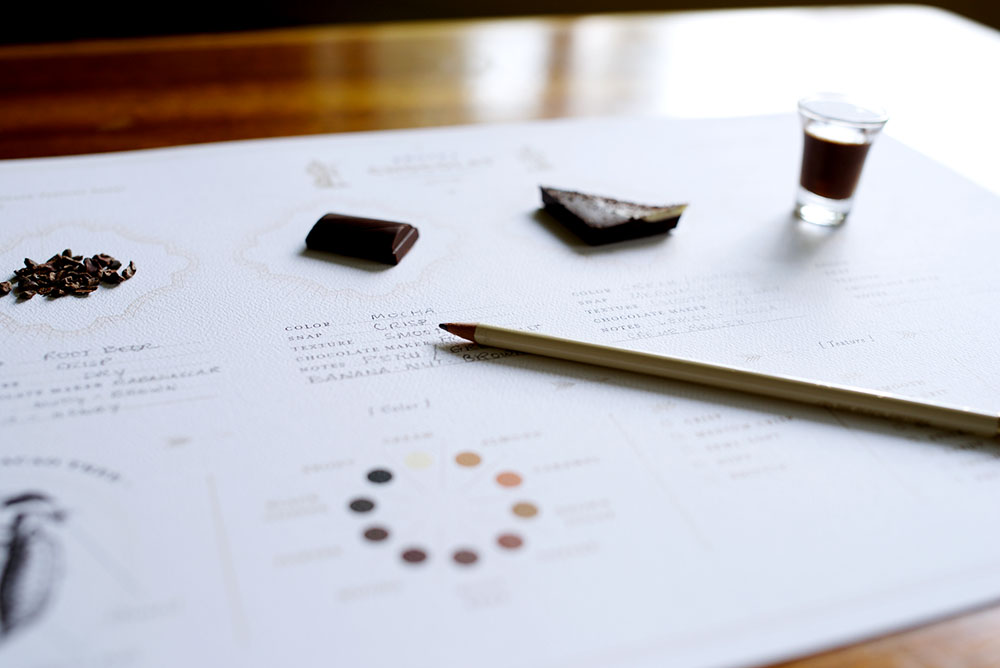 The Nose Knows
As Sophia dutifully notes, shortcuts in aromas don't help either –
"As far as I know, all other aroma kits are using synthetic aromas which are cheaper. Our aromatics director, Erin Fraser of Curioso Perfumes, is a natural perfumer and wanted each aroma to smell as close to the aroma as possible. For instance she did not want cherry to smell like cough syrup. She wanted it to smell like cherry. It takes time to get the right note and Erin has a very discerning nose. I trust her nose and I trust her ability to get the aroma just right.

I might make less on our kits than the others but we know better so we do better. I don't need to buy anything from China or India when I can find what we need close to home."
Customers most certainly appreciate the extra effort across the entire product line. Projet Chocolat makes everything eco-friendly and in the USA. Nashville also receives a fair amount of love as well (Sophia's romance with the Music City continues), with 90% of Projet Chocolat items created in Nashville by local artists.
"We have an incredible city filled with artists who have lived here for a very long time. Heather Baker is our designer and she is the one who makes everything beautiful. I give her freedom to create and I trust her completely. Without her, I am just an idea. This is as much her baby as it is mine.

Bryce McCloud from Isle of Printing makes our chocolate stash box and he literally hand assembles each box. Svend Thomsen is our local Danish embosser who embossed the top of the Aroma Kits and blind embossed the Chocolate Envelopes."
And you thought we were exaggerating…
Playing Favorites
Best seller aside, Sophia's favorite product is actually the Chocolate Tasting Sheets. Sophia originally sketched out the idea on water color paper, and when Heather saw the sketch, she immediately decided the water color paper would actually work best. That careful choice of paper resulted in tasting sheets that are both elegant and beautiful… yet still functional and educational as well (see your September-October Chocolate Offer for a chance to try these for yourself).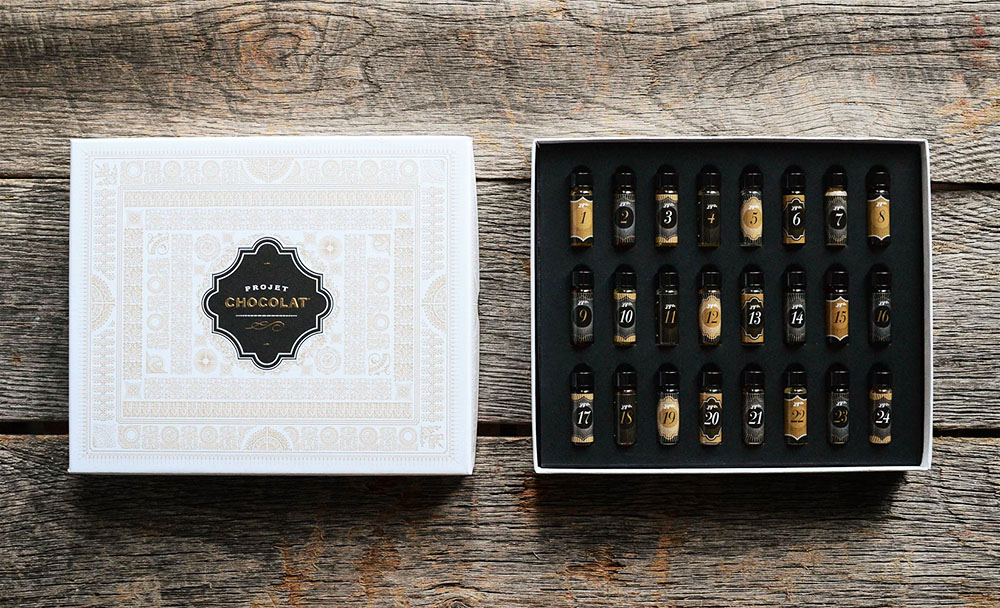 With four bars of craft bean-to-bar chocolate and Projet Chocolat's tasting sheets (eight per package), you can create a chocolate tasting party for eight at a very reasonable price. Simple instructions let you engage everyone easily, and with a botanical print of a cacao pod included, all attendees will also delve a bit into the origin of chocolate, without feeling overwhelmed. As Sophia says –
"I hope the tasting sheets encourage people to explore chocolate as wonderful and nuanced. That you have a new-found respect for cacao as this beautiful ancient gift. And that you remember to also have fun!"
An Inspirational Future
In closing, we'd be remiss to not discuss the most recent addition to Sophia's chocolate journey – the Women in Chocolate Retreat. I'll let her speak directly to that amazing experience…
"I just returned from Santa Fe and co-hosted a Women in Chocolate retreat for women in the chocolate industry. It was the most fun thing I did in chocolate this last year! I am currently doing tastings with Mara Papatheodorou, former editor of Bon Apetit and Master Foodie.

We will be offering chocolate retreats in Santa Fe at Hacienda Doña Andrea next year. I will focus on the chocolate and Mara will focus on the inclusion and infusions that we are seeing in bean to bar and bonbons. We'll be creating a culinary retreat that is playful, educational and inspiring for chocolate enthusiasts such as your readers.

I am so inspired by the amazing women who are working in the chocolate world!"
If you've been following Rene Zimbelman's three-part series on Women and Gender Inequality in the Cacao Industry (see this issue for the final segment), then you already connect with the inspirational feeling. Indeed, we almost sent Rene to the first retreat, but schedule's just couldn't quite snyc up to make that so.
Regardless, we expect Sophia's retreats to be a huge success for all parties involved, and we'll be sure to let you know in advance of any opportunities for you to attend. Talking with Sophia extensively for this article, I came away with, yet again, a healthy dose of positivity for working in this wonderful world of chocolate, where there are so many great people doing great work, and thinking about a bigger picture. Here at Chocolate Connoisseur, we wholeheartedly wish Sophia and company the best… we look forward to seeing what fabulous creations hit the chocolate world next from Projet Chocolat!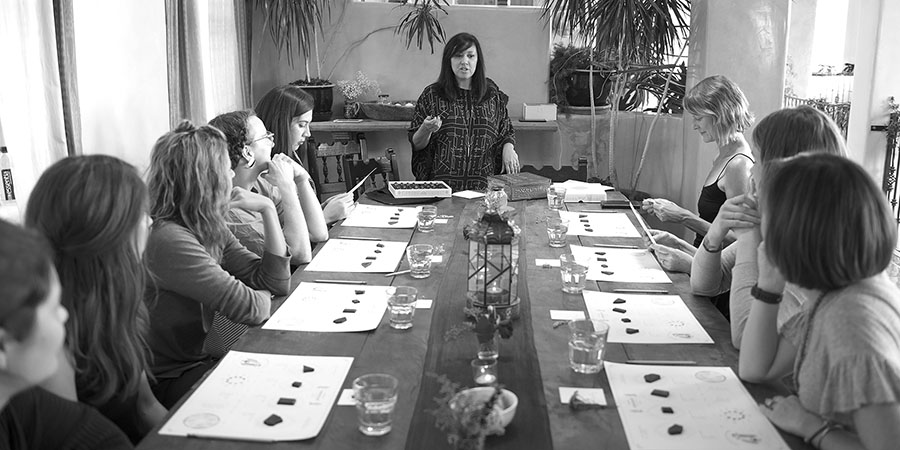 Last of all, however, we'll leave you with one of Sophia's favorite moments of the chocolate retreat –
"One class that I am still thinking about was given by Susan Brown of Mademoiselle Miel (http://mademoisellemiel.com/). She keeps bees on the tops of buildings in St. Paul, Minnesota and collects the honey for her bonbons. Susan brought a part of her hive with her to the retreat, and taught us about bees and honey.

The life of bees relates so much to how much I'd like to function within the chocolate world. A world of collaboration and lifting each other up!

We each had the chance to taste honey in the way we taste chocolate, so we experienced it as complex and nuanced. Then we tasted Susan's bonbons and chocolate as well. Let's just say that I will be buying a lot of her chocolate during the holidays and I taste a lot of chocolate!"
I sense another In Focus article in the works already…
"I am so inspired by the amazing women who are working in the chocolate world!"
Recipe Side Note
In addition to the chocolate chip cookies recipe Sophia shared this issue, she also wanted to offer this tip on what she considers to be the best drinking chocolate –
"I end every tasting with one of Kakawa Chocolates' drinking chocolates, and they are located in Santa Fe. Buy any one of their elixirs and you will have the best drinking chocolate ever. I adore the Marie Antoinette which is based off of her original recipe that she brought from Vienna to Versailles. It has orange blossom in it, which I find very relaxing. For my favorite, however, just buy the Marie Antoinette elixir and mix it with almond milk. I've tried, and failed, to do better than what they create at Kakawa. They just get the balance right!"
SEPTEMBER 2017 ISSUE PREVIEW