In Focus: Stone Grindz Chocolate
Stone Grindz Chocolate
Our return to the wonderful world of In Focus features starts with Steven Shipler and Kasey McCaslin, the creators of Stone Grindz Chocolate in Scottsdale, AZ. Although they met here in Arizona, Steven and Kasey grew up in two very different areas, with Steven hailing from Dallas, Texas, and Kasey growing up in Maiden, North Carolina.
Despite the different upbringings, this chocolate duo both grew up motivated by creating things and working with their hands, making it absolutely no surprise that they eventually connected within the realm of craft chocolate.
Steven became a true foodie early. The Dallas area offers a ton of incredible food choices, and Steven and his Dad would try new restaurants all the time.
"We'd then go home and try and recreate our favorite recipes and sauces. We are tinkerers and love reverse engineering things, it's definitely a passion of ours."
Once Steven discovered the deep complexities of chocolate, he was hooked.
Kasey always loved sweets, including chocolate — although like most of us, at a younger age milk chocolate won the day. As a complete sweets stalker, Kasey tended to devour any chocolate in her path, so her mom would purposely buy plenty of dark chocolates too, just so young Kasey wouldn't eat all of her stash.
As you'd expect, adult Kasey now loves dark chocolate (her mom's stash is no longer safe), and once you try Stone Grindz for yourself, you'll be eternally grateful for her more seasoned tastes as well.
Arizona's Sunshine Unites…
Steven and Kasey both moved to Arizona at the age of eighteen, to attend college in Scottsdale. College didn't serve as the convergence point for Steven and Kasey's chocolate partnership, however; turns out a local bakery actually takes credit for that bit of serendipity. As Kasey puts it –
"We kind of fell into the craft of making dark chocolate on accident!

We both worked for the Bread Basket Bakery, and that's where we met. We became best friends and went to the farmer's markets every Saturday to sell for the local bakery… selling loaves of beautiful bread and pastries."
That friendship blossomed over food. They both loved the handmade aspect and the artisan cottage style feel of the small bakery, and it lit a fire within them to start something themselves. Indeed, they decided one day that they wanted to make something they loved, to start their own business in the local markets.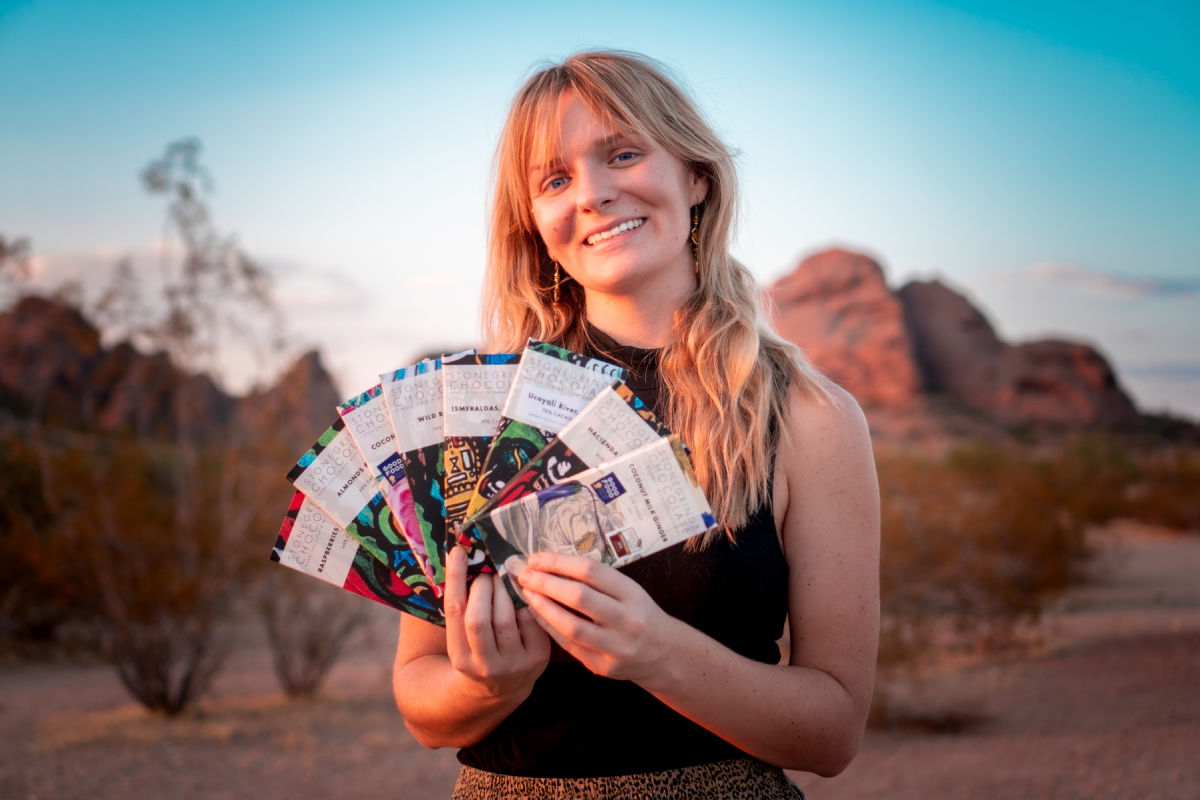 Kasey shows off some Stone Grindz Chocolate
The soon-to-be business partners started researching, and, as Kasey notes, they "were both in a very earthy, spiritual phase of life," so they decided to make raw nutrition bars, kale chips, stone-ground nut butter, and… wait for it… chocolate.
Things started to move quickly, perhaps too quickly.
"The crazy thing is that when we started, we were making raw chocolate. We bought a couple of small premier stone grinders and started grinding away. We sold out at our first market and stayed up all night making more yummy raw treats for the following morning's market. We sold out at that market as well."
After a few weeks of doing these, however, things started to die down a little, and Steven and Kasey started hearing complaints about their chocolate.
"At the time we did not even know chocolate needed tempering. We knew what it was, and that store-bought chocolate was tempered, but we didn't have the time to learn the process.

One morning that will always linger in our minds was a Friday morning at the Mesa Farmers Market… a man came up to my booth who bought a bar the previous week and said 'your chocolate is shit, it crumbled apart and tasted like garbage and I threw it away.'"
He demanded a refund, and a stunned Kasey of course handed the man his money back, at which point he then stormed off, huffing and puffing. Despite the unpleasantness of the moment, she reflects positively on the experience in hindsight —
"I kind of have him to thank though, in all honesty. At that moment I decided I was going to go home and learn how to temper, and experiment with roasting the cacao. We ended up scrapping the other offerings and focused primarily on chocolate, as it was the most unique and fun. Also, Steven has an incredible ability to dive into something with more passion and ferocity than anyone I've ever met."
If you're looking for a little inspiration here in this crazy year we call 2020, think on that for a moment. Kasey and Steven were crafting and selling a handful of different products, with chocolate of course serving as the most complex and the most difficult to conquer. Not only did chocolate present the biggest challenge, they also received complaints about how badly their finished product tasted. You would think the stars were aligning, telling them to stay the hell away from chocolate at that point!
nstead, recognizing the depth of cacao, realizing just how broad the horizon could be if they persevered, and embracing that challenge the world's most complex food laid before them, the soon-to-be chocolate champions pushed forward, straight into the storm.
Kasey shines a light on exactly what happened next —
"We ended up spending 4 years experimenting with roasting profiles, and of course, properly tempering our chocolate. We noticed our sales increasing with every breakthrough in flavor and textural development, which was so fun to watch.

It's a beautiful thing to be focused on quality and not quantity in this world, and to have people appreciate the art and the progression of it all. Because we both share a respect for the process of making things, and all the details that go in between, I think this made us successful in the will to start this chocolate business and keep on keeping on."
From Valley of the Sun to Chocolate Mountaintop
Finally, in 2016, after years of hard work and determination, Kasey and Steven's Stone Grindz Chocolate was a finalist at the Good Food Awards in San Francisco.
"We were so excited, jumping around, making quite a fuss of it all," Kasey fondly recollects. "Thinking we may never subjectively end up in even a finalist spot again, let alone win a full-blown award, we went to the awards and had a great time."
Although they didn't win that first year, they returned a year later in 2017, with much different results. Stone Grindz won a Good Food Award and not one, not two, not three… but four International Chocolate Awards.
The following year, they won another Good Food Award and a whopping five International Chocolate Awards, including a Top Three at the World Competition in Italy.
Finally, in 2019, Steven and Kasey won their third Good Food Award (three years in a row, true story), along with an incredible ten International Chocolate Awards, this time including two Gold Medals at the World Competition in Italy for their Ucayali River, Peru and Suntory Whiskey & Asian Pear Caramels, which were essentially named the best chocolates in the world in their respective categories.
All this from their home kitchen-certified apartment, with some tiny premier grinders and some cardboard boxes they used to trap heat around the grinders so they could conche the chocolate at 160 degrees.
To think how far they've come from the fateful day one customer asked for a refund because the early chocolate lacked in so many areas, yet here they were, not too many years later, celebrating some of the best chocolate in the entire world…
As Kasey and Steven note —
"It has been quite a journey since that man came up to our booth and demanded a refund for his crumbly, horrible, garbage-tasting chocolate!"
A journey we're all so very glad this chocolate duo embarked on, all from that little bakery shop selling baked goods at the local farmers market.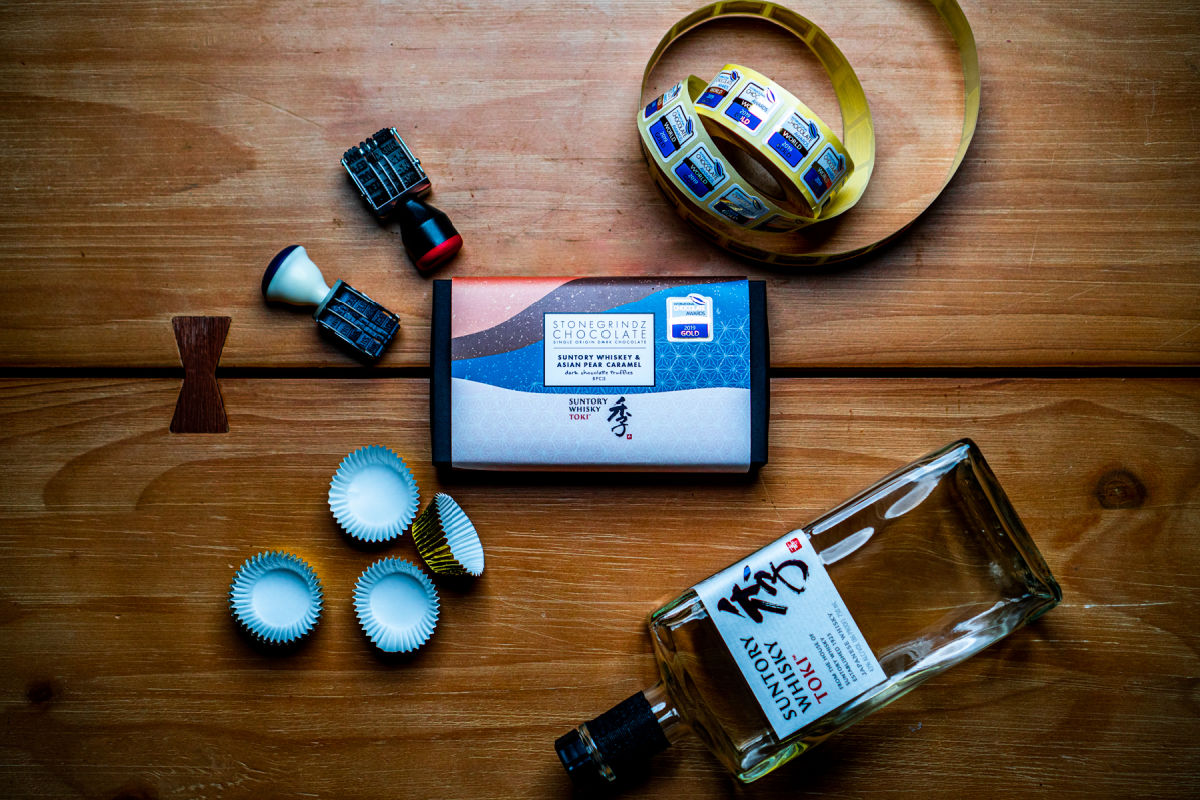 Suntory Whiskey & Asian Pear Caramels
The Stone Grindz Secret
For all the surprises we've uncovered within Steven and Kasey's story, perhaps their lack of professional training ranks as the biggest, especially considering just how far up the chocolate ranks they've progressed in only a handful of years. Although they profess to being completely self-taught, one very familiar website pops up when discussing the subject.
"Our foundation was from reading chocolate forums and using chocolatealchemy.com articles to get our initial info and roasting profiles, etc.," Kasey notes. No one should be surprised to see Chocolate Alchemy pop up as a partial foundation for an incredible chocolate company.
The real secret behind Stone Grindz, however, actually stems from a fortuitous oven malfunction. If you're looking for a new band name, there you go, Fortuitous Oven Malfunction (you're welcome).
Kasey elaborates —
"One of the absolute best learning experiences was one time we were using a convection oven at a local shared kitchen (which is our new preferred way of roasting and how we won the two gold medals at worlds), and we took infrared temperatures of the cacao beans. We noticed for some reason it was reading 40F above the temperature we wanted for roasting.

So we cranked the temperature down and roasted a batch, and when that batch came out of the oven it was exactly where the temperature dial was set to… it wasn't 40F above the set temperature, but exactly what the dial was set to. That temperature was WAY lower than we have ever roasted cacao at, and we had a conversation about scrapping the beans and doing it over.

In the end, however, we decided to just use those beans, and it was the best tasting chocolate we have ever made! It's now the same profile we use for the Ucayali River, Peru that won us the gold medal at worlds!"
The roasting profiles Stone Grindz settled into likely served as the driving force behind their award-winning chocolate.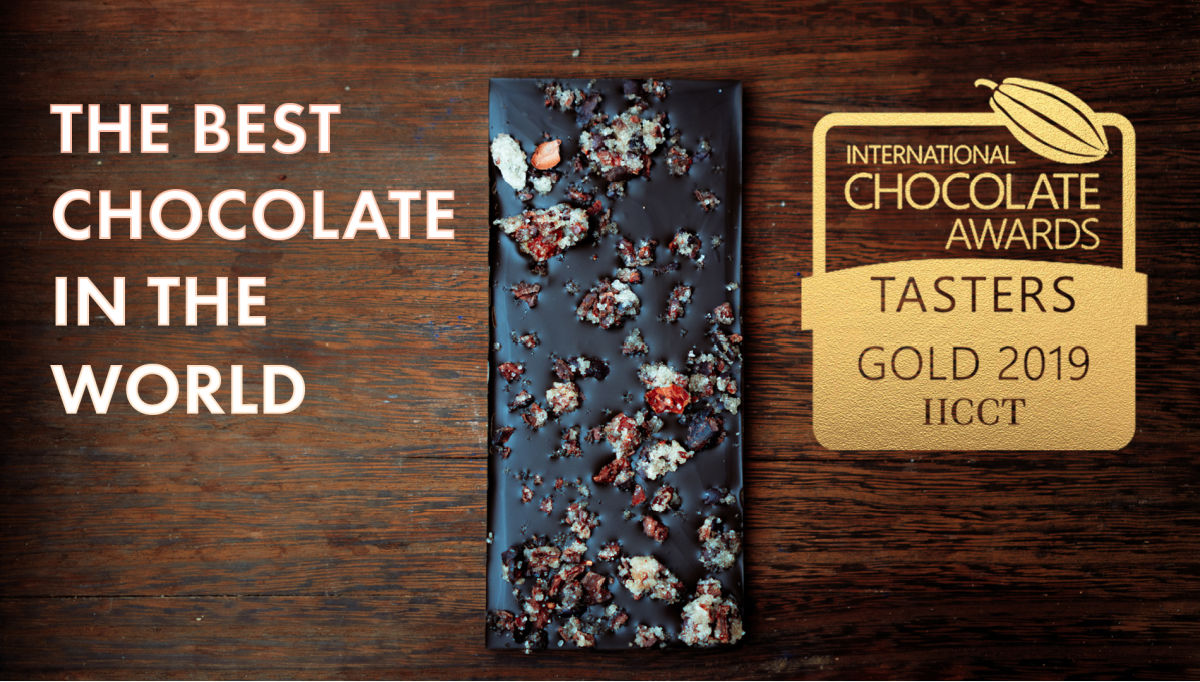 Kasey explains further —
"I hate to call it a secret, but I have never spoken with or read about roasting profiles like ours. We roast at a temperature way lower than most people would even consider 'roasting', and for a very long time, especially for a convection oven style roast.

You must try it to see, but our chocolate is not muddled, it's not a tad brown in flavor profile, it is clear and true to the bean. We highlight only the best most pleasurable notes in our chocolate, subjectively speaking of course, but we think our awards and our feedback speak to what we've created in terms of quality and flavor."
Speaking of Beans…
Of course, all that hard work crafting chocolate means very little if you start with subpar cacao beans. Stone Grindz sources beans from Ucayali River in Peru,  Esmeraldas in Ecuador, the legendary Hacienda Victoria farm in Ecuador, and they also source a Wild Beniano bean from Bolivia as well.
Kasey revealed that they're about to source a new bean from Vietnam soon too, one they are testing in the grinders right now (and, I might add, they are super excited about it).
Like all the best craft chocolate makers today, Steven and Kasey are both huge advocates for fair trade, ethically-sourced, premium-priced cacao. Everything great begins with a solid foundation.
"We have turned down many offers in the past for beans that are closer to the current fair-trade standard price, which is lower than cacao should ever cost. We pay around $6.50 to $8 per pound, even at larger quantities, and in some cases, we will offer to pay a bit more with the extra proceeds going directly to the farmers. It's a very big part of our passion for chocolate."
In addition to their solid cacao sourcing efforts, they also source high quality, healthy ingredients at every turn too. All of Stone Grindz' bars are vegan, and, as Kasey notes, "We take pride in our bars being soy, dairy, and gluten-free".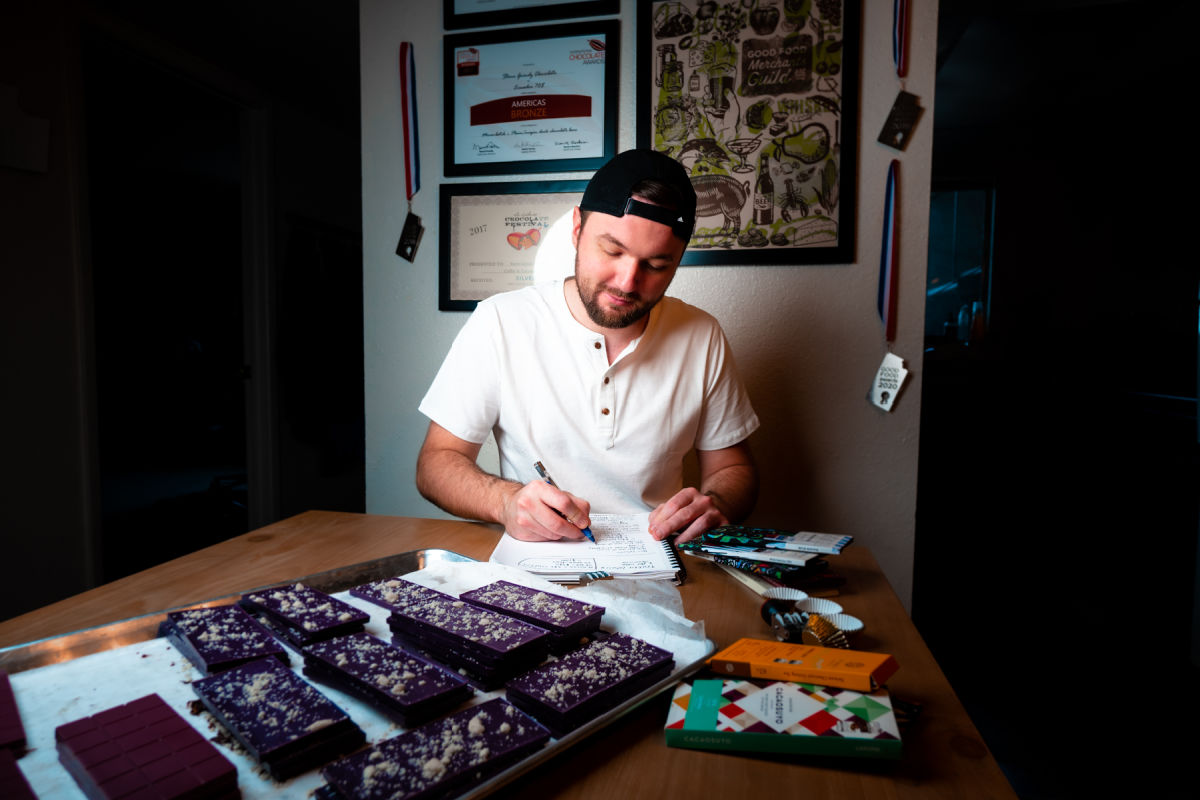 Every ingredient they use is technically organic, even if the cacao beans and the cacao butter are not actually certified as such. Kasey explains —
"The farming practices these farms use are all organic practices they just do not have the money or care about the certification, and we are okay with that."
Delectable Flavors
Stone Grindz offers a Coconut Milk Latte bar, crafted with Blue Bottle Espresso from California, and their Coconut Milk Ginger bar is outstanding as well — and it's part of our the Stone Grindz Chocolate offer right here for September-October. Both bars won a Good Food Award, and the Latte bar actually won two.
They also sell bonbons and truffles, which brings up another fun story.
"So we were flipping through The Flavor Bible, written by two-time James Beard Award-winning author Karen Page, and we stumbled upon whiskey and pear.

Seems simple enough and sounds like a great pairing, right?

Steven said out loud 'wouldn't it be cool to win an award for something that also sounds insane, like Suntory Whiskey & Asian Pear Caramels with like brown butter in them or something?'"
Kasey said, "Oh my goodness that sounds insane let's make that!"
The following year, 2019, that dark chocolate enrobed caramel won the gold medal at the International Chocolate Awards World Competition in Italy, and it currently reigns as best truffle in the world.
From learning the Stone Grindz story here for myself, I'd say it's best described as "serendipity meets perseverance." Kasey and Steven don't quit easily.
Another new truffle, part of their limited edition offerings, is a Blackberry Mojito truffle. That's Tito's Vodka, blackberry jam, and fresh mint, all infused into a handmade ganache that's a blend of Ucayali River, Peru and Esmeraldas, Ecuador 68% dark chocolate.
They are also developing a new dairy-free oat milk white chocolate, with wild blackberries infused into it, and a gluten-free brown sugar oat crumble on the back.
It sounds dee-lish, especially for all of us vegans who appreciate the creaminess of oat milk. Kasey adds –
"We are going to call it Wild Blackberry Cobbler, and we're super excited about that one! We just sent that off as one of our entries in this year's Good Food Awards blind tasting, so please wish us luck!"
Unsurprisingly, Stone Grindz bestselling bar is their Ucayali River, Peru bar. That's the heavenly creation which won the World Gold Tasters Dark Chocolate Awards in Italy. Kasey describes the bar as "soft and delicate, cherry, caramel, mocha, with a slight woody tone."
She also notes that it's "not hugely chocolate flavored, but so clear and balanced in comparison to many other Peru bars we've tried."
The Road Forward
Kasey and Steven put forth a very simple chocolate philosophy — quality first and make some damn good chocolate.
"We're not trying to create polarizing profiles. We're trying to make chocolate the absolutely most pleasurable way we can, and make sure we leave as small of a footprint while doing it. That's it.

For us, it's freedom and expression. The fact that we can wake up every morning and just create is such a blessing. We get to learn and create and explore in an artistic realm of flavor, with a substance so yummy and complex that you could get lost in it forever (in the best way possible of course)!"
Next up for Stone Grindz, they're looking to continue growing the company so we they can open their own shop, that's the dream right now.
Hopefully, in a post Covid world, they do indeed realize that dream, because they've clearly worked quite hard for it.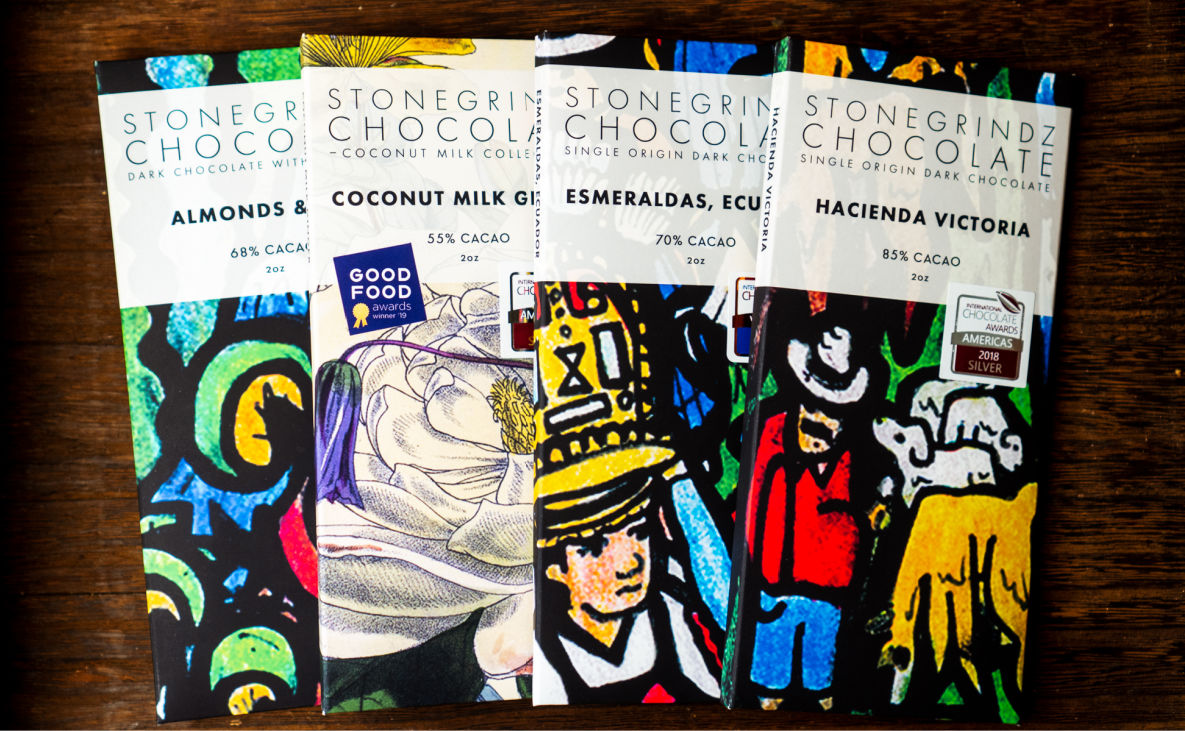 The four bars inside the Stone Grindz Chocolate Connoiseeur Chocolate Offer
And when that new normal arrives, hopefully sooner versus later, you'll once again be able to find Kasey and Steven at a ton of local farmers markets and local events here in the Phoenix area.
As the chocolate duo notes —
"Eventually, we want to do some larger shows, but we have had our heads down focusing on the quality and innovation of our craft for so long, we're just now coming up to breathe!"
We all look forward collectively coming up to breathe soon after the toll 2020 has taken, and it will be one awesome bonus to have places like Stone Grindz putting out their incredible chocolate on yet another level when all is said and done.
We wish Stone Grindz nothing but the best as they forge ahead and continue to grow. In the meantime, if you haven't tried their chocolate yet, you'll have until late October to order it at a great price thanks to the special chocolate offer they put together exclusively for Chocolate Connoisseur. Click here to take a closer look.
Big thanks to Kasey and Steven for all their hard work, and I can't wait to taste what's next!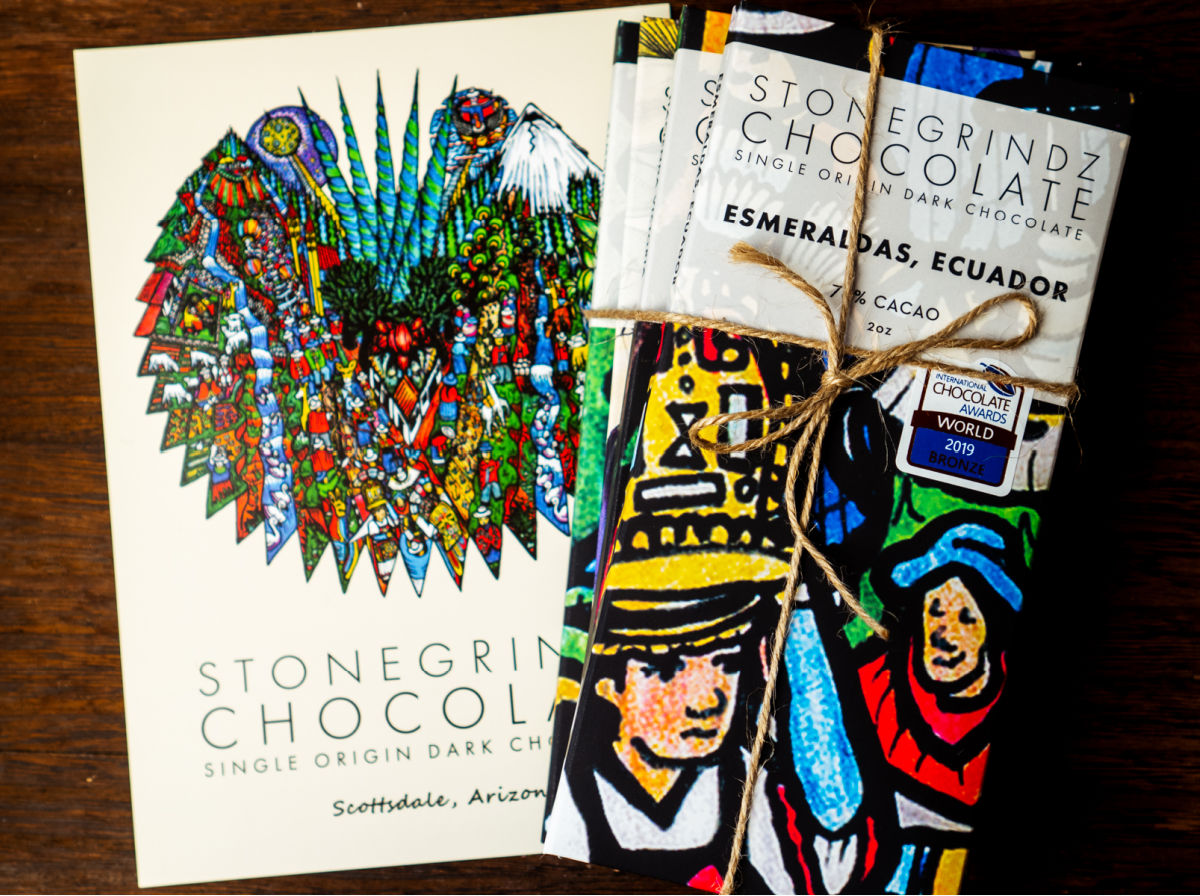 A closer look at the Stone Grindz Chocolate Connoisseur Chocolate Offer
Click here to visit the Stone Grindz Chocolate website.
And click the links below to connect with them on social media.
+ PHOTOS BY STONE GRINDZ CHOCOLATE
(unless otherwise noted)