On the Chocolate Regular:
Alter Eco
The Heart of Alter Eco
Alter Eco claims the spotlight in this issue's return to On the Chocolate Regular for good reason. Yes, their chocolate tastes delicious (easily one of the better-tasting of the larger sized chocolate companies) but it's the extent to which Alter Eco lives out their tagline, Enlightened Indulgence, that grabbed me during my early research for this article. The company's quest for enlightenment within the business world began with its founders, French citizens Mathieu Senard and Edouard Rollet (better known as Mat and Ed), who trained in business but are activists at heart.
Their activism could warrant an article strictly focused on that aspect of their work, without even delving into the products they sell, but don't worry, we'll talk chocolate soon enough here as well. First, however, let's have a chat with Edouard to learn a little more about Alter Eco's "founding fathers."
"Half of my family is Swiss, so as early as I can remember, I visited aunties, uncles and cousins in Switzerland three or four times a year. I remember when we drove back from our little Swiss alpine village, close to the French border, we would systematically stop at the grocery store in Switzerland to stock up on chocolate before heading home and crossing the border back to France. Also, my great aunties gave me mountains of chocolate whenever I visited."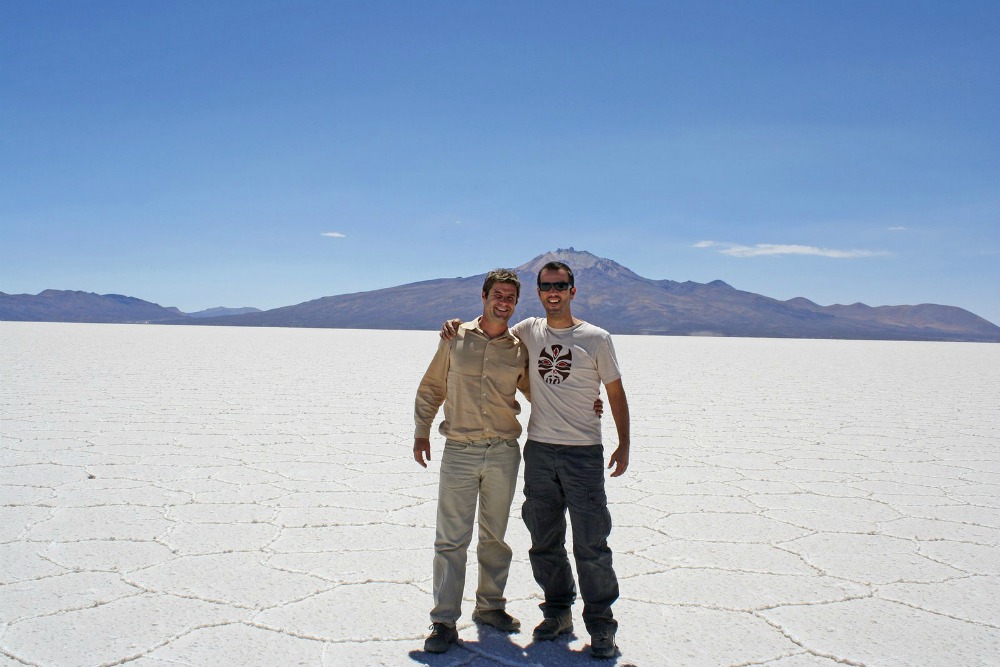 Two of Alter Eco co-founders, Edouard Rollet and Mathieu Senard
Since Edouard found himself fascinated with Swiss chocolate at a very young age, he developed both a sweet tooth, and a specific sensitivity, for Swiss chocolate quality.
"This differentiation comes from the quality of the milk the Swiss use, the very long conching (milling) time, and years of experience making the smoothest chocolate in the world."
Coincidentally, part of Mathieu's family lived in Switzerland, too, so he traveled there at a young age, enjoying Swiss chocolate regularly long before he and Edouard met back in 1993. Their similar experiences with such early exposure to true chocolate undoubtedly helped the duo grow Alter Eco into the successful company we see today.
"In 2004, Mat and I decided to settle in San Francisco to start the business which was, and still is, the heart of the green economy and epicenter for good, healthy foods."
Along with Mat and Edouard, there were two additional co-founders —  Frenchman Tristan Lecomte and Australian Ilse Keijzer. The four founders all originally trained in business. In fact, before starting Alter Eco fifteen years ago, each founder gained invaluable experience in the worlds of profit-driven multinationals and on-the-ground NGOs.
Activism, however, strongly drives all four of them.
"After recognizing the challenges surrounding humanitarian aid efforts, we decided to join forces to become pioneers in social entrepreneruialism.

Our business backgrounds have most certainly helped us develop Alter Eco into a successful company that crafts deliciously healthy foods, but our passion has driven us to create a company rooted in sustainability, to fight for both social and economic justice."
A little side note — Tristan no longer works at Alter Eco; however, as current President of Pur Project, he continues to work with Alter Eco on agroforestry endeavors (more on that organization in a bit). Ilse is still very much involved with Alter Eco as the Founder and Director of Alter Eco Pacific.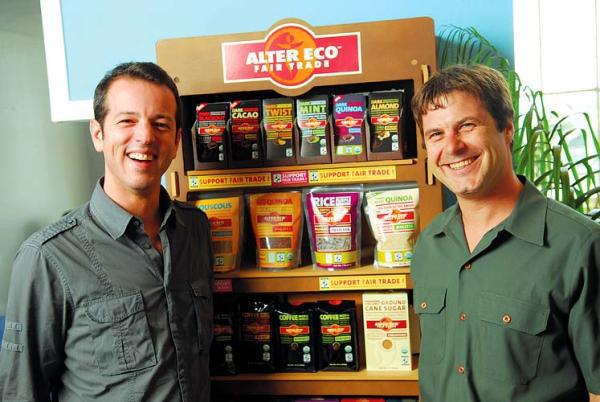 "Mat" and "Ed" in their early Alter Eco days 
From San Francisco to the Southern Hemisphere
Also helpful with starting Alter Eco, the founders gained access to a large network of farming cooperatives in the southern hemisphere.
"What the cooperatives all had in common is they were principally made of small-scale farming communities who, while they were living on a dollar or two a day, were cultivating the highest quality ingredient: criollo cacao beans in Bolivia, nacional cacao beans in Ecuador and other outstanding beans in Peru."
Ed meeting with farmers of ACOPAGRO – Peru 2009
Alter Eco also accessed many other ingredients, such as unrefined sugar in Paraguay and the Philippines, and quinoa in Bolivia.
"The main thing these small farming communities needed to thrive was access to international markets, and we knew the quality of their crop would allow us to find many interested customers in Europe, the US and the Pacific regions."
They then searched for a chocolatier in Switzerland who held both the expertise to produce minimally processed chocolate, and a commitment to sustainability.
Together they all worked diligently to develop memorable recipes people passionately crave.
Spreading Chocolate Love
In their early days, Alter Eco received immediate support from retail stores, independent retailers, and organic, specialty food chains.
"They embraced our story and appreciated we were one of the first few Fair Trade certified chocolate companies. Above all, they were amazed a small company could come up with such premium, quality chocolate sourced from such remote and marginalized farmer groups."
Edouard remembers how they were forced to drive countless miles in harsh climates (including cold and snow at one point, then 120-degree weather at another), to present their products and organize tastings — one store at a time. They also encouraged CEOs and store team members from larger retail chains, like Whole Foods Market and National Cooperative Grocer, to visit their farming communities in Ecuador, the Peruvian Amazon, and various other locations from which they sourced key ingredients.
"We facilitated these trips for CEOS and store team members to meet and spend time with the families they support by purchasing our products. We feel this is the best way of understanding the impact of Fair Trade and ethical supply chains in the local communities. Having the CEOS and team members see firsthand the love the farmers put into their crop, and, equally important, having the farmers know their hard labor is appreciated by people biting into a bar of Alter Eco chocolate, is truly priceless."
Their equally important mission, "to pioneer a full circle approach to eating, farming and doing business – and to inspire others to do the same," ties in directly with their tagline, Enlightened Indulgence.
"Our pillars of sustainability include choosing clean ingredients, investing in our farmers as a Fair Trade company, regenerating the Earth as a top-ranking B Corporation and eliminating waste. Also, our chocolate-centric line of products is all Fair Trade Certified, Carbon Neutral Certified, Non-GMO Project Verified and USDA Certified Organic."
That's quite a mouthful, and since these pillars showcase all the reasons Alter Eco impressed me so much from the beginning, let's take a look at each one separately.
Clean Ingredients
Alter Eco believes we are what we eat, and they pay close attention to every organic and minimally processed ingredient. The core ingredients through most of their product lines are cacao beans, coconut oil and flakes, caramel, quinoa and fleur de Sel de Guérande.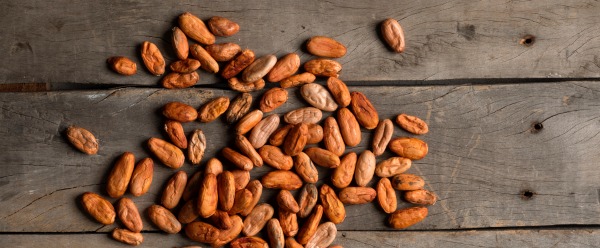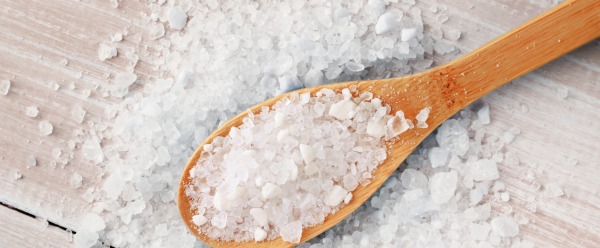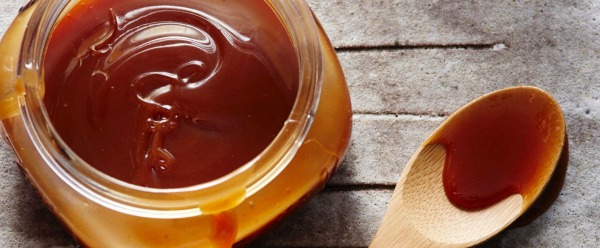 "We're proud of the relationships we've built through partnering with co-ops to ethically source our ingredients from a handful of countries including Peru, Ecuador, India, Sri Lanka, Thailand and Bolivia.

By establishing these meaningful relationships with our farmers and their local communities, we're able to ethically source the highest-quality food in an environmentally and socially responsible way. It's truly what sets us apart. In fact, each organic, non-GMO ingredient we use can be traced back to the farmer cooperative in which it came from."
Speaking of GMOs, the company clearly communicates its stance on the subject. Their website says —
"Don't get us started about GMO. The process of genetic modification, which takes place in a laboratory, typically merges DNA from different species, creating combinations of plant, animal, bacteria, and viral genes that cannot occur in nature or in traditional crossbreeding.

Does that sound like something you'd want to eat? Us neither. We have always been a strong advocate against GMOs and always will be. Even our compostable, plant-based packaging is non-GMO."
Highly impressive. More on that non-GMO packaging later, but our second pillar involves actively working with the many farmers all doing their part to put our beloved chocolate within hands reach.
Investing in Farmers
As mentioned earlier, Alter Eco's 100% Fair Trade status means 100% of their products are sourced from small-scale farmers (mainly in Peru and Ecuador), and the beans are then sent to, not surprisingly, Switzerland, where Alter Eco then crafts its fine chocolate. The company's co-op partners offer their own interesting stories as well, available in their entirety on Alter Eco's blog, but lLet's give you a taste right here for starters.
Acopagro  – Peru
Thanks to a United Nations program in 1994, these Peruvian farmers began replacing illegal coca crops with cocoa. Along with planting cacao, these farmers are working with Alter Eco and PUR Projet (mentioned earlier), to plant trees within the cacao fields.
So far, PUR Projet has planted over two million trees with Acopagro and has successfully designated a six million-acre conservation site as a UNESCO Biosphere Reserve.
Fair Trade Alliance Kerala (FTAK) – India
Founded in 2005 in the Malabar Coast of India, 3,500+ member farmers came together in response to their struggles against indebtedness.
To preserve biodiversity and increase food security, FTAK farmers grow a host of tropical products such as cashews, coconut palms, coffee, cocoa, pepper, nutmeg and vanilla, and this is where Alter Eco's coconut oil originates. 
Fortaleza Cooperative – Ecuador
Founded in 2005, Fortaleza aimed to improve the living conditions of small-scale cocoa producers in Ecuador.
Today, Alter Eco purchases cacao from Fortaleza, and the co-op's diversified crops now include coconut, banana, and timber as  well.
Sangamaya – Sri Lanka
Alter Eco's sources coconut flakes from the Sangamaya small-scale farmer group in Sri Lanka. In addition to growing, harvesting, and processing organic and fair trade certified coconuts, many of the farmers grow banana, mango, passionfruit, and limes.
Fair trade also assisted these farmers, giving them access to technical training and tools, including funding the renovation of a computer training center.
UNOCACE- Ecuador
UNOCACE Cooperative is an organization of Ecuadorian cacao farmers established in 1999, producing 'Cacao Nacional Arriba' – some of the highest quality cacao beans in the world.
Alter Eco works with its Swiss chocolate makers to support UNOCACE in developing an agroforestry project aimed at increasing cacao farm productivity and bean quality.
Nuevo Amanecer – Bolivia
Nuevo Amanecer, founded in 2009, sits at an elevation of 12,000 feet in the Southern High Lands of Bolivia. With less than ten inches of rain per year, quinoa is the only crop that can grow is in this region.
This makes quinoa, llama, and sheep the sole sources of food in the area. Harvesting by hand in some of the harshest conditions in the world, the farmers of Nuevo Amanecer benefit from a living wage thanks to Fair Trade practices. 
What's the common thread within five out of six of the co-ops above?  A focus on biodiversity, which leads us to pillar number three…
Regenerate the Earth
Most of us chocolate connoisseurs know conventional cacao tree cultivation focuses on monoculture, which often results in soil degradation and biodiversity loss. Thankfully, now many co-ops and chocolate companies, including Alter Eco, practice dynamic agroforestry, which instead cultivates a wide variety of crops to benefit the soil.
This practice is also known as agroforesteria dínamica or foresteria integral con cacao (FINCA). Per Alter Eco —
"To protect the soil and ecosystems, all of our products have been Certified Organic from the very start.  With a passion for environmental regeneration in our DNA, we're excited to share that we're currently pursuing the Regenerative Organic Certification which is a holistic farming approach that seeks to give back more than it takes."
To jump deeper into their Regenerative Organic Certification programs, take another hop, skip, and a jump on Alter Eco's website. Just click the Activism tab at the top of the site, then their Regenerate the Earth link, and you'll learn more details on how they're both boosting biodiversity and regenerating the rainforest.
"We're incredibly passionate about leaving the world better than we found it. In fact, since 2008 Alter Eco has planted upwards of 28,274 trees with the help of our partners, Pur Project, and have offset 12,331 tons of CO2 within our supply chains – and this is just the start."
Passionate indeed. Since the time Alter Eco joined the Certified B Corp program in 2009, they've expanded their scope to become a Public Benefit Corporation in 2013.
Also, for the last three years they've been named a Best for the World Company by B Lab, scoring nearly twice as many points as their fellow honorees.
Still, it gets better, and the fourth and final pillar here is actually my favorite — it's where Alter Eco truly shines.
Eliminate Waste
We've all felt it – that nagging feeling as we throw something in the trash we wish was recyclable. In my case, it's usually some type of non-recyclable plastic, which unfortunately isn't surprising. Alter Eco's website notes —
"Plastic packaging makes up over one sixth of the waste in United States landfills. It also sickens millions of fish and birds when they mistake it for food, and might even end up floating in the Great Pacific Garbage Patch."
So, you ask, what does Alter Eco do to set them apart from other chocolate companies? Well, they've actually produced recyclable packaging for their bars for quite some time. They ran into a problem with finding recyclable plastic, specifically polyethylene plastic, when it came to the pouches for their quinoa and the inner wrapper for their truffles.
In order to resolve this dilemma, they worked for several years with partners and manufacturers to create the world's first compostable, non-GMO, non-toxic candy wrappers. Outstanding!
"We always remain at the forefront of sustainable packaging solutions as new technology emerges to reduce the waste impact of our wrappers."
They also invented the world's first compostable stand up pouch, named Gone4Good because it goes back to where it came from with zero waste, since it's made from renewable, plant-based, non-GMO materials. And they're part of a coalition to get other companies to follow suit.
As the company's website puts it, "When it comes to backyards, we think the pouch holding your quinoa should fertilize your soil instead of polluting the oceans."
Now, if that doesn't get our awesomely nerdy, green-centric-selves excited, I don't know what will.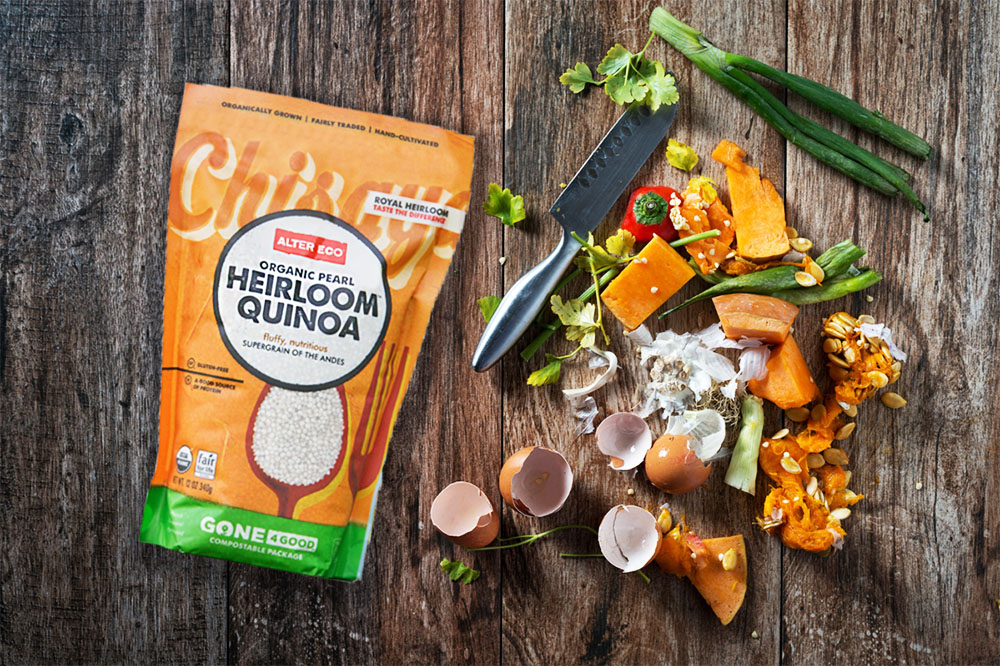 World's first compostable pouch
Another facet of their activism encourages every employee to take three paid work days per year to support a cause of their choice. Alter Eco's website tells us some of their causes include planting trees, beach and park cleanups, serving food at Glide Memorial Church, partnering with In Good Company to build green spaces in urban neighborhoods, and supporting local cause-related events such as Earth Day and MLK Day.
According to CharityNavigator.com, in 2016, corporate giving accounted for only 5% of all giving, while individuals accounted for 72%, so it's great to see Alter Eco contributing this way.
Last, but certainly not least, Alter Eco requires its employees to take a tour of San Francisco's groundbreaking Recology plant, so they can all become advocates for proper recycling and waste disposal. We simply cannot give enough kudos this outstanding kind of business ethic!
Now… let's talk chocolate!
Mmmm, Mmmm, Chocolately Goodness
Alter Eco's truffles consist of five flavors — Salted Caramel, Sea Salt, Mint Crème, Classic Dark and Silk Velvet. The company recently entered the snacking category as well, introducing three new and tempting varieties of coconut clusters.
"With 46% of Americans snacking three-plus times a day, the clusters cater to this need, while standing out on store shelves as a healthy option."
They promote the clusters as —
"Light, crisp, toasted coconut flakes meeting a layer of deep, dark, 70% Ecuadorian chocolate. Then a sprinkle of hand-harvested French sea salt is added for really rich, yummy good measure."
Alter Eco's Deepest Dark Super Blackout bar registers as their best-selling product, however.
"It's an award-winning fan favorite because of its surprisingly silky-smooth nature despite the high cacao level (a whopping 90% cocoa). It's a deep, fruity-malty Ecuadorian bar that packs the intensity and creamy bite all chocolate lovers crave, with the powerful superfood benefits of 90 percent cacao. Another key feature is it only has 3g of sugar per serving."
Other unique bars include one of our favorites, Crispy Mint, plus Deep Dark Salted Burnt Caramel, Deep Dark Salt & Malt, and Deep Dark Salted Brown Butter.
"The Deep Dark Salted Brown Butter came at a perfect time when butter was making a comeback with both mainstream consumers and health conscious foodies. The New York Times ran an opinion piece called "Butter is Back" which we definitely used as content when speaking with buyers!"
Where to Find?
You can find their chocolate online, of course, as well as at Natural Grocers, National Coop Grocers, Whole Foods, Kroger, Spouts, Publix, Ralphs and King Soopers, among other places. Quick side note: I tried the Dark Quinoa bar (60% cocoa)… delicious!
You can also find Alter Eco at large conventions like the Natural Products Expos along with smaller regional shows and distributor focused shows. They also partner with aligned brands for events and grassroots consumer samplings in an effort to share their enlightened indulgences and mission with as many as possible. Here at Chocolate Connoisseur Magazine, we hope they continue to reach many!
Connect with Alter Eco via social media:
Facebook: https://www.facebook.com/AlterEcoSF
Instagram: https://www.instagram.com/alterecosf/
Twitter: https://twitter.com/alterecosf
Pinterest: https://www.pinterest.com/alterecosf/
Youtube: https://www.youtube.com/user/AlterEcoSF
NOTE: All photos by Alter Eco unless otherwise noted.