THE CHOCOLATE CHANNEL – JUNE 2018
Chocolate Songs of Summer
As the summer of 2017 neared its completion last September, I pieced together a very fun, unique Chocolate Channel article as both a musical, and chocolatey, farewell to the season. Truth be told, however, I really wished we'd thought of the segment for the
start
of summer, rather than its end.
Why?
Well, let's face it, as much as we love chocolate, we don't tend to sing about it very frequently – although in all fairness, that's probably because we're too busy eating it, and it's difficult to sing when your mouth's full.
Now That's What I Call Chocolate!
In other words, I don't think too many opportunities will knock for us to create a super fun chocolate-centric music playlist for all our readers to enjoy, and I felt a bit like I missed the boat last September.
Persistence abounds, however, and I decided to create an uber-energized, revamped version of last Fall's Chocolate Channel, this time focusing exclusively on an uplifiting summer vibe, and, of course, only with songs tied to chocolate in one way or another.
So today we kick off a rambunctious (that's right, I said rambunctious) summer fling, once again at the crossroads of chocolate and music.. perhaps at a fun little roadside dance bar where a sip from your chocolate martini and a twist of the hips kicks off the hottest season of the year in celebratory fashion. Welcome to the chocolate songs of summer.
I must, however, repeat the all-too-serious about the very first song on the list – Chocolate (Choco Choco) by Soul Control. It will, inevitably, get stuck in your head like no other, so listener discretion is advised. Don't say we didn't warn you…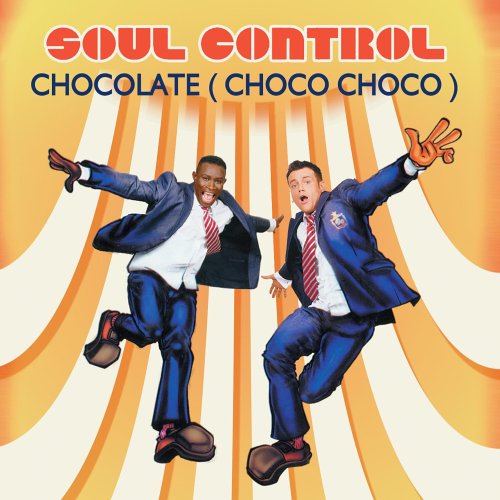 Chocolate (Choco Choco) by Soul Control
If you've never heard Chocolate by Soul Control, I really, really don't want to spoil it for you. Just press play and stop reading right now… then prepare to get choco crazy, because this song is insane.
Finding more information on this group proves no easy task, with YouTube comments, perhaps for the first time ever, actually proving useful. The group appears to be from the Netherlands, and the song itself appeared to be quite popular in other parts of the world, particularly in the 2004 range when it first came out.
Some suggest that the song appeared on Nickelodeon and MTV even, but people most frequently reference the song as one played by their teachers during grade school exercise class!
Regardless of any ambiguity (and excessive cheesiness, especially in this video), the crazy-catchy tune sits near the top of any list for chocolate songs, where we expect it to stay for a long time.
The smooooothest "chocolate" song you'll ever hear, the new kids on the block, Young Bull, deliver a seriously rich groove, absolutely perfect for a summertime playlist.
Hailing from Durham, North Carolina, this very young and new trio (their first album dropped in 2016) is " rooted in a distinctively Southern sound – fusing trap and old-school soul influences into an unmistakably electric aesthetic."
One review referred to Young Bull's sound as "the perfect mix between soul and swagger," and we think you'll positively love it. Let the summer roll on…
Click here to snag the song
Why do we love this song? Two words – The 1975. Okay, so I suppose technically that's one word and a number, but still, you get the idea…
This still relatively new band out of the UK (their self-titled debut dropped less than five years ago, with a third effort supposedly on the way soon) has two outstanding albums under their belts, with Chocolate serving as their flagship, first song. And like I warned you upfront, it is catchy!
Also, yes, after listening to this song, your car and a few other things will start smelling like chocolate. Sorry about that (hey, that's what the lyrics tell us, and I believe 'em).
The most enjoyable part, however? Chocolate may be one of the only words you understand because of the singer's vocal style and thick accent, so you'll find yourself, often quite comedically, creating your own lyrics!
As a big fan of The 1975, I do, however, know all the words, so feel free to start up a little chatting in the comments below and we'll have some fun with it…
Chocolate by Jesse Rose & Trozé
As we dance into the second half of our summer playlist, the genres expand, so the more varied your musical tastes, the more you'll enjoy these final three songs.
You likely heard this third song before, as Apple picked it up for a commercial a few years back. It's certainly bouncy, most definitely catchy, and features one of the best song write-ups ever. Check out this quick snippet from NestHQ.com –
"When I first heard Trozé rap about chocolate I knew we had something special on our hands," Play It Down boss, Jesse Rose, explains of his new single, "Chocolate," featuring the seductive vocals of the LA newcomer.

Backed with a raw, gritty bassline and a bevy of shuffling hi-hats, "Chocolate" is contagiously catchy thanks to some simply brilliant writing from Trozé — "Ay, just cashed a check. And I'm 'bout to blow it all on chocolate."

"Chocolate" is yet another example of how Jesse Rose finds a unique way to remain firmly seated in the underground scene while peaking into a realm of greater accessibility. Like Trozé so accurately put, "Chocolate" is "big booty house for the whole minivan." We're down with that."
If you find yourself nonsensically referring to random things as "Big booty house for the whole minivan," we apologize… but this jam is so worth it.
Chocolate Distance by Karuan
One of two songs in the playlist that don't include an official video, I'll venture a guess that you don't even mind… Chocolate Distance is divine. Never heard of Karuan? Here's a brief excerpt from his short biography on last.fm –
"Karuan (also Karwan Marouf or simply Karwan) was born in 1976 in Vienna as the son of Kurdish parents. Karuan's love for music arose from the Kurdish singer Şivan Perwer and from the traditional Kurdish celebrations."
The biography also notes his music as "is an artistic bridge between the oriental culture of his Kurdish family and the European culture in which he lives in."
Visit Karuan on last.fm here
Click here to pick up the song on Amazon
Gimme Chocolate by BABYMETAL
BABYMETAL, noted on Wikipedia as "a Japanese kawaii metal band," rounds out our Chocolate Songs of Summer playlist. This genre-bending trio, who sing and perform with a heavy metal band backing up their unique, catchy vocals, offers a musical mix like none you've heard before.
Wikipedia also notes —
"The concept of the band is a fusion of the heavy metal and Japanese idol genres."
Yes, expect the unexpected when you hit the play button, and if you're not a fan of metal, the song's opening will most likely turn you off. We recommend, however, giving it until the 45 to 50-second mark to hear how the song evolves before you jump ship.
That wraps up our six-song extravaganza! We hope you enjoyed the musical, chocolate adventure, and if you want to replay it anytime, just use the link below to pull up the full Chocolate Songs of Summer Playlist on Youtube and enjoy!
CLICK HERE for our full CHOCOLATE SONGS OF SUMMER playlist