by Eric Battersby
If you're taking a stroll through Bellingham, Washington, you might stumble upon a hidden treasure – BIJA Chocolates. Yes, BIJA, the word is actually Sanskrit for "seed". If you're into yoga, Yogapedia says "bija is a metaphor for the starting point or origin of all creation. It is the seed from which everything originated."
At first that may sound a bit over the top for a chocolate company, but dig a little deeper and you'll quickly learn that BIJA earns those stripes. Paul Newman and his wife Ariana Lee-Newman (Ari if you will) run BIJA on passion; it's much more than chocolate, and as you're about to see, that yoga metaphor fits just perfectly.
From Honduran Jungles to Mexican Villages…
BIJA's story actually begins in the jungles of Honduras and in remote villages of Mexico and Guatemala. It's as much a story of this happy, world-changing couple as it is chocolate.
It began with Ari in Honduras, working on a medical mission to treat remote communities, areas without electricity or running water. During her time there, Ari saw people line up before sunrise, traveling long distances to see a physician or dentist, many for the first time. To say she was humbled would be an understatement. Ari discovered deep poverty and an urgent need for clean water and hygiene.
Paul Newman and Ari Lee-Newman
In stark contrast, however, she also witnessed a genuine, palpable joy. These Hondurans, who by all western standards had little, were happier and more content than any group of people she ever met. They were not obsessed with what they did not have, and instead rejoiced in daily tasks, living connected and in the flow of life. The experience instilled in her a deep desire to both learn more and to find ways to support and partner with these developing communities.
The BIJA story continues with Paul, who, at a very early age developed a desire to travel the world and visit unknown places, to experience the lives of people outside his own culture. During his college years, he discovered the power of documentary photography, particularly as a tool for raising awareness on social issues.
Paul found that his camera served as a passport into other cultures, granting permission to ask questions, to explore the world visually, and to step into the lives of people around the world who were otherwise off limits.
The first project he took on was documenting the lives of Mexican migrant workers in California. The workers made incredible sacrifices, venturing far away from their rural villages in an effort to provide better opportunities for their families. That project introduced Paul to economics in a whole new light – the cost of human labor and the sacrifices people make for our food system.
Paul then visited Guatemala and met indigenous Maya, who worked tirelessly in the highlands, cultivating crops for global food markets. These workers received minimal compensation for often difficult work, supplying coffee and cacao to the world market. Here, in a remote area of Guatemala, Paul discovered cacao for the first time, and the second piece to BIJA's foundation clicked into place.
Much like Ari's experience in Honduras, Paul's time in Guatemala instilled in him a passion to create economic opportunities for communities in developing countries, particularly communities working in commodity crops. Seed planted (yes, BIJA pun intended).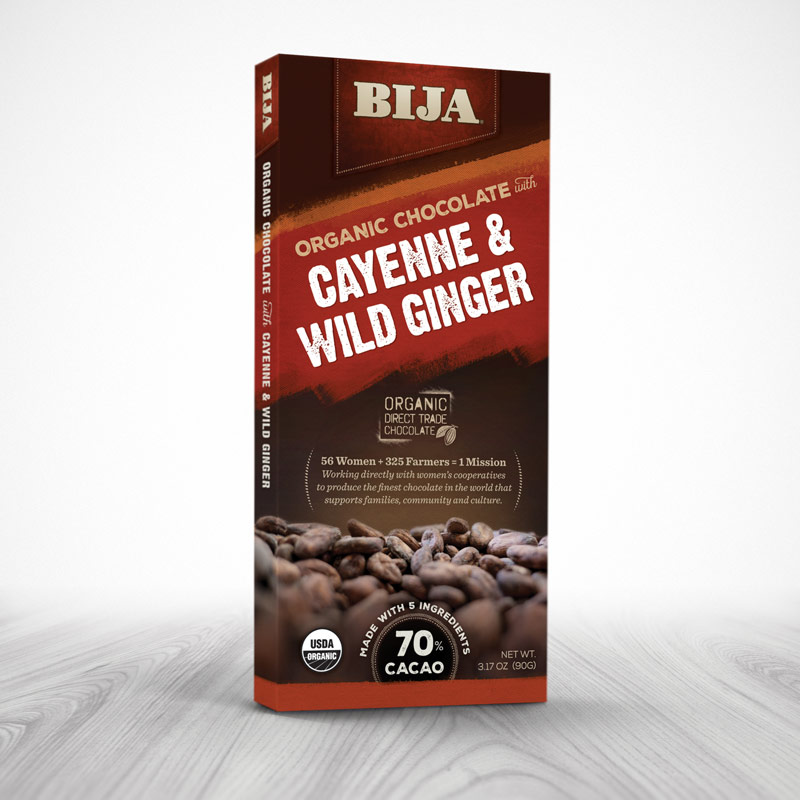 A Socially Conscious Union
Paul's work experience spans 25 years in visual communications. He worked as a creative director for companies ranging from lifestyle and action sports, to natural products and the LOHAS (Lifestyles of Health and Sustainability) market. His documentary photographer adventures now span over 20 years, and he's covered stories from street children of Romania over the course of 15 years, to health care in rural India.
Ari studied Political Science in college, and she planned to go into international relations and human rights upon graduation. A twist of fate, however, took her to Washington, where she instead pursued an MBA (coincidentally, she worked at a chocolate factory right after graduation). Now she feels incredibly fortunate to pursue both her fight for human rights as well as her vision that business should be a true force for good.
The couple first met while working for a natural products company, and it didn't take long to realize they'd found kindred spirits in each other, often discussing how ingredients were sourced and how a brand might serve as a voice for those in need. Once their common travel experiences entered the conversation, we can only imagine how quickly these two knew it was meant to be.
"Together we have collectively explored over 40+ countries around the world. The purpose of our travel was initially to become exposed to unfamiliar traditions and experience other cultures. The outcome was entirely different."
Instead, Paul and Ariana were touched by the countless people who welcomed these two foreign visitors into their lives, and the couple quickly learned an all-important truth – we are all interconnected. That revelation, simple yet profound, fueled the creation of BIJA Chocolates. All the travel, the connecting on a deeper level with different people around the globe, it left a lasting mark –
"We knew that this would forever change our lives on how we conducted ourselves and how we also interacted within our professional lives. These experiences… permanently shaped what we have become and the business we have built. We think more like a social enterprise than a business."
So it's no exaggeration, BIJA Chocolates grew out of a passion for people. Paul and Ari wanted to take their life experiences and create a social enterprise, a company that not only provided incredibly clean, organic products but also used the impact of sourcing ingredients to equalize worker treatment. They also shared the belief that if you invest in women, they will reinvest in their families and communities.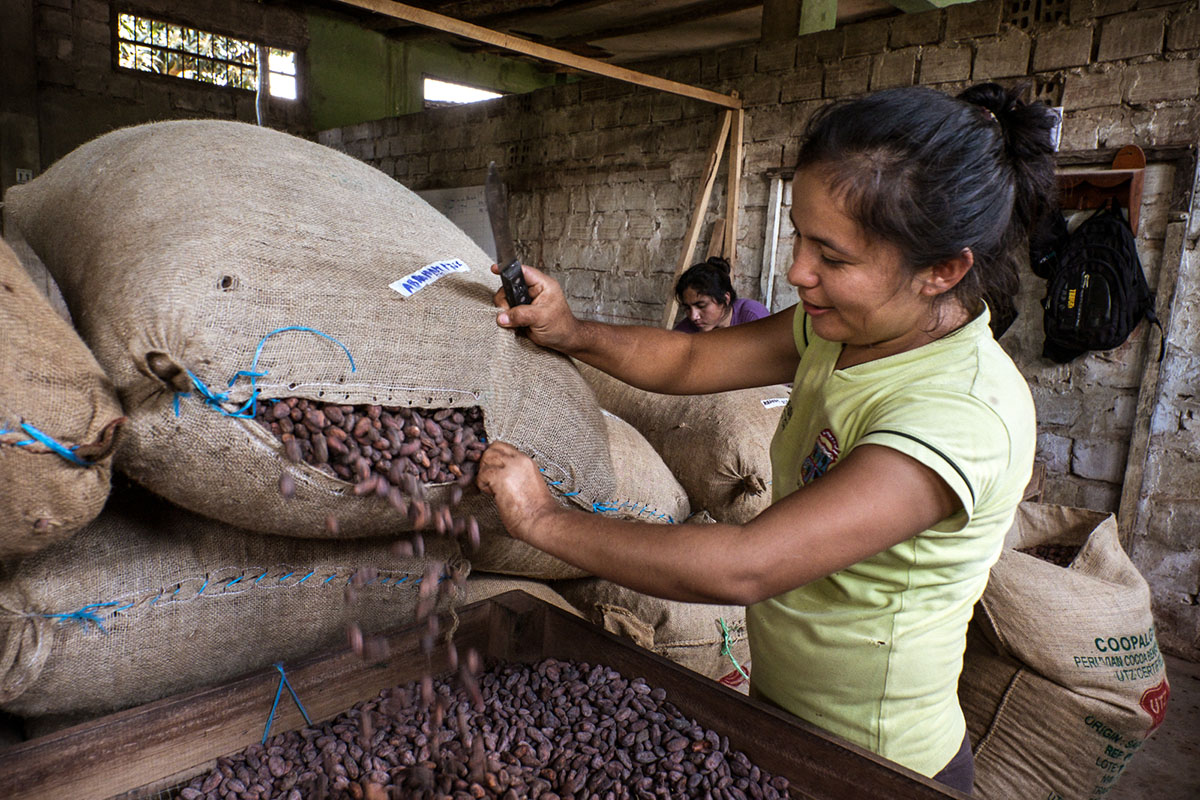 Bija Peruvian Women's Co-op
Investing in women was critical for Paul and Ari, and in many of the countries BIJA works, women are grossly underrepresented. As a result, BIJA's sourcing model and social strategy were developed to carefully select and partner with women's associations, starting in the Dominican Republic and Peru.
"There is tremendous power in understanding the human side of the supply chain since human rights violations like slave labor are commonplace in many countries."
BIJA's program works towards helping women's cooperatives receive organic certification, providing an economic opportunity that potentially doubles their income. BIJA funds the organic certification coordination and inspection, then pays for both the certification and the annual renewal. Then, if desired, the cooperatives can easily increase profitability by selling beans on the global market.
The hard truth is that how we cultivate our food greatly impacts the supply chain – specifically the human aspect of the supply chain. There is always a human cost to food, and at BIJA you'll never find that cost to be an afterthought.
Introducing…
Chocolate Connoisseur Premier
Welcome to our most exclusive, rewarding chocolate experience yet:
Chocolate Connoisseur Premier
Ten different chocolate offers (a $400 value) shipped to you throughout the year, plus a free Annual Subscription to Chocolate Connoisseur.