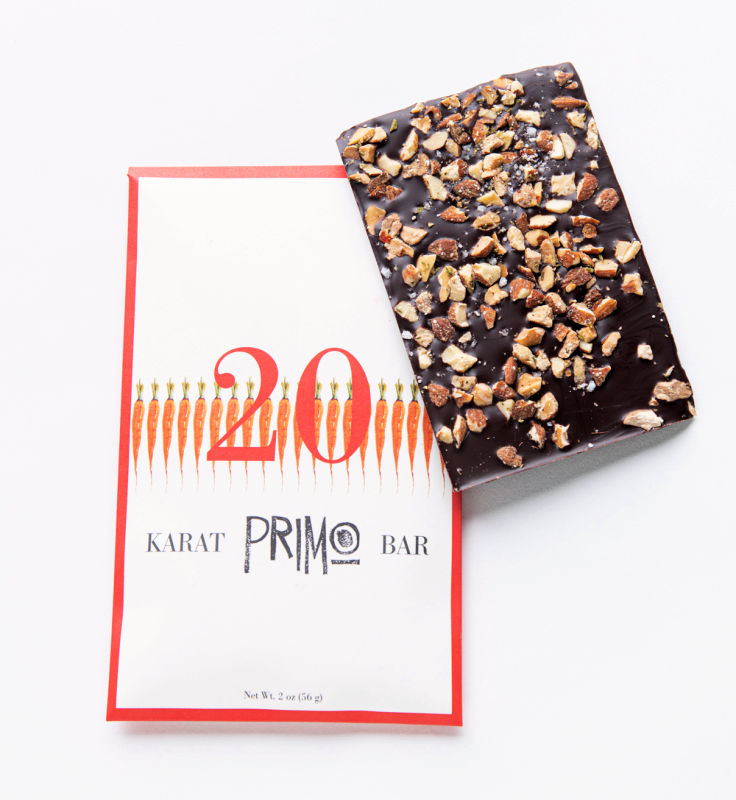 Then there's Primo, which Kate reminisces upon fondly…
"As a young girl, when we would come to Maine my parents would take me as a special treat to Primo, which is one of the top farm-to-table restaurants in New England. This past year we had the amazing privilege to work with Melissa Kelly, owner of Primo, to bring to life the "Primo 20 Karat Bar" in honor of her restaurant's 20th season.

The bar is made with our single origin Dominican Republic chocolate and then sprinkled with Primo almonds (roasted in olive oil and rosemary with chili peppers)."
Another Maine connected treat is Bixby's peanut butter ganache-filled chocolate Lobster Claws. This signature piece comes in a mini wooden "lobster" crate, and no lobsters are harmed in the creation of this chocolate!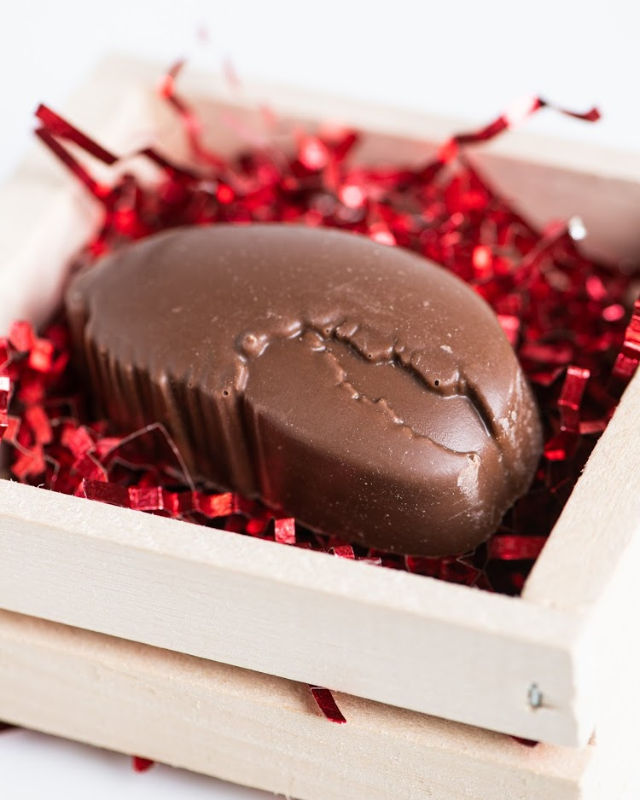 Bixby & Co.'s best seller is their Belize single origin 70% chocolate bar. Belize sits near and dear to my own heart, as it's my favorite origin of all time to date. Kate holds it in high praise as well –
"I think Belize is an incredibly hot bean origin right now. Maya Mountain produces the Belize we source, and I believe the flavor is just amazing."
Bixby & Co. offer several other bean-to-bar chocolate options, including their Rock City Guatemala Coffee Bar, which features both Guatemalan cacao and Guatemalan coffee.
The most unique aspect to Bixby, however, may serve as a holy grail to some – organic chocolate candy bars. Affectionately called "Bixby Bars", these 1.5-ounce candy creations fill the giant gap between quality chocolate (typically reserved for straight chocolate bars), and quality candy bars.
They offer several unique combinations, including two all organic varieties: Peanut Butter and Maine Sea Salt and Hazelnut and Raisin with Maine Sea Salt. They also offer several different fruit and nut bar combos as well, including a Limited Edition Cranberry, Pecan, Pistachio bar.
In addition, Bixby & Co. sells a very unique coconut milk-based Smoothie Bar line, featuring fruit flavors (including the Dragon Fruit bar pictured earlier), a Coconut Nib Swirl bar that looks incredible, and a Match bar too.
One final, important product Bixby & Co. put together – Donna partnered with the Audubon Society's Project Puffin to develop three Puffin chocolate confections. Bixby & Co. donates five percent of Puffin chocolate sales to Project Puffin, which is restoring and protecting the iconic Puffin in the State of Maine.
"As a proud sponsor of Project Puffin, we help support the vital conservation work of the National Audubon Society to protect birds and the environments we all share."
The Puffin Chocolates are gluten-free, non-GMO, and the Dark Chocolate Puffin is also vegan.
Getting Out and Moving Forward
If you'd like to catch Bixby & Co. at an event, they usually attend the Fancy Food Show, Sweets & Snacks, and the New England Chocolate Festival as well.
As for the future, Kate and Donna are opening a new shop in Waterville, with Colby College –
"This will be our second retail location and we are so excited to bring to life a farthing of our chocolate vision to a new part of the State."
We wish Kate and Donna all the best and look forward to what lies ahead at Bixby & Co..
 Click here to visit the Bixby & Co. website.
Then click the links below to connect with them on social media.
+ PHOTOS BY BIXBY & CO. (unless otherwise noted)