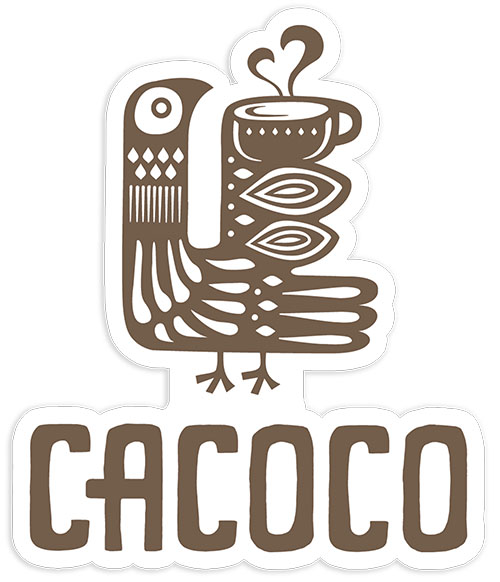 You can also click here to view our in-depth coverage of FINE & RAW…
If you have yet to read our free In Focus article on CACOCO in the February 2018 issue,
click here
to read it now for much more on Liam, Tony, and why "reviving the molten elixir" will change the way you think about chocolate!
CACOCO's ethically sourced, heirloom cacao is harvested from Ecuadorian farms applying ecological and regenerative practices. For details on each blend, see the collection below.
The CACOCO Collection – $40

The CACOCO Collection features one (1) each of these three drinking chocolates:
80% Extra Dark Chocolate Blend
A euphoric dark chocolate blend highlighting the superfood benefits of unroasted cacao and whole vanilla bean. 
Ingredients: Cacao*, Coconut Sugar*, Cacao Butter*, Vanilla Bean*, Himalayan Salt (*Notes Organic)
Cacao: Food of the Gods

Vanilla: Soothing Jungle Orchid
55% Rich Dark Chocolate Blend
A traditionally inspired, uplifting spiced chocolate blend that supports a wholesome lifestyle.   
Ingredients: Cacao, Cacao Butter*, Coconut Sugar*, Carob*, Lucuma*, Vanilla Bean*, Himalayan Salt, Cinnamon*, Nutmeg*, Cayenne* (*Notes Organic)
Carob: Saint John's Wilderness Bread

Lucuma:  Gold of the Incas

Ceylon Cinnamon: ancient Silk Road aphrodisiac
"I've been enjoying Cacoco's Essential Midnight for a couple of weeks now, and it's so good!
Perfect chocolatey flavor, texture and mouthfeel. And I'm totally looking forward to trying all of Cacoco's drinking chocolate blends…
[Not] the cheapest hot chocolate beverage on the block, but it sure is one of the best with a good dose of healthy, and it's worth every penny!" — Janice F.
Though a slightly pricey indulgence, this gift-worthy chocolate is meant to be savored. More accurately described as a "sipping" chocolate, this is a rich, decadent, low sugar product that comes alive with a simple dousing of hot water.
The spice of the Original combined with the raw cacao is alluring and complex, the Midnight is a grown-up semi-sweet delight, and the Global Warrior somehow bridges delicious and medicinal. — GoDairyFree.org
"You end up with an espresso sized beverage that's quite divine. It's got that rich cacao flavor with just the right reserve of sweet and a tad salty. Yum!"
— Barbara S.
65% Herbal Dark Chocolate Blend
Gather your strength with Global Warrior: an energizing chocolate blend of superfood herbs and spices, with notes of turkish coffee & masala chai.
Ingredients: Cacao*, Cacao Butter*, Coconut Sugar*, Carob*, Maca*, Mesquite*, Himalayan Salt, Turmeric*, Cardamom*, Orange Peel*, Whole Leaf Stevia*, Black Pepper* (*Notes Organic)
Turmeric: The Golden Goddess

Mesquite: The Desert Dweller

Maca: Incan Warrior Root
The CACOCO Collection – $40
Join Chocolate Connoisseur Premier and Save 30% on The CACOCO Collection!
Welcome to our most exclusive, rewarding chocolate experience yet:
Chocolate Connoisseur Premier
Ten different chocolate offers at 30% OFF, shipped to you throughout the year, plus a free Annual Subscription to Chocolate Connoisseur…