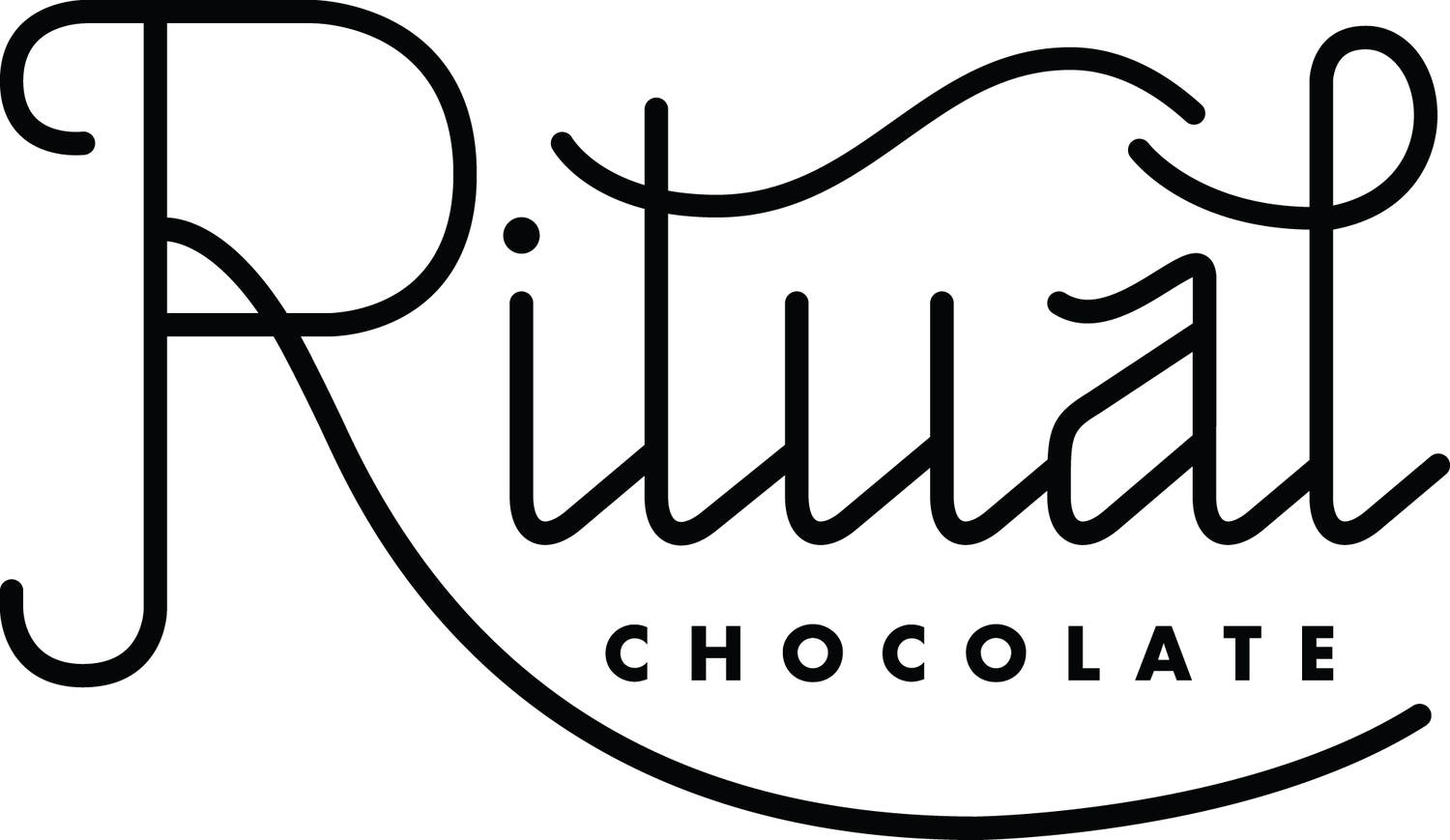 RITUAL CHOCOLATE GIFT SET
*FINAL DAY*
Use code MOUNTAIN25 to save 25%!
This offer is not eligible for international shipping.
Indulge in Ritual Chocolate, crafted in the majestic mountains of Park City…
"Fellow chocolate lovers, welcome to Ritual Chocolate, where the spectacular scenery only enhances the outstanding bean-to-bar chocolate crafted by husband and wife duo Robbie Stout and Anna Davies for your tasting pleasure."
That quote pops straight out of our October '19 In Focus feature article on Anna and Robbie, which you can read right here (or, if you're a subscriber and own the October '19 issue, click here for the ad-free version instead).
Scroll below for a closer look at the four amazing bars inside the Ritual Chocolate offer, only available until late November, so don't wait too long to place your orders! Enjoy!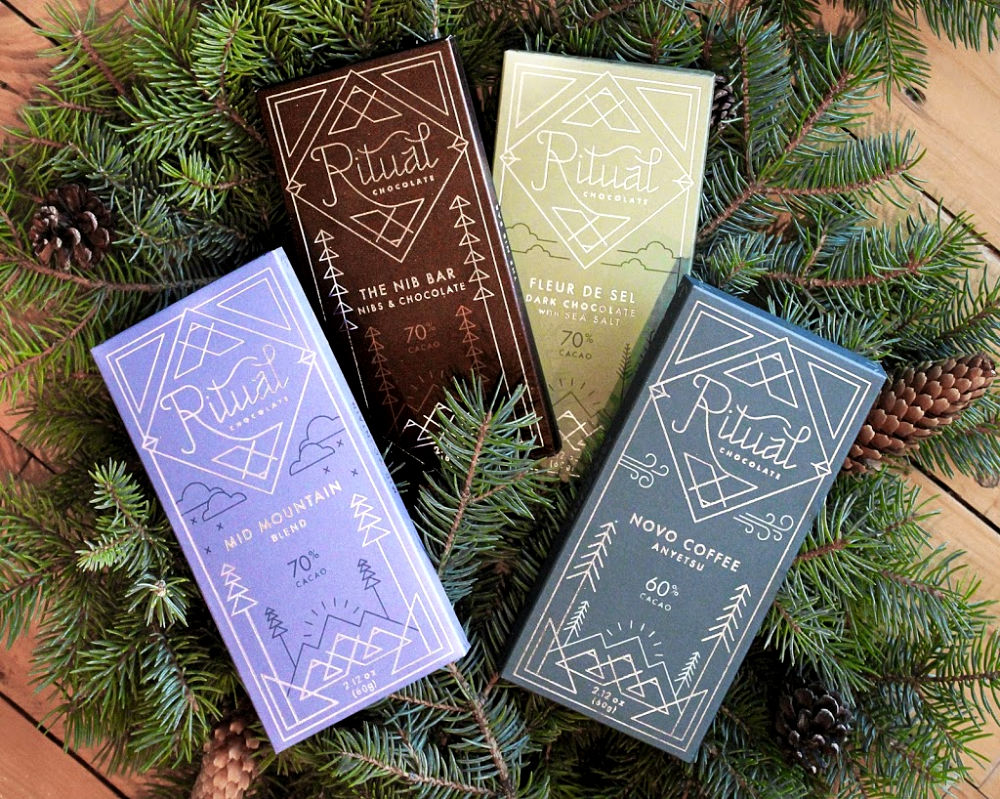 Ritual Chocolate Gift Set – $40

Ritual Chocolate Gift Set features the following four bars:
Mid Mountain Blend 70% Dark
Novo Coffee 60% Dark
The Nib Bar 70% Dark
Fleur de Sel 70% Dark
RITUAL CHOCOLATE GIFT SET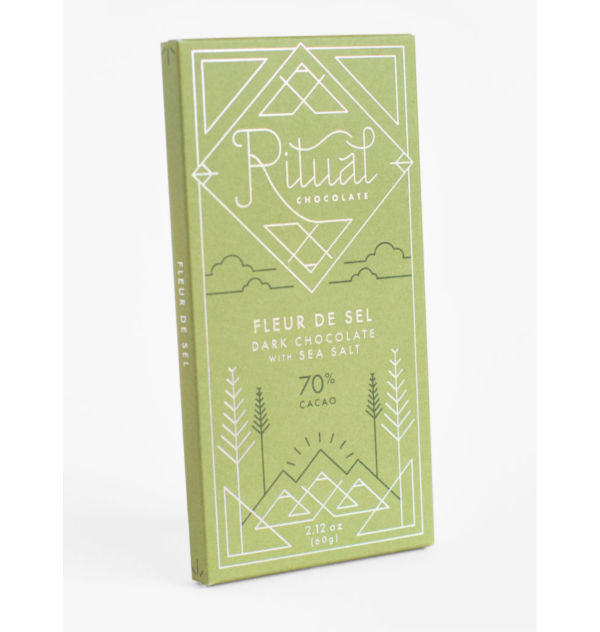 Fleur de Sel 70% Dark Chocolate
"Fine French salt and craft chocolate were made to be together. This classic combination satisfies your sweet and savory craving simultaneously and stupendously."
Origin: Multi-origin Mid Mountain Blend
Tasting Notes: Strawberry, Fudge & Sea Salt
Ingredients: Cacao, Organic Cane Sugar, Organic Cocoa Butter, Fleur de Sel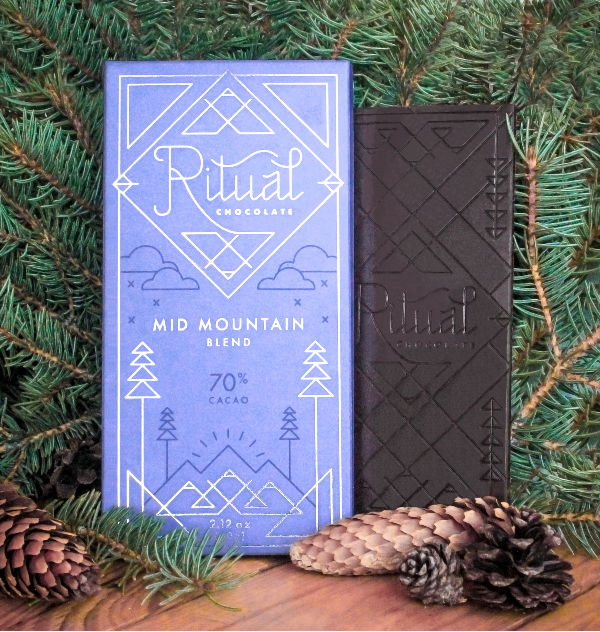 Mid Mountain 70% Dark Chocolate
"A balanced blend of all the Ritual origins… to highlight subtle tasting notes from each bean. Fruity, nutty, earthy, chocolatey, floral — it's all here."
Origin: Multi-origin Mid Mountain Blend (of course)
Tasting Notes: Strawberry, Fudge & Graham Cracker
Ingredients: Cacao, Organic Cane Sugar, Organic Cocoa Butter

Novo Coffee 60% Dark Chocolate
"A balanced, smooth coffee-infused chocolate bar that coffee lovers will love."
Origin: Multi-origin Mid Mountain Blend
Tasting Notes: Blueberry, Honeycomb, Coffee
Ingredients: Cacao, Organic Cane Sugar, Coffee, Organic Cocoa Butter
Chocolate Connoisseur Premier
Save 25% on Ritual Chocolate
Welcome to our most exclusive, rewarding chocolate experience yet:
Ten different chocolate offers
25% discount
Automatically shipped to you throughout the year
FREE Chocolate Connoisseur Ultimate Subscription (a $21.97 value)