In Focus: Tiny House Chocolate
The couple also strongly believes that the narrative they tell as a brand plays a big part in their company's uniqueness. Especially since, when they're telling that narrative, they look to involve their customers and community in every way possible.
They also feel it's important to ensure everyone learns about the Tiny House Chocolate process, but, even more importantly, learns where their chocolate originates.
Sarsaparilla and Yerba Mate
All the preparation, all the "do-goodery" in the world, none of it matters in the chocolate landscape if you don't create an excellent end product that consumers crave. For Tiny House, crafting those cravings starts with a little creativity, and with pushing boundaries. Don't expect to find the same ole, same ole when you dive into the Tiny House Chocolate lineup, and perhaps no other bar in their lineup exemplifies that more than the 68% Sarsaparilla Dark Chocolate.
If you're wondering what inspired such a novel chocolate combination, we can actually thank Maiana for drinking a cup of tea – a tea called Root 66 to be exact, from a local tea maker in Santa Cruz called Flower Power Teas.
"Gustavo was so obsessed with the smell of the tea, that he decided to buy all the ingredients (there are over seven different ingredients) to discover which one created the wonderful woody smell he was crazy about.

After buying and trying all of them, he discovered that Sarsaparilla Root owned up to the aroma.

He was determined to make a chocolate inclusion with the root and he did. Now it's one of the most interesting flavors we have, people call it "The Root Beer Chocolate" (Sarsaparilla used to be the main ingredient of the beverage).

Not just because of the surprising flavor it has, but sarsaparilla conquered us for its healing properties. It is commonly used to treat Psoriasis, Digestive problems, Rheumatoid arthritis, Joint pain, Kidney problems and Fluid retention, among other conditions."
Yearning for a touch of South America, the couple also sought to bring a different flavor to life within Tiny House Chocolate – Yerba Mate. Maiana ventures a guess that yerba mate must indeed be the most popular tea in Brazil, if her lifelong love of the beverage serves as any indication.
She grew up drinking it, and laughs as she remembers multiple times in high school when she pretended to be sick, simply so she could go drink yerba mate tea in the school nurse's office!
"We reinvented the sweet, nostalgic feeling of our childhood with our roasted yerba mate chocolate, available in both dark and white chocolate versions.

Although we decided to experiment using Yerba Mate because of both the flavor and the health benefits, we're definitely flavor driven first here.

It was Gustavo's idea. He's very experimental in the kitchen, even when making smoothies, he always includes the most unusual ingredients.

Besides that, Yerba Mate is also his favorite tea of all time. He's even very fond of the cold Yerba Mate with lime, frequently sold at the most beautiful Rio de Janeiro beaches."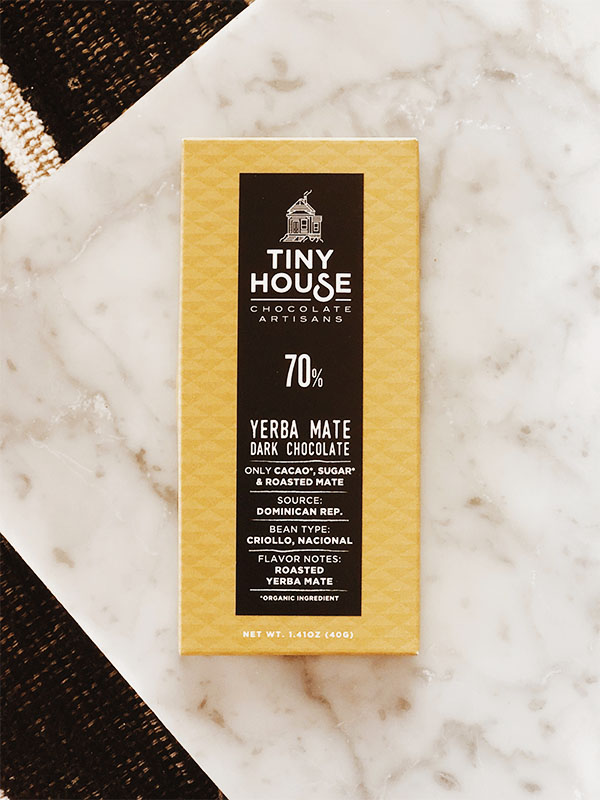 Short on Ingredients, Tall on Flavor
All Tiny House chocolate bars are vegan, gluten-free, and soy-free. They use only two or three ingredients in their dark chocolate line, with two ingredients simply cocoa beans and organic sugar, then the optional third ingredient specifically in their "flavored line", featuring bars like the aforementioned sarsaparilla and roasted Yerba Mate, plus Earl Grey Tea and so on…
Gustavo and Maiana always try to craft the purest chocolate possible, which means as few ingredients as necessary, "organic, non-GMO, with no soy lecithin emulsifiers," which they think actually affects the final taste and texture.
Maiana adds –
"In our flavored line, we enjoy using ingredients that add balanced flavor to our chocolate, while also boosting health benefits, since we know the demand for superfoods continues to grow rapidly. It's also part of our own beliefs and personal consumption habits as well."
Tiny House features a Vegan White Chocolate collection as well, and for those they use three base ingredients: fresh cocoa butter pressed in-house, organic sugar, and coconut milk. They then add a fourth ingredient for the flavored line, such as Amazon Chai and Roasted Yerba Mate.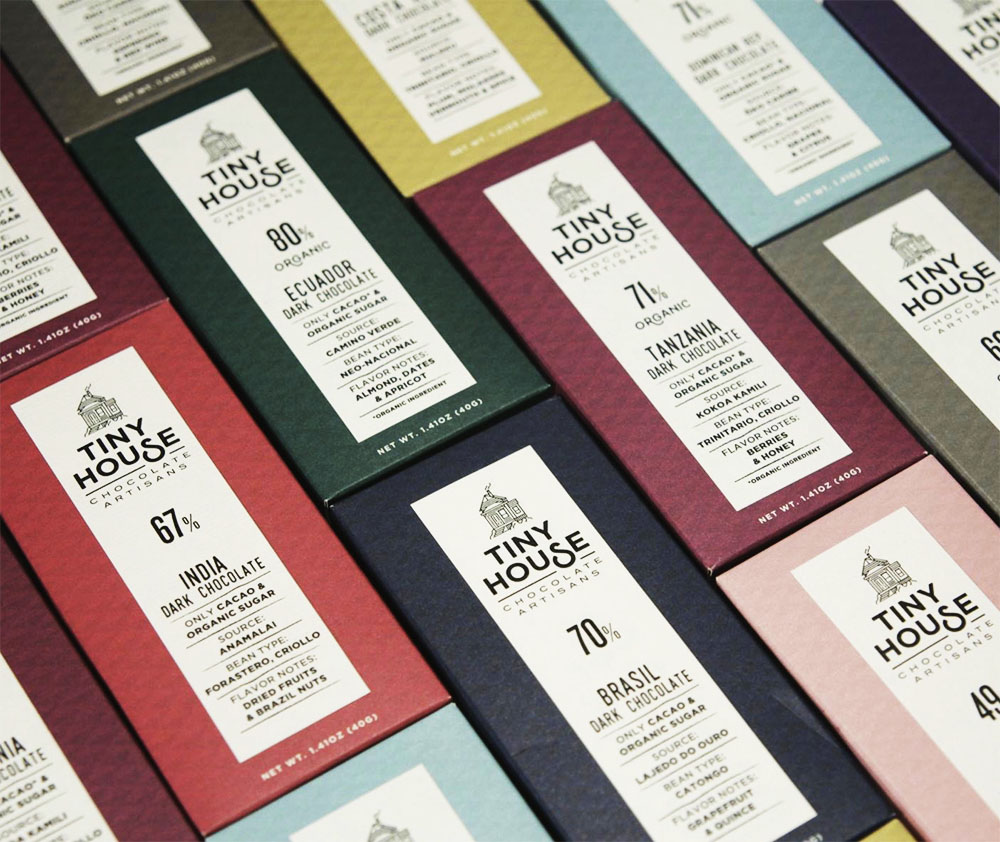 Tiny House Best Sellers
When I ask Maiana which bars typically sell best, she offers a unique answer –
"That's a hard question! We understand that the palate of each human being is very unique, and we notice that in each event we participate, each retail we sell our chocolates, there's a different best seller. And that's wonderful! We don't want to have just one good flavor, right?!

Then there's also the Law of attraction – usually we sell more of the one we 're enjoying at the moment. Even our retailers usually sell more of the ones they enjoy most, which varies quite a bit."
She does cave a bit, however, admitting that, if they needed to choose one flavor as king, the Tanzania 71% Dark Chocolate Bar would win out as the favorite. She describes it as "dark chocolate, with almost no bitterness… a balanced sweet taste with red fruit/berry notes, and a delicate honey/floral finish." I'll offer my take on this bar below in a moment.
Maiana also notes that almost everyone feels the Tanzania bar tastes sweeter than their Amazon 71% bar, despite the same proportion of organic cocoa beans and sugar in each. "I think that is something that attracts the American taste, she says, "and the flavored chocolates, Sarsaparilla Root 68% and Earl Grey 70%, are both very popular."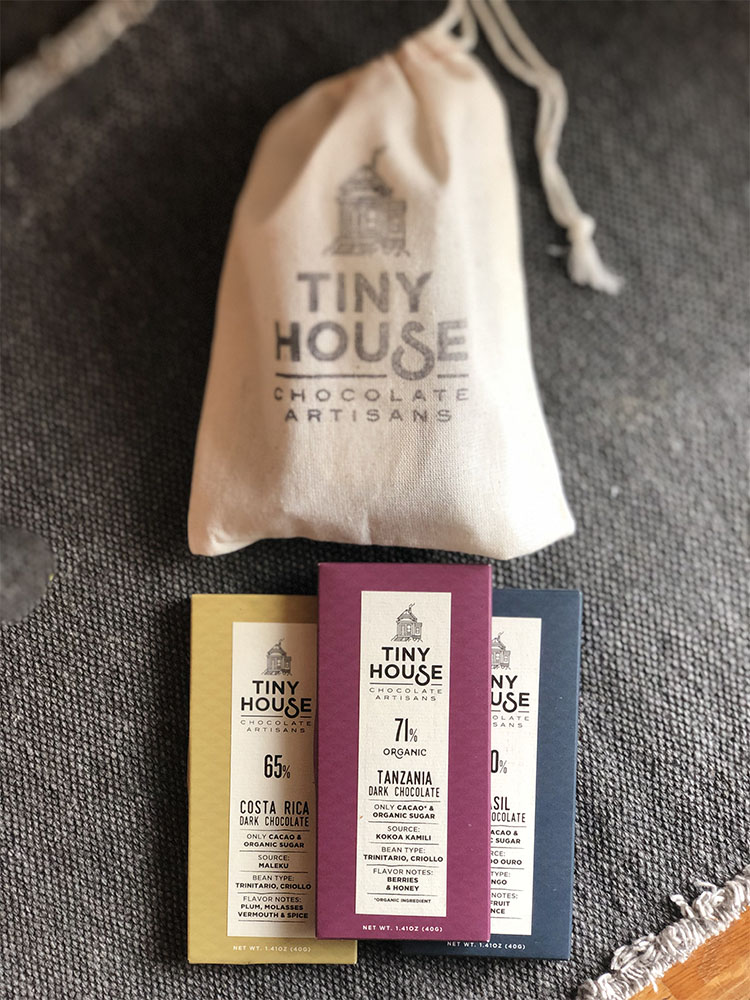 Tasting the Bars
Maiana and Gustavo sent me four different bars, plus a few sample squares of 70% Brasil and 71% Amazon.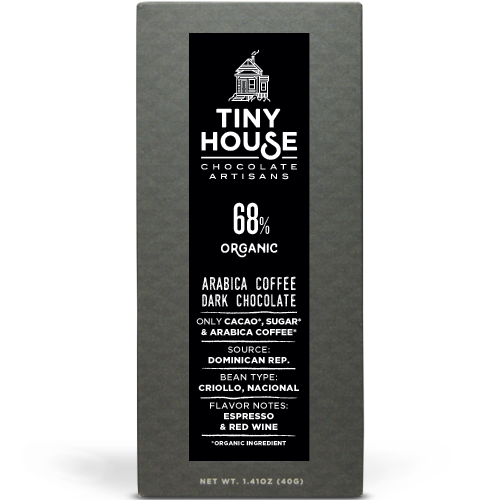 71% Tanzania Dark Chocolate
Next up, the 71% Tanzania Dark Chocolate Bar, with organic cacao sourced from the wonderful Kokoa Kamili co-op in, of course, Tanzania. For more on Kokoa Kamili and the positive impact they're making in Africa, and in the fight for gender equality within the cacao industry, click here for our coverage back in the July '17 issue.
This bar, with only the organic cacao and organic sugar, mentions tasting notes of berry and honey. For me, however, this bar left two unique impressions. First, so smooth, so positively delicious, I absolutely adored the 71% Tanzania Bar.
Next, although I definitely enjoyed the honey notes, I completely failed to discern other notes in the bar. I nearly ate the entire bar over the course of a day before simply giving up, surrendering… Tiny House's 71% Tanzania Bar will go down as the one bar I've eaten to date for which I simply can't decode any notes of what I'm tasting… and yet I love it!
 68% Arabica Coffee Dark Chocolate
While still enjoying my morning coffee, I decided to start with the 68% Arabica Coffee Dark Chocolate Bar, featuring organic cacao sourced from the Dominican Republic.
A very, very smooth bar with the label suggesting flavor notes of espresso and red wine, I thoroughly enjoyed my tasting.
In addition to the dominant espresso flavor (and the much more subtle red wine), the bar also offered a distinct note of honey, in a very good way I might add.
Tiny House's Arabica Coffee Bar is relatively sweet, however, so that's not a huge surprise.
I loved this bar, just be prepared for a smooth and definitely sweet experience.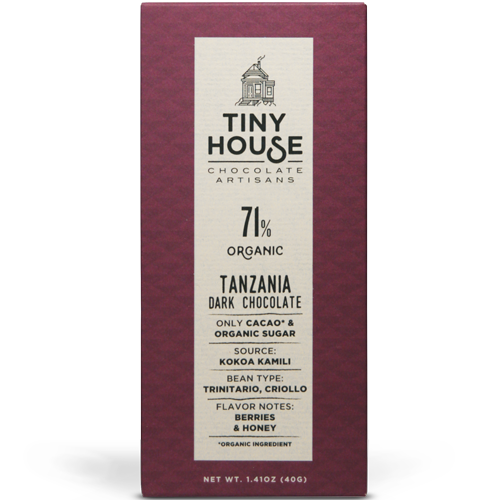 Honey, berry, whatever it may be, I expect you'll also enjoy every single morsel of this bar.
70% Earl Grey Dark Chocolate
I then moved on to the 70% Earl Grey Dark Chocolate, with organic Dominican Republic-sourced cacao, organic sugar, and Earl Grey Tea. Although I've never particularly enjoyed Earl Grey tea, or bars, Tiny House's version positively shines. Wonderful!
The tasting notes of bergamot and Earl Grey tea were, unsurprisingly, spot on, and the bar created a smooth, rich, and luscious experience to say the least. Here we are at the end of July, and at this juncture, Tiny House's 70% Earl Grey Dark Chocolate bar sits atop my list of favorite bars for 2019! I did not see that coming!
68% Sarsaparilla Dark Chocolate
Finally, thinking I would save the best for last, I tasted the 68% Sarsaparilla Dark Chocolate (I'm a sucker for a good sarsaparilla). Also with organic Dominican Republic-sourced cacao and organic sugar, but then infused with sarsaparilla, this bar certainly lives up to its name. The flavor notes of "root beer and sarsaparilla" (of course) dominate the bar, definitely shading more to the true flavor of sarsaparilla versus what we know as root beer.
It's a strong bar, and if you love sarsaparilla, but with much less sweetness than you may be used to if you ever drink it, you'll likely adore this bar. If not, the strength of the sarsaparilla content may turn you off, so just expect a "strongly flavored" chocolate bar.
The Road Ahead…
As Tiny House Chocolate looks forward, a bright future sits ahead. They recently won the Academy of Chocolate 2019 Bronze Award for their Arabica Coffee 68% Dark Chocolate Bar, and were commended for the Sarsaparilla Root 68% Dark Bar as well – both inclusions made with Dominican Republic cocoa beans as we noted above. A great sign, especially considering those were their first ever entries in any chocolate competitions.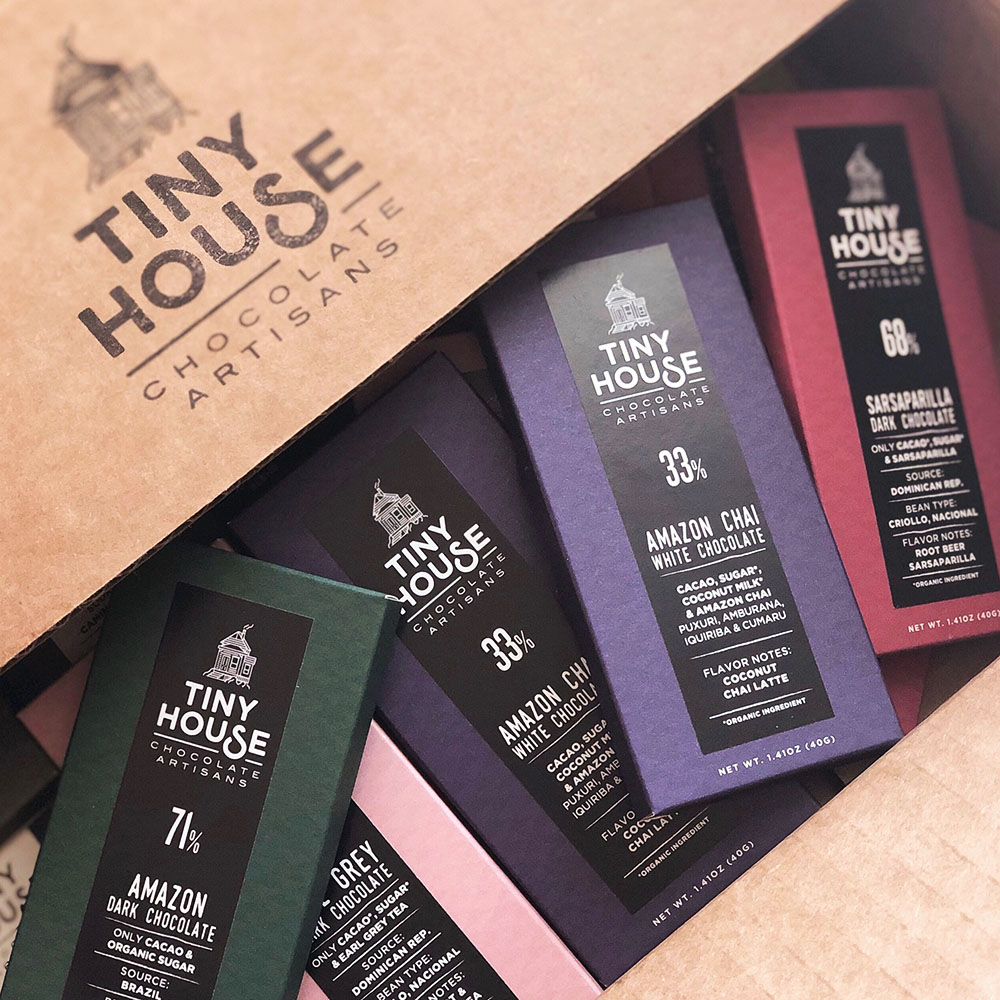 Maiana also mentioned that she and Gustavo are working on a sugar-free line of chocolate, designed for people with diabetes, focusing on a keto diet., etc. They're nearly finished with the final tests and hope to launch the new line soon. As a perfect fit for our July '19 issue, they'll be sweetening this new line of chocolate with monk fruit sweetener (and erythritol).
That likely means they'll be using Lakanto Monkfruit Sweetener, although we've yet to confirm as such. Click here to read all about monk fruit, as well as other alternatives to sugar in chocolate, in this issue's Healthy Bean column.
If you'd like to connect with Gustavo and Maiana in person, they participate in several Santa Cruz local events and pop ups each and every month, so just reach out on social media if you live in the area or plan to visit.
Tiny House expects to participate in bigger events in the Bay Area soon as well, so connecting will only get easier.
Finally, Maiana notes –
"We have a lot in development right now. We're currently revamping our brand and soon we'll launch our e-commerce and a new website.

In the meantime, we're also working on a project that we have inside Tiny House, to explore our resources like cocoa husks and make new products, with a zero waste mindset.

We are also planning to travel more to the sources in the near future, and to find more beans aligned to our values, like biodynamic farms, etc."
Whatever lies ahead for Tiny House, one thing most certainly holds true – we can't wait to taste whatever they come up with next, and once you try a bar for yourself, we're certain you'll feel the same.
For more on Tiny House Chocolate, CLICK HERE to visit the Tiny House Chocolate website.
Then click the links below to reach out to Maiana and Gustavo on social media as well.
+ PHOTOS BY TINY HOUSE CHOCOLATE