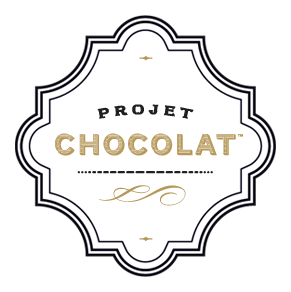 THE PROJET CHOCOLAT COLLECTION
THIS OFFER HAS EXPIRED.
Please click here to return to the chocolate shop for an active offer, or scroll below to learn more about Projet Chocolat.
You can also click here to read our In Focus feature article on Projet Chocolat, and click here to order Projet Chocolat directly on their own website.
Projet Chocolat delivers chocolate elegance…
Back in early Fall 2017, we had the pleasure of interviewing the wonderful, positive force for chocolate good that is Sophia Rea, founder of the illustrious Projet Chocolat in Nashville, TN. If you're not familiar with Sophia and Projet Chocolat, click here to read that full In Focus feature from your September 2017 issue (if you're a subscriber and own the September '17 issue, click here for the ad-free version).
For more on the Projet Chocolat Collection, scroll below for all the details. Also, BIG THANKS to Sophia for being so generous to all our Chocolate Connoisseur readers! She's put together a phenomenal deal for you, with a significant savings even if you aren't a subscriber (20% off) or Premier member (25% off), so make sure you take advantage of it before this offer ends in late September!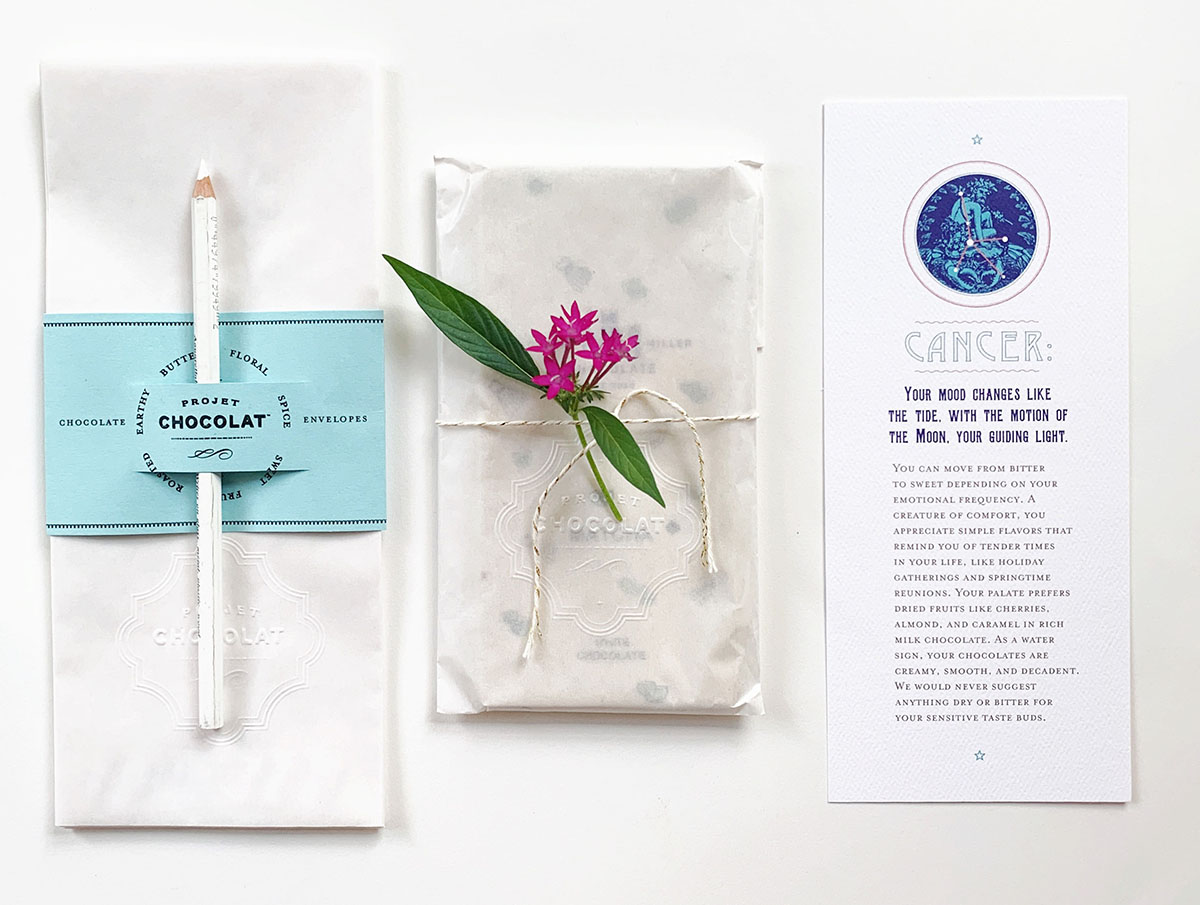 The Projet Chocolat Collection – $40

The Projet Chocolat Collection features the following:
12 Chocolate Zodiac Cards
6 Chocolate Envelopes
Chocolate Zodiac Cards (12)
Get to know your chocolate preferences according to your astrology sign
Share with friends and family to kickstart your chocolate conversation
In collaboration with Rachel Lang Astrology, all 12 astrological signs are represented
"We like to tuck one in our Chocolate Envelopes with our favorite bean-to-bar chocolate as a birthday present for friends and family."
Each pack includes all 12 astrological signs
Chocolate Envelopes (6)
The perfect option to preserve and store your opened bars of chocolate

Enhance your chocolate tasting experiences with your own notes written on each envelope (great for tasting notes, etc.), which you can then later add to your chocolate journal
"We at Projet Chocolat like using them to gift wrap our favorite bars."
Each package includes six embossed glassine envelopes with adhesive labels and a white pencil from the General Pencil Company.
The Projet Chocolat Collection – $40

Chocolate Connoisseur Premier
Save 25% on Projet Chocolat
Welcome to our most exclusive, rewarding chocolate experience yet:
Ten different chocolate offers
25% discount
Automatically shipped to you throughout the year
FREE Chocolate Connoisseur Ultimate Subscription included (a $21.97 value)