In Focus: Conexión Chocolate
Conexión… a Spanish word that sounds quite similar to its English version…
It's also the name a young Ecuadorian crafter chose for her small batch, bean-to-bar chocolate company, after learning at a young age that enjoying a piece of chocolate sits among the very best experiences in life.
Meet Jenny Samaniego, owner of Conexion Chocolate, who felt her very first connection to cacao as only a small child –
"I grew up in the city of Quito, Ecuador, in a neighborhood called Eloy Alfaro de Puengasí, along with my sister and my parents. When my sister and I were little girls, we would usually go visit our grandparents, who lived on the coast.

Our favorite place was La Maná Province, because of its beauty and the hot weather. The contact with nature… the rivers… the harvest of fresh fruits… they were all fascinating."
There, between cocoa plantations and the sea, Jenny found joy playing and dancing with her cousins for hours on end. She happily remembers how they picked oranges, mandarins, cocoa, "cut-cane-sugar" and then sat on the edge of the river, enjoying their well-earned feast.
Jenny`s parents were born in two agricultural provinces of the country: Riobamba and La Maná – Cotopaxi, natives to these beautiful, rural places. As Jenny notes –
"I felt a connection with Nature… there was a link that always felt so natural to me, to be between those sites."
Just like any growing child, Jenny enjoyed her chocolate – as a bar, in ice cream, as any sweet treat. Despite the everlasting impact those days landed on her life moving forward, and despite her early love for cocoa, Jenny still never dreamt she'd ever be involved in the world of chocolate directly.
Little did she know…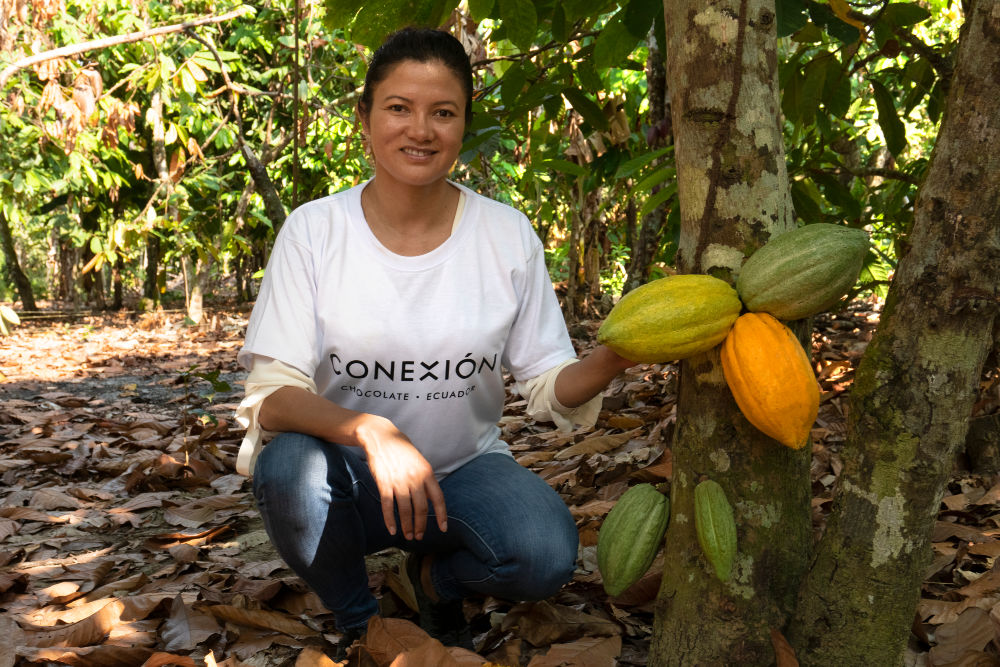 Business First
Reminiscent of Natalia Satto at Wabi Chocolate, Jenny's family raised her in the ways of the entrepreneur. Her parents schooled her in the art of trade from the beginning, as she helped with the family's shoe business they owned in Quito's Mercado Ipiales.
Always fierce and eager to learn, she intently remembers those early days, when even at such a young age she wouldn't throw in the towel, even when things grew difficult –
"I basically helped whenever I could… after school, holidays, weekends. It was a simple job, in the main streets of the historic center of the city of Quito.

At one point my mother got very sick, and the local government decided to move these businesses to another place. We couldn't leave because of my mother's illness, so we had to find another source of income.

We started making and selling chifles (fried green banana) as small snacks."
Jenny remembers, with satisfaction, how they packed the chifles and then hit the streets to sell them. Clearly, those early experiences deeply impacted her life.
"These events forged my character. They helped me build that passion about selling and gradually formed entrepreneurial habits within me as well.

Growing up, little by little I developed my vision… to create my own business: a company and a brand that came from me. The passion and expertise towards chocolate arrived at a point in my life where I least expected it, however."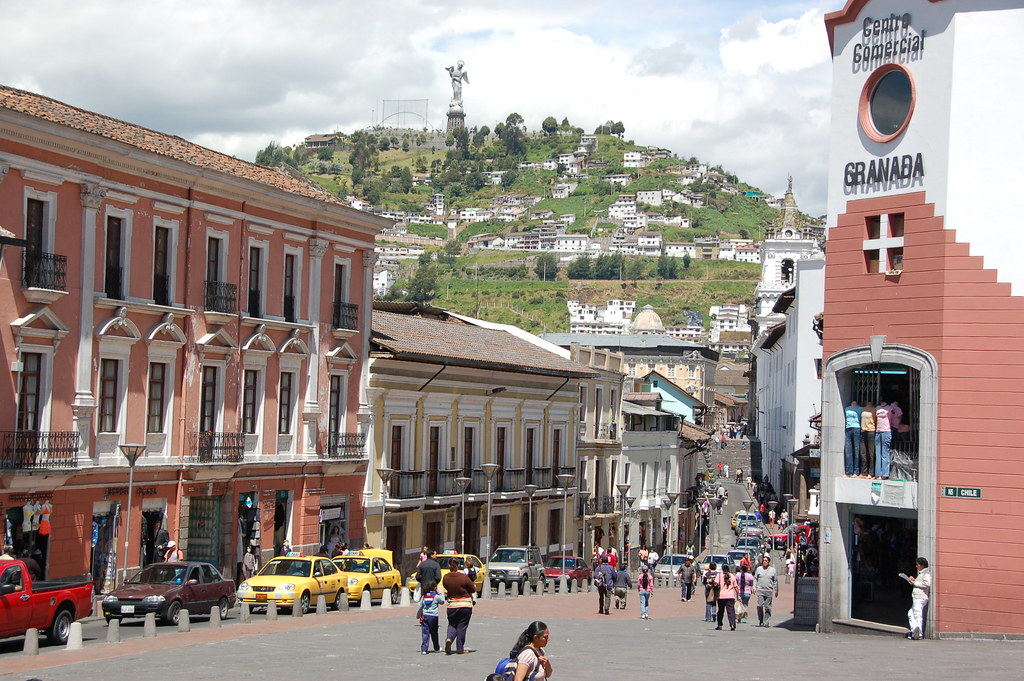 The historic center of Quito (photo by bob, click here to view original on Flickr)
From Hotels to Chocolate… From West Palm Beach to NYC
Jenny started down her professional path in the hospitality field (she holds a degree in Hospitality Management), working for international hotel chains in Quito, including JW Marriot, Swisshotel, and Alameda Mercure, among others.
"I became professionally familiar with chocolate in my earlier career. We received bakery, pastry, and chocolate lessons. I discovered the worlds of wines, cheeses and oils, all industries related to chocolate and the slow food movement."
In the hospitality industry, quality is always of the utmost importance, and this demand helped further shape her own standards.
In 2008, she had the opportunity to participate in a cultural exchange program as an au pair, leaving her home country of Ecuador for West Palm Beach, Florida in the United States.
After that stint ended, she stayed in the USA, moving to New York City to work at Don Geovanny, a company that distributes specialty food and products to restaurants.
One of the clients she had at Don Geovanny was the restaurant Les Halles, at the time home to two chefs you may have heard of – the legendary Anthony Bourdain and Carlos Llaguno, two cooking greats who tragically died much too young.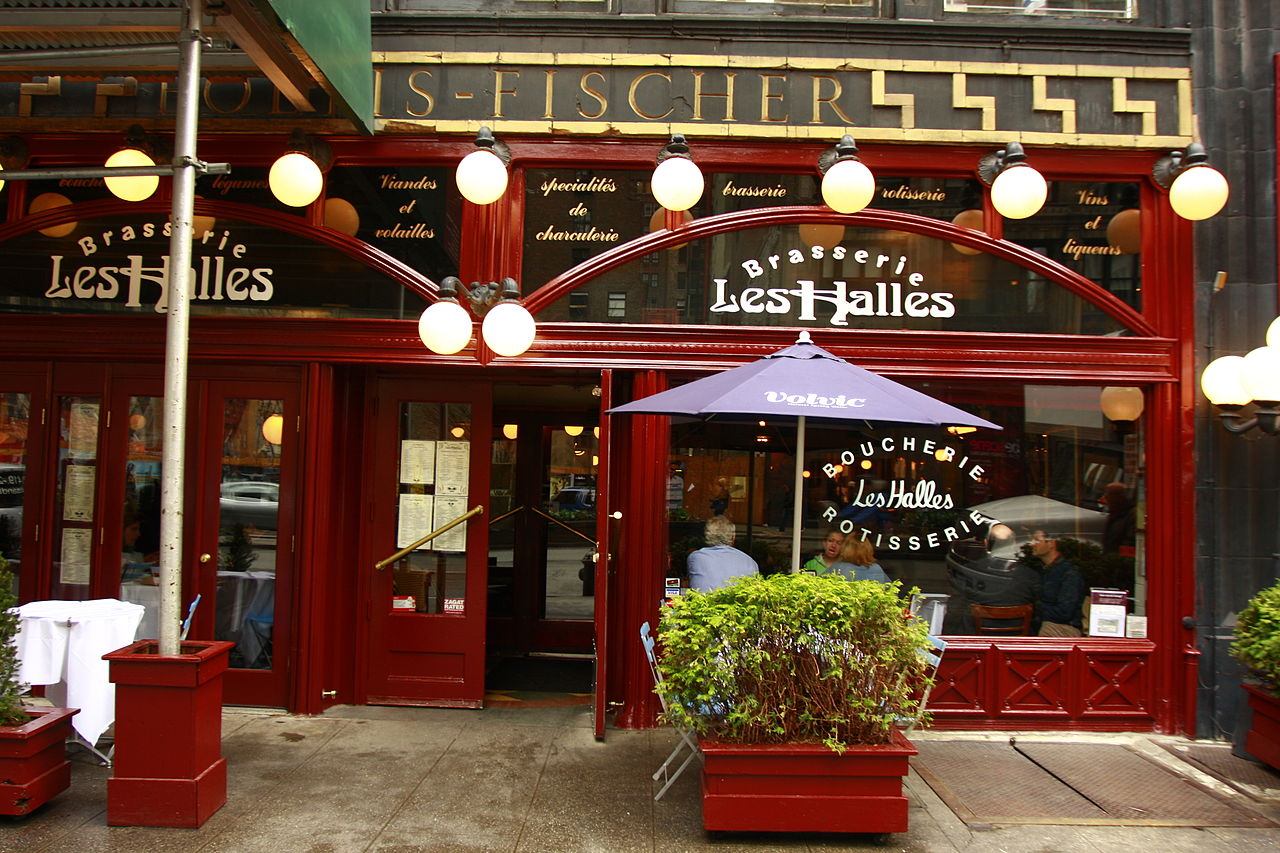 The legendary Les Halles closed its doors in 2016 (photo via Wikimedia)
Anthony and Carlos were buying their chocolate from Vintage Plantations, and this twist of fate shifted Jenny's chocolate career path in quite an epic fashion, as she connected with an incredible chocolate teacher at Vintage.
Jenny elaborates –
"My knowledge in chocolate was developed based on experience. I had the opportunity to work with a great French chocolate maker in the United States. Pierrick Chouard, from Vintage Plantations… a man extremely disciplined and passionate about this world… and whose creativity and enthusiasm truly shaped his career.

I also got a ton of experience working in a recognized company of Ecuadorian chocolates in the United States division, where I was mainly responsible for market development and bonding producers with suppliers. And it was right here, where I learned to understand and appreciate this very important sector of my country – the cocoa producers."
She connected the needs of the farmers in her homeland with the strict requirements of the fine chocolate industry abroad.
"I realized all the struggle Ecuadorian farmers went through while looking for a market that would buy their produce.

Right then and there, a spark was ignited in my heart. I knew I had to create a "connection" between them!"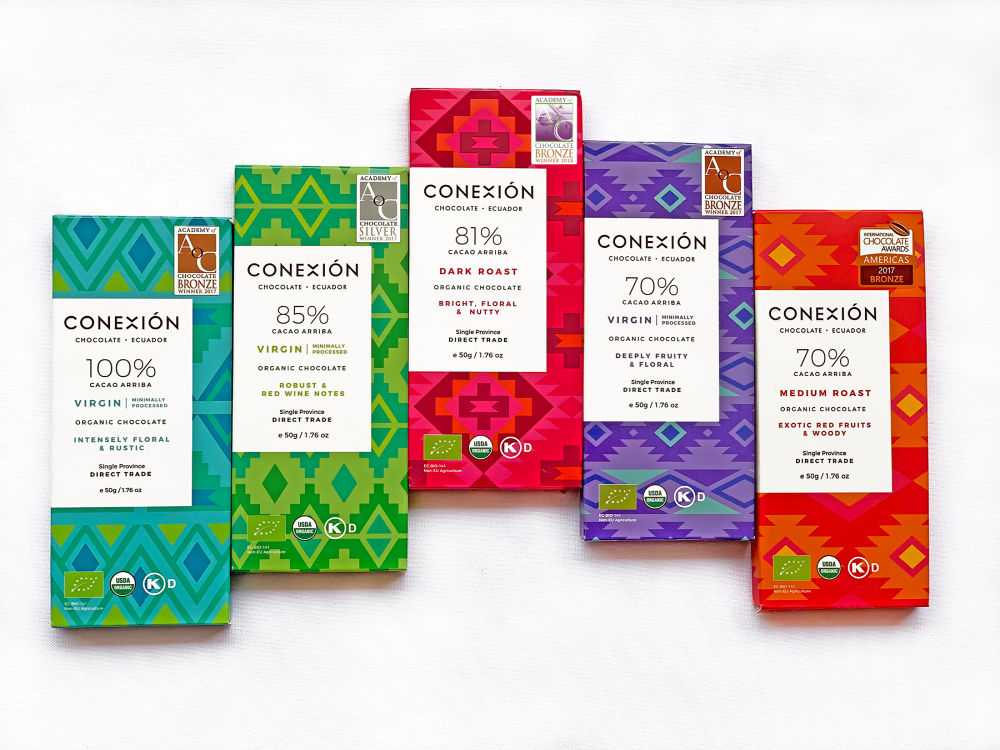 All About Connection
It was such a strong bond that Jenny made those days that she decided to persevere on this new road of fine chocolate.
She was absolutely fascinated by this idea of Ecuadorian cacao being recognized everywhere, because of its prestige. Nevertheless, she wasn't completely satisfied with the fact that its organoleptic features weren't exploited to their full potential.
Being such a businesswoman, by 2011 she had already paved the way for Conexión in the US. With so much experience in her field, she felt significantly more prepared for some of the early challenges she was about to face.
She remembers –
"At this point I was already related to the world of chocolate, and I had worked hand in hand with some recognized chocolatiers. I started up with 2 different companies which have evolved and merged over time."
These two companies, of which she is very fond, were Cocoa Provisions and Chukulat. Cocoa Provisions was born in NY and its main goal was to create a bridge between US chocolate makers with some small cacao associations which grew the best fine flavor cocoa in different provinces in Ecuador.
Endorfin Foods Six Bar Sampler
But her interests grew bigger when she realized she could make her own chocolates out of this extraordinary cacao.
"So Chukulat was created in 2013, in NY as well. We realized all the potential this cacao had so, we started making our own chocolates, with emphasis on a professional fine pastry line, made out of these same fine flavor beans.

These two cemented the idea of Conexión."
Her desire was to create a product of such quality that it could be easily cherished by the whole world. She realized that this was not going to be a hard task due in large part to the origin of cocoa: the fine Ecuadorian profile, unique among its class for its delicate aroma, and flavor, has always been highly valued worldwide.
"I always felt that the true heroes of this story are the Ecuadorian cocoa farmers," she says, noting there was a need to connect all those who appreciate a premium chocolate and everything that lies behind the craft.
"It is because of the farmers of my homeland that such a unique result is obtained. Such fine characteristics should be rewarded in a proper way and I am happy to demonstrate to them that their work and effort is valued worldwide."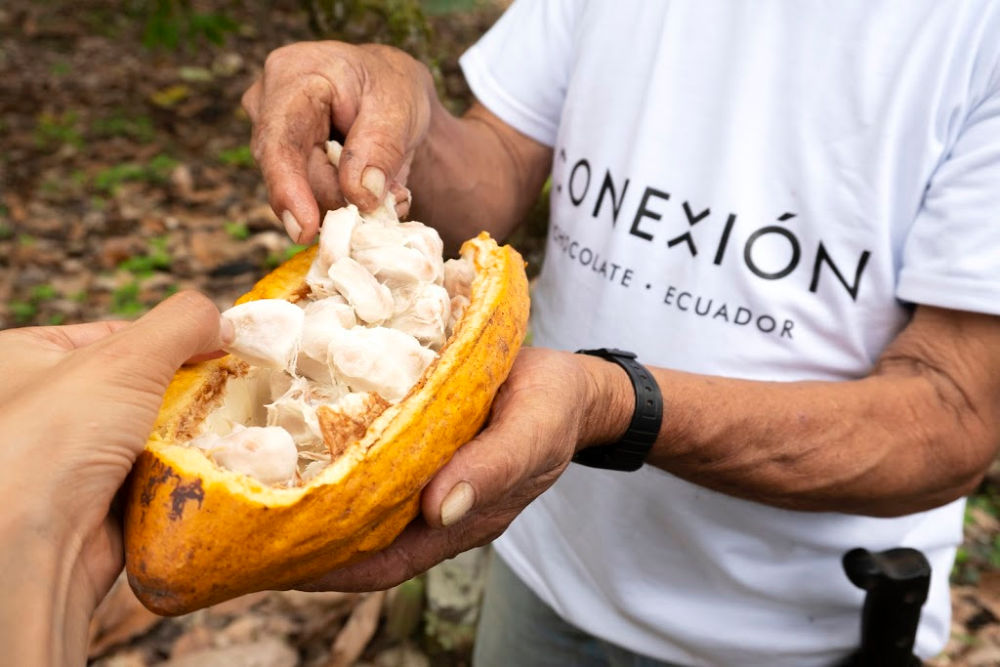 A Return to Ecuador
After several years in the U.S., Jenny and her team decided to go back to her homeland in 2016, looking for good cacao. Once in Ecuador, the concept she had of this new business flourished –
"Conexión lies today on the basis of Cocoa Provisions, follows the approach given by Chukulat, but has its own main objective which is to reach out to all chocolate lovers and everyone who enjoys a good craft chocolate."
Because she already had the experience and foundation of her new chocolate company, it didn't take much time for Jenny to launch the new brand. Connecting further with more Ecuadorian farmers firmly cemented Conexion's direction…
"What really settled my decision of staying in the chocolate industry was what I saw in the cocoa plantations. The daily life of the farmers there, all the great work they do to take care of those delicate trees, the beautiful way they harvest the cocoa, the passion they put in the process to ferment it, to dry it.

To literally see the sweat on their foreheads… from the weeks spent working and not being rewarded in a fair way, it hurt me, but at the same time it motivated me.

She knew she had to do something to bridge these hard-working cocoa farmers with worldwide chocolate makers."
Jenny tenderly remembers one remarkable experience which for sure strengthened her belief in the real connection that must exist between the farmer and the rest of the chocolate chain.
"His name was Raúl, and he was, back then when I met him, one of the technicians in charge of the maintenance of the cocoa plantations. His knowledge was only exceeded by his love for cocoa and the farmers.

One day we paid a visit to the Don Beto Estate, and Raúl kindly walked us for hours through the farm, showed us almost centennial trees, opened cocoa pods for us to taste and just talked about life in the countryside."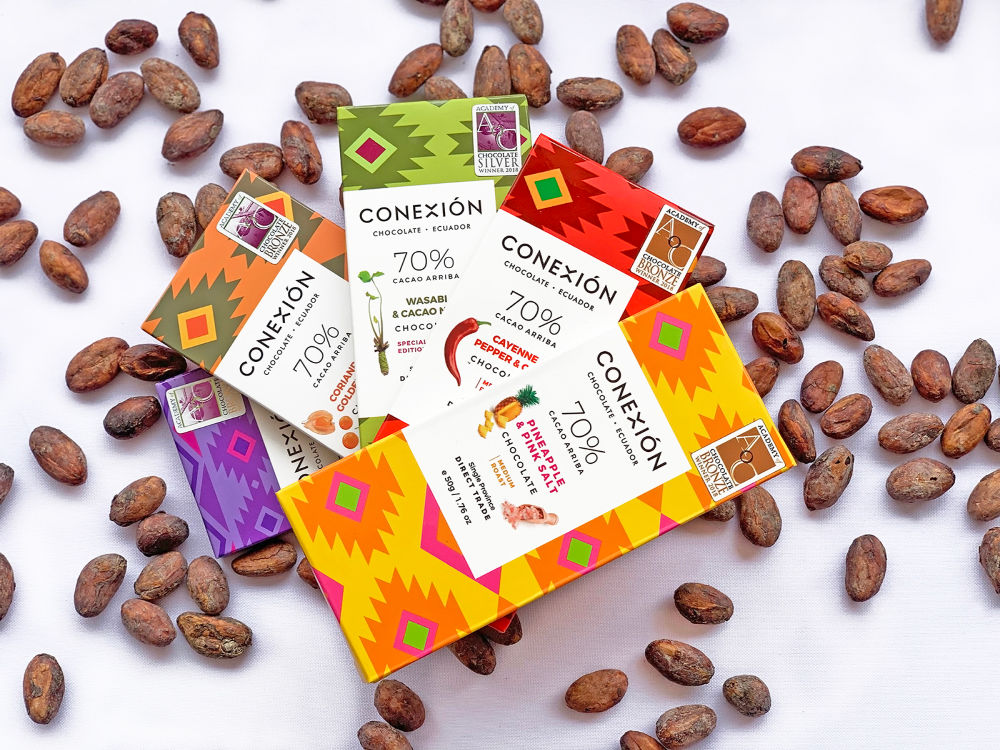 These conversations took a deep root in Jenny's memories, as she unforgettably recounts them…
"You can literally see the goodness of these people and the joy that they spread, fills your soul. Shortly the day was gone and we said goodbye to each other. We both left.

I got in my truck. As soon as I started the engine, we heard Raul shouting as he ran as fast as he could towards the car "Wait, wait!!", he cried.

I opened the car door and Raul extended his arms, offering me a hand-sized batch of the most beautiful dry cocoa beans. He then said, "Don't forget about us…"

Tears rolled over my face. Of course I never forgot that day, the unique connection I felt with the co-op and especially with Raúl. He is such an outstanding man, and he later became one of the leaders of the UOPROCAE Association.

Today he's the President!"
With every piece of advice offered to her… every opportunity to build experience… Jenny placed the utmost value upon it, and she took it all in.
She still believes that the true protagonists of this story are the farmers, however — 
"When you see the commitment of these people in the caring of cocoa, you realize that is the exact same example you need to follow to thrive. It makes us proud to see this business has grown to these proportions yet still maintains the same essence with which it was born. It is because of them that we keep our desire to make Ecuadorian cocoa recognized in the industry, alive.

I am grateful for having the opportunity to walk all the steps that formed me as a business owner. I'm also very aware of how important it was in my development process, the chances I had, to learn from scratch and from very well-known professionals, from farm technicians to amazing world-class chocolatiers."
Ready for the World
Conexión sat ready for its introduction to the world in 2017, and what better spot to do so in than the Chocoa Show in the Netherlands, a country with an annual chocolate consumption estimated at almost 6 kg per capita.
It took one full year to develop the brand and define the chocolate origin we would work with.
Returning to Ecuador was kind of a challenge for us, however, as it had changed completely since the day we left. Ten years is a lot of time and many things can happen in your country over such a long period.
And she is quite right about one specific point: it's very rare to find local chocolate crafters that hold an important market presence in their own cocoa-producing country.
Conexión and El Finquerito
Usually cocoa-producing countries don't share a strong bean-to-bar chocolate culture, and such is the case with Ecuador, although it is improving.
Jenny states:
"We are today, very proud to say Conexión is present in more than 6 countries. However, our new challenge is now to strengthen our presence in our local market."
She knows how markets work, and she is very happy to say that most of Conexión's clients are international ones. At the same time, she knows it's important for her country to understand this is a business that will bring much benefit if properly nurtured.
Right now, Chocolate Conexión has 99% of its commercial presence in international markets, and only 1% in Ecuador. With their continued efforts, however, that percentage should continue to climb (more on that later).
Along her way, Jenny met a lot of people who made big contributions to its development.
Fairness is the Main Ingredient
As you discover Jenny's line of products, you can almost taste the ´connection´ she keeps talking about. The chocolates she offers are quite unique, and her company's philosophy is typical of a bean-to-bar maker. It's mirrored in every single bar.
"We believe that aromas, flavors, and the overall experience is important but all of this must always be sustained by honorable values. That is what makes me love a good chocolate. That is our purpose.
The whole dual idea of generating an impact on the life of the producers and at the same time, offering the opportunity to people, to taste our fine quality products is what I appreciate most."
Jenny and her outstanding team are aware of the love and care the growers shower their crops with, so they make sure to base their trade on a fair relationship.
So not only do they create exceptional fine flavor chocolate, they also make sure to imprint each product with the ethical and responsible values Jenny has held dear since she first came up with the basic ideas of Conexión.
"At Conexión we make sure we pay our cocoa farmers 30% over the price offered at the NY Stock Market. That way, we generate a just relationship with them. It is fair because they are the main actors in the very first and most important stages of the process.
A lot of the work they do will obviously impact the final flavor profile. We immensely appreciate everything they do to accurately manage the fields. There is no point for us, in creating premium, fine flavor chocolate if it's not going to be based on the Fair Trade principle."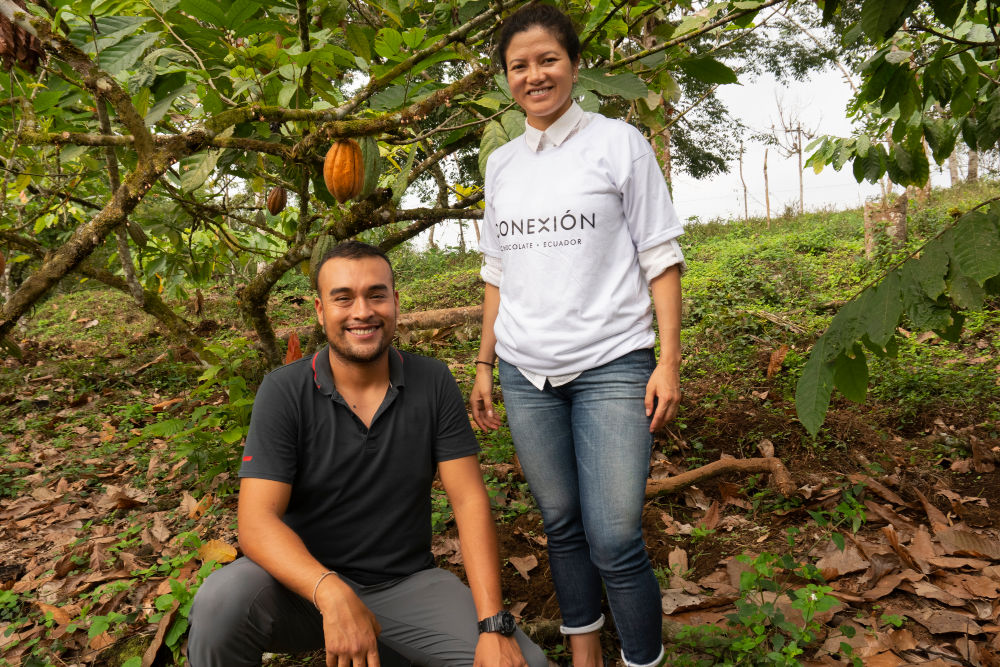 Juan Carlos Mesias and Jenny Samaniego
A Special Profile, A Special Experience
Although it was born with a focus on the professional pastry field, Conexión quickly shifted its target towards daily consumers.
Jenny's secret? An emphasis on the actual experience each chocolate can create for the taster. As it usually happens with Ecuadorian beans, the flavor profile of each batch is always original and can rarely be replicated.
Their cacao comes from a variety of Ecuadorian regions, and because of the vast ecological diversity of the land, the harvested cacao beans always offer rich, desirable aromas and notes.
Conexión seeks an unrepeatable experience in its bars, and that's the philosophy Jenny swears by.
"We craft chocolates with different profiles by adjusting the cocoa roasting levels, the cocoa percentage, conching time, and so on. We also have a "virgin" or "raw" line of chocolates, that are made by roasting the beans at a minimal temperature.

All these factors, can bring out and highlight different aromas and flavors as well as create a particular texture, give creaminess and define the body of the chocolate.

The combinations of all of these aspects are what give each Conexión chocolate a specific and unrepeatable flavor profile."
The other core tenet to Jenny's chocolate philosophy is to avoid too much intervention, so the cacao bean's characteristics can naturally flourish. "We want to highlight the amazing profile it is already known for," she notes.
They surely do. Conexión procures their cacao from a variety of cooperatives across a wide range of Ecuadorian provinces, including Esmeraldas, Los Ríos, Pichincha, and Manabí. More than 2000 cocoa-producing families sell their cacao to the four associations partnering with Conexión.
"Their crops are amazing. They usually own an average of 1 to 2 hectares of land, where they grow not only cacao, but also delicious food such as cassava, banana, oranges, pines and tangerines. They turn to their own lands for their daily nourishment. How amazing is that?!"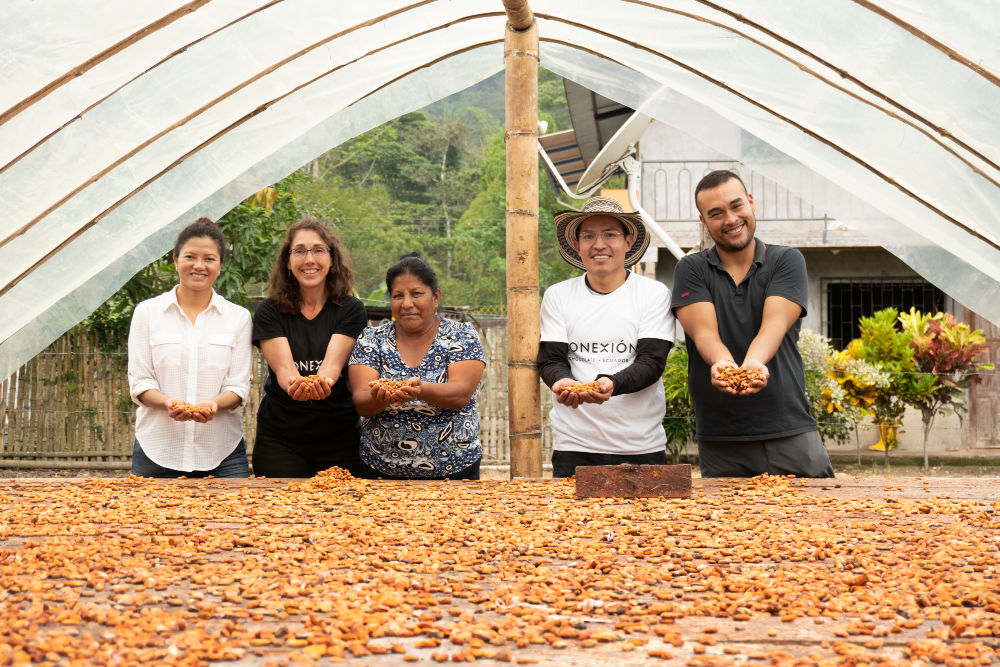 Jenny and members of the El Finquerito Co-Op
Because of the soil and ecological conditions, each type of bean and even each batch, has subtle, specific distinctions in both flavor and aroma.
"When advertising a product, it is the easiest to use a lot of marketing, which is obviously a very useful tool, but what will really determine the loyalty of our consumers is the love they develop when tasting our creations.

Then, they notice these varied combinations of aromas, flavor notes, subtle floral and fruity touches. And they adore it."
Barra Joven and other Projects
Looking for ways to empower these small producers, to show that all their knowledge… all the work they put into each unique harvest, has its reward, Conexión recently launched a new project called "Barra Joven."
Jenny tells us more about this noble plan:
"Most of the cocoa plantations management are led by older farmers. People between 50 and 80 years old. These producers fail to maintain all the trees by themselves because of their advanced age, resulting in low productivity and therefore low economic income for the producer.

So, this project involves the making of a special four chocolate pack, made with cocoa from UOPROCAE co-op (Esmeraldas), produced only by young farmers.

This way we bring a little bit of relief to the older cocoa farming generations."
She makes clear that these farmers must be between 18 and 30 years old to apply to the program.
Another important consideration – young people raised by cocoa-producing families on plantations often seek a new life, migrating to more urban areas. Continued exploration in the agricultural world sometimes offers less appeal than life in the big city.
Barra Joven hopes to help alter this perspective by connecting children with the land –
"We propose that the parents give their children a small piece of land that they can plant, harvest and manage. They become responsible for it. And they earn their own income for doing so."
Along the same lines, Conexión teamed up with UOPROCAE, Universidad Central de Ecuador and Rikolto, an Ecuadorian NGO, in order to look for ways to motivate the young to continue developing, studying and training in their field, so that in the future they can profit from farming and agronomy. They want young, potential farmers to see cocoa agriculture as a viable profession.
"We provide them with technical, financial and personal support along with good training.

There is a partnership between 52 young farmers and Conexión, and we both own 50% of the shares. Half of the profits of the Barra Joven package belongs to them.

We invest another part of the utilities in technical training for the young producers as well."
The hopeful end result is a confident young farmer, proud to offer a genuine product, made in origin, crafted with fine flavor cocoa, by younger people who are happy to contribute both to their families, and the local economy.
The Spice of Life
Along with its plain bars, Conexión has developed several innovative bars with, exotic inclusions, flavor contrasts, and a diversity of aromas and textures.
Well aware of the positive ethical impact in using local ingredients, they strive to make a difference in the community on this front as well:
"We complement our craft using the best ingredients, and we make sure we source them from native communities. We know who they are, we know which processes they use.

If we use cocoa butter, it must be Ecuadorian cocoa butter, which is something peculiar in this industry."
Of course, inclusions or no inclusions, honoring the inherent properties of the cacao still rules the day –
"When we think about our different lines of products we definitely want to highlight in all of them the natural characteristics of flavor and aroma they have in an unprocessed state.

But we also believe in creating unexpected or exotic inclusions. Combinations that will result in an intriguing bar, such as our Wasabi bar.

It is very striking, and the European market, has undoubtedly fallen for it.

It won both a Silver Award at The Academy of Chocolate in London, and a Bronze medal at the International Chocolate Awards in US."
It's no wonder. The Wasabi bar's spicy flavor is truly remarkable.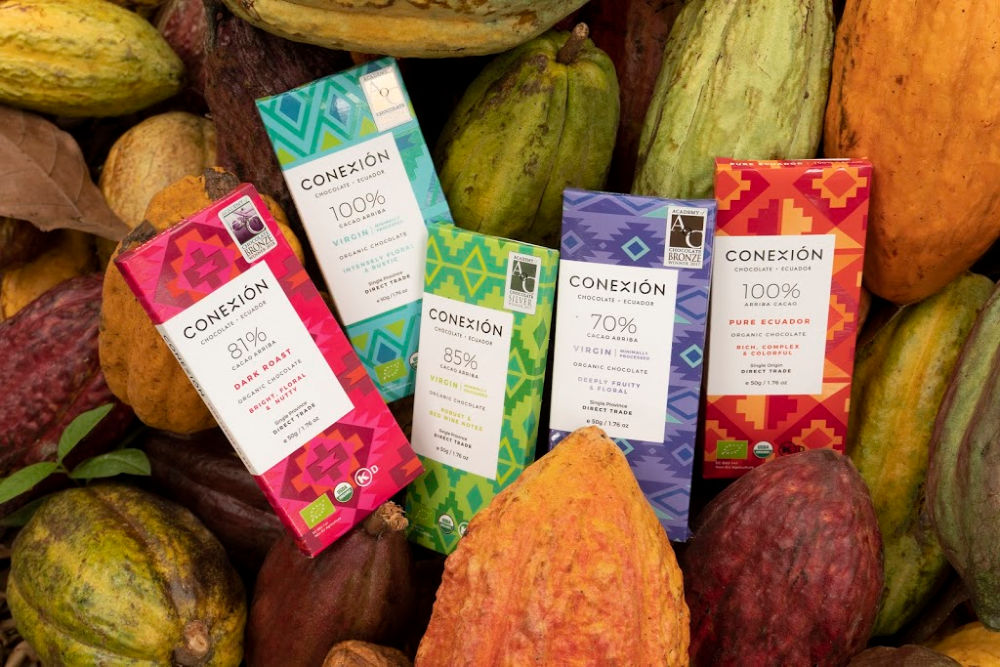 Other more classic combinations include their famous Pineapple and Pink Salt. Jenny notes –
"The pink salt has a very subtle opening. It creates a very contrasting game of flavors, that pairs amazingly with the citrusy notes of the pineapple. It's a juicy bar!"
Another curious inclusion bar… the Coriander Seeds and Golden Berry bar. As Jenny says, "The exquisite aroma of the coriander seeds will perfectly couple with the grape note."
Although the inclusions line has been a triumph, she has her own favorite… a pure, single origin, but of course. Let's not forget that Conexión was born focusing mainly on a pastry line.
Thus, their emphasis was always put on quality aspects that properly serve chocolatiers and the pastry and bakery industry. That's why Conexión's chocolate is also a favorite among chocolate professionals.
As Jenny describes it –
"The 70% Los Rios Chocolate is a dream. It strongly enhances the floral and fruity aspects of the Nacional Cacao. It has a special place in my heart because of all the time, effort and tests it took us to create the perfect formula.

It has explosive white floral aromas and vivid notes of fresh cocoa pulp, green apple and cocoa finish note. It is truly exceptional."
As proof of its brilliant character, several chocolate makers, including Bon Bon Bon Chocolate, Grocer's Daughter, and Gail Ambrosius endorse it.
And crafting such a high level bar was a major personal victory for Jenny.
"This was a huge achievement for me, as a woman. It got us to the level of Valrhona, Felchlin, and Michel Cluizel."
Continuing their commitment to quality, Conexión also puts a focus on important certifications, endorsements highly-prized in Europe, North America and South America.
"We have chocolates that maintain a unique level of purity. Our recipe is very strict, made with organic cacao only.

We are very adamant of our organic-only formula. If the bar has other ingredients, which do not possess organic certification, we still make sure we obtain these from producers that handle them only under strict organic principles."
Conexión crafts all their products as naturally as possible – non-GMO, gluten-free and vegan.
Also well aware of the positive health impacts a high quality chocolate bar can deliver, Conexión recently launched a special 100% pure cacao bar, which has absolutely no sugar added.
This bar is purposefully crafted to not only enhance its health benefits, but also to minimize any negative impact on people with certain health conditions, such as heightened sensitivity to sugars, low quality fats, or any of a series of synthetic ingredients commonly used in most chocolates today. 
Fortaleza – Strength
One of the professional couvertures Conexión created was baptized "Fortaleza", which in English means "strength".
The company chose the name for this chocolate because they created it back in 2016, right after one the strongest earthquakes in Ecuador's history.
With an epicenter on the country's coast, the natural disaster directly affected the Region of Manabí in an awful way.
Still emotional about it, Jenny remembers visiting the affected area, just one week before the earthquake –
"We went there for our annual trip. The city was beautiful, the parks, the neighborhoods…

After it happened, we visited again, and the whole city was rocked to the ground.

Nothing left of it.

People cried in shock.

Thinking of the incredible strength people in Manabí would need so they could recover from this tragedy, we chose Fortaleza as the name for our new chocolate."
All In
Conexión's received no less than 25 National and International Awards, confirming the quality of its products. They've been recognized by The Academy of Chocolate in London and the Americas International Awards in the United States, plus they've won well-deserved prizes from the Ecuador Chocolate Awards as well.
Striving for such greatness comes with the territory for Jenny, who loves to participate –
"We constantly join a variety of worldwide events. Competitions are only some of them. We have been happy participants of Salón del Chocolate in Ecuador and also internationally.

We also developed the first Cacao and Chocolate Summit… it was a blast!

We held it in April this year and we plan to do it again in May of 2020. Next year we partner with the Fine Chocolate Industry Association of the United States (FCIA) as well."
Jenny speaks at the first Cacao and Chocolate Summit
With this new event, Jenny and Conexión seek to unify the national and international industries.
It should come as no surprise that in its first year, the event already exceeded expectations. After all, the summit looks to create worldwide bonds, and as we all know now, Jenny is quite the expert at making every type of connection.
To learn more about Conexión Chocolate, click here to visit the Conexión website.
Then click the links below to connect with Jenny and the rest of the team on social media.
+ PHOTOS BY CONEXIÓN CHOCOLATE (unless otherwise noted)