Endorfin Foods Six Bar Sampler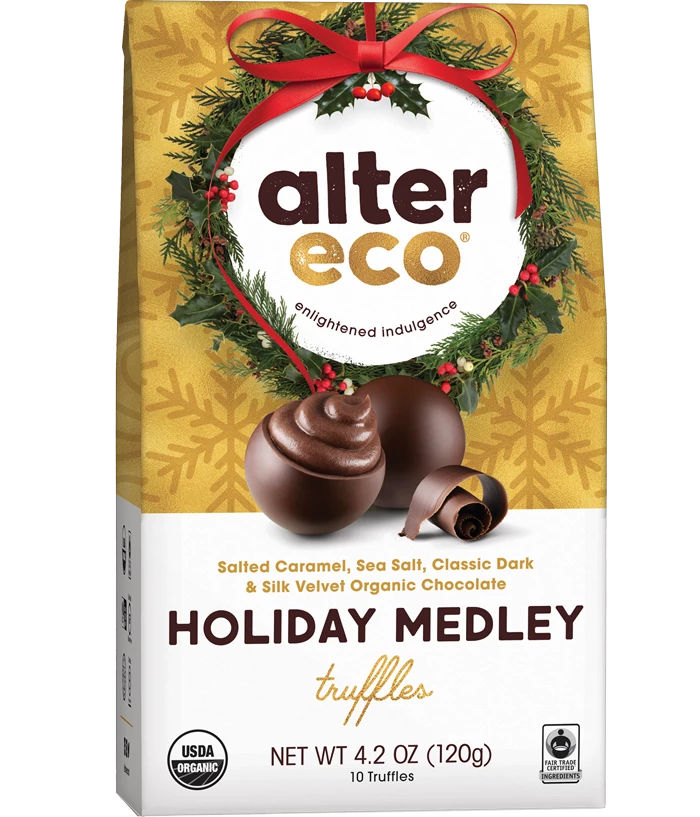 Holiday Medley Truffles
I readily own up to my own Alter Eco bias. They are easily my favorite On the Chocolate Regular company overall, and for good reason. High quality ingredients, some incredible bars with only a handful of ingredients in each, including single origin bars… a steadfast unrivaled commitment to the environment…. truffles that help transition people away from the  sugary garbage put out by Lindt that dominates big chocolate… there are so many reasons to love Alter Eco.
And all this in spite of the fact that they killed my all-time favorite Alter Eco bar, a Dark Mint bar that now only exists in a 90% cacao form that I just can't quite enjoy. I forgive you Alter Eco, it's all good.
Now for the first time, Alter Eco enters the holiday fray… well… sort of. Yes, you will now find this very festive-looking Holiday Medley Truffles box sitting amongst other holiday chocolate fare at the store this year. In fact, here's a picture I snapped for our December Instagram feed while at a Natural Grocers.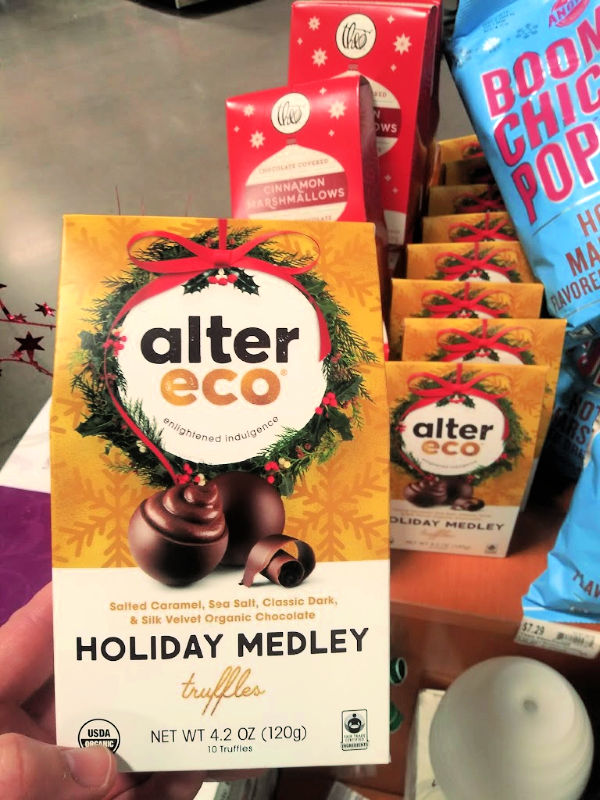 So why the "sort of" qualifier? If you take a close look at what's actually in the box, you'll see the following:
3 Salted Caramel Truffles (58% Dark)
3 Dark Sea Salt Truffles (58% Dark)
2 Dark Classic Dark Truffles (58% Dark)
2 Dark Milk Silk Velvet Truffles (39% Dark Milk)
No, those aren't new holiday varieties, not even one of them, they're just four of the standard Alter Eco truffle varieties placed into a pretty holiday box. No special holiday wrappers, simply a festive box to encourage holiday purchases, which should make this a great stocking stuffer.
So kudos to Alter Eco for shifting its marketing to reach more people during the holidays (which seems to be working, since the box is already sold out on their website), but just please know what you're getting here. These aren't true holiday-themed truffles.
For more, view the Holiday Medley on Alter Eco's website.
Limited Edition Milk Chocolate with Gingerbread Crisp
Every year I select one difficult to find chocolate bar from this feature to try to hunt down, knowing full well that I'll likely fail in doing so. Last year I picked two, and did indeed locate one of the rarities, the TCHO Rum Raisin Bar. The other, unsurprisingly, was the Theo Egg Nog Bar. Yes, I fail more often than I succeed on this front!
For 2019, this Limited Edition bar from Divine is my holiday unicorn. Sure, it's a very low cacao bar, but I'm a sucker for gingerbread bars, and I only eat these low cacao bars during the holiday season (largely because they tend to survive for only one or two sittings, true story).
As of publish time, you can at least score one of these (and the other Limited Edition bar as well), on Divine's website, so follow your links on the images here if you'd like to try one via that avenue.
This is most definitely a sweet holiday bar, with 16g of sugar per serving, and here are the ingredients: Sugar, cocoa butter, cream powder (milk), cinnamon crisp 10% (sugar, glucose syrup, butter (milk), cinnamon, salt), cocoa mass, whole milk powder, whey powder (milk), gingerbread spice blend, emulsifier: lecithins (sunflower), vanilla.
The usual Divine Chocolate stats are in play as well — Fairtrade, GMO-free, vegetarian, 100% pure cocoa butter, and , of course, coming to you from this wonderful company that is owned by cocoa farmers! Giving a Divine bar for the holidays shares a very meaningful message, so it's a nice bonus.
Which reminds me, at the end of this article, we'll share links to all the free versions of our On the Chocolate Regular articles on these companies (we've covered nearly all of them at this point), so you can come back here to share each company's story with any loved one you give any specific chocolate to this season.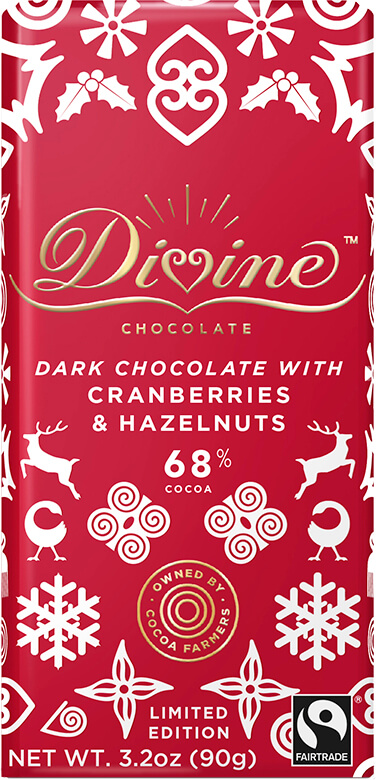 Limited Edition Dark Chocolate with Cranberries & Hazelnuts
Divine's second Limited Edition bar delivers yet another variety of the ever-popular seasonal chocolate and cranberry combination, with this unique bar throwing hazelnuts in the mix as well.
This 68% Dark Chocolate bar offers a much different experience than the Gingerbread Bar, including 6g less of sugar, despite the addition of sugary cranberries.
Here are the ingredients: Cocoa mass, sugar, dried and sweetened chopped cranberries 16% (cranberries, sugar, sunflower oil), chopped hazelnuts 8%, cocoa butter, butterfat (milk), sunflower lecithin (emulsifier), vanilla.

Little Secrets Peppermint Bark Wafers in Dark Chocolate
Known best for offering a much better alternative to those holiday M&Ms you often see out at the Christmas sweets table, Boulder, Colorado-based Little Secrets pushed the envelope a bit earlier this year, launching a chocolate wafers line. Then they went ahead and pushed it further, offering a holiday version of the wafers as well.
Fair trade, Non-GMO (although these particular wafers are not Non-GMO certified yet), no artificial colors… Little Secrets does chocolate candy right, even sustainably sourcing their palm oil. I've yet to see these, or the Peppermint Chocolate Pieces below, in a local store yet, but I'd be shocked if they don't make an appearance, as I see Little Secrets every year at multiple stores.
Here's the official ingredients list:
Dark Chocolate (Fair Trade Certified Unsweetened Chocolate, Fair Trade Certified Sugar, Fair Trade Certified Cocoa Butter, Soy Lecithin [An Emulsifier], Fair Trade Certified Natural Vanilla Extract), Enriched Wheat Flour (Wheat Flour, Niacin, Reduced Iron, Thiamine Mononitrate, Riboflavin, Folic Acid), Sugar, Peppermint Oil, Palm Oil*, Soy Lecithin, Organic Brown Rice Syrup, Organic Evaporated Cane Syrup, Red Beet Color, Baking Soda.
Click here, or the image above, to view on Little Secrets website.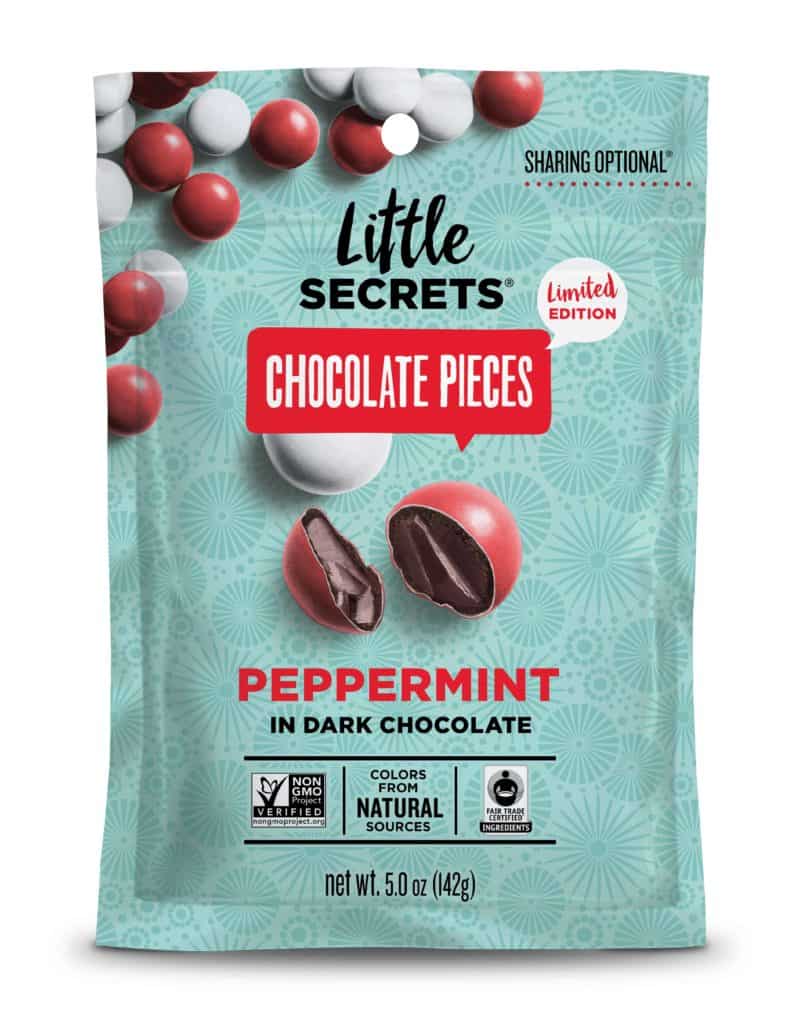 Little Secrets Gourmet Chocolate Candy – Peppermint in Dark Chocolate
For Little Secrets' staple option, remember, if you normally put out M&Ms at the holidays, you'll feel much better replacing those artificial little drops with this significantly healthier alternative.
On the other hand, although I personally love peppermint (and yes, I love these), mint is of course not everyone's thing, as tragic as that may be! We suggest picking up one or two of the alternate flavors as well, if you're serving these as a candy snack during holiday gatherings.
These Peppermint Chocolate Pieces are indeed Non-GMO Verified, use organic peppermint oil, and contain the following ingredients:
Dark Chocolate (Fair Trade Certified Unsweetened Chocolate, Fair Trade Certified Sugar, Fair Trade Certified Cocoa Butter, Soy Lecithin, Fair Trade Certified Natural Vanilla Extract), Sugar, Less Than 1% Coloring (Includes Titanium Dioxide, Vegetable Juice, Turmeric Oleoresin), Tapioca Syrup, Gum Acacia, Organic Peppermint Oil, Carnauba Wax.
If you can't find them locally, try using the Little Secrets Store Locator, or you can pick them up on Amazon right here (paid link).
Click here, or the image above, to learn more on the Little Secrets website.
eNDANGERED Species CHOCOLATE
ESC Dark Chocolate with Caramel & Spiced Apple
No firmly entrnched as a holiday staple, Endangered Species Chocolate once again returns with its three-bar holiday lineup, including fresh new packaging as well, which comes as quite the surprise, since they just revamped the look of the bars last year!
The more subtle redesign fits gorgeously into store's holiday chocolate displays, however, so I think it's a wonderful success.
Now let's start things off with the Dark Chocolate with Caramel & Spiced Apple bar.
At 60% cacao yet loaded with a sweet filling, these bars will likely work well for almost anyone on your list.
Plus, in addition to the chocolate aspect, ESC will likely appeal to your gift recipients on another level as well, thanks to all the work they do for animals and the planet.
Remember, ESC donates 10% of net profits each year to protect and preserve wildlife.
As I've noted before, my favorite part of the Dark Chocolate with Caramel & Spiced Apple bar is actually the extra effort ESC puts in on the ingredients front.
Creating organic caramel for the filling, a bit of a one-off since ESC rarely uses organic ingredients, goes a long way for any health conscious chocolate gift givers. As I noted back in 2017's holiday chocolate article –
"Non-GMO and fair trade, yes, but organic 'is not their bag, baby.' Since the caramel makes this bar the irresistible temptation it is, they were wise to amp up the quality for this key ingredient.

It's exactly as sweet as Theo's Gingerbread Spice bar, and its natural flavors (with apple of course in the mix somewhere) plus cinnamon line this bar right up next to Theo's from a flavor profile standpoint, even with the caramel addition. It does, however, still leave a bit of that frequent ESC aftertaste…

…outside of someone with a serious aversion to holiday spice, you won't likely go wrong with gifting the Dark Chocolate with Caramel & Spiced Apple."
Most places that carry Theo's bars tend to also carry Endangered Species, so finding the Dark Chocolate with Caramel & Spiced Apple bar shouldn't present too much of an obstacle.
This bar helps raise awareness for polar bears, click here to learn more.
ESC Dark Chocolate with Peppermint Crunch
Although we most definitely love and appreciate ESC, we also recognize that it clearly fits in the On the Chocolate Regular category, securely in the middle between big chocolate and the great bean-to-bar auteurs we know and love.
That said, ESC's Peppermint Crunch bar continues to deliver one of the highest quality seasonal bars each and every year.
The Peppermint Crunch bar logs fewer ingredients than most other Endangered Species options, and it brings the peppermint-y crunch here via cacao nibs, not a brittle, making it the most appealing of all the holiday bars for any higher brow chocolate lovers.
Of course, you need to tailor this bar to peppermint lovers as well, but if you do, I think they'll actually prefer this bar over Theo's Peppermint Stick.
Kudos to ESC for continuing to create Peppermint Crunch for the holidays!
This bar raises awareness for emperor penguins, and you can click here to learn more.
ESC Dark Chocolate w/Cranberries, Orange & Cinnamon
Whereas ESC's Peppermint Crunch bar stands above Theo, once again their Dark Chocolate w/Cranberries, Orange & Cinnamon falls a bit short of Theo's Cranberry Orange bar.
As I've noted before –
"I think Theo's bar scores higher here because, when you're creating a fruit-infused bar where the fruit clearly dominates the flavor profile, with all else equal, quality wins out.

Theo's organic cranberries (one of the worst fruits to eat in non-organic varieties by the way) likely help slightly, but its use of clearly high quality organic orange oil delivers an outstanding orange-infused bar – and again, this comes from a chocolate lover who's not a big fan of neither fruit-infused chocolate, nor orange!

Still, ESC's Dark Chocolate w/Cranberries, Orange and Cinnamon bar tastes fine, and can certainly work as a chocolate stocking stuffer with little hesitation."
More than any other bars on this list, I'd love to hear your opinion on these cranberry-orange offerings, so please chime in via the Comments below.
This bar raises awareness for the Horned Ram, click here to learn more.
Chocolove Holiday Fruits and Nuts Bar
Last year I noted that Chocolove's Holiday bar won me over more than I expected. Although I do occasionally enjoy their Dark Chocolate Ginger bar when I'm in the On the Chocolate Regular mood, I did not expect a Holiday Fruit & Nuts bar to strike my fancy.
As a bonus, with many of the holiday bars registering under 50% cacao content, Chocolove's 55% dark (not dark milk) presents a better transition to higher end chocolate for newbies than most of the other holiday bars on our list.
This year offers another bonus for Chocolove fans as well — the appearance of the NON-GMO Project Verified label on all three of the company's holiday offerings.
Last year we noted that Chocolove stood committed to verification for all of its bars, and very much to their credit, they made it happen in 2019. As for the ingredients, here we go:
Dark Chocolate (Cocoa Liquor**, Sugar, Cocoa Butter**, Soy Lecithin, Vanilla), Pecans, Currants (Currants, Sunflower Oil), Dried Cherries (Cherries, Sugar, Rice Flour, Sunflower Oil), Walnuts, Hazelnuts, Orange Peel (Orange Peel, Glucose-Fructose Syrup, Sugar, Citric Acid), Ginger (Ginger, Sugar).
** 100% of the Cocoa in this Product comes from Rainforest Alliance Certified™ Farms.
It's readily available this season at almost any store that sells Chocolove, and I've seen plenty in stock at both Sprouts and Natural Grocers.
You can also click here to view the Chocolove Holiday Fruits & Nuts Bar on the Chocolove website, where they sell it by the case (12 bars).
As a little Chocolove bonus, I've included the other two "holiday" options available in stores this year. I put "holiday" in quotes because, much like Alter Eco's 2019 holiday fare, these two Chocolove bars are no different than their regular, perennial counterparts.
Yes, you can pick up an Almonds & Sea Salt Bar or a Peppermint Bar anytime… the difference lies in the holiday packaging. Here at Christmas time, Chocolove creates special ornamental packaging with a TO: and FROM: at the top of each bar, in an effort to encourage quick and easy gift-giving.
I see what you did there Chocolove.
These two bars were widely available at publish time, so you shouldn't have much trouble finding them locally. Alternatively, click the images below to view each bar on Chocolove's website.
Last and, well, let's keep it real, least, BarkThins Snacking Chocolate rounds out your middle of the road chocolate gifting options here in 2019.
It's ironic that I began this article speaking of Hershey, yet here we are shining the spotlight on BarkThins, a snack brand acquired by Hershey themselves not too long ago.
These Limited Edition chocolate treats combine dark chocolate with gingerbread cookies, and like the other BarkThins offerings are Fair Trade and Non-GMO Project Verified to boot.
Just beware, BarkThins tend to encourage binging! We're not dealing with the same chocolate we normally cover here at Chocolate Connoisseur throughout the year.
These are both a bit higher in carbs (with the Peppermint version likely the most "dangerous" if you will, courtesy of the pretzels), making it easier to trigger a carbohydrate snack fest — if you're prone to that sort of thing (yes, I'm looking in the mirror for this one).
With the power of Hershey behind this brand, you should find few obstacles in your way for picking up a bag of these. Seriously, you can find them at Office Max even.
They're not one of our choices for slowly transitioning people from low end chocolate to a connoisseur trek, but for the toughest nuts to crack on your shopping lists, BarkThins may actually succeed in doing so where other holiday chocolates fail – especially since it's darker than what you'll find with other easy-converting bars.
You can view each one online at BarkThins via these two links (BarkThins Gingerbread and BarkThins Peppermint Pretzel), and click here to pick up the Peppermint Pretzel variety right now via Amazon (paid link).
Alright, that wraps up (pun intended) our 2019 holiday chocolate coverage! I hope you aren't terribly disappointed by the losses versus 2018 (we lost the Tony's Chocolonely Mulled Wine Bar, Theo's Egg Nog of course, and even more), but I'm hopeful that new additions can help offset the losses, especially with Theo's new Peppermint Cocoa Cups in the mix.
Please let us know what you think if you try any of these yourself, and of course we would absolutely love to hear how any of your chocolate gift-giving adventures go as well.
After all, if we're going to keep raising the quality of the chocolate we all consume across the globe, it starts with baby steps, and there is no better time to encourage those steps than right here at the holidays. Let us know how you fare.
In the meantime, all of us at Chocolate Connoisseur Magazine wish you a wonderful holiday season, filled with much love and chocolate. We'll return with more On the Chocolate Regular at some point in 2020!