On the Chocolate Regluar: Tony's Chocolonely
Tasting Time
First, I jumped right into my second favorite bar, the Dark Almond Sea Salt 51%. I love this bar, and although it tastes saltier to me than the salt content indicated on the label, I actually don't mind the intense saltiness, for two reasons.
First, it fits very well into the flavor profile, and second, it keeps me from overeating this bar (much appreciated, thank you Tony's). Again, this is one of the three bars I'd recommend for mid-level or master connoisseurs, and it's a great OTCR bar for newer connoisseurs.
Next up, Tony's highest quality bar, the Dark Chocolate 70%. With only four ingredients, this bar scores the highest quality-wise: cocoa mass, sugar, cocoa butter, and soy lecitihin.
Dark Chocolate Almond Sea Salt
I enjoy this bar, another great entry for those of you fitting into the categories I noted for the Dark Almond Sea Salt 51%. Also the one bar with enough subtlety for tasting notes, which for my palate registered as zinfandel and honey. It's quite a tasty 70% bar, but for me leaves a mild aftertaste – again, something I don't mind with these bars, however, because it prevents me downing 6 ounces in two sittings!
Next, it's the Dark Milk Pretzel Toffee 42% bar, or as I like to call it, The Devastator. Make no mistake, this is a candy bar, and my god is it a delicious one. I've tried it before, so I already knew full well to take only one bite… that's all you need. For new connoisseurs trying to figure out how to move on from the likes of Twix bars and Reese's Peanut Butter Cups, try this bar. Just don't expect it to last long if you too have a sweet tooth. In my humble opinion, it's a near perfect candy bar.
With my willpower tested to its fullest, I'm riding that successful momentum into the other potentially binge-tempting bar, the Milk Caramel Sea Salt 32%. This super sweet and super salty confection tastes wonferful, again, recognizing that you're eating a candy bar here much more so than a chocolate bar.
Similar to the dark chocolate almond sea salt bar above, the deep saltiness does indeed help curb any desire to eat way too much of it, so for a 32% bar, I can actually stretch this one out thankfully. The 10% less cacao content, coupled with caramel instead of almonds, adds much more sweetness as well, so this bar will taste incredible if sweet and salty is your thing.
Now it's time for the bar that started it all, Tony's original Milk Chocolate 32%, a bar I haven't sampled in quite some time now. I realize this won't make any Tony's Chocolonely marketing materials, but my favorite way to describe this bar is "What Hershey's would taste like if they didn't suck."
Again, make no mistake, this is a candy bar, even with no inclusions. The first two ingredients are sugar and whole milk, followed by cocoa butter, and then cocoa mass only registering as the fourth most prominent ingredient (and soy lecithin then bringing up the rear). Say what you will, the bar is milky and delicious, one of the more dangerous binge-able bars for someone like me.
This bar, like all of Tony's 42% cacao and lower lineup, fits perfectly into the introductory OTCR category of bars for aspiring connoisseurs. They're all great bridges to higher chocolate connoisseur levels, and we certainly recommend them for this specific niche, especially considering the phenomenal work Tony's does to help make the world a better place as well.
Two bites, oh-so-slowly savored, and now it's on to the newness…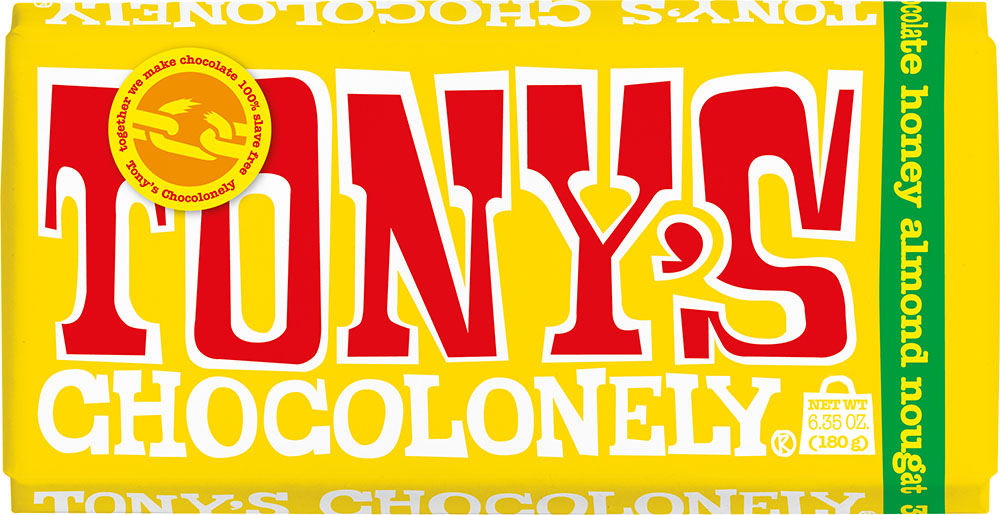 Two Sweet
Here we go, the two new bars (at least here in the U.S.) that inspired this entire OTCR article in the first place – milk honey almond nougat 32% and white raspberry popping candy 28%.
Let's start with the milk honey almond nougat 32%. I think it's safe to say Tony's now wholeheartedly embraces the candy bar aspect of their business model, as these new bars easily hits that home the hardest of any I've tasted to date.
The milk honey almond nougat here, with 15g of sugar per serving (second only to the milk caramel sea salt 32%), is incredibly sweet. Indeed, for my palate, despite one less sugar gram, the bar actually tastes a bit SWEETER than the milk caramel sea salt.
Don't get me wrong, however, as it tastes wonderful for what it is, and again, the high sweetness level does indeed prevent over-eating. Two bites were plenty for me.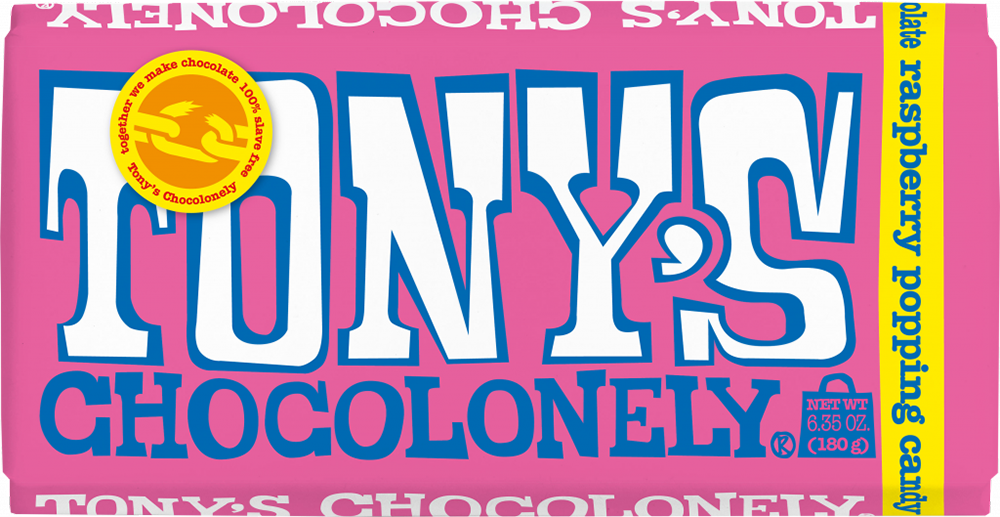 Finally, it's time for the bar I teased in last issue's Editor's Corner as a fun bar for the kids to share on summer road trips – Tony's white raspberry popping candy 28%. As a sucker for both white chocolate AND raspberry inclusions, this bar worried me as I carefully unsealed the bright pink and summery wrapper.
It's the only bar in Tony's entire big bar lineup with no cocoa mass, only cocoa butter (the second ingredient behind sugar). And yes, you can taste that difference. Easily the sweetest-tasting bar, with 17 carbs and 16 sugar grams per serving, you're looking at a pure candy bar here folks – not that you'd expect otherwise from a bar that indicates "popping candy" in the name!
Only those with the deepest of sweet tooths will appreciate this bar, for although the raspberry flavor works very well, nothing can temper the overwhelming sweetness. If you're a big raspberry and white chocolate fan with a love for sugar to boot, this may very well be your all-time favorite Tony's Chocolonely bar. For me, it's the only Tony's bar that actually overwhelmed my sweet tooth.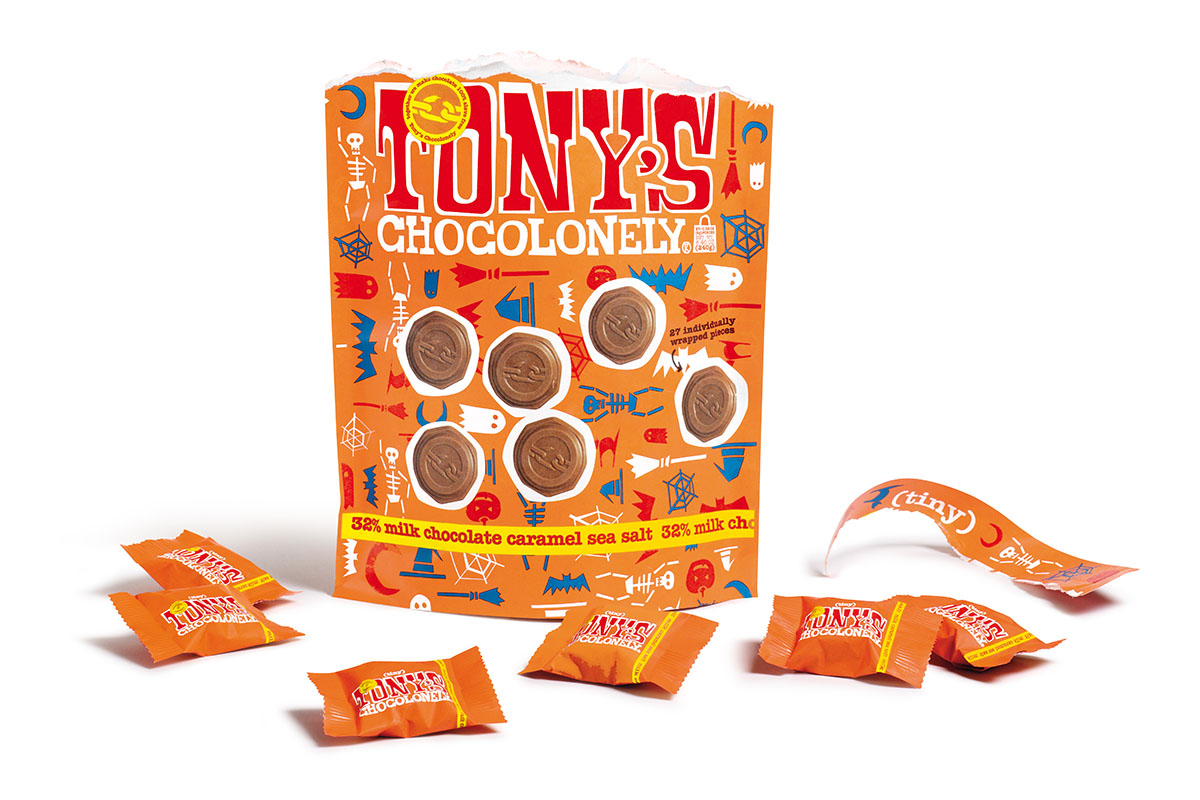 An Anti-Slavery Halloween Curveball
Every single Halloween for several years, I begrudgingly buy a giant bag of big chocolate's candy to hand out to trick-or-treaters, and I'm less and less happy about it each and every year. Finally, here in 2019, Tony' Chocolonely comes to the rescue!
Sent in a separate box, with two handwritten notes, Tony's foray into the ultra-competitive Halloween scene immediately impressed. The deep orange packaging with a yellow bar at the bottom, mirroring the big bar version of the candy inside (32% Milk Chocolate Caramel Sea Salt), perfectly fits the season's color motif.
The candy choice is also probably the perfect choice for starters, as its sugar content and taste very closely match the Halloween kingpin, Reese's Peanut Butter Cups. Yes, less sugar would be nice, but let's keep it real here folks – it's Halloween. Baby steps, baby steps.
As you can see in the picture here, a broken chain serves as the chocolate graphic, but it's what you can't see that's even better. First, the outer packaging is recyclable paper. Second, the individual wrappers are recyclable plastic! While it's true that recylcable plastic is nowhere near as ideal as recyclable paper, the current plastic wrapper waste from Halloween chocolate wrappers is immeasurable (including the big bags the candy sells in). Tony's can make a significant impact with each bag of candy they sell this year and onward.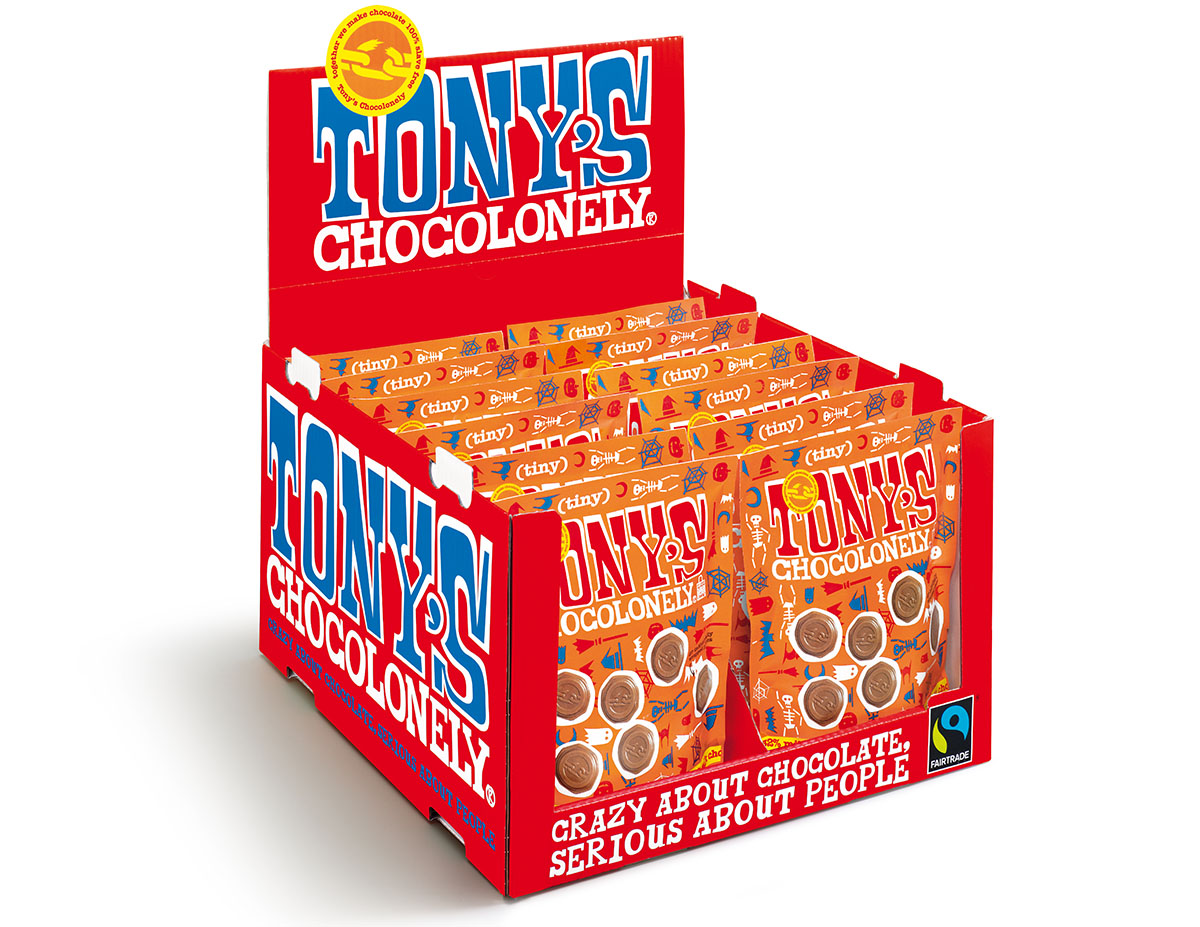 Make Halloween 2019 much less hypocritical… find this box!
Big props to Tony's Chocolonely for jumping into the Halloween candy fray. I'm so impressed that they made the effort here, and I can't think of a more synchronous step than offering child slave-free chocolate to children on Halloween. We wish them great success this year, and hope this leads to significantly more attention brought to the plight of our chocolate supply chain this holiday.
What Lies Ahead…?
I very much look forward to seeing whatever big leap of progress Tony's makes next in their efforts to eradicate slavery in chocolate. While plenty of inspirational chocolate makers exist today, few if any volunteered to spend time behind bars to make a point… to elevate the fight against child labor and slavery to a whole new level.
As we all do our part to raise awareness, make more and more noise, and put our money where our mouths are, progress will continue. I'm excited to celebrate with Tony's when the slave-free day finally arrives, and I truly believe we can eventually reach that day.
On the chocolate ingredients front, although Tony's does a bang up job of sourcing their cacao and their sugar from fair trade sources, the Fairtrade standards they meet vary between bars, which we're guessing is more a product of the sugar sourcing than it is the cacao sourcing. That is, of course, an area where we'd like to see them improve. Cane sugar tends to be the issue, and as a preferred sugar source over beet sugar for most, it needs the fairtrade certification more thanks to its production origins, whereas the majority of the world's beet sugar, particularly non-GMO beet sugar, grows in the EU.
We reached out to Tony's for clarification on their sugar, and in their official response, they noted that they use "a mix of Fairtrade mass balance cane sugar and beet sugar." Essentially, if you don't mind eating beet sugar, you should find no issue with Tony's chocolate.
Finally, our one big concern lies with the sugar, dairy, and soy products contained in several of Tony's bars for a more specific reason — the question of organic and GMO-free. While we do often see cacao not certified organic, particularly when great direct trade relationships exist between chocolate makers and small farmers (where organic certification may prove difficult), we do not see such barriers in place for sugar, soy, and dairy.
Here in the USA particularly, the GMO controversy plays a part as well, but to a much lesser extent throughout Europe, where of course Tony's is based. Again, we reached out for clarification, asking if a non-GMO certification lay ahead for the company. They responded with this…
Contractually (as per our agreement with Barry Callebaut), we buy only non-GMO ingredients (including the soy lecithin), but we're not certified non-GMO. This is because Europe, where we're based, has much more stringent guidelines around GMOs, and it's uncommon to be certified. We don't plan to aim for the certification either, as it would really only be applicable for the US.
That should pretty much clear up any questions on the matter. In the market they're competing in, which is essentially the chocolate candy bar space, Tony's takes steps you won't find other companies even bothering with, so our philosophy is to enjoy and appreciate Tony's for what they are. The more they can win consumers away from big chocolate, while gradually improving their own products along the way, the better the chocolate world will be.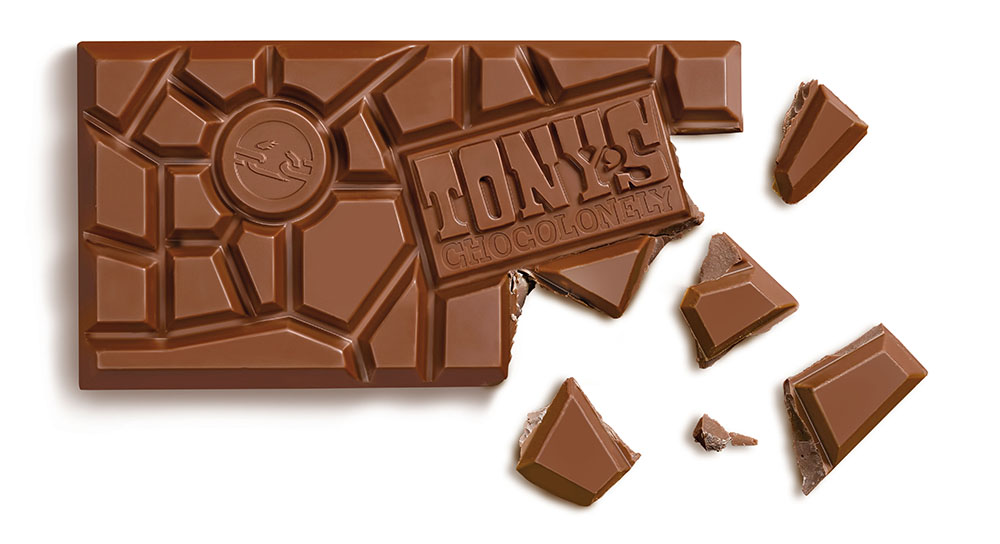 A Closer Look + A Big "Thank You"
As we mentioned much earlier, the Tony's Chocolonely website is fantastic, and we strongly encourage you to hop over there and take a look for yourself. Here's a link to the U.S. version's home page: https://tonyschocolonely.com/us/en
With a ton of great information (including much of which we used to create the article you just read here), you'll likely pick up some new knowledge and/or inspiration from just one visit. Also, since the company now spans across several countries, you can click on the flag in the upper right corner to change website version based on countries.
Also, if you live near the Portland area or are planning a trip to that neck of the woods at some point, Tony's offers tours if you're interested. In fact, they just relocated to a bigger facility, so stop by and give them a look when you're in town.
Last of all, I'd like to personally send a BIG THANK YOU not only to Tony's for being so open and responsive as we put this article together, but also to Julia McPherson at Allison+Partners, the PR firm helping to bridge the gap between us. She helped keep things moving along from day one, and just did an absolutely fantastic job.
Also, I'd like to send a special thanks to Tony's Portland crew who put together the not one, but two amazing boxes filled with chocolate they sent our way for preparing this article. Stay classy, Portland. Stay classy.