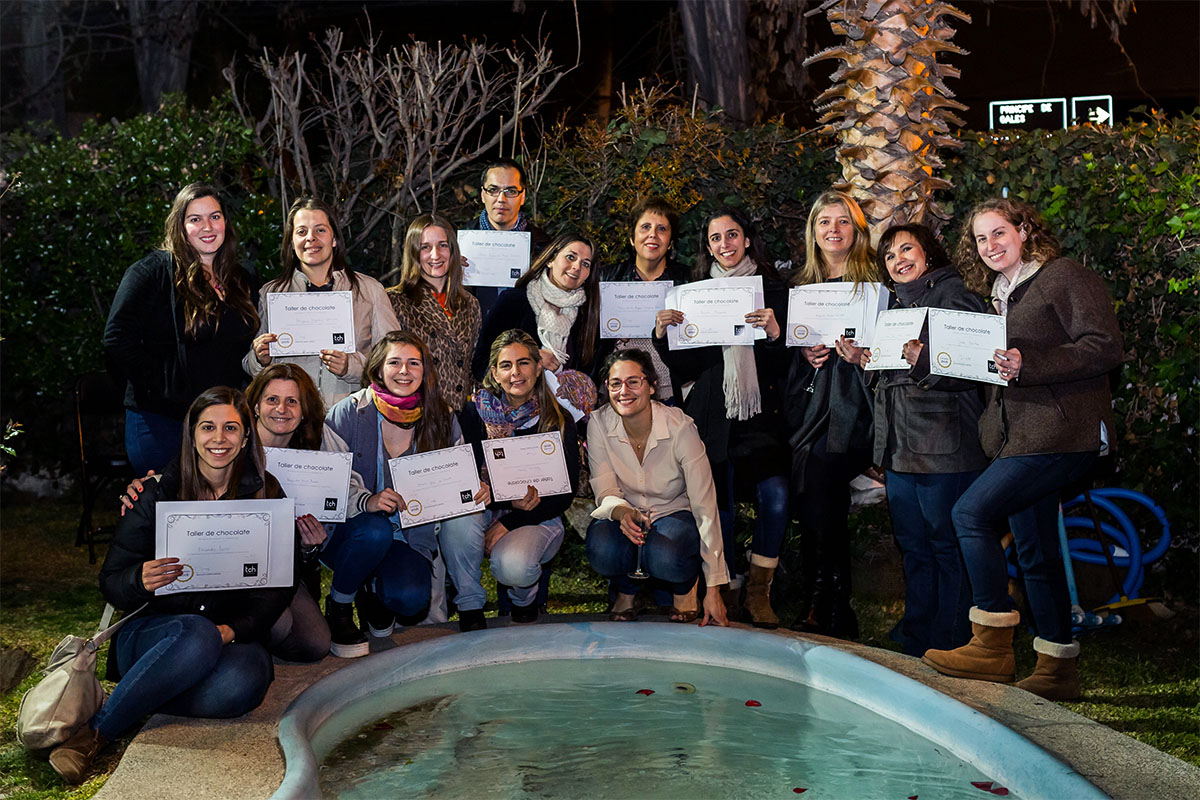 Proud Taller de Chocolate graduates!
"Opening a business in a different country, was not really that hard for me. I've been trained for this, so starting was very simple, I just replicated the same idea in a different location. I am restless and curious, and those who know me closely know that I love doing many things at the same time, so I never felt afraid to take the plunge."
She laughs as she continues explaining…
"I think that chocolate will always be my best "excuse" to look for new projects, to integrate with the culture of the place I'm currently living in, to share and learn from any community. I think all those belly aches were so worth every chocolate piece!"
Nati says she wouldn't be here if it weren't for that sweet treat.
"I've been in so many places, using my craft as a vehicle. This has made me understand life in a different way. No place is same to another. Yet everyone everywhere connects with chocolate in a very similar way. It makes me feel free and at home all at the same time."
Despite all her talent, Nati knows she has been quite lucky to meet a few legends of the chocolate world, some of them immigrants, others, daughters and sons of immigrants… people who forged their stories in the space between cacao and conching machines.. people she feels so fortunate to learn from, to partake in their collective knowledge.
"I think we all need people to inspire us. We need people who are on top of us, who we know are so much better than us, to help us remain humble and not lose our way. I have known these people, some of them were my mentors. I learned from my experiences with them to stay on track."
Perfect Imperfection: Wabi Chocolate
For those familiar with Japanese culture, the concept of Wabi-Sabi registers as something quite proverbial. It reflects a philosophy centered on the acceptance of transience and imperfection.
Coming from Japanese lineage, Nati decided to name her brand-new Bean to Bar line after this concept, as it echoes everything she enjoys about the craft chocolate movement.
"I resolved to enter the bean-to-bar movement because there is more consciousness and genuineness across every level of this chocolate industry.

From the farmer who dedicatedly grows and harvests the wonderful pods I saw for the first time years ago in Peru, to the feeling I get when I witness my customers try a bar for a first, second, or even third time and realize how different the same bar can be…"
Her desire to craft chocolate from the bean gradually grew over her time within the chocolate world. The creative process, her love for chocolate machinery, and an ever-increasing awareness of the industry solidified Nati's resolve to create a finished product that highlights the very different characteristics of the raw material itself.
"I realized there is magic in every taste and texture, and it made my customers vibrate differently.
It's commonplace in the conventional industry to focus on art and orthodox perfection. Every piece, every square of chocolate must look and taste plainly perfect. There is a standardization of chocolate flavor and appearance.
But Wabi speaks of finding beauty in imperfection, and that is what I experience today professionally and personally after several years in this industry".
She adds –
"I believe in the nobility of cacao. I think flavors and textures and aromas must and will always be different. Over the years, I came to understand that we, as chocolate crafters, only learn the technique. In the end, it is our customer's palate that dictates the 'truth'.
Each palate is different. And for me, this variety is wonderful because it means that many people will enjoy my bars in very diverse ways."
Gradually developing her new bean to bar line since 2016, the inspiration for her colorful, vibrant packages actually sprang to life on one of her numerous trips to Colombia, where she now sources her beans.
"I have been in the industry for more than 15 years, and the launching of this line is the first time I feel I can communicate all the colors, textures, forms, flavors, and aromas that the chocolate culture encompasses… a complete sensory experience born straight from the bean."
She cleverly thought of a wrapper that reflects the colors and landscapes of cacao- producing countries. Wabi's packaging tells stories about cacao-growing families, about farms and harvesting. Nati sought to share the history of cocoa with others.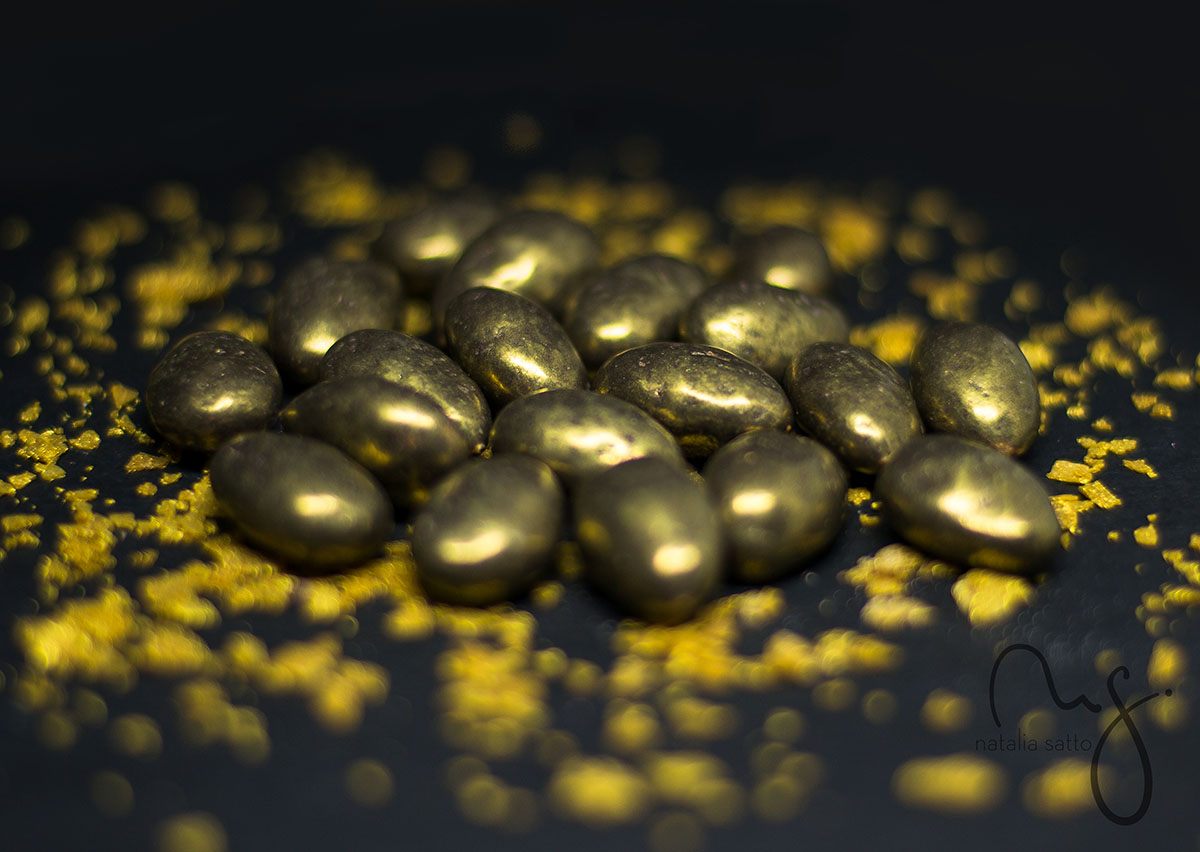 Wabi 80% Dark Chocolate Salted Almonds
A Magical Bean
In preparation for Wabi's launch, to achieve the chocolate flavor profile she desired, Nati tested several beans.
"I tried a lot of origins. I love Perú and Bolivia. Beans from Esmeraldas, as well, in Ecuador. I tested so many wonderful beans but always felt they didn't match the characteristics I was looking for…"
In 2018, during one of her trips to Solingen, Germany, she met two cacao growers, Juan Pablo and Christian Vélez. The farmers eventually offered her some beans to try.
"They are cousins and own a small family farm named 'Betulia' in Colombia. I took the beans they gave me and analyzed them. Wow! They were all completely white. All of them! I had been given beans with a high Criollo genetic percentage."
The sophisticated profile of the cacao won Natalia's heart. Juan and Christian started their farm from scratch. They chose the land, free from cadmium, on a spot located in Maceo, in the department of Antioquia, a vast mountainous zone where the Basque has had a lot of influence.
They rigorously select every cacao tree to plant on the farm. Hacienda Betulia is well-known among chocolate makers for the careful management of every detail, for the special attention given during processing, and for the elegant characteristics of the three genetic types of beans they harvest as well.
Nati fondly remembers her fateful trip to Germany –
"By the last days in Solingen, Christian gifted me with a big portion of beans, which I kept in a new suitcase I bought with the only goal of carrying them back. I cheerfully thought of all the possibilities and things I could do with those beans and felt like a kid at Christmas.

When I landed in Chile, this beloved suitcase never arrived. After lots of phone calls, emails, and everything you can imagine in an effort to get my suitcase back, it finally arrived… but completely empty!"
Thankfully the Velez cousins sent her, very carefully this time, another batch of beans, and the rest is history…
Wabi just officially opened its doors in early September. It's a cozy spot where chocolate lovers can learn the process, taste some amazing beans, or simply enjoy one of Nati's exquisite chocolate bars.
"I love doing this. Everything. The beans, my machines, I feel they do magic, they are really beautiful. I also hope in a not too distant future, I will have my own farm and will be able to develop a product from the tree."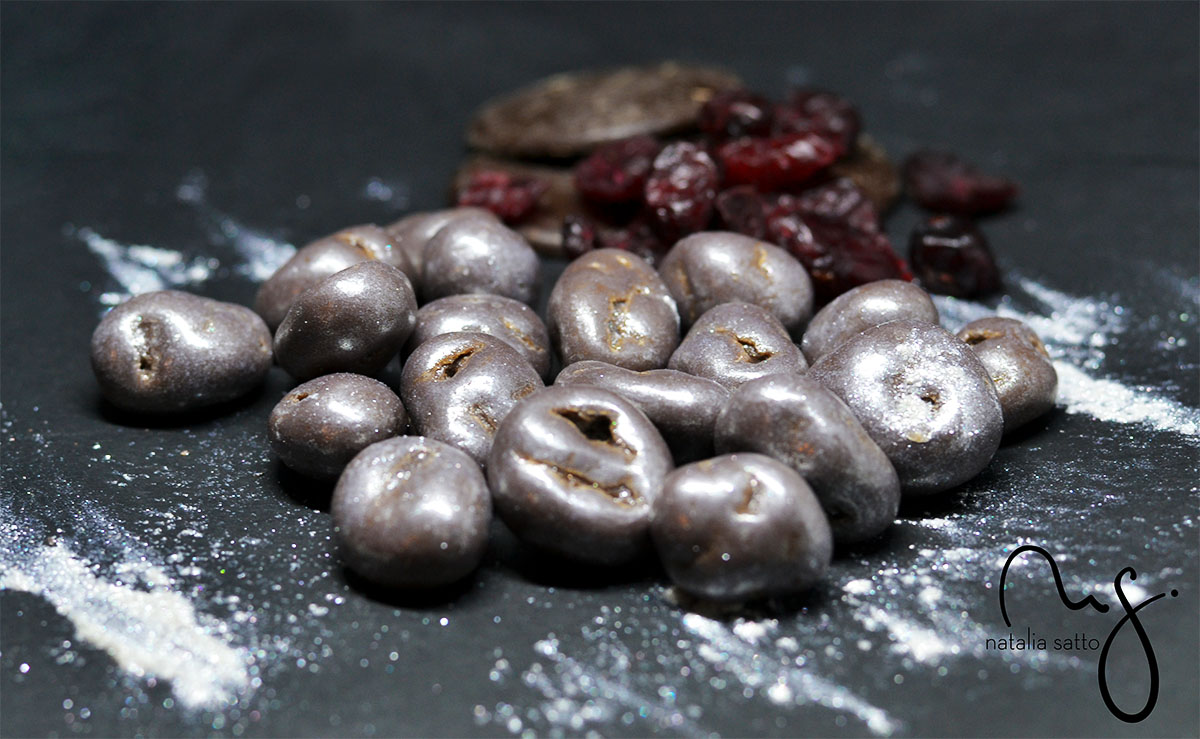 Wabi Vegan Chocolate Berries B6 85%
A Closer Look
The Betulia farm harvests three types of cacao, which are named B6, B8, and B9. Although each variety offers a fairly different profile, they do all share an unusual fresh, citrusy note.
Natalia chose the B6 variety to craft her 80% Dark bar, with an end result that's creamy, sweet and fruity – quite the impressive feat for such a dark chocolate bar. Nati explains –
"I added some goats milk for smoothness. Even today, this first bar is still a favorite. It's my most-complimented bar."
Yes, for good reason, as the 80% Dark bar is a bonafide WOW! It starts with no modesty, and a serious bouquet of lemony notes, which soon evolve into a very chocolatey suggestion that builds up, happily accompanied by a pleasant, acidic tinge. It lasts and lasts, even after the last bite disappears…
Nevertheless, Nati did not limit her creative manner to bars only. Her line also includes mendiants, coated dried fruits like chilies and berries, truffles, and 'bariloches' a classical Argentinian treat – because she of course could not let that Andean spirit out of her craft.
Her philosophy truly remains one of a classical bean-to-bar crafter –
"I am really proud of Wabi. Everything is organic, low sugar and gluten free. What matters the most is to highlight the profile of the bean.

Although Nati of course understands the importance of taste and flavor development, she also recognizes the crucial importance of a fair and equitable chocolate supply chain.

"Farmers deserve an ovation as well because a big part of the result, if not all of it, is owed to them. Also, it's important for consumers to know they're enjoying a wholesome, more noble product."
Since she first began traveling to different cacao farms several years back, Natalia quickly learned how much work still needs to be done for the families working in the fields. Purchasing beans at a fair price directly helps those in real need.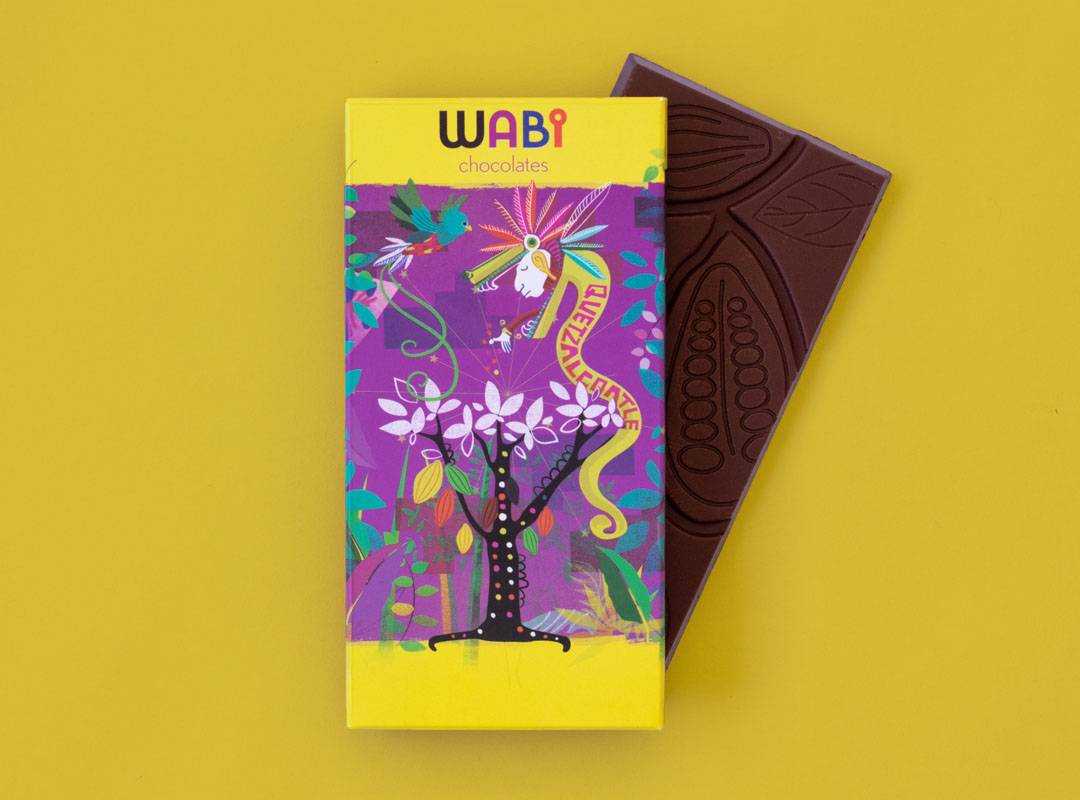 "I would love the bean-to-bar movement to one day become so successful, that no one can lose sight of what's important. I know there is now some regulation, but I believe that change should come from our genuine desire to contribute to a more honest, healthy and fair food industry."
Because of her focus on the authenticity of food, Nati doesn't allow any synthetic products in her kitchen.
"I know there are substitutes for sugar, and I study them, try and give them an opportunity. But I will always prefer cane, coconut, or white sugar, in low proportions.

I do not understand the benefit of replacing sugar by almost 40% with a sweetener with a low glycemic index, since it still has an artificial nature. That does not contribute to the health of those who consume it."
Wabi's line runs the full spectrum from milk chocolates to 80% dark bars. All of them very balanced, with a soft and creamy texture, where the flavor of cacao remains unchanged, but well accompanied when the bar contains any inclusions.
For her inclusion bars, Nati's experience as a Developer and Innovation Manager helps immensely, as she still remembers many different pairings, aromas and textures.
"I like soft milks, in low doses, where cocoa is always the protagonist."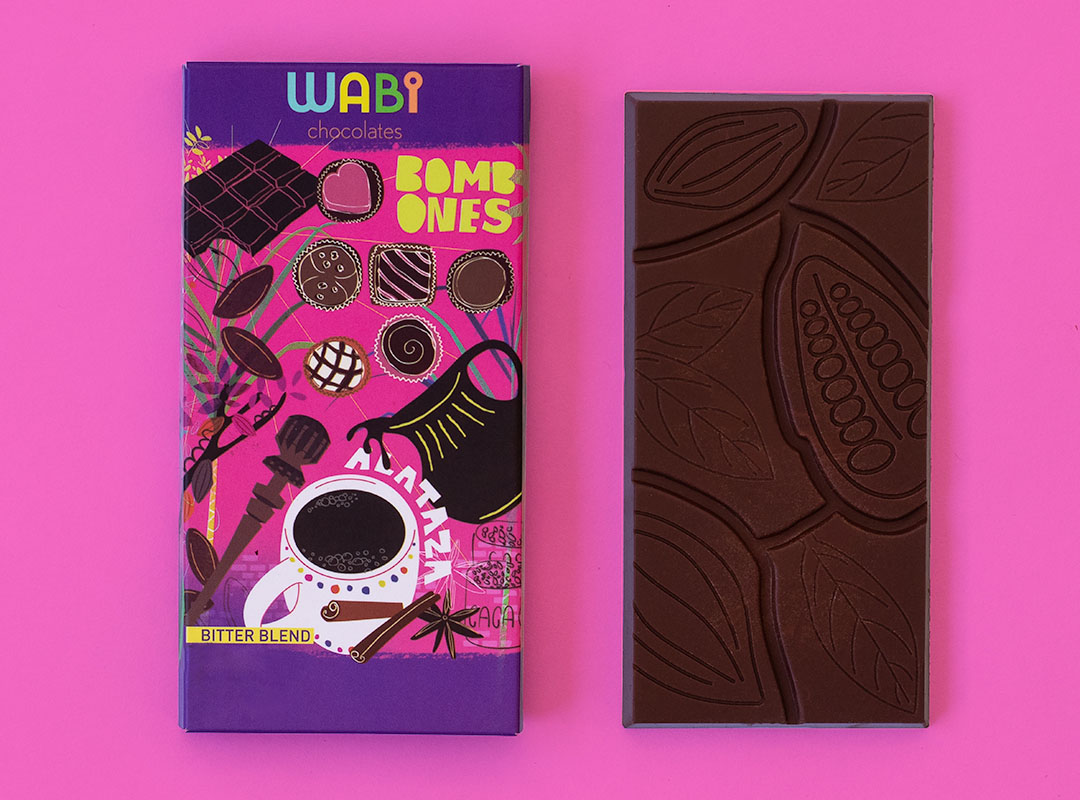 A Closer Look at Wabi Chocolate Bars
All of Nati's bars are organic and single origin.
They all also share a very fruity profile, which I personally adore, so it's not easy to select a favorite. Despite the similar profile, Wabi's bars usually don't offer one dominant note; instead, each bar tastes quite balanced.
I decided to start with the B6 75% Azúcar de Caña (Cane Sugar), with its elegant profile, very balanced with a creamy mouthfeel. The flavor develops quickly and soon I was enjoying its nutty, fruity sweetness. A toastiness kicked in for an aftertaste, not a surprise given the bar's cane sugar content.
I then moved on to the B9 85% Azúcar de Coco (Coconut Sugar). Certainly not a shy bar, shy tasters may want to stay away. Its coconut notes hit you from the very first taste, while its notes of pineapple and a pleasant bitterness strike hard.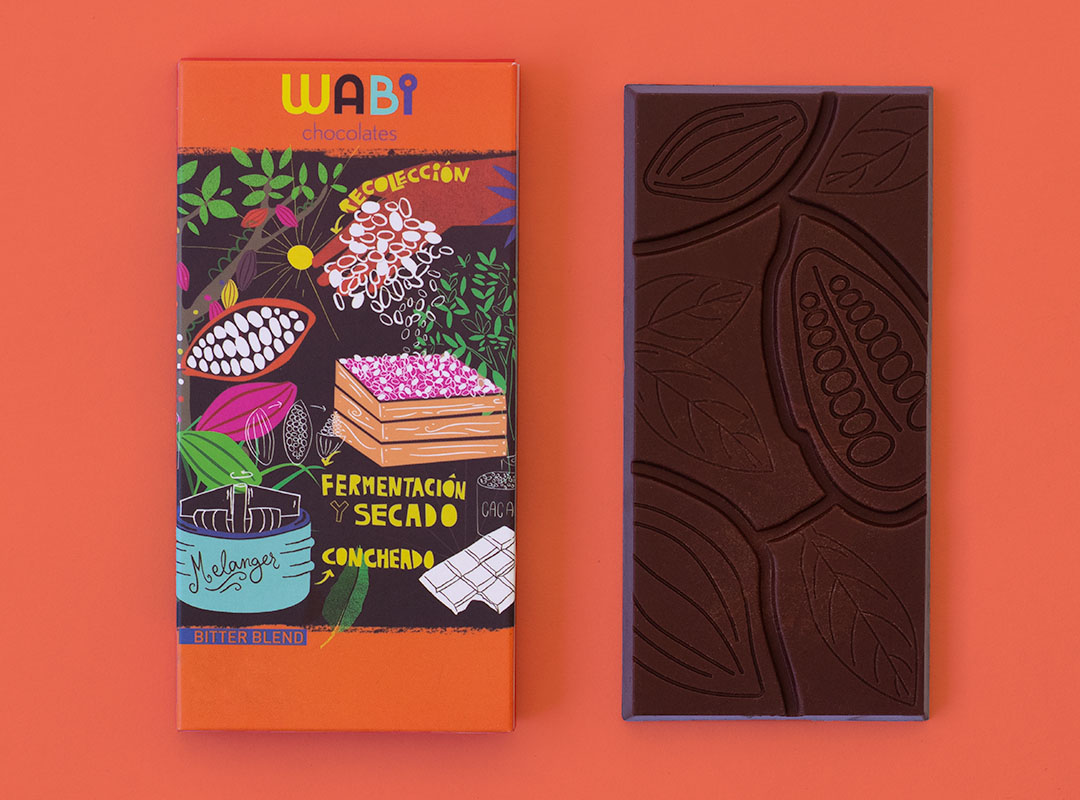 Next came B6 80% Leche de Cabra (Goats Milk), with a surprising, almost gold-like color that truly stands out for a chocolate bar. It's a very smooth experience, with a soft acidity that beautifully frames the cocoa notes. There's a reason why this bar is everyone's favorite!
For the grand finale, I tasted the B9 65% Nibs y Sal de Cahuil, and its cacao profile exquisitely highlighted by a special Chilean salt. With a stark contrast between the natural fruitiness of the bar and the bitterness of the nibs, every flavor is enhanced. The toasty notes of the cane sugar grow stronger with time, balancing out the bitter notes.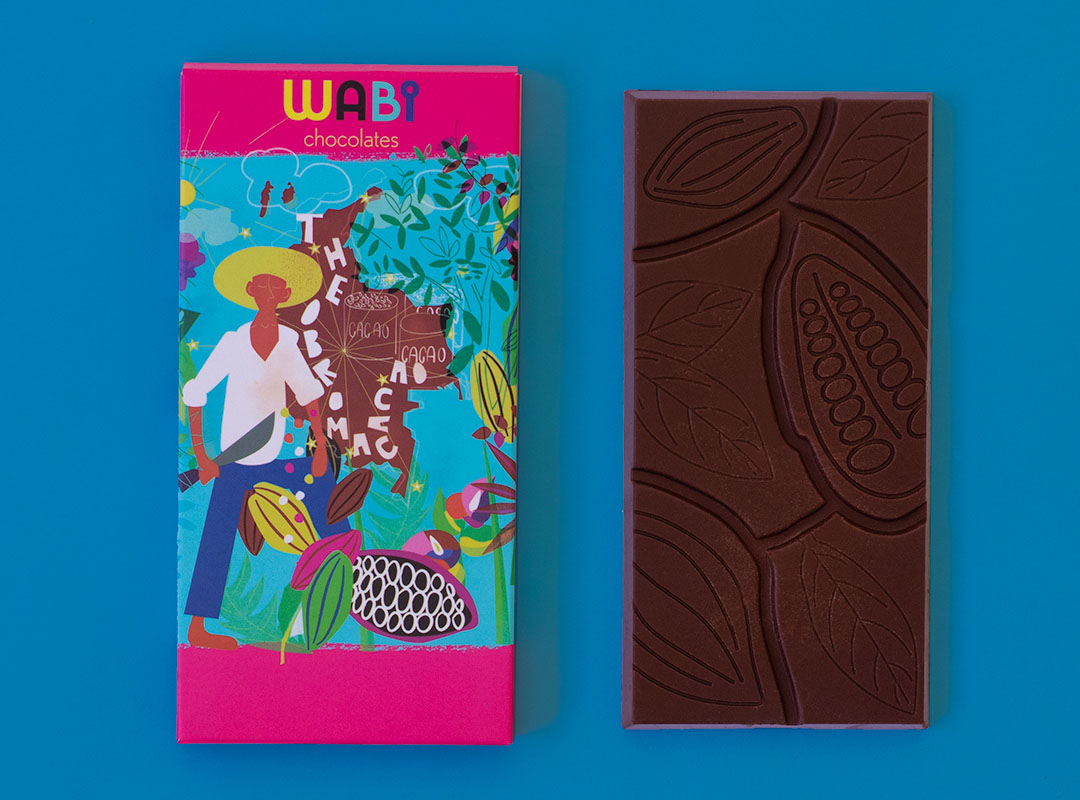 Moving Forward
Natalia hopes to add another two or three origins to her craft line soon, potentially planning new research trips to Costa Rica, Nicaragua, and maybe to Brazil or Bolivia, in search of something very fruity.
"I am always looking for new profiles, and for a while I turned my head towards Ecuador. Although there is no question of its wonderful beans, Ecuador already has great representation in the bean-to-bar world."
She even mentions Madagascar as a possible next option.
"There is this truffle that I make, with a nice cream cheese and high percentage chocolate. Over the years, I've been told this truffle is one of my best creations.

It's very soft, somewhat acidic, with a lot of cocoa flavor… surely a very similar experience to the goat milk Wabi bar. I would love to prepare it using some Madagascar cacao!"
Knowing that her nomad nature won't let her stay in one spot for too long, we can certainly expect the unexpected from Natalia and Wabi. Barcelona already sits close on the horizon…
"What I want to dedicate myself to now, is the strengthening of my line, and then to hopefully take it to other countries, other parts of the world, where I can get even more insight from new customers and tasters.

People here have a very traditional palate, so it would be interesting to get a further appreciation of my products."
She also knows it's her responsibility, along with every other stakeholder in the chocolate world, to promote a deeper understanding of the bean-to-bar culture.
"For this, I think formal tasting workshops and education are the best sellers. You have to be honest, respectful and collaborative with both crafters and customers… let them appreciate the story from scratch.

By doing this, you are providing them with the chance of give meaning to what they are having. To understand it in a deeper way, more than a simple candy."
In the meantime, Nati will keep obsessing about the perfectly imperfect profile, developing new inclusion bars, and dreaming of packing her suitcase yet again, while we look forward to enjoying her next chocolate adventure as well!
For more on Wabi Chocolate, CLICK HERE to visit the Wabi Chocolate website. Please note, however, that it's in Spanish, so you may want to use a web browser that translates.
You can also click here if you'd like to learn more about Taller de Chocolate on their website as well.
Then click the link below to connect with Natalia on social media.
+ PHOTOS BY WABI CHOCOLATE & TALLER DE CHOCOLATE