Chocolate Connoisseur 2019 Favorites Awards
by Eric Battersby
Yes, yes, we are back for a second, more evolved year of the Chocolate Connoisseur Favorites Awards! In addition to the awards, you'll also find our 2018 Year In Review content below as well, which includes every chocolate maker / chocolatier we covered in 2018 via an In Focus (subscribers only), On the Chocolate Regular (subscribers only), or Chocolate Shop entry.
Just like last year's version of our fun Year In Review, rather than simply take a look back on 2018 for nostalgia's sake, we suggest you use this moment to kickstart your chocolate 2019 with a full-on cacao arsenal — one that includes well over a dozen unique chocolate makers and chocolatiers! Let's get to it!
Chocolate Connoisseur's 2019 Favorite Awards
Welcome to the 2nd Annual Chocolate Connoisseur Favorites Awards. As I started things off last year as well, I feel it's important to note that, as paradoxical as it may sound, I'm not a big fan of awards in this context. Here's the preface I gave for 2018 —
"In the chocolate world, there will be always be better and worse, for two reasons. First, not all chocolate creators focus on ethics within their supply chain, use the highest quality ingredients, etc. It's why the chasm between big chocolate and the makers we focus on in Chocolate Connoisseur will likely exist for as long as chocolate itself exists, and there are multiple layers, for which not all chocolate makers will home in on the same aspects.

Second, subjectivity rules chocolate, for each of us, separately. Even here at the magazine, I would never expect Marisa to pick the same chocolate as her favorite as Rene or I would. Respect the individual. It's a constantly changing, wonderful adventure to try new chocolate on a regular basis, while still enjoying go-to favorites and learning more every day as well.

The fact is, however, that during the year we will inevitably discover favorites, and we will most certainly like to send a little love in those favorites' direction each year."
In stark contrast to 2018's awards, however, we made the process much more formal than last year, just as promised. We originally planned on creating a special award category for all our In Focus participants each year, but because there's inevitably so much overlap between them and our Chocolate Shop participants, we decided against going that route.
For this year's Independent Favorite Awards, Rene Zimbelman, Victoria Cooksey, and yours truly served as the judges. All chocolate involved in our 2018 chocolate offers was eligible for an Independent Favorite Award, and each chocolate maker / chocolatier was officially invited to submit samples for judging  at the start of the new year here in 2019.
For the National Favorites Awards, Rene and I served as judges, and we simply selected our favorite chocolate from all 2018 On the Chocolate Regular articles, including the Holiday Chocolate category, and let those bars compete. We didn't taste every single option from each company, so if we missed one of your own personal favorites, feel free to stand up for it in the comments below.
As we noted last year, we're not looking to compete with chocolate judges at international award shows, nor are we doing this at any cost to the chocolate makers and chocolatiers. It's free to enter, outside of the costs to ship chocolate samples of course, and our goal is simply to give kudos to those deserving of such.
Now without further ado, let's hand out some awards!
We hoped you enjoyed reading Chocolate Connoisseur Magazine in 2018 as much we enjoyed writing it for you. Remember, if you missed any of it and want to catch up after reading through all of our year in review, you can pick up all 12 issues from 2018 for only $4 via the link below, or at the start of this article above.
In the meantime, congratulations once again to all of our 2019 Chocolate Connoisseur Favorites Award winners, and we'll see you back here in early 2020 for the next round of awards with a full 2019 wrap up!
— Eric
Chocolate Connoisseur Magazine's
2018 Complete Collection
(12 Issues)
Brand new this year, we've created a super-low price bundle of everything Chocolate Connoisseur published in 2018, if you don't yet own all of the great content we cover below with our 2018 Year In Review.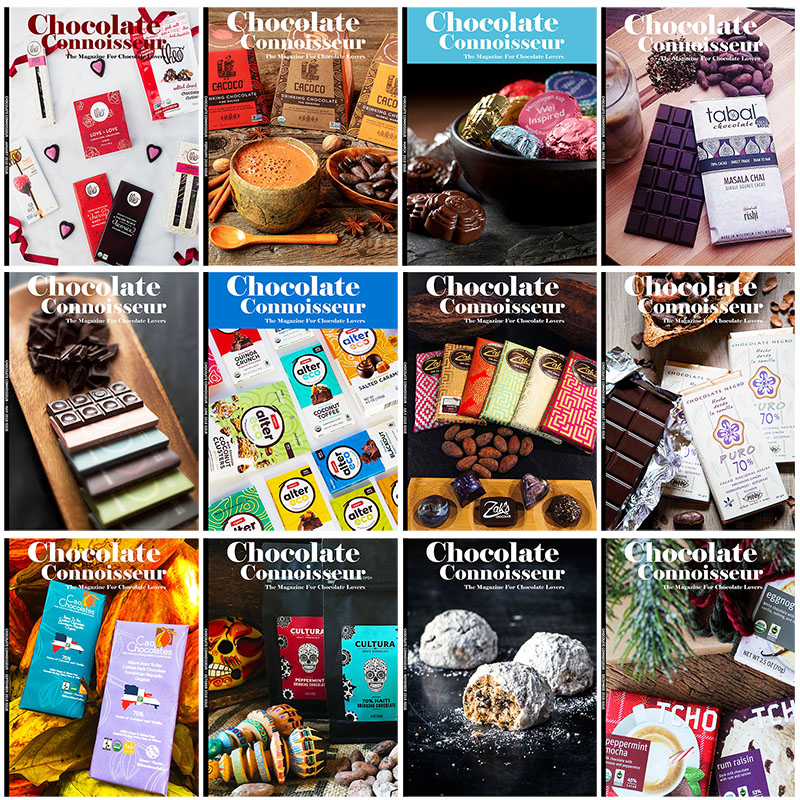 If you're a new subscriber, or yet to join us here at Chocolate Connoisseur, here's your chance to score all twelve (12) issues from the 2018 calendar year for only $4, a gigantic 83% discount over purchasing each issue individually!
Catch up on every single In Focus interview, Chocolate University article, all of our On the Chocolate Regular coverage, every Chocolate One-on-One interview… every single thing we wrote in 2018… it's all yours for only $4!